Sandhya Ravishankar describes the thorny relationship between the two political titans of Tamil Nadu, M Karunanidhi and J Jayalalithaa, both now part of the ages.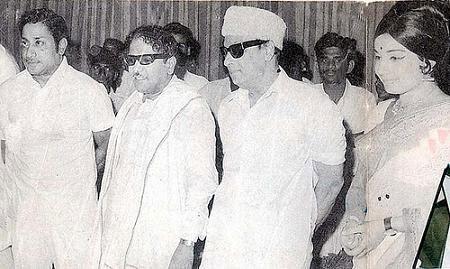 If MGR and Karuna had a love-hate relationship, it was hatred from the word go between Karunanidhi and Jayalalithaa, especially on the latter's part.
"Jayalalithaa hated Kalaignar," says (DMK MLA) Duraimurugan, who has watched the battles between both at close quarters.
"It began when MGR was still in the DMK and he asked Kalaignar to allow Jayalalithaa to speak at a Madurai rally of the DMK. Kalaignar said a firm no."
In 1989, when it became clear that Jayalalithaa would take over MGR's mantle, Karunanidhi is said to have dismissed her as someone with no idea of Dravidian politics or ideology.
Those close to him say that he mocked her, wondering how she could ever pose a challenge to him.
This was the second time in Karunanidhi's political career that he would severely underestimate an opponent.
Jayalalithaa turned out to be a skilled administrator and a political tactician who honed what she had learnt from her mentor MGR as also from her bitterest foe Karunanidhi.
On several occasions, she even outdid them.
It was an ugly event on March 25, 1989 when Karunanidhi and his DMK would find that Jayalalithaa was a force to reckon with.
Karunanidhi, as chief minister, also held the finance portfolio and had begun to read out the budget speech. Jayalalithaa, in the Opposition, heckled him, continually interrupting him and preventing him from going ahead.
What happened next depends on whose version is taken into account.
The DMK version is that Jayalalithaa screamed out, asking MLA Sengottaiyan to attack Karunanidhi.
The AIADMK version is that DMK MLAs began to attack the Opposition.
Duraimurugan became infamous, subsequently, for allegedly yanking at and tearing Jayalalithaa's saree.
In the melee that ensued, a weeping Jayalalithaa was bodily lifted by her party members and taken out to safety, her hair and clothes in disarray.
Outside, to waiting media persons, Jayalalithaa swore that she would never set foot again in the Tamil Nadu assembly until it was a safe place for women.
Irrespective of what the truth was, the people of Tamil Nadu chose to believe a wounded woman.
Jayalalithaa also increasingly wooed the Congress under the leadership of Rajiv Gandhi as an ally, leaving the DMK out in the cold.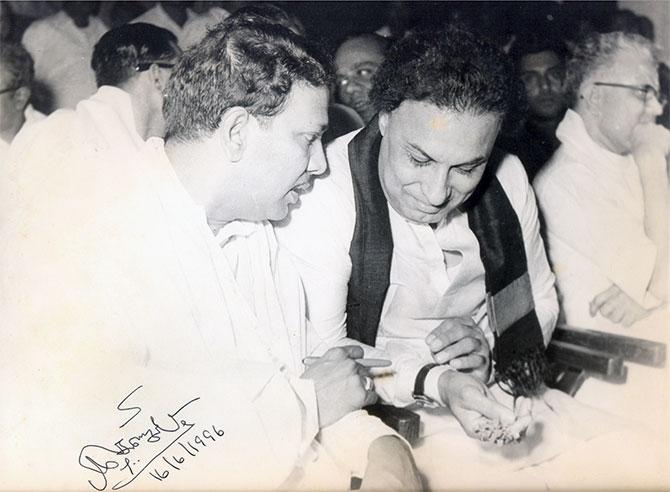 On January 30, 1991, Karunanidhi faced yet another setback.
The Janata Dal-Secular government, with Prime Minister Chandra Shekhar at the helm and backed by 60 MPs, largely of Rajiv Gandhi's Congress, dismissed the DMK government in Tamil Nadu.
The reason: Having close ties with terrorist organisations like the LTTE of Sri Lanka. The daylight murder of Padmanabha, the chief of the rival EPRLF, in Madras (as Chennai was then known), along with 12 of his party men and two innocent victims, triggered the furore.
What made things much worse for Karunanidhi was that a minister in his cabinet, Subbulakshmi Jegadeesan, his own party workers and the state police were accused of aiding the murderers, members of the LTTE, to escape back to their country.
Chandra Shekhar, egged on by ally Rajiv Gandhi, decided to crack down on the state government.
The DMK government was dismissed.
Four months later, Karunanidhi would find to his horror that the LTTE, whose cause of a separate Tamil Eelam in Sri Lanka he had enthusiastically supported, had struck again.
On May 21, 1991, a young woman called Dhanu from the LTTE headed to Sriperumbudur to garland Rajiv Gandhi, who was campaigning for elections scheduled to be held a few days later. Strapped to her body was a bomb which exploded, killing the former prime minister, his assassin and 14 others.
Tamil Nadu turned its back on Karunanidhi.
Jayalalithaa, riding the sympathy wave for the slain Gandhi, an ally, ascended to the chief minister's post for the first time in May 1991.
But the truth, according to senior journalists in the state, is that Karunanidhi was only playing to the gallery on the issue of the Sri Lankan Tamils and the LTTE.
"There was no love lost between Kalaignar (as Karunanidhi was respectly referred to) and the LTTE," says N Ram (chairman, The Hindu). "He took it up as a rhetorical issue, but it is well known that he was very angry and upset with the LTTE for killing Sri Sabaratnam (a Sri Lankan Tamil rebel and leader of the Tamil Eelam Liberation Organisation)."
"When the war was going on, I said to Kalaignar when I met him, "Worse than a crime, a blunder." The first blunder of the LTTE, I told him, was to take on the IPKF (Indian Peace Keeping Force) for no good reason and then killing Rajiv Gandhi.
The second blunder, I said, was to elect (Mahinda) Rajapaksa (in 2005).
"He said, 'What do you mean?'"
"I said, yeah, they called for a boycott in the Tamil areas in an extremely close presidential poll because they did not want Ranil Wickremasinghe to win." (But Rajapaksa, who won the election, would eventually intensify the war against the LTTE, culminating in Prabhakaran's death in May 2009.)
"Then he said one more blunder the LTTE made was to kill Sri Sabaratnam in a horrible way -- torturing and killing him -- even though he (Karunanidhi) had interceded. He was very critical of the LTTE."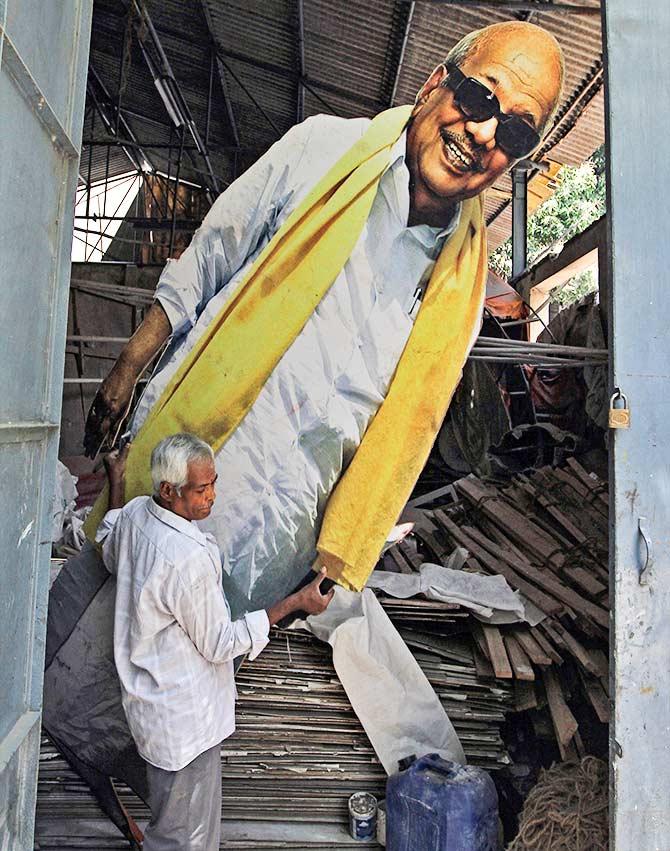 From 1991 to 1996, Karunanidhi and the DMK watched as Jayalalithaa, along with her close aide and confidante Sasikala Natarajan (as she was then known; now she prefers to be called V K Sasikala), ruled over the state.
Announcing after she came to power that the DMK had emptied the treasury and that she would take only a token Re 1 salary as chief minister, Jayalalithaa began work on a slew of welfare schemes targeted at the woman voter.
Political thuggery too was at an all-time high as vengeance was wreaked upon DMK members for various slights, both real and perceived.
Jayalalithaa brought on her own downfall in 1995 in the form of a jaw-dropper of a wedding for her foster son V N Sudhakaran, a nephew of Sasikala's, to the granddaughter of cine actor Sivaji Ganesan.
The pomp and show put on in Madras for the wedding disgusted the voters.
In 1996, voters turned their back on her.
Karunanidhi was again in the seat of power. He then initiated a series of corruption cases against Jayalalithaa.
One such case was the colour TV scam, wherein colour TV sets were allegedly bought at prices higher than the market price, with the Jayalalithaa government allegedly making Rs 10.16 crore in the deal.
On December 7, 1998, Jayalalithaa, Sasikala and seven others of the AIADMK were jailed for 30 days as hearings continued.
During this period, her residence in Poes Garden, Chennai, was raided and the DMK's propaganda channel, Sun TV, streamed live visuals of 30 kg of gold, including 400 bangles, over 100 wrist watches, 10,000 sarees and hundreds of pairs of footwear, amongst other dizzyingly expensive possessions.
It was also during the initial days of the Karunanidhi government that a disproportionate assets case was slapped on Jayalalithaa, Sasikala, Sasikala's sister-in-law Ilavarasi and nephew V N Sudhakaran.
This case would go on for close to two decades, ending in a 'guilty' verdict finally after Jayalalithaa's death in 2016, putting Sasikala and the others behind bars for four years.
After the dust settled on the cases and the DMK government went about in earnest wooing industry to Tamil Nadu and focusing on development of the state, the people of Tamil Nadu, in 2001, once again did an about-turn.
To Jayalalithaa's aid came a shimmering alliance: The Tamil Maanila Congress, the Left parties, the Congress and the Pattali Makkal Katchi, along with a smattering of smaller parties, did the trick for the AIADMK.
The DMK, in alliance with the BJP, found itself deserted by every party with any standing in the state.
So much so that Karunanidhi, who was confident of being re-elected, was bitter when the results were announced.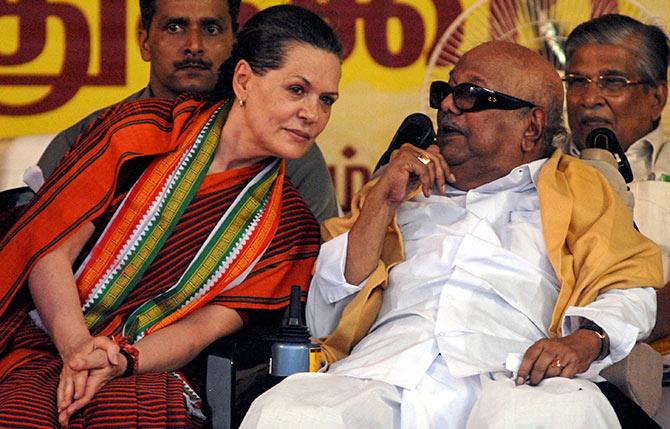 It was again time for vendetta.
By midnight on June 29, 2001, Sun TV's camera crew was in place on Oliver Road in Mylapore, Karunanidhi's second residence.
Just after midnight, a posse of policemen descended to arrest the Opposition leader on a case relating to public money being allegedly siphoned off in the building of flyovers in Chennai.
Around 1.30 am, the police moved in, broke open the bedroom door and dragged the ageing leader out, as Sun TV beamed these visuals live across the state.
Visuals showed Karunanidhi falling, being shoved, picked up and pushed again by the police, evoking a wave of sympathy for the elderly man.
Two Union ministers, T R Baalu and Murasoli Maran too were arrested.
The BJP-led NDA government at the Centre, of which the DMK was an ally, was forced to intervene.
Following pressure from the Centre, Jayalalithaa had no choice but to backtrack in the face of calls of 'Constitutional breakdown' in the state.
First, the Union ministers were let off, the charges against them dropped.
Karunanidhi was then allowed out on bail on 'humanitarian grounds'.
Jayalalithaa had had her revenge. But Karunanidhi won the war.
Jayalalithaa went on to press her self-destruct button yet again as her tenure continued.
In July 2003, she invoked the ESMA (Essential Services Maintenance Act) on one lakh striking government employees, terminating their employment.
Realising her monumental error, she reinstated them all in February 2004.
In 2003, she also banned animal sacrifice, once again causing widespread indignation and protests across the state.
A few months later, she repealed the Act. But the damage was done.
By 2006, the DMK had cobbled up a rainbow alliance ahead of the assembly polls.
Despite the niggling resentment against Jayalalithaa for her earlier moves, the election was largely without a major issue or talking point. But the genius politician in Karunanidhi struck.
Free colour televisions for all those below the poverty line, he promised.
Tamil Nadu brought him back to power as Jayalalithaa watched. And learned.
The tenure from 2006 to 2011 was the undoing of Karunanidhi.
Governance took a back seat.
Jayalalithaa simply had to sit by and watch as Karunanidhi and his family and party men and women destroyed their own credibility and popularity in the state.
In 2011, an alliance with 'Captain' Vijaykanth, a bright new player in the political arena, was locked in by Jayalalithaa.
She swept the state as people vented their anger against the excesses of the DMK in the past five years.
Despite little to no governance between 2011 and 2016, cash for votes played a huge role in 2016.
The memories of the DMK's muscling and land grabbing still fresh in their minds, Tamil Nadu voters brought Jayalalithaa back to power, albeit with a slimmer majority.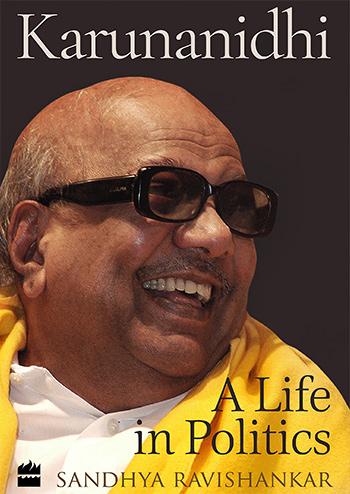 Here on, age would catch up with the veteran politician.
In 2016, he was hospitalised a number of times. He lost his ability to speak as a tracheostomy tube was put in place. But his love for politics, power and the people still remains.
Duraimurugan recounts an incident from November 2017, when he watched his leader undergo speech therapy.
The tracheostomy tube was removed, the hole in the throat closed with a finger and speech therapist Ranjith began.
'What is your name?' he asked Kalaignar.
"'En peyar Mu Karunanidhi (My name is M Karunanidhi)'," he answered," says Duraimurugan, mimicking his leader's raspy voice perfectly.
Ranjith: 'Who do you like?'
Kalaignar: "Arignar Anna."
"Anna is a name that occupies his mind," Duraimurugan concluded.
Duraimurugan recounts another incident from the next day, when Karunanidhi began to question Ranjith:
"Kalaignar: 'How is my voice?'"
"Ranjith: 'Your voice is good, Ayya'."
"Kalaignar: 'Do you think people can understand me if I speak at meetings?'"
With that, Duraimurugan simply shakes his head. "What can you say about someone like that?" he smiles.
Excerpted from Karunanidhi: A Life In Politics by Sandhya Ravishankar, with the kind permission of the publishers, Harper Collins India.