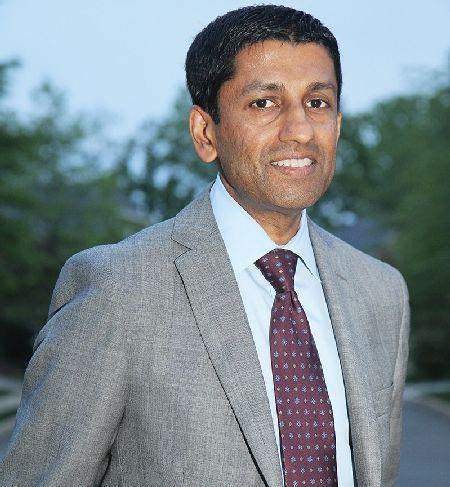 Judge Srikanth 'Sri' Srinivasan was nominated as a federal judge on the US Court of Appeals in the District of Columbia, the nation's second highest court by President Barack Obama in 2012.
Judge Sri was the first South Asian American to be accorded that honour.
Now as he seems a front-runner to be nominated to the US Supreme Court, to replace Justice Anton Scalia who died last Saturday, we present India Abroad Editor Aziz Haniffa's profile of the judge when he was honoured as India Abroad Person of the Year 2013.
When editors of India Abroad (the New York-based Indian-American newspaper, which is owned by Rediff.com) began brainstorming to select the awardees for the 2013 India Abroad Person of the Year slate of awards, the jury was never out when it came to reaching a unanimous decision on our choice for the India Abroad Person of the Year Award 2013.
The decision was the mother of all no-brainers -- Judge Srikanth 'Sri' Srinivasan, the first South Asian American in this community's immigrant experience who was unanimously confirmed by the United States Senate by a vote of 97-0 and then sworn in by retired Supreme Court Justice Sandra O'Connor as a federal judge on the US Court of Appeals in the District of Columbia, the nation's second highest court.
Sri, as he is popularly known, was nominated by President Barack Obama June 11, 2012, nearly 10 months after the President appointed him principal deputy solicitor general, replacing yet another trailblazing Indian American, Neal Kumar Katyal.
In nominating Sri, President Obama said, 'Sri is a trailblazer who personifies the best of America,' and noted that 'Sri spent nearly two decades as an extraordinary litigator before serving as Principal Deputy Solicitor General of the United States.'
'Now,' Obama predicted, 'he will serve with distinction on the federal bench,' and pointed out, 'Sri will in fact be the first South Asian American to serve as a circuit court judge in our history.'
After he was confirmed by the Senate, and sworn in September 26, 2013, we were elated when we informed him of our decision in October 2013 and he told India Abroad, "I'm exceedingly humbled to be recognised by India Abroad and for the distinct honour."
Reiterating his gratitude for selecting him -- when we were more humbled than he was that he had accepted the award -- he added, "I've been so blessed in so many respects this year -- and long before -- and it has been wonderful for me and my family in a year that's had its fair share of challenges for us, and glad you've been able to share in much of it."
Perhaps it can be argued that Sri was on the cusp of greatness when he was a starting point guard for the Lawrence, Kansas, high school basketball team, leading his team to a state championship, though he never made it to the NBA.
There is no denying that he catapulted into greatness when he created history by being the first Indian American to argue before the Supreme Court in November 2002 when he was an assistant to the solicitor general.
It was a case about circumstances in which it is constitutionally permissible to impose a capital sentence against a person in a retrial when the person has received a life sentence -- rather than a capital sentence -- in the initial trial.
Sri argued, on behalf of the United States, that it was permissible to impose a capital sentence in the retrial.
When he was in private practice, working for O'Melveny and Myer, Sri also represented individuals arguing against a capital sentence on a pro-bono basis.
This versatility clearly were early indications that he had all of the wherewithal to be a judge -- a fair judge -- something that jumped out at members of the Senate Judiciary Committee, particularly conservative Republicans, who grilled him aggressively and threw every curve ball they could at him vis-a-vis his judicial temperament.
When he was appointed deputy principal solicitor general in 2011, Solicitor General Don Verrilli said, "He is one of the country's leading advocates before the Supreme Court, and will bring to his new position both a deep knowledge of the Supreme Court and of the office and its responsibilities and traditions," and predicted that "he will be an invaluable asset to the Department of Justice and to the work we do to protect and defend the interests of the American people."
Since 2007, Sri had been a partner in O'Melveny and Myers LLP in Washington, DC, chairing the firm's appellate and Supreme Court practice. At O'Melveny and Myers, he argued multiple cases before the US Supreme Court spanning multiple topics, including criminal law and procedure, immigration law, banking law, education law, administrative law and federal contracting law.
From 2002 to 2007, Sri served as assistant to the US Solicitor General and earlier from 1998 to 2002 did his first stint at O'Melveny and Myers. Prior to that, he served as a law clerk for US Supreme Court Justice Sandra Day O'Connor -- in the 1997-1998 term -- and for Judge J Harvie Wilkinson III of the US Court of Appeals for the Fourth Circuit.
Sri was also a lecturer at the Harvard Law School, where he taught a course on the US Supreme Court and appellate advocacy and received many awards and recognitions, including being named among The National Law Journal's 50 Most Influential Minority Lawyers in America in 2008.
An alumnus of Stanford University from where he received his bachelor's degree, Sri went on to receive his JD from the Stanford Law School, and an MBA from the Stanford Business School.
At the time Walter Dellinger, who was a colleague of Sri's at O'Melveny, a former US solicitor general and one of Sri's closest friends, told India Abroad, "From the time Sri and I first worked together in the solicitor general's office in 1996, I have thought that he would become one of the best advocates and finest lawyers of his generation."
Dellinger, under whom Sri served when he won the coveted year-long Bristow Fellowship in the US solicitor general's office and who had spoken to India Abroad several years ago when Sri argued his first case before the Supreme Court, when contacted to comment on his latest position, said, "Didn't I predict great things for Sri, and I was right, wasn't I?"
"This," he said, "is a very exciting development for Sri," who had by then argued a total of 17 cases before the US Supreme Court, and reiterated, "He is clearly one of the most gifted lawyers of his generation."
"Sri," Dellinger recalled, "was on a one-year fellowship in the solicitor general's office during the term that I spent as solicitor general and I thought I saw at that time he had the makings of a truly great lawyer and I must say, I am not surprised at how successful he has been."
On May 16, 2013, the US Senate Judiciary Committee unanimously approved Srikanth Srinivasan's nomination as judge on the US Court of Appeals, and sent it to the full Senate for a vote.
Sri received the nod from all 18 Senators on the Judiciary Committee, including the ranking Republican on the panel, Senator Charles Grassley of Iowa, who had subjected him to some tough grilling when he appeared before the committee on April 10, 2013.
Hardly a week later came the slam dunk -- the full Senate by a vote of 97-0 confirming Sri's nomination and even before he could take his seat on the bench, the buzz among legal analysts, bloggers and colleagues got even louder in that he could be President Obama's first choice for a Supreme Court nominee whenever a vacancy opens up (that has happened now following Justice Antonin Scalia's death on February 13, 2016 and Sri is the firm favourite to be nominated).
In praising the Senate's unanimous confirmation, the President said, 'Sri is a trailblazer who personifies the best of America. Born in Chandigarh, India, and raised in Lawrence, Kansas, Sri spent nearly two decades as an extraordinary litigator before serving as principal deputy solicitor general of the United States.'
'Now he will serve with distinction on the federal bench. Sri will in fact be the first South Asian American to serve as a circuit court judge in our history,' he said.
Senator Mark Warner, Virginia Democrat, and one of Sri's most ardent supporters, pointed out that 'the enthusiastic bipartisan support he has received reflects his effective work for both Democratic and Republican administrations and numerous well respected judges.'
'His approval also has great significance for the Indian-American community, which despite an incredibly rich talent pool in the legal arena is under-represented at the highest levels of our legal system,' he said, and predicted, 'Sri Srinivasan is poised to change that as he continues his exceptional career.'
And, then came Sri's big day September 26, 2013, when exactly at 5 pm, with his right hand placed on the Bhagwad Gita held by his mother Saroja Srinivasan, he was sworn in -- by Justice Sandra Day O'Connor -- as the newest federal judge on the US Court of Appeals in a packed ceremonial courtroom at the E Barrett Prettyman US Courthouse.
Over 500 guests attended the swearing-in ceremony, including scores of legal luminaries, senior Obama administration officials and friends and family of Sri, including then Indian prime minister Dr Manmohan Singh's wife Gursharan Kaur, so much so that an overflow room had to be opened, obviously a testament to the great respect, admiration and Sri's popularity.
Among several luminaries who showered kudos on Sri at this investiture, Dellinger, one of his earliest bosses who went on to become one of his closest friends, predicted, as a judge, Sri would 'engage in conversation with the advocates, conversations in which he will always be open to persuasion by coach of argument.'
'As a practicing lawyer,' he noted, 'Sri had opposing counsel, but he never had opponents, and I think that's because he understood that all of us who engage in the processes of law are joint collaborators in a mutual enterprise.'
Dellinger recalled Sri's passion, talking about how when he returned to O'Melveny and Myers after his stint as an assistant to the solicitor general, 'what he asked of the firm was a commitment that he could engage in an unusually expansive pro bono practice and, indeed, he did. He argued cases for immigrants, for indigent criminal defendants, for Latino students seeking equal access to educational opportunity and many others -- and he did so with intensity and commitment.'
He also told the audience, 'If you want to know what kind of person this new judge is, there's a simple way -- take a stroll with Sri to any of the buildings in which he's ever worked. If you walk with him into the courthouse where he clerked or the Department of Justice or the halls of his law firm, watch the reaction of his former colleagues, including those who guard the doors and answer the phone, serve the food and clean the building.'
'They light up when Sri appears,' Dellinger said, 'and what does that tell you?'
'I do believe this -- that somehow it has to matter that a judge is a really deeply decent human being, literally and figuratively,' and he added, 'Sri has come a long way since he was born 46 years ago in Chandigarh, India, and given by his father and mother the name Padmanabhan Srikanth Srinivasan.'
'When the future histories of this court are composed,' Dellinger predicted, 'I'm confident that an important part of that ongoing narrative will be the contributions of its newest member, Judge Srikanth Srinivasan.'
Chief Judge Merrick B Garland, who presided over the entire ceremony, then called on 'the stars of the show', Sri's 11-year-old twins Maya and Vikram, to assist in the wrapping of the robe on their dad to sustained applause that went on for several minutes.
In his initial remarks, Sri provided a taste of his signature humour, saying he was humbled by the 'honoured and distinguished guests and some of my somewhat less honourable friends from my earlier years,' but as the peals of laughter subsided, thanked them all profusely for attending the ceremony.
He extended his 'sincere and heartfelt gratitude and thanks' to all his mentors, and declared, 'The overriding sensation that I feel today in a sense is of how incredibly fortunate I've been so far -- and I can't emphasise that more,' and getting emotional, said, 'My sisters Srija and Srinija, I have relied on your love from an early age and it has sustained me throughout.'
And turning to his kids, said, 'Maya and Vikram, you two give me more love and inspiration than any parent can rightfully expect from a child.'
'To my mom, you've been with all of us at every meaningful step of the way, so it's especially fitting that you were able to stand with me today to assist me in taking this oath of office.'
He told the sizable number of second generation Indian-American guests on hand to witness this historic swearing-in that 'I am touched by your efforts and I am humbled by your confidence.'
Then turning to the then Indian prime minister's wife who was seated in the first row, with her two daughters, next to Saroja Srinivasan, the newly minted judge said, 'Mrs Gursharan Kaur, the honorable First Lady, what a terrific thing that you were able to be here with us today -- essentially fresh off the plane from India.'
'That means especially much to us given my late father's most recent passing and the incredibly close relationship that the prime minister and you had with him and my mom,' he added.
'This kind of occasion happens and this opportunity came along,' Sri said, 'thanks to the decision my parents made a long, long time ago.'
He recalled how his father 'came from the humblest of humble beginnings from India. The journey that took him from there to this country and took us all to this occasion is virtually inconceivable.'
'He and my mom brought me and Srija and Srinija at a very early age in search of the classic immigrant dream -- in pursuit of opportunity and happiness...'
'I'd like to think that those aspirations have been very much been realised,' he said.
'My dad,' Sri said, 'grew to love this country because of the possibilities it gave us and this country loved us immensely back,' and he argued, 'There is no more sterling confirmation of that than this occasion today -- what this occasion signifies and the warmth and kindness in this room.'
Three months earlier, at a felicitation reception hosted by then Indian Ambassador to the US Nirupama Rao at her residence June 17, Sri had spoken emotionally and movingly of his late father who had passed away a week earlier and dedicated the celebration of his confirmation to his dad -- Professor T P Srinivasan, who taught mathematics for several years at the University of California, Berkeley. He died June 8, 2013.
There wasn't a dry eye in the room, when requesting for 'just one indulgence' to make some personal observations, provided a moving eulogy to his father.
'As you know, yesterday was Father's Day and it was an especially poignant Father's Day for us. It's the first Father's Day that we've had without my dad.'
He described his dad as 'a great man and he had a quintessential immigrant experience. He brought his wife, my mother, and the children -- my two beautiful sisters and the ugly duckling, me, to this country at an early age seeking opportunities for us. His ambitions were our ambitions, his dreams were our dreams and I think they were fully realised.'
Sri noted that 'he was in rapidly declining health by the time I was confirmed, but I am convinced -- we are all convinced -- that he willed himself to stay alive to see my confirmation through.'
'And we were very fortunate to have gone home to see him a couple of weeks ago when we knew he was in the last stages and last moments -- we made it a point to go and visit him.'
Sri recalled how he had taken his children to visit 'and we had our last moments with him and he said two things to me that I'd like to share with you tonight.'
'By this time, he could only speak in whispers and speak only one of two words at a time.'
Sri said, 'The first, he whispered to me, 'Prime Minister,' and why would he say that?'
He explained the reason his father said that was because 'Prime Minister Singh and my dad were long time friends and colleagues from the days of the faculty together in India at Punjab University in Chandigarh. And that was a close collaboration they forged in those years as faculty representatives and they stayed in touch -- in close touch through the ensuing years and decades and he knew that the prime minister had called to congratulate him and my mom on my confirmation.'
Sri said his dad 'wanted to communicate what that meant to him -- how important that was to him. In fact, the very last phone call that my dad received was from the prime minister and his wife and at that point he couldn't speak, but he could listen and my mom held the phone and the receiver to his ear so that he could hear the words of encouragement, congratulations, and of sincere devotion to him, and fidelity to their friendship. And, that meant the world to him and that's why he whispered that to me.'
The newly minted judge also said, 'The second thing he whispered to me was 97-0 (the unanimous US Senate vote to confirm him), how did you do it?'
'That means so much to me,' Sri said, 'because he stayed around to witness that and understand that even though he couldn't voice his pride, it was absolutely tangible in his facial expressions and emotions and there was no escaping that.'
But, he noted, 'The easiest way to answer the question of my dad is, I didn't do it. He did it -- he did it -- because of the opportunity he gave us when he brought us to this country, because of the example he set, and because of the values he instilled in us. He did it.'
And then turning to Rao, asked, 'I'd like to, if I could, with the permission of the ambassador, dedicate this night, not to me, although I know it's to celebrate my confirmation, but I'd like to dedicate it to him because it was his example that shines though.'
It is this humility, love for family, the unmistakable self-deprecating humour, that has permeated thus far a career of brilliance not to mention, greatness -- the future chapters of what we have not seen yet -- is why it was a no-brainer that Judge Sri Srinivasan would be the India Abroad Person of the Year 2013.