India's water future remains very bleak.
The monsoon season, which once extended to 4 months, is now down to less than 30 days of heavy rain.
Rashme Sehgal reports.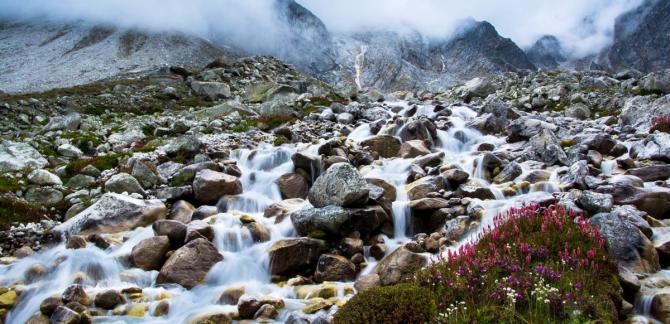 Uttarakhand is a land of amazing paradoxes.
It is home to some of India's largest perennial rivers including the Ganga and Yamuna as also mineral rich water springs, and yet the speed with which these water sources are drying up, the state could soon be transformed into a desert.
The avalanche that hit Chamoli region in early February destroying the Rishi Ganga power project took place in the heart of the Nanda Devi biosphere located at a height of 11,500 feet.
Extensive television coverage of this calamity brought home one sad fact. Even the upper reaches of the Himalayas are bereft of trees.
<p "In and around Chamoli," Hemant Dhyani, convenor of Ganga Ahwan, laments, "all the forests have been chopped down. Even the lush alpine meadows of Uttarkhand called bugyals have not been spared."
"The entire state has been opened up for commercial exploitation. This has proved disastrous for the state's environment. Eighty per cent of the springs in the Himalayas have dried up. With massive soil erosion, the hills are losing their capacity to retain and sustain water," Dhyani points out.
Chamoli experienced a tipping point.
But what are conditions like in the rest of the state and more so its capital city, home to more than 1.5 million residents? The city of Dehradun is located in a valley which has served as a catchment area for several rivers including the Song, the Bindal, the Kali Gad and the Rispana rivers.
The city was built on an elaborate system of canals during the British era which were used to channelise the overflowing waters of these rivers especially during the monsoon months.
The canals have been covered over, thereby allowing all the monsoon water to go waste.
The river beds are now home to thousands of illegal squatters.
The bed of the Song river that flows through Sahasradhara (river of over 1,000 springs) has been taken over by the mining mafia who sells sand and boulders to real estate developers.
Meanwhile, the land mafia has demarcated the river bed into plots and is selling them.
The Song river is located next to the helidrome, allowing the chief minister and his ministers, each time they sit in a helicopter, to get a bird's view of what is being done to this and other rivers in this city and to take suitable action. Sadly, this is not the case.
The indomitable Reenu Patel, president of the Rajpur Community Initiative, has been spearheading a movement to stop the Uttarakhand government from building a dam on the Song river in the foothills of the Himalayas.
Senior executives in the Uttarakhand Pey Jal Nigam believe the dam will provide 200 million litres of water, thereby helping end Dehradun's chronic water problems.
"The Song river has become a thin rivulet. Where does it have the water to create a 3.5 km long lake as is being wrongly visualised by the state government?" Patel asks.
She along with other activists warn that this project along with several other dam projects have been green signalled without any prior consultation with scientists or local communities and with no environment impact Studies.
"The West has put a brake on all hydel projects and yet we seem to be pushing ahead because of pressure from politicians and the builder lobby," Patel adds.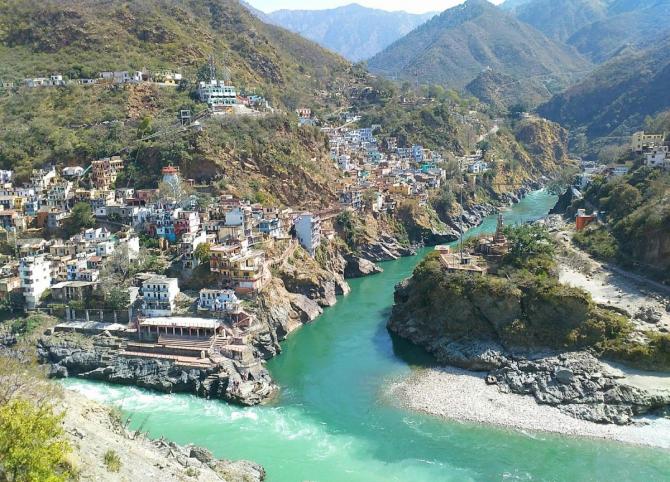 Dr Shekhar Pathak, founder of the People's Association for Himalaya Area Research and a former professor of history at Kumaon University in Nainital, points out that 20 per cent of the state's population reside in the foothills of Haridwar and Dehradun and consume more water than the rest of the population.
"While the sources of water such as snowfall and discharge from springs has decreased, the per capita consumption of water has increased especially in all our urban centres," says Dr Pathak.
"Increasing of chemical weathering in the Himalayas is known to precipitate calamities. And yet the government is proceeding with building a four lane Char Dham road. You can build a Yamuna Expressway between Delhi and Agra, but the construction of a similar 10-12 metre wide road in the Himalayas will require big machinery and massive amounts of hill cutting causing avalanches," warns Dr Pathak.
Giving a historical perspective to this debate, Dr Vikram Soni, emeritus professor of physics and public science at JNU, cites how in 1947 Kumaon and Garhwal (now Uttarakhand) had less than 50 km of road in 1947, but today the road network has been extended to over 40,000 km of metalled roads.
"This road construction has had a devastating impact on the fragile mountain ecology of the Himalayas," says Professor Soni. "All the hillsides are scarred by landslides from the roads that have been hewn out with scant concern for the weak hillsides."
"The loss of forests is humungous and the springs of water that source from these forests have declined by 80% in sixty years," he adds. "Agriculture in these hills has been abandoned and village after village has gone ghost with people migrating to the hills in search of livelihood."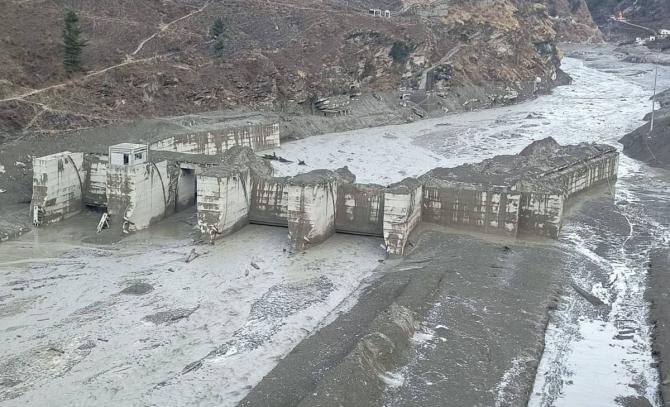 The water situation in the rest of the country is equally grim.
The Niti Aayog issued a report on India's water situation in 2019, which warned that India was suffering from the worst water crisis in its history and millions of lives and livelihoods under threat.
It cited how 600 million Indians faced high to extreme water stress and over 200,000 people died every year due to inadequate access to safe water.
It added that 21 cities including Delhi, Bengaluru, Chennai and Hyderabad would run out of ground water, adversely affecting 100 million people.
Moreover 40 per cent of India's water supply was being depleted at unsustainable rates while another 70 per cent of our water supply was contaminated.
The Niti Aayog further warned that India has 18 per cent of the world's population, but has only four cent of the world's global resources.
This indeed seems to be the roadmap unfolding across the nation.
Cherrapunji, once the wettest place on earth, now faces a drought every winter.
Chennai, a megacity which had a large number of water reservoirs, is now totally dependent on water tanker trucks.
Bengaluru is following suit, having polluted all its lakes and having lost 96 per cent of its ground water.
South India has also been witness to rampant deforestation.
Research has shown that large-scale deforestation has had adverse impact on our monsoon, depressing precipitation levels because fewer trees means fewer leaves transpiring water back to the atmosphere resulting in higher and drier weather conditions.
Instead of focusing on preserving forests and reviving our water springs, Prime Minister Narendra Damodardas Modi's response to this crisis is to launch a grandiose sounding Jal Jeevan Mission that will provide tapped water to households.
Funding of Rs 3.6 lakh crore has been set aside for this mission and the Jal Shakti ministry claims it has provided tap water to 30 million new households.
But as one water activist pointed out the Jal Jeevan Mission could well go the way of Modi's Pradhan Mantri Ujjwala Yojana that provided women living below the poverty line with a free gas cylinder and subsidised stove in order to wean them away from unhealthy cooking fuels like wood and coal.
Millions of women joined the Ujjwala scheme, but found they are no longer in a position to afford new cylinders.
With LPG cylinders now costing between Rs 800 to Rs 1,000 across the country, the scheme for the poor has started failing on the ground.
Will the Jal Jeevan Mission go the same way? Millions of rupees will be spent on providing infrastructure without taking into account the most crucial but missing commodity -- water.
Already 70 per cent of our critical ground water and surface water resources are contaminated by human activity.
At present, 85 per cent of our present water resources are being diverted for agricultural activities and the remaining 15 per cent has to be shared between industry and domestic use.
With the government at loggerheads with the farming community, it is going to be extremely difficult for the Modi Sarkar to now gain the confidence of the farmers to help wean them away from growing water guzzling crops.
India's water future remains very bleak.
The monsoon season, which once extended to 4 months, is now down to less than 30 days of heavy rain.
But even this precious rainfall is not conserved with rain water harvesting schemes in a limbo.
Worse is that the blinkered attitude of state governments focusing on building infrastructure at the cost of our forests.
The few water saving apparatuses that had been created to store monsoon water have been dismantled.
This is best represented by the example of Dehradun which had a vast network of canals criss-crossing the city lending it a Venice-like charm.
They had a strong utilitarian purpose and were used to store excess river overflows.
The municipality covered them in order to give way to automobile traffic.
All this in the name of development.
Rashme Sehgal has had a long career in journalism and has reported for The Times of India, The Indian Post among other newspapers.
Feature Presentation: Aslam Hunani/Rediff.com