The terrorists were armed with AK-47s, grenades, pistols, knives, many rounds of ammunition.
Sepoy Jagdish Chand's weapons were his bare hands and enormous courage. He died, but not before he had felled one of India's enemies.
Archana Masih/Rediff.com speaks to the family of Sepoy Jagdish Chand, one of the 7 soldiers martyred in the terrorist attack on the Pathankot Air Force Station, who was awarded the Kirti Chakra posthumously for his courage on Republic Day.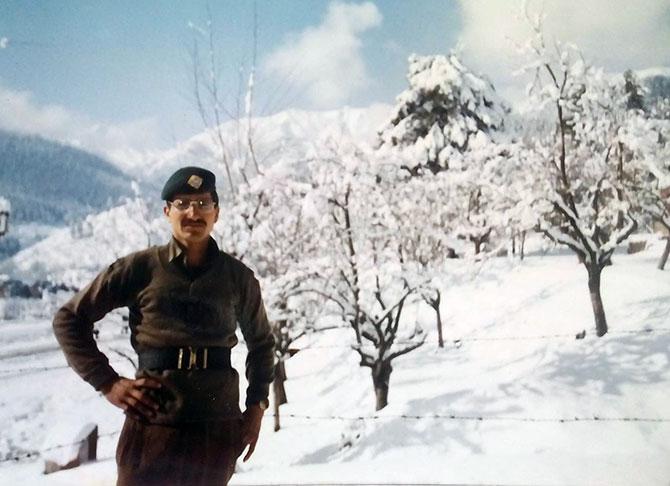 Martyred soldier Jagdish Chand in a photograph taken when he was posted in Kashmir. Photographs: Kind courtesy: Kiran Bala.
Last week Snehalata returned to her home in Basa village in Himachal Pradesh's Chamba district after immersing her martyred husband's ashes in the Ganga in Haridwar.
Sepoy Jagdish Chand, 48, died battling terrorists at the Indian Air Force base in Pathankot on January 2. He was in the cookhouse when terrorists launched an attack and killed three of his mates.
Unarmed, the trooper ran after one of the terrorists and wrestled him to the ground. The terrorist was armed with an AK-47, grenades, knives, many rounds of ammunition. Sepoy Jagdish Chand's weapons were his bare hands and enormous courage. He turned the terrorist's own rifle on him and shot him dead. Tragically, he was felled by another terrorist's bullet.
Sepoy Jagdish Chand had served 25 years in the Indian Army's 7 Dogra Regiment and was re-employed by the Defence Security Corps after retirement from the army. He had served in Srinagar, Leh and with the Indian Peace Keeping Force in Sri Lanka, where he had won two medals for duty, says his family.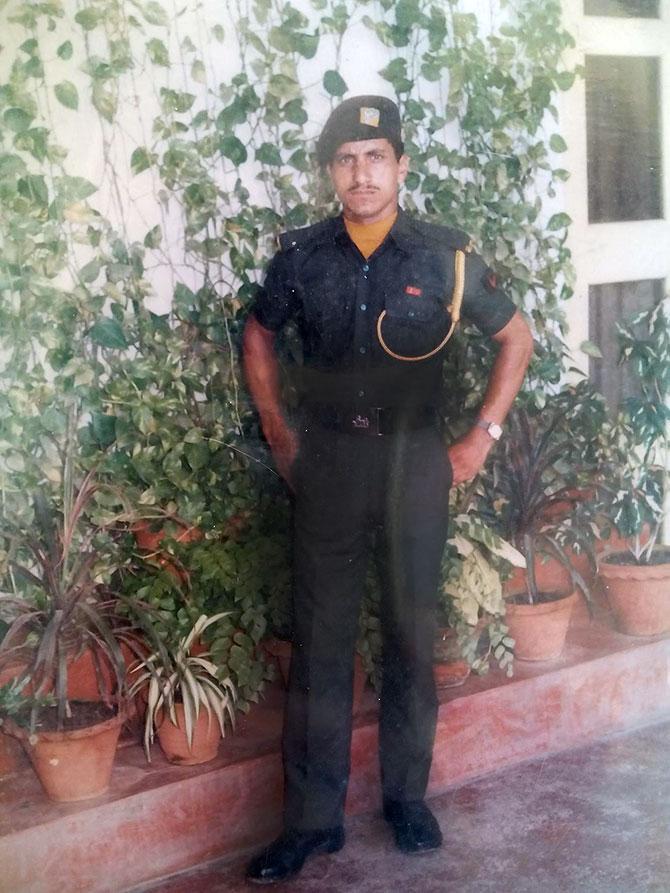 IMAGE: Martyred soldier Sepoy Jagdish Chand served in the Indian Army for two-and-a-half decades and served in Indian Peace Keeping Mission in Sri Lanka.
The family in Basa received the news of his passing at 10.30 the following morning. They had seen him just a couple of days ago when he had stopped en route to Pathankot where he had been posted from Leh in Jammu and Kashmir.
"He was very particular about his attendance and very proud of the fauj," says his daughter Kiran Bala on the telephone.
"He spent that day going to the post office, transferred some money into our account and in the evening called some relatives over for a meal. He loved his food and enjoyed inviting our relatives who lived nearby," says Kiran who is doing an MA in Economics.
At 6 the next morning, the soldier bade his family goodbye. His wife quickly packed his tiffin and he was off with another fauji friend who was also returning to base.
In less than 48 hours Sepoy Jagdish Chand was dead. The news of the Pathankot siege had started coming on television and the worried family called his mobile phone several times only to find it switched off.
As a trooper for the Defence Security Corps, which is entrusted to guard military installations, he was stationed at the Pathankot airbase, one of India's frontline airbases. He was posted at the DSC mess when the terrorists opened fire.
As his family followed the news, their hearts raced in anxiety. His phone went unanswered repeatedly. "We called his friend there and were told that he was alright. So we thought of nothing untoward," says daughter Kiran.
"On the first day the press was reporting the names of two other soldiers who had been martyred. My father's name was not among them," she adds.
The next day someone called from the Pathankot Air Force Station and when she answered the phone, the caller asked for a male member of the family. The girl called a cousin who was given the sad news.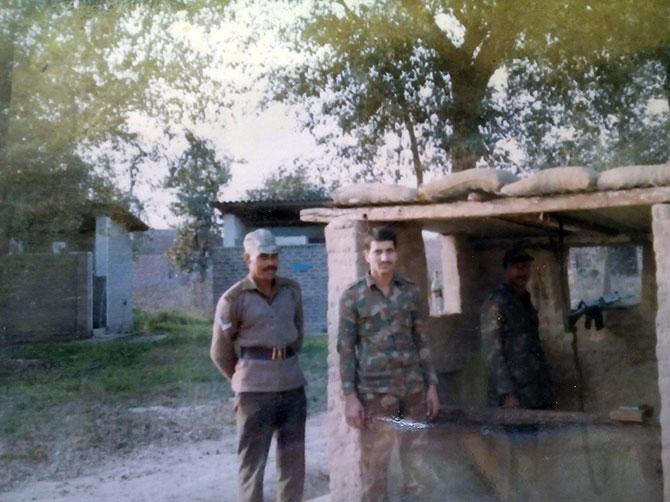 IMAGE: Martyred soldier Sepoy Jagdish Chand had visited his family a couple of days before his death.
Two jawans killed in the Pathankot attack were from Himachal Pradesh. Last year, seven of the state's soldiers from the 6 Dogra Regiment were among the 18 killed in a terrorist ambush in Manipur.
Himachal Pradesh has had a long tradition of sending its men to the armed forces. Three Param Vir Chakra awardees, including the first Param Vir Chakra recipient Major Somnath Sharma, hail from the state. Fifty-two soldiers from Himachal Pradesh died in the Kargil War of 1999.
"Three generations of my family have been in the army. My grandfather, father and now us -- among we four brothers, three joined the army," says retired soldier Piar Singh, 58, Sepoy Jagdish Chand's elder brother.
One brother is still serving in the Indian Army.
In every other house in the village, he says, resides a retired soldier. At one time every house sent a soldier or two to the armed forces. "There are only a few serving jawans in the fauj now. Nowadays our boys are not able to qualify in the selection process and are getting rejected," says Piar Singh.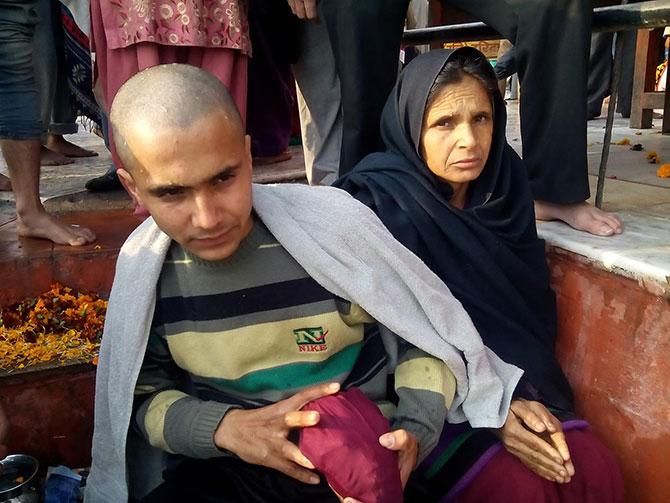 IMAGE: Son Rajat and wife Snehalata immerse Martyr Sepoy Jagdish Chand's ashes in the Ganga.
Sepoy Jagdish Chand's son Rajat, 21, had tried getting recruited into the army, but was unsuccessful.
Kiran says she is encouraging her younger sister to try for the armed forces.
The family has received Rs 20 lakhs (Rs 2 million) in two cheques and a cash amount of Rs 45,000 so far. Since the death will be treated as a battle casualty, his family will continue to receive the pay he drew. Sepoy Jagdish Chand's funeral was attended by state ministers, officials, defence personnel and many locals.
Kiran, the oldest of the martyr's children, has been told by many to be strong. 'You are the eldest; you have to be a source of strength to your mother and siblings,' she was counselled by those who came for the funeral.
She does not remember much of what happened that day. It is a haze of permanent grief.
"It's a day we never want to remember. It's the day the world ended for us."