In an Independence Day Special series, Rediff.com celebrates India through the lives of her people.
Today: Lalit Satyarthi, an aspiring actor, who left his home in Agra to follow his lifelong dream of becoming a Bollywood hero. He is still struggling to succeed, but is sure that he's not giving up yet. (Hear him deliver a dialogue at the end of the feature!)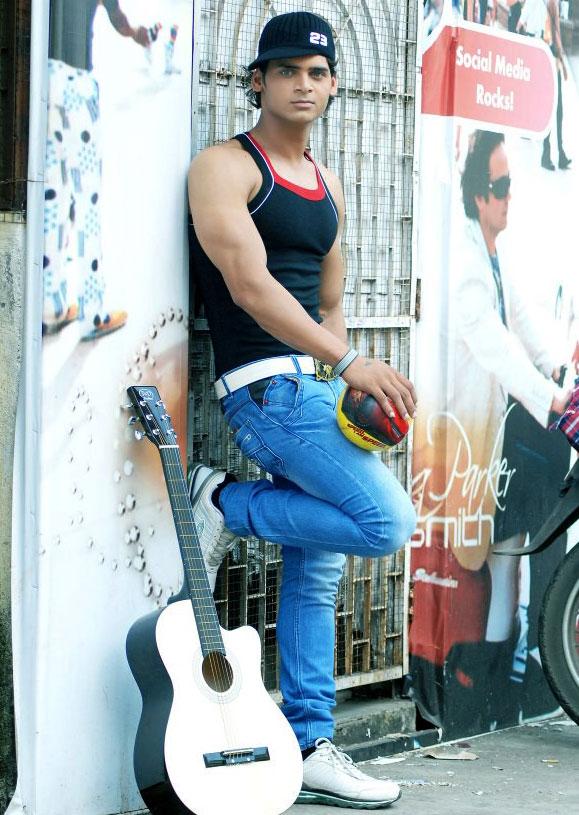 I always wanted to act.
When I told my parents that I wanted to be an actor, my father was very upset. I am from Agra and my father is a sub inspector. Six of my uncles (father's brothers) are in the police force.
When I was 18 and finished Class 12, I started preparing for the police exams. I filled the forms, gave the written and physical test, but my heart was elsewhere.
I passed the exam and had to just appear for the medical, but I did not go. My father was very upset because he had wanted me to join the police force.
After that I enrolled for a BBA (Bachelor's in Business Administration) and that's when I came to know that Mukesh Khanna (actor known for his roles in the Mahabharat and Shaktimaan) had started an acting institute in Agra called the Shaktimaan Institute Of Agra.
I went there and gave the audition test. Out of 250 students, only 10 were selected. I was third in the top ten. I pleaded with them to call my father and tell him that I was in the top ten and to come and pay my fees.
I did not have the guts to tell him myself. I thought my father would not go and pay the Rs 70,000 fee, but the next day I got a call from the institute saying that the amount was paid and I could join them!
I then spoke to my dad for the first time about my career choice. He just said, "I know you are not going to listen to me, so do well in whatever you do."
I joined the acting institute and did a four month acting course. I learnt acting skills, body language and diction.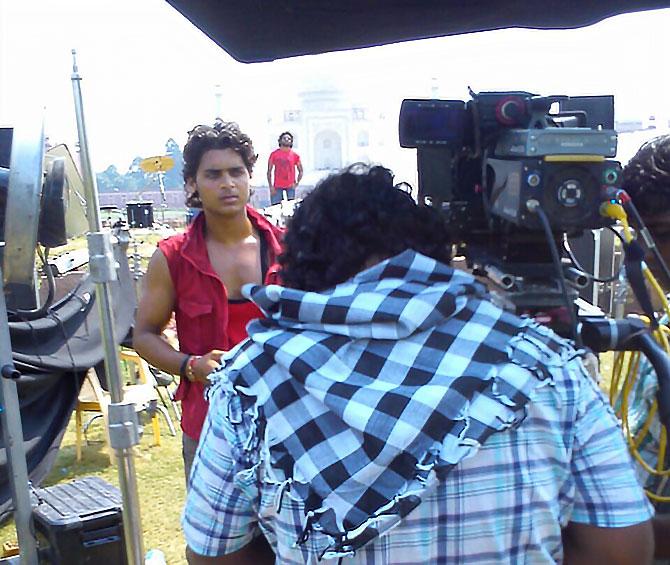 IMAGE: Lalit has given 100 auditions in a year, none of which fetched him a role. Photograph: Kind courtesy, Lalit Satyarthi.
Four months after completing my graduation and my acting course, I left for Mumbai. My mother was very sad that day and my father was frightened about how I would survive in a big city like Mumbai.
My cousins were in Mumbai so I had a place to stay, but after four months they moved to Delhi and I had to find new accommodation. I had made lots of friends by then, so I rented a house in Andheri West (north-west Mumbai) with two friends.
We have a room which the three of us share. The rent is Rs 12,000 and the deposit is Rs 50,000.
In Agra we have our own house which has seven rooms. My Mumbai flat is nothing.
When I arrived in Mumbai I only knew one coordinator (casting director). I had become friends with him on Facebook. Through him I got the contact of few more coordinators. When I started meeting people I made friends and came to know about different auditions.
I must have given over 100 auditions in the one year that I have been in Mumbai. Eight of these have been for films.
I have not got even a single role from all these auditions. Whatever work I have managed is because of my friends. I give 2, 3 auditions in a day.
If there is no audition I hang out with other aspiring actor friends. In our job you can't sit at home. We discuss our previous auditions -- what went wrong and how it went -- or about new auditions.
We also talk about who are the new casting directors we can meet; or new TV serials that are being launched and if they are looking for actors.
Aspiring actors help each other and keep them informed about auditions. No one keeps the news to himself thinking 'What if he gets the role?' People in our field feel 'If I can't, at least someone else can.'
On the days of my audition, I have to do some special preparation. I look at what clothes and shoes I will wear and how I look because the most important thing is how I present myself.
Even before you say your dialogue, they judge you by your looks.
When we know about the auditions, we also find out the requirements like what kind of hair they want, curly or straight hair, brown or black eyes, whether they want a lean or muscular body.
The dress code is specified, I mostly choose auditions where I have to wear Western clothes. I never go for auditions where you have to wear a dhoti or dress like a villager.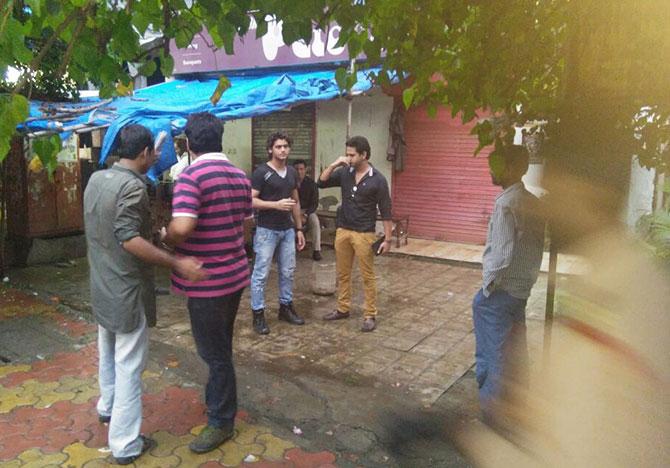 IMAGE: A cutting chai with a pal at one of his hangouts. Photograph: Kind courtesy, Lalit Satyarthi.
It is not as if I only want to be a hero, though I came from Agra to be a hero. If I get a character role in a big production I will do it. My friend got a role in Gunday, it was a small role where he gets slapped by Arjun Kapoor, but people notice him. If there is that kind of a role, I will do it.
A few days ago I went to Balaji Telefilms to audition for a serial, but I have not heard from them.
The first time I faced the camera was in Agra after finishing my education. I did a small role of an extra dancer in a film starring Purab Kohli and Hiten Tejwani (No trace of the film, not yet released).
After that I did a very small role in Mukesh Khanna's film Hamara Hero Shaktimaan (which was aired on Pogo TV, no theatre release), but I was not paid anything for that.
Four months after coming to Mumbai, I did a short film called Mujhe Maaf Kar Do, it was for an aspiring director Rohit G who wanted to showcase his story idea. If the idea gets selected then he will get a chance to make a film out if it.
I shot for four days and I got 8,000 rupees.
Then I did pilot shoot for two television serials Jeevan Ek Sangharsh and Anuradha for Doordarshan. I was paid 4,000 for it, but it has still not been telecast. If that gets selected, there will be continuous work.
I have also done Savdhaan India episode no 512 on Life OK. It was shot in Mathura.
I also did a Hindi movie called My Name is Suman Negi, in Delhi. This film is also not released.
They gave me Rs 12,000 as a signing amount and Rs 11,000 for conveyance. But the whole payment is still due. They said they will give it in two months but recently told me that since 'We have launched you as the lead, whatever we pay you accept it without a fuss.'
I am okay with it as long as I get some money. Normally you should get above Rs 5 lakh as a beginner in a small film.
I have met Shakti Kapoor, Viju Khote, Govinda and Jackie Shroff at a Marathi film award function. I got their blessing and that is enough for me.
IMAGE: Lalit admires Hrithik Roshan, but feels you cannot be an actor by copying anyone. You have to have it in you. Photograph: Reuben NV/Rediff.com
Every morning I am up at 6 am and go to the gym for one-and-a-half hours. After that I go to a park close to my house where I walk, run or do yoga.
I have learnt swimming recently as it is essential for an actor. I have a guitar and I practice playing it at home. I try to rehearse new dialogues and emotions every few days.
In the evening I learn choreography -- especially Bollywood dance -- and also teach there. I have 12 students, but I don't get paid because I learn choreography free of charge there.
I have recently assisted Raju Bhai in choreographing 10 Hindi songs for the Mahua channel. Raju Bhai is my guru and gave me 11,000 rupees for it.
When I return home by 11 pm, the first thing I do is eat and check WhatsApp to see if there are any auditions the next day.
Since my parents have spent my education and acting course, I don't like asking them for money. Though I had to ask a couple of times earlier, but now I don't.
My monthly expense is Rs 15,000. I had saved all my pocket money in Agra which was about one lakh rupees and put it in my bank account, so I had some money when I came to Mumbai. Plus the little work that I have done, helped.
In this one year, I have gone to Agra 3 to 4 times. I had telephoned my family that I was on Savdhaan India and my mother told everyone to watch me.
People respect me when I go home now. My relatives invite me and if I am unable to visit them, they come home and meet me. They want to know about how a film shooting happens, and ask "Amitabh Bachchan se mila kya?"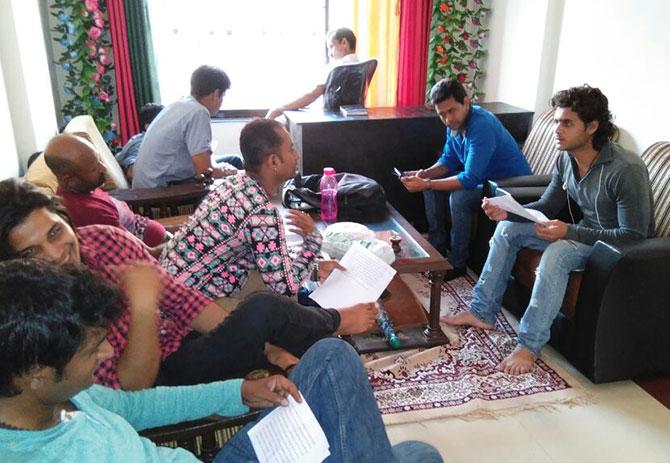 IMAGE: At an audition. Lalit Satyarthi gives 2, 3 auditions a day. Photograph: Kind courtesy, Lalit Satyarthi.
When I look at my friends who have been here for 5, 6 years and have not been able to do a single role, I think what I have achieved is good enough. But I know people who have got big breaks in their very first role, so I am nowhere.
I do feel depressed at times, but this is my decision and I have to do my best. I will try finding work in this industry till I succeed, I am not going to go back and try some other career.
If I try for another career I will surely fail, but if I keep trying in the film industry I will succeed one day.
Once a month I go to Film City just to check if there is some work there. I also go to Filmistaan Studio and I have spoken to someone for a film role. Let's see if something happens.
I have gone to Yash Raj Films only once. They told me there were no auditions going on, so I left my name and number at their office.
I am inspired by Hrithik Roshan, he is perfect. I like his dancing, acting and his body language. I have learnt a lot from watching his movies, like his gestures, postures, style. But I don't copy him, I have my own style.
What I like about our country is that there is unity even though there are so many religions and differences. The freedom we have is like no other country, therefore crime is also happening.
If there is one thing I would like to change about India is the minds of people who think I am Hindu or Muslim. Another thing I want is for everyone to be educated.
Lalit Satyarthi is 22. He came to Mumbai from Agra to become an actor 15 months ago. Undeterred in his quest so far, he is determined to make it in the television or film industry one day.
Lalit spoke to Patcy N/Rediff.com at an acquaintance's office in Mumbai's north-west suburb, Lokhandwala Complex, the hub of India's entertainment industry.
Video: Reuben NV/Rediff.com