In an Independence Day Special series, Rediff.com celebrates India through the lives of her people.
Today: Ashok Kumar Mondol, who drives the tram, a timeless Kolkata classic. Kolkata is the only city in India where you can ride a tram. (And you must hear him sing at the end of the feature!)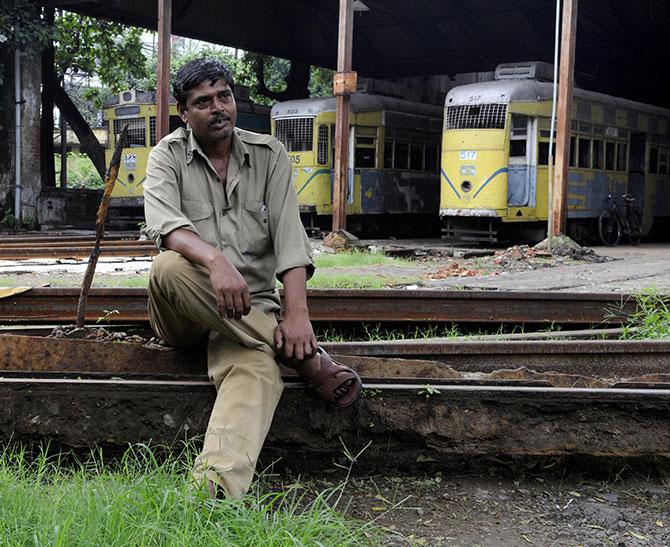 "Zindagi ek safar hai suhana/Yahan kal kya ho kisne jaana."
I have been driving a tram in Kolkata for 32 years. The most picturesque parts of the route that I take are around Esplanade and the areas surrounding Fort William and Kolkata Maidan.

There is greenery all around and when it rains the entire area looks magical. On a rainy day, I feel like jumping out of this tram car. I feel like singing and dancing and getting drenched. But I can't. My task is but to ferry the passengers to their desired destinations.
Every time I pass the Maidan, I fall in love with this city all over again.
My father was a Calcutta Tramways Company conductor. In his times, the pay scale at CTC was poor and he had a tough time taking care of our family of five.
After studying till Class 8, I was forced to leave school and share the burden of household responsibility.

I was good in studies and wanted to clear the Class 12 examination at least. But Baba desperately needed another earning member in the family. He needed to marry two of my sisters off.

I started trying for jobs. It wasn't easy. Then a friend of my father said the CTC was hiring.

I applied and got selected. It has been a long bond of more than three decades. Loyalty with CTC runs in my family.

I lost my mother a few years back, my family now comprises my father, wife and two sons. We have a house in the southern suburb of Sonarpur.

My eldest son holds a master's degree and works in a private company while the younger one is doing his graduation.

As I have served the state government for so many years, I don't have much faith in private companies. Hence, I have asked my eldest son to apply for jobs in the CTC. It is obvious that with his qualification, he won't be a tram driver like me!

A tram driver's life isn't easy. Though a tram doesn't pollute, emissions from other vehicles that ply on the roads clog my lungs and at times it seems as if I can't breathe. There are too many cars and buses on the roads now.
On returning home from work the first thing I do is take a long, leisurely, bath. There is so much dirt on the roads.

I talk to my wife and Baba over lunch and the three of us catch a short nap in the afternoon.

As my younger son goes to college, we get to see each other mostly in the evenings. I drive the tram from the CTC office till Esplanade every day.

I can't understand why other Indian states don't opt for trams. They are the most environment-friendly mode of transport. It is slow, but then why do we need to be in a mad rush all the time?

A tram car is hassle-free and most easy to control. Accidents rarely happen here.

In my long career, I faced an emergency only once when the tram I was driving got derailed because of a sudden electrical wire break, injuring a couple of people. But apart from that, the running has been pretty smooth.

Earlier, a traffic jam could never delay a tram. But now, traffic congestion is a major issue for us. Vehicles from every corner block the roads and also the tram tracks. Often an hour-long journey takes more than two hours.

Travel by a tram is a great stress buster. It is sure to soothe one's nerves and I often see the rich getting into my tram with the chauffeurs of their cars following their masters.

Conditioned air inside costly cars can't hold a candle to fresh natural air.

Celebrities generally avoid public transport, but once I had seen actor Chiranjit (Dipak Chakraborty, now a Trinamool Congress member of the legislative assembly) in my tram car. It was a red letter day for me.

I had taken his autograph and he had smiled at me.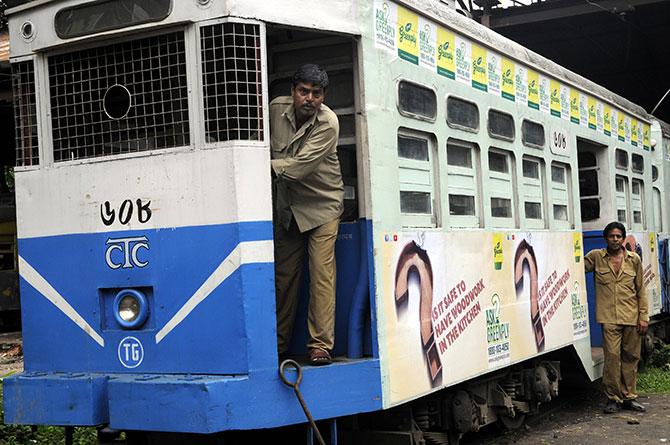 My day starts at 5 in the morning and ends at 1 pm. I report for work around 6 am and wind up around 12.30 pm.

On reaching the depot, I sign the register and set out on my daily journey from Tollygunge to Esplanade.

On a light day or on weekends, I manage 3, even 4 trips whereas on a heavy weekday or during rains I manage 2 trips at the most.

I get short breaks in between trips and have breakfast at the CTC depot canteen.

I travel from home to the nearest metro rail station by an autorickshaw and then reach the Tollygunge Metro Station (recently rechristened Mahanayak Uttam Kumar Metro Station by West Bengal Chief Minister Mamata Banerjee). I follow the same route on the way back.

As the CTC depot is situated right opposite the metro station, travelling is really convenient. It takes me 30, 40 minutes to travel one way.

In recent times, CTC has revised its pay scales to a large extent and my gross salary now stands at Rs 30,000 a month. It is not huge, but enough to cater to the needs of a middle-class family like ours.

Besides, my elder one is also contributing these days and we don't have anything to complain.

There was a time when CTC salaries were irregular. But not any more. Now, things are looking up.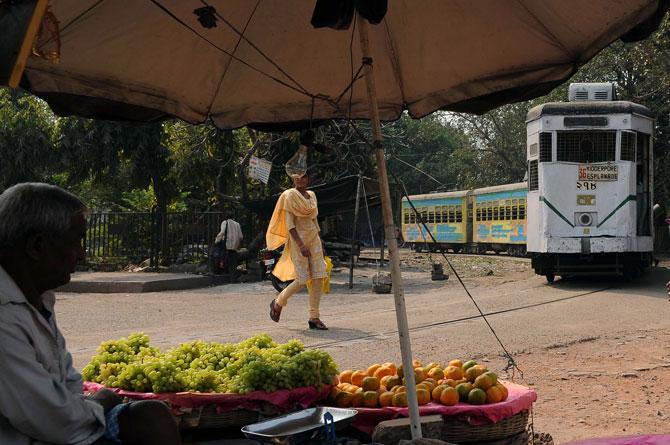 Music was my passion from childhood and Ma had got me admitted to Bani Chakra (a well-known music school).

I learnt my music lessons quickly and was referred to as a shining star.

My parents thought a career in music would put me on the wrong track of life and my name was struck off Bani Chakra' roster soon after.
India is a fascinating country. I am so proud to be born here.

I feel the country can be a superpower only if our political leaders stop looking at us, the people, as ballot papers.

We elect them, but the moment they ascend the throne of power, they start disowning us. This attitude has to change.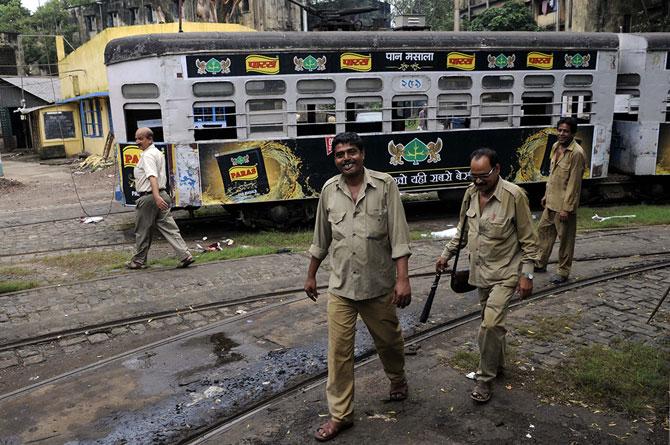 But it is also unfair to put the blame on the political leaders all the time. We, the citizens, too have some responsibility to make India a better place.

Why should we bribe to get our job done? Why should we evade taxes? Why should we be mean and divisive?

Isn't it our responsibility to keep our motherland clean?
Golpo korte korte doshta bajiye fellum didi, cholun ebar jaoa jaak (We lost track of time chatting, let's go, didi)!
After Indrani Roy/Rediff.com spoke to Mr Mondol at the CTC depot in Kolkata, she rode the tram with him.
He took her around a wet canopy of trees in the city's famed sprawling Maidan, the Victoria Memorial, Fort William and unending Mayo Road -- showing her own city to her in a way she had never seen before.
Mr Mondol is a very gifted singer. Please listen to him here!
The minimum tram fare is Rs 5 and the maximum Rs 6. A ride in the heritage tram costs Rs 10.
Photographs/Video: Abhiroop Dey Sarkar.