Times Now, the English news channel Arnab Goswami headed until recently, had an average daily reach of 1.7 million people.
That may be a fraction of the 48 million Aaj Tak reached every day in 2016, but Goswami had no trouble getting investors for his new venture.
The television anchor tells Vanita Kohli-Khandekar what the nation -- well, at least the Indians who once watched his nightly show -- wants to know about Republic TV.
Illustration: Dominic Xavier/Rediff.com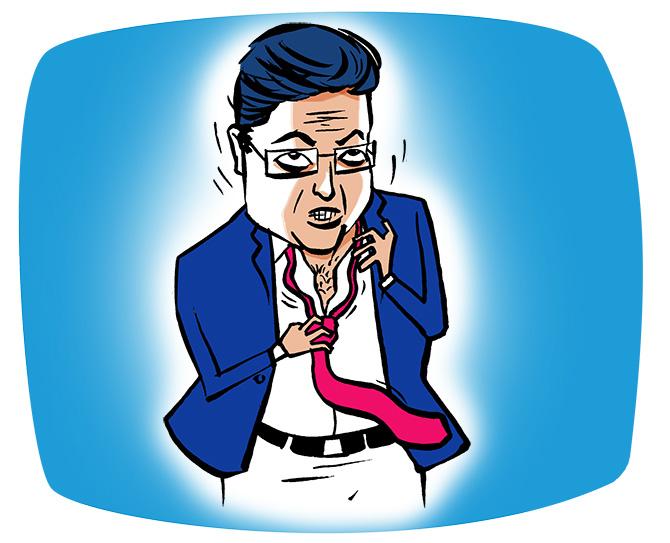 "I will do the journalism I like because people like my journalism. There is a want/desire for this kind of news. Lutyens media should go into deep introspection. It is not connected with the rest of India, metaphorically and literally."
"I want to de-Lutyenise media. These are a group of people who exist only for themselves; they are easily influenced and have done nothing to get new young journalists in."
"I want to give back media to India, to the Indian people. This is the democratisation of Indian media; it explains the support we get."
"Republic TV is independent from old media. This is about the emergence of a new generation of content creators. Rajdeep and the others have had it good for too long."
"Things were becoming too easy; the gap between me and the others was insane. I realised that I need to challenge myself and that I must do it at the height of my creative prowess. Also I needed to be totally free; nothing should be able to guide my editorial agenda."
Many such statements make up the 90-odd minutes I spend having lunch with Arnab Goswami, 43.
His faith in himself, his brand of journalism and its potential to make money are touching.
You may not agree with his loud, opinionated style, but Goswami is popular.
Times Now, the English news channel he came to define, has been the market leader for very long, with an average daily reach of 1.7 million people.
That may be a fraction of the 48 million that, say, Hindi Aaj Tak reached every day in 2016, but Goswami had no trouble getting investors for his new venture, Republic TV.
It will launch by the end of April. Every Web site and newspaper has been carrying pieces on every bit of information about Republic TV.
The media's obsession with Goswami is as much responsible for his 'rock star' status as viewers. That is why the lunch meeting.
Though we have spoken on and off, I haven't met Goswami for two years. He looks slimmer, is wearing all denim and listening to Pink Floyd when he walks into the Indigo Delicatessen at the Palladium in Mumbai.
The biggest change, however, is that the last time we met he was the editor-in-chief of Times Now.
After 12 years with Times Now, Goswami quit late last year to join ARG Outlier Media.
ARG, an acronym for Arnab Ranjan Goswami, was set up in August 2016.
It has been just over 120 days since he quit. How on earth did he manage to get investors, hire 300 people and get an entire news operation going?
"There is a workflow and every day is measured," says a much wired Goswami.
He has been shuttling between public appearances -- 37 so far -- a makeshift office and the construction of a studio, all in Lower Parel. And he is on a diet (that explains the weight loss).
He goes for a Caesar salad with extra chicken and bacon and an orange juice. I go for the fish.
What is it like doing your own thing? "My first entrepreneurial venture was Times Now. In 2005, we raised money from Reuters and built the channel from that," he points out.
How did a postgraduate in social anthropology from Oxford end up becoming the face of what he refers to as "activist" journalism?
Soon after his postgraduation in 1994 Goswami did not get a job in any of the major newspapers in Delhi. During the course of his interviews he met Chandan Mitra of The Pioneer, who referred him to Swapan Dasgupta, then deputy editor of The Indian Express.
Dasgupta suggested that Goswami go to Calcutta (now Kolkata). That is how he ended up on the editorial page of The Telegraph. However, nine months and about 100 bylines later, "I got bored, it was too much pontificating. Then TV happened."
NDTV was then a production house (it became a full-fledged broadcaster in 2003). Goswami came on board to anchor and report. He quit in 2004 to join Times' yet-to-be-launched television venture.
Indigo doesn't disappoint. The fish is good unlike the overcrowded Indian news market with over 390 news channels. Many are from people/firms that simply want to use these as tools of influence or extortion.
Only a handful of news broadcasters -- TV Today (Aaj Tak), MCCS (ABP News) among others -- make money.
How on earth does Republic hope to survive, let alone break even or make money on the estimated Rs 150 cores to Rs 200 crores it has raised so far?
"I don't agree that media is a challenged industry if you look at the viewership we got at Times Now. The channel made 25 to 20 per cent EBITDA (earnings before interest, taxes, depreciation and amortisation), ad rates were 50 to 60 per cent of the Indian Premier League. For me it (news) is not a cluttered market," says Goswami.
We have finished our lunch and order coffees and baked yoghurt. It is the right time to raise some of the not-so-polite questions.
Why does he harangue his guests so much?
Why is his journalism so polarising?
"I think of it as raising issues that need to be raised and in the process polarisation happens," he says.
He points to a campaign Times Now ran for the Right to Pray on women's right to enter religious places early in 2016.
It led, in part, to a Mumbai high court judgment that stated that it is a woman's fundamental right.
"Our media is obsessed with party politics while these issues were relegated to back-of-the-book features. I look back and say, what impact have I had on society, not on ratings? Why did I go after Suresh Kalmadi and CWG, after the 2G scam, after Lalitgate? Do we really have serious investigative journalism happening in India? Why is there no activist journalism?"
Because journalists are not supposed to be judge, jury and arbitrator, they are meant to inform the debate on any issue. Goswami doesn't agree.
"Neutrality is good when it is genuine, not when it is a shroud to cover something up. If we had done the Right to Pray story as 'he said, she said,' it would have had no impact," he says.
He reckons part of his style comes from his debating days in school and college.
"We are using debate as an enabler, an equaliser. The role media plays in drawing opinions on issues is important," he says.
But opinions have to be based on facts.
"Of course, they have to be. Look at the ISRO-Devas story we did or the ones we did in 2010-2011 (CWG et al). But facts have to be embellished with opinion," he adds.
For someone who comes from a family of freedom fighters and lawyers cutting across political parties and ideologies, how did Goswami end up being identified as a right-winger and supporter of the Bharatiya Janata Party?
His maternal grandfather was a die-hard leftist, the paternal one was a Congressman. One uncle was a Congress member of Parliament from Guwahati in the seventies and another is a BJP member of the assembly from Guwahati.
Goswami's father, an army veteran, fought the 1998 Lok Sabha elections on a BJP ticket, though he never went back to active politics.
One reason for his "aligned to the BJP" image arguably is his stand on various issues on air. "I am pro-India, pro-army, not a right winger," he says.
In 2000, he took a break from NDTV for a fellowship to Cambridge University. This resulted in a book, Combating Terrorism: The Legal Challenge. It compared the laws among different countries on the issue.
"My position on issues concerning nationalism has been well-documented and known," says Goswami.
The other reason? Two of the big investors in ARG, Rajeev Chandrasekhar, MP, and businessman T V Mohandas Pai, are seen as BJP supporters.
"My investors are my viewers. They have invested in my brand of journalism. And I have been boycotted by all parties -- BJP, AAP and Congress," says Goswami.
To be fair, Pai was the chief financial officer and a board member in Infosys without in any way colouring the firm's image. And both these men have investments that span several industries and disciplines.
But the buzz that Republic TV will be a BJP-friendly channel refuses to die down.
Wait then for Arnab's new media world to unfold.