Jyoti Vyas was seven months pregnant when two planes flew into the Twin Towers on September 11, 2001. She ran down 77 flights of stairs and 15 years later, she remembers how she survived the tragedy almost unscathed.
George Joseph listens in.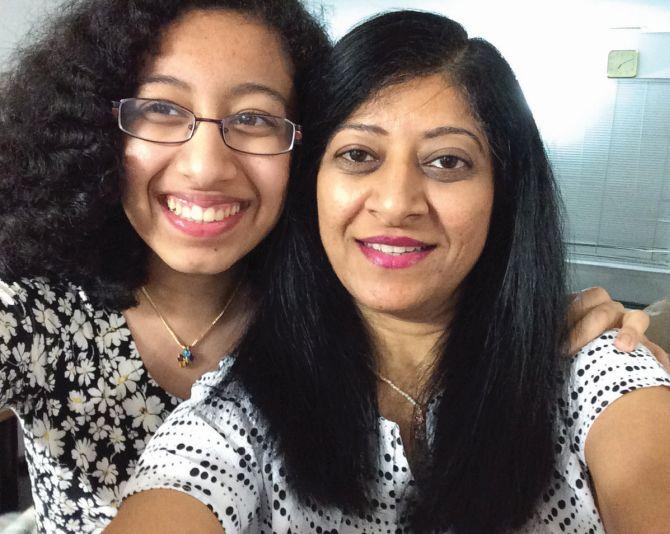 When their first child was born two months after 9/11, Jyoti and Jaldhar Vyas of New Jersey named her Shailaja. "It is another name of Parvathy, daughter of Himavan. Our Shailaja too survived from the heights of tragedy," Jaldhar, an IT consultant, told Rediff.com.
Jyoti was seven months pregnant when the World Trade Center was attacked. She was on the 78th floor of Tower-2, working at Baseline Financial Services. When the first plane hit Tower-1, Jyoti wanted to immediately call Jaldhar. Since she did not know how to make a call from the receptionist's phone there, she went down to the 77th floor, which was also part of the office.
"It saved her. The second plane hit the 78th floor and four of her colleagues who were there perished," Jaldhar said.
She called him and told him about the attack. Then there was no message or information for almost four hours.
"I felt (I was) going through hell those four hours. There was nobody to call, no one to help. People kept on calling to know about Jyoti. I had no word of her," Jaldhar remembers.
Jyoti was at the elevators, trying to get out. But in the mad rush, and in her pregnant state, she could not squeeze in. When the second plane hit, people in the office ducked under tables. She was unable to do that too.
As debris began to fall, somebody grabbed her hand and ran for the stairs. Through smoke and slippery stairs, they ran down 77 flights. It seemed to be ages before they arrived at the lobby.
Jyoti was breathless and could not feel the movement of her baby. When she told a rescue worker that she was pregnant and could not feel her baby, she was rushed to the hospital. An ultrasound scan proved that everything was alright with the baby. She heard the heartbeats of her child and calls it the most beautiful sound she had ever heard.
Jyoti then called Jaldhar, who was crying in terror. But he couldn't get to the hospital as there was a virtual curfew and no vehicles were moving about. The next day a police van brought Jyoti back home.
Jyoti and Jaldhar never sought any compensation. They were thankful that they escaped the tragedy unscathed.
Their story, in their own words:
"I cannot believe it's been 15 years since the terrorist attacks on September 2001. It is still as real as it was on that day for me. It is always difficult around this time of year when I reflect on what happened on that day.
One of the most vivid reminders for me was when I visited the 9/11 memorial with my family. I put off going to see it for a long time because I was not sure if I could handle it. So, it was not until Christmas 2014 when we finally went. It was a surreal experience, especially for my daughter Shailaja and me.
Shailaja noticed a photo of me displayed on a big screen among other survivors. It had been taken by a New York Post photographer as I came out of the building assisted by a colleague and New York Police Department officer, Ramon Suarez, who went back in to assist others and died when the tower collapsed.
I was visibly pregnant, covered in dust and obviously in distress. However, I was alive, without any scratches and bruises. I feel incredibly lucky and blessed to be alive after coming so close to death. I am thankful for my daughter who will turn 15 this year and I am also blessed to have a son Nilagriva, who was born 3 years later."
-- Jyoti Vyas
"On 9/11 all I could do was watch helplessly on television as the twin towers fell. Not knowing whether my wife and unborn daughter were alive or dead. Thanks to Jyoti's bravery I was spared the grief that so many others had to face that day. The first responders and our troops are also heroes and in comparison to them I am just a bystander.
They say time heals all wounds and today I do not feel the pain as vividly as I did then. Unfortunately, 15 years later, in places like Mumbai, Paris, London, Jerusalem and Syria there are still times when people have to worry whether their loved ones are alive or mourn their deaths. Let us not forget the victims and survivors of 9/11 and honour their memories by ending terrorism once and for all."
-- Jaldhar Vyas
"If I am being honest, no one ever really asks me about my opinions about 9/11. They mostly want to hear my mom's side of the story and I suppose I haven't really had an opinion until about two years ago.
In 2014 my family took a trip to the 9/11 memorial and it definitely changed my perspective. I felt infinitely more grateful to be alive. I see my mom as a survivor who did what she had to do to protect her family. It's hard for me to think of her as some kind of hero, but I only hope that if I am ever in a tough situation like that I can be as courageous as she was."
-- Shailaja Vyas