The child's mom continued to sob and pray.
The Vistara staff was standing by offering as much assistance as they were capable of.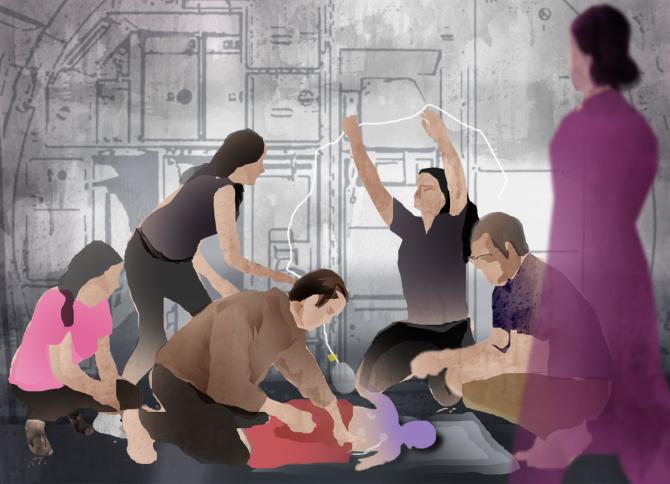 Vistara flight UK 814 had just taken off from the Kempegowda airport in Bengaluru at 9 pm, on Sunday, August 27, and was about half an hour out of the city, flying due north, when Dr Avichala Taxak, who was sitting in the emergency exit row, probably 11 E, heard a woman weeping a few seats behind her.
She recalls, "That was the first thing I heard. The mother started crying and that's when we (wondered) what is happening. How can we help? Was there anything that they need from us (as doctors)."
Minutes later there was a cabin crew announcement asking if there was 'an RMP' onboard and they urgently needed the assistance of an RMP.
"The call was announced, I think, 30-35 minutes after takeoff. They were looking for an RMP. I was like, what is an RMP? Because anybody would just be asking for a doctor, usually. I remember that very well."
It took a few minutes for Dr Avichala to fathom what they meant by an RMP -- registered medical practitioner -- and then she sprung to her feet and hurried over to the scene of the emergency.
A toddler of two had lost pulse and was no longer breathing, her face having slowly turned a grim and dangerous shade of blue or in medical terms was experiencing cyanosis.
"It was a small baby, who was pulseless, and blue.
"Then we asked for the medical records, we got to know she is a complex congenital heart disease patient, post operative."
Delhi-raised Dr Avichala, who has her roots in Haryana, is becoming a cardiovascular radiologist. She is in her final year of study towards earning her super-specialty degree at New Delhi's prestigious All India Institute of Medical Sciences.
The physician had been attending an annual interventional radiology conference in Bengaluru and she, along with four other colleagues -- Dr Rishabh Jain, Dr Oishika Chakraborty, Dr Damandeep Singh and Dr Navdeep Kaur -- after the successful conclusion of the conference, were travelling back to Delhi, seated separately, that night.
After looking at the medical records, Dr Avichala and her fellow doctors -- two of whom she knew better than the others -- rapidly conferred on how to handle the high-risk patient, who was but a tiny, delicate baby.
"We had to quickly think: What next, what next. That is where the training works. We started thinking... what can we do? How can we secure the airway? What was there on the plane and how can we make use of whatever is available."
The pulse-less child was gently carried to the galley or rear pantry, at the back of the plane and laid out on a blanket on the floor as attempts to valiantly resuscitate her began.
Why did they use the galley and the floor? "So, there was some space for the five of us. One person cannot do all of it. One person has to secure the airway. One person has to give chest compressions. One person has to administer the drugs and take the IV line."
Within seconds, not even minutes, the doctors, all representing myriad specialties, none of whom were cardiac surgeons -- "Dr Navdeep was the anesthesiologist who really helped us" -- hastily pooled their knowledge.
"It did not matter which specialties we were -- the beauty about that was that we were just very focused on saving the baby. We quickly took roles, and everybody was very (good at) coordinating, and we did not (even) know each other that well, before the flight.
"We see these patients in AIIMS a lot, like complex congenital heart disease, but not in this setting."
They hastily evaluated the equipment they had at their disposal. Oxygen was in plentiful supply, it being an airplane.
The aircraft's medical kit thankfully had tubes, syringes, emergency medication and a cannula -- "the pediatric cannula (a thin tube inserted in the body) was there -- we were very happy to see that, actually, because the veins and arteries (of a baby) are very small and to cannulate them with a bigger one would have been a nightmare."
The oxygen mask was unfortunately adult-size, but nevertheless, of course, it had to pressed into service with a bit of jugaad -- "the baby was so small that it was leaking from all sides. One of us had to manually hold it the whole time."
Fifteen minutes later, wondrously, and to doctors' deep relief, the infant regained her breathing and pulse.
But then, to everyone's dismay, she lost pulse again.
"It came back after 15 minutes, and then again, she went into arrest. And we had to give AED (automated external/electronic defibrillator, a portable electronic device which stops the arrhythmia). And then it came back again. Actually, we did not have any monitors or anything. We were just relying on the pulse and the breath sounds and using the stethoscope for the heart sounds."
The child's mom continued to sob and pray. A doctor was assigned to soothing her. "One of us was calming them down: 'Just wait, let us do our job. Relax'. The father was trying to make a video. We were getting very distracted with that, so he stopped."
The Vistara staff was valiantly standing by offering as much assistance as they were capable of. "The crew was very supportive. They were giving us everything that they had, and could give on the flight, that we were asking for."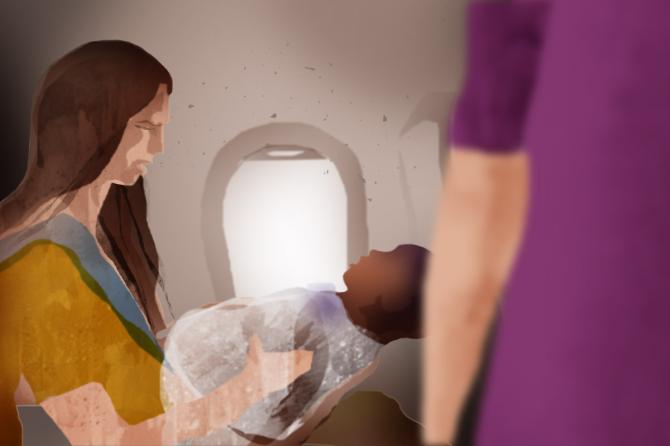 Dr Avichala remembers feeling very composed and not nervous. "We see these situations on a regular basis. Definitely, we were very calm, but very focused."
The baby regained her pulse, lost it again, got it back and this cycle began to repeat itself viciously.
This brave group of young doctors did not despair, soldiering on, fighting for the child's life, giving compressions, administering oxygen and utilising AED, till the child stayed with them, hanging onto life precariously, some 25,000 feet in the air.
"She arrested twice. Once she arrested again, we informed the captain that we wanted an emergency landing. We eventually resuscitated her again, but then we could not have continued with that till Delhi."
So, the next steps had to be immediately charted out. Where could the child be taken for further care?
Mumbai that would have excellently equipped super-specialty hospitals was too far. Nagpur was chosen, as per the parents' wishes too.
The pilot was asked to fly or divert to Nagpur.
On the ground, at Nagpur's Dr Babasaheb Ambedkar airport, the doctors requested an ambulance with pediatric endotracheal intubation equipment to meet the plane and carefully, like she was the most precious bundle in the world, took the child off the plane past a planeload of patient people.
"The passengers were very, very, cooperative. It was very nice to see that everybody cooperated so well. There was no hue and cry, nothing."
But when they descended from the aircraft, they discovered that an ambulance "that did not have adequate pediatric endotracheal intubation and certain other things" had been sent. Dr Avichala and her peers insisted they would not dispatch the child to the hospital at Nagpur till the right pediatric ambulance was called.
They kept resuscitating the baby, keeping her stable and watching her saturation levels improve, on the tarmac, till the appropriate vehicle arrived and the child was transported away to safety.
The heroic and conscientious doctors re-boarded the plane, once again regular passengers headed to Delhi, like bringing a child, miraculously, back to life was all in a day's work.
It took a few days for news of the young doctors' rescue of the toddler to percolate. The five have become national heroes, with the television channels making rounds of the hospital to hear their story, that Dr Avichala says she has repeated so many times. "A lot of media people have been coming to AIIMS. We've been telling the same story on and on -- it becomes emotional and more."
The incredible rescue aboard Flight UK-814 was definitely the toughest and most unbelievable moment of her budding career so far: "Yes, it would be one of the most challenging, because of the circumstances -- it was not an adequate setting to treat or resuscitate a patient. We all have been trained in resuscitation. But in that setting it was a tad bit critical."
She and her colleagues are very much in touch with the pediatrician in Nagpur caring for Vistara's most famous wee passenger, and, touch wood, she is healing well, but has a long road of recovery ahead of her.
"We also offered any kind of assistance that they might need from AIIMS because you know we have super-specialty care over here.
"I wish her well. I wish the baby comes out of it eventually (she gets emotional). I mean, if anybody would have been there, they would have done the same thing. It was a bridge therapy that we did. It's nothing short of a miracle, I would say, because this is something which none of us had ever experienced. I mean, that is one blessed child."
"Now when I think about it, it gives me goosebumps, and tears. And joy that we were able to put the patient before anything else."
Feature Presentation: Aslam Hunani/Rediff.com
The little child, whose life was saved on board Vistara's UK 814, sadly passed away in a hospital in Nagpur on August 31 at 3.15 am at the KIMS-Kingsway Hospital, according to a press release issued by the hospital.