'Would Chumki ever get to lead a normal life? How could we reinstate her in a family? Questions like these haunted me.'
Indrani Roy/Rediff.com discovers how a young child, cruelly handicapped at birth, now leads a normal life thanks to the determination of a few warm-hearted people.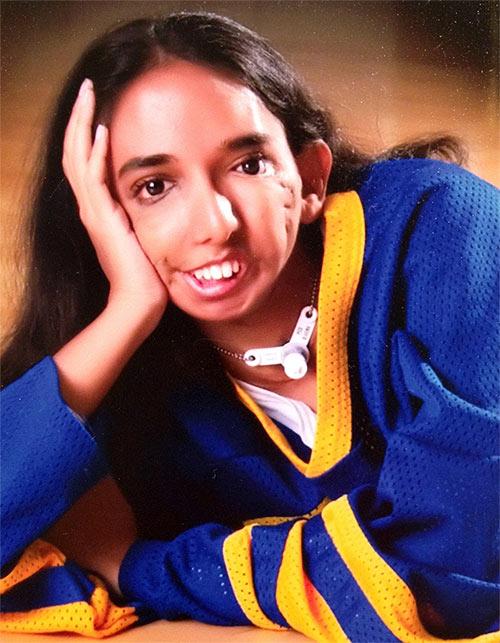 Miracles do happen, says Saila Behera, sitting in her spacious office at Cuttack.
Behera, the general secretary of Basundhara, a non-government organisation working for destitute children and women, is telling me the amazing story of an abandoned child whom she had christened Chumki.
The child, whom everyone, including her birth parents, had written off, fought against all odds, survived more than 21 surgeries and at present leads a normal, healthy, life in the United States.

A case of rare congenital deformity

Chumki was born with a rare congenital deformity known in medical terms as 'bilateral maxillo-mandibulo zygomatic fusion with bilateral oblique facial clefts.' She had malformed jaw bones, a deformed left eye and a mouth that was shut tight.

"She was found abandoned on the bank of the river Katjudi on July 1, 1989, with a feeding tube attached to her nose," says Behera.
She was a few days old. Everyone thought she was going to die.
Three years at a Cuttack hospital

"I wanted to take a chance," says Behera. "I named the baby Chumki and took her to a hospital in Cuttack. It was impossible to keep her in that state at our children's home at Basundhara."
Maxillofacial surgery those days was little known in India; the doctors at the Cuttack hospital did not believe Chumki would survive.
"I was unrelenting," recalls Behera. "The more hopeless the doctors sounded, the more adamant I became. I begged the medical team to admit Chumki. My nagging paid off as she was finally given a bed."
"No one knew what to do next. Chumki stayed at the hospital for three years and continued to be fed through a nasal tube."

As she could not take solid food, her growth was poor. Her motor system suffered due to lack of proper nutrition.

"I was unhappy. Chumki deserved a better life. We needed to get the girl effective medical help at any cost," Behera recalls those difficult days.

"Would Chumki ever get to lead a normal life? How could we reinstate her in a family? Questions like these haunted me," says Behera.

Opportunity knocks

It was during this time that the Americans for International Aid and Adoption organisation came forward with a collaboration offer for Basundhara.

"This was the opportunity I was waiting for," says Behera. "I told them that if they helped this child, Basundhara would enter into a long association with them."

The AIAA representatives took Chumki's medical documents with them to America. Within a few months, that stretched endlessly for Behera, came that much-awaited reply. The doctors in the US had agreed to take up her case.

"It was a memorable occasion for all of us at Basundhara," says Behera, as her eyes mist again. "We cried, sang and danced in joy."

The AIAA also found Chumki adoptive parents -- Gregg and Joan Elizabeth Watkins of Michigan -- who agreed to bear the expenses for her treatment in the US.

Chumki was admitted to the Healing The Children Hospital, Michigan, and by 1995, had been officially adopted by the Watkins.
Since then, she has had more than 21 major surgeries and 16 minor ones.

The care helped. Chumki's condition improved within a couple of years. Her feeding tube was removed in July 1999 and she started eating on her own thereafter.
The Winter Special Olympics

Post adoption, Chumki was rechristened Beth Chumki Watkins.

Soon, she was admitted to a public school in Michigan. She started receiving extra remedial help in reading, writing and speech therapy twice a week.

Behera last heard about Chumki in 2000. (An adoption centre is supposed to be in touch with adoptive parents for five years. Hence, Basundhara has information about Chumki till 2000.)

"We heard that she was playing the xylophone and participating in Girl Scouts," says Behera. "Her parents told me she enjoys watching movies with her two elder sisters and even beat her elder brother in some games."

Chumki was a very active child and, according to reports available with Basundhara, her talent in speed skating fetched her medals in the Michigan Winter Special Olympics.

'Every child has the right to a good life'

It was not all smooth sailing.
Behera's enthusiasm to find Chumki a family drew the ire of the authorities.
Janaki Ballabh Patnaik, the then chief minister of Odisha, asked the Central Bureau of Investigation to probe Chumki's adoption process.
"When I was summoned by the court, I pled that every child has the right to a family and the right to a good life," says Behera. "I told the court that it's our duty to find a shelter for any abandoned child anywhere in the world."
Behera contacted the Watkins for help. "They said that if summoned by the Indian court, they would be happy to tell Chumki's story to the judge."

Basundhara won the case. The CBI, in its report, stated, 'The allegations against Basundhara are unfounded, motivated and malafide.'

It wasn't merely Basundhara's victory. It was a win for Chumki as well, says Behera.

'Beth is a gift for our family'

"Beth is doing extremely well. She is a fighter who has withstood 21 major operations," Gregg Watkins tells me over the phone from Michigan.

"Despite her handicap, she is a spirited soul with an infectious smile. She is going to the Unity College and is enjoying her life."
Watkins says his youngest daughter is very involved in ice skating and mixes well with her three older siblings.
"She is very sweet, affectionate, warm and kind. We all dote on her. At college, she is known as a friendly soul who takes half a second to make friends. She has been a blessing to our family."
"With her abilities to understand people's differences and to soothe a raw nerve, she is an irresistible unifying force," says Watkins with pride.

Postscript:

Though doctors in Odisha could not treat Chumki in the early 1990s, considerable progress has been made in the field of oral and maxillofacial surgery over the years.

"Complicated maxillofacial surgeries were unthinkable in India in the late eighties and early nineties. However, much progress has been made in this field in recent times," says Dr Uday Mukherjee, a Kolkata-based consultant oral and maxillofacial surgeon.

"Many critical operations can now be done in almost all the cities of India. It is great to know that, way back in the early 1990s, doctors in the US offered medical help to Chumki and saved a precious life."

"Her case will continue to inspire doctors and patients across the globe for years to come. I wish Chumki all the best. May she have a wonderful life."
Photograph (top): Kind courtesy, Gregg and Joan Elizabeth Watkins.