There were apprehensions in the SII about rival Bharat Biotech's 'indigenous' tag, opening up shortcuts for it.
One senior person, who was very familiar with the sector, told me, 'The message has gone out from the very top. Somani (V G Somani -- drug controller general of India) has told me "Bharat ka karna hai".'
A fascinating excerpt from Abantika Ghosh's Billions Under Lockdown: The Inside Story Of India's Fight Against COVID-19.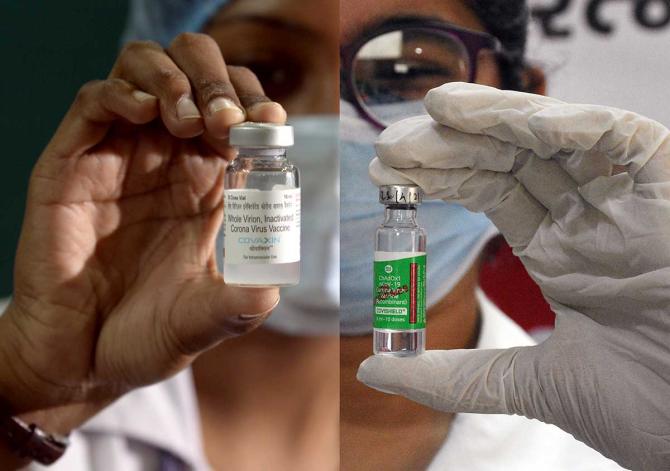 The impatience started showing when SII CEO Adar Poonawala became hyperactive on Twitter. Poonawala began putting out putative estimates for the procurement of vaccines and the timelines for the launch in the last leg of the COVID-19 battle. He had even started talking to the people close to him about the options he had if the Government of India chose to not buy his vaccines.
The ₹80,000 crore vaccine cost estimate that he had put out on Twitter was immediately rejected officially. Officials, in off-the-record conversations, had also started to express their impatience at Poonawala's penchant for Twitter candour and his flamboyance.
When I asked him whether the SII CEO's impatience (about there not being a purchase order from the government) really was because the government was not talking to him, one member of the National Expert Group on Vaccination for COVID-19 (NEGVAC) told me, 'We are talking to him regularly, almost every day. Some NEGVAC members have gone to the extent of saying that they talk to him more than they talk to their own wives.'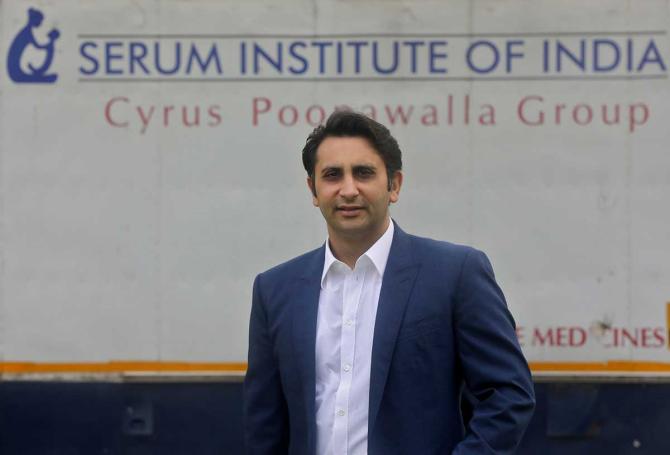 The purchase order eventually went out on January 11.
But it was not just Poonawala's impatience for a commitment. There were apprehensions in the SII about rival Bharat Biotech's 'indigenous' tag, opening up shortcuts for it. In India's pharmaceutical firmament, throughout November and December 2020, there was intense speculation about a 'plan' to give first clearance to the indigenous Covaxin, the vaccine from Bharat Biotech, to drive home the message of 'atmanirbharata' (self-reliance).
This, even though the company had started the Phase III clinical trials as late as 16 November, and was struggling to get the 25,800 participants it needed for the trial. The data from its Phase I and II trials appeared as pre-prints only in December.
One senior person, who was very familiar with the sector, told me, 'The message has gone out from the very top. Somani (V G Somani -- drug controller general of India) has told me "Bharat ka karna hai".'
Unlike countries like the USA or the UK, the Indian drug regulation laws do not have a specific provision laid out in black and white for Emergency Use Authorisation (EUA). But the New Drugs and Clinical Trials Rules 2020 leave sufficient room for the discretion of the drug controller to be exercised for the abbreviation of the approval process.
The SII's fears were not imaginary. Technically, the drug controller could give any amount of relaxation to any company, especially when there is a global pandemic. It could even approve a vaccine based on just Phase II data.
This, insiders believed, was the basis of the SII's fears. And some of them began to come to fruition when, days after the SII's own application for EUA based on Phase III trial data generated by AstraZeneca in Brazil and the UK, Bharat too submitted a similar application -- without any Phase III data whatsoever.
Contrary to initial impressions though, the first company to move for EUA was not an Indian one but US pharma giant Pfizer -- best-known for its erectile dysfunction drug Viagra.
Immediately after it received the EUA in the UK, Pfizer moved an application for a similar clearance in India. At almost $20 a dose, enthusiasm for the Pfizer vaccine within the government system was understandably tepid.
What's more, the company was pushing for the government to indemnify it against any potential legal wrangles once the vaccine was rolled out.
Poonawala was also raising a similar demand intermittently, but Pfizer was insistent about it which was why its application did not move much. By the time the other two vaccines had been approved, Pfizer had failed to appear before the subject expert committee of the DCGI three times.
In fact, by early December when the trainers' training programmes started being undertaken all across India, the guidelines required the cold chain (for vaccine storage and transfer) to be maintained at a temperature of 2--8 degrees Celsius. This meant that Pfizer, whose vaccine had to be stored at -70 degrees Celsius, was all but ruled out for the national programme at least.
The battle was well and truly on between the SII and Bharat and insecurities were mounting, at least on one side, even as Bharat's usually reticent CEO Dr Krishna Ella kept a low profile.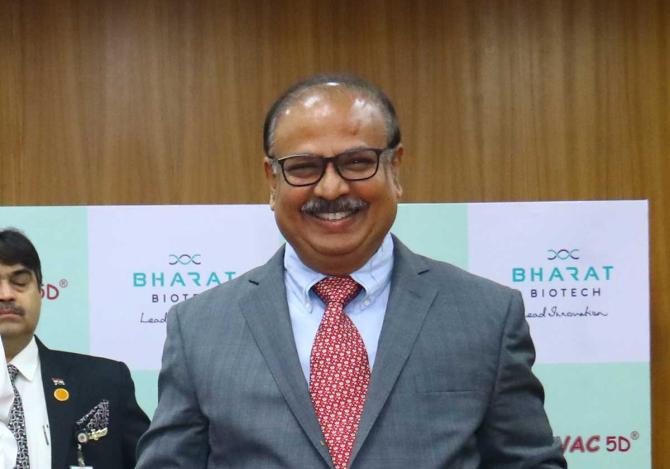 Dr Ella had done the same thing in July when the vaccine got involved in that inadvertent controversy over Dr Bhargava's seemingly impossible 15 August deadline. It could not have been good for the SII's morale when Dr Bhargava gave a characteristically convoluted reply when I asked him, during a press conference, about the reasons why Bharat, which was an ICMR partner, had moved for EUA without a shred of Phase III data.
In the same press conference, Dr Paul made a fervent appeal to Indians to 'have faith' in the country's regulatory system. To ask people to take an injection that was developed in less than a year based only on faith and not science may have come across as incongruous, but the Indian scientific establishment, found nothing amiss in making that appeal again and again.
For the SII, which is among the biggest vaccine suppliers globally, acquiring the Indian market, massive though it was, need not have been so crucial. It was, after all, a part of the Covax initiative.
Covax is an international consortium of various donors, with several countries as partners, who are looking to ensure low- and middle-income countries do not lose out on vaccines as vaccine nationalism takes root and rich countries start buying up stocks for their people.
SII had a ready market for its production in the other Covax countries, especially in Africa where many of its other vaccines were already being used.
The government was fully aware of such a possibility and was in no mood to allow 'Made in India' vaccines to be taken out of the country. As a senior official told me cryptically, 'Sovereign governments have a lot of power.' However, post approval, the official position was that there was no bar on the export of vaccines.
Some of those anxieties that the SII was harbouring may have been calmed when Modi undertook a three-city vaccine tour in early December to review the facilities of Bharat Biotech (in Hyderabad), SII (in Pune) and Zydus Cadilla (in Ahmedabad), and later had a virtual meeting with some of the other companies whose vaccines were in less advanced stages.
Zydus was definitely behind both the SII and Bharat in terms of the progress of its DNA vaccine but as yet another indigenous contender (Zydus was partnering the department of biotechnology of the Government of India), it was definitely one of the frontrunners in the race to self-reliance.
However, as Poonawalla clarified during a virtual press conference on the evening of Modi's visit, no commitments 'in black and white' had been made for the purchase of vaccines.
SII, at this point, had 4 crore (40 million) doses of the vaccine ready for roll out. At a 10 per cent wastage margin, this was more than enough to vaccinate India's number one priority group for vaccination -- one crore healthcare workers.
SII had also announced that it was ramping up capacity and would be in a position to manufacture about 100 million vaccine doses per month from February 2021. Bharat Biotech was looking at manufacturing about 70 million doses annually in its four facilities.
India's next two priority groups were people aged above 50 years and those in the younger age groups who had a comorbidity. The total number of vulnerable people that were to be vaccinated as per the blueprint stood at 30 crores -- less than a quarter of the population in the country and by no means sufficient to generate herd immunity.
This edited excerpt from Billions Under Lockdown: The Inside Story Of India's Fight Against COVID-19 by Abantika Ghosh has been used with the kind permission of the publishers, Bloomsbury India.
Feature Presentation: Ashish Narsale/Rediff.com