When COVID-19 was declared a pandemic, most universities across the globe shut down. Or switched their classes online.
That forced many Indian students abroad to either go home. Or make alternate arrangements to stay on in the country where they are studying.
Those students who stayed back have faced a host of issues.
Those who elected to travel home to India, in the past week, faced cancellations, delays and other problems.
Rediff.com's Divya Nair speaks to both students and parents.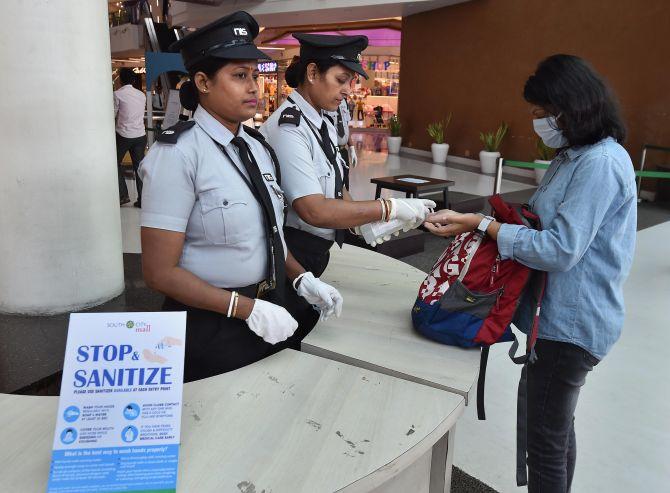 March 18, 2020 is a day many Indian students will remember for a long time.
That day India closed its borders to people flying in from the European Union, Turkey and the United Kingdom.
Several students studying in European nations, where universities were shutting, had already booked their tickets home. They were forced to either bring their travel departure dates ahead or postpone travel entirely.
A group of 50 Indian students from the Philippines who travelled from Manila on March 17 were stranded at Singapore's Changi airport. They were informed that India had restricted entry for fliers from Malaysia, the Philippines and Afghanistan.
After negotiating with airline authorities and embassies from three different countries (India, Singapore and Malaysia), they finally landed in Mumbai, late evening, March 19.
Meanwhile, a few students like Satyaki Ganguly, 27, reached India earlier this week. But other problems awaited them.
Satyaki, who is from Kolkata, is pursuing an MBA at University College Dublin in Ireland. He made the decision to travel back from India when he was on a college trip to Argentina last week.
"I was in Argentina when things escalated pretty quickly. The shops were shut and most of the events we had signed up for got cancelled. I booked a ticket for Dublin on Saturday (March 15). I packed as fast as I could and left with a friend on Sunday," Satyaki says.
"Everything was fine when we travelled from Dublin in the morning (of March 17). The airport obviously had people with masks and all. Also, people looking at each other suspiciously. When we reached Abu Dhabi to get our connecting flight, there were not many checks happening in transit," he adds.
"At Bengaluru, where we landed, there were thermal checks followed by scanning of passports to find out which countries we had visited over the last six days. Some of us were isolated to be monitored for COVID-19. Although my friend and I didn't have fever, or any symptoms, just because we had travel history to Argentina, we were isolated to be monitored for yellow fever."
While Satyaki acknowledges that India is making the effort to screen passengers, he also noticed how the airport was understaffed and most of them were not professionally trained to deal with the situation.
"We reached the airport at 3 am and were made to wait till 6.30 am before we could be quarantined. It was funny when we were given the choice to either travel in the same ambulance that may have suspected COVID-19 passengers or privately book our own cab, (but) be accompanied by one person who will take us to a government hospital."
On March 17, Satyaki and a friend were quarantined for monitoring at the Rajiv Gandhi Hospital, Bengaluru.
"I didn't know that a vaccination for yellow fever was mandatory to travel to India," he says. "I wasn't informed while applying for a visa or booking a ticket. I was told it is necessary because I visited Argentina which is on the red list (for yellow fever). And since I travelled in the six-day possible infection period, I should be monitored before I could go home."
"For four days, I will be charged a bill of Rs 6,300, which is still okay. But for most middle class families, these are things we are not prepared for."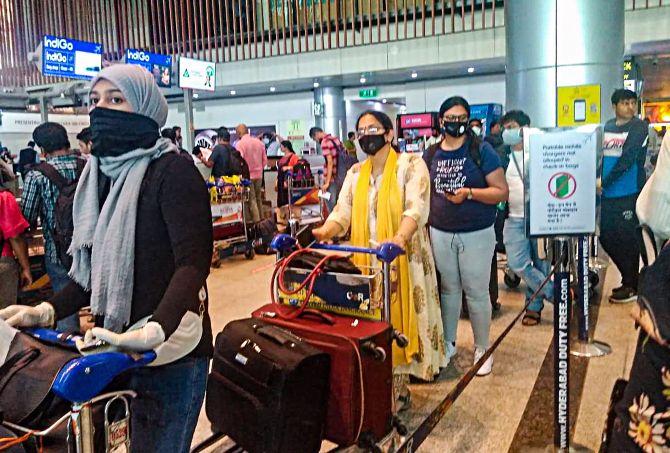 Until Saturday, March 14, students like Srishti Agarwal had no plans to risk travelling home.
But when the University of California Berkeley in the United States, where she is pursuing a degree in electrical engineering and computer science, sent out an e-mail stating the university would be shut and that students were advised to travel home, she couldn't ignore the warning.
"Some of my friends checked with the college help desk to ensure that travelling home will not affect their grades. The next thing I know they had booked tickets and left the university. On Saturday, there were only a handful of us Indians remaining in the college group.
"Also, colleges like Yale, Harvard and Duke were shutting down hostel accommodation which added to the mass hysteria. My parents were worried too. My dad kept sending me updates over e-mail and through messages. It was depressing. So I chose to come home where I thought at least I would have someone to fall back on."
On March 16, Srishti, 21, started from San Francisco with two of her friends. She took a flight to New York, which she said was almost empty. But her onward United Airlines flight to Mumbai was packed with Indian students.
"I met a lot of my high school friends on the flight, which was reassuring. But all through the journey, I kept worrying what if I caught the virus and gave it to my parents when I get home?"
At Mumbai airport, all incoming passengers were asked to fill up a self-reporting form. In it they had to provide details about their journey and the address and phone numbers of where they would stay in India for the next few days.
Srishti and others, who reported no symptoms, after many hours, were allowed to exit the airport. They were asked to isolate themselves at home for at least 14 days and report, if they faced any symptoms.
Unlike most students who chose to return to India, Navnith Chandrashekhar, 25, who is studying for a master's in sustainable energy and green technology from University College Dublin, decided to stay back and minimise this very risk.
"The situation is bad only if you are in contact with people. For example, going to college, using public transport, going to shopping centres and malls," he says. "All these are slowly shutting down and people have been advised to take precautions and stay home. Most companies are allowing employees to work from home."
Mumbai-based Shreya Rao, an MSc student in business psychology from Heriot-Watt University, Dubai, also decided not to take any chances and didn't leave the UAE. There are only 45 students in the hostel that usually accommodates 200 students, but Rao feels that panic is not the answer.
"I may not be infected, but I could be a carrier. I don't want to risk giving it to someone who may have poor immunity," Shreya says.
"Also, I travelled from India only on March 2. So I was fully aware that if anything happens, I will be responsible. Thankfully, the UAE government has made it clear that we don't have to worry about food or basic supplies. Even the cost of masks and sanitisers have not been increased, which means we are doing okay. People are staying home and working from homes, avoiding travel and maintaining minimal contact."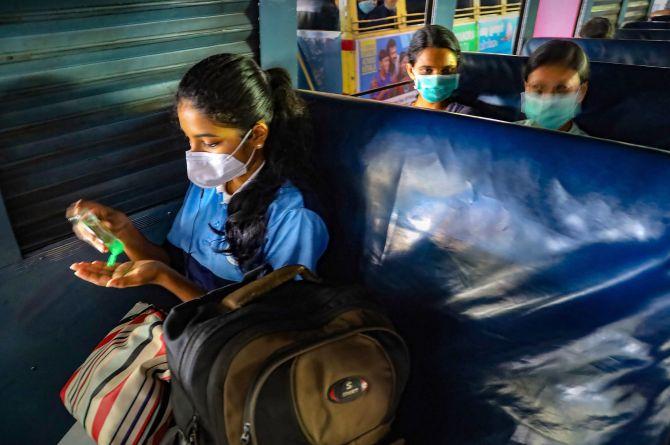 Srishti says she was lucky to get a ticket home at half the regular price -- she booked a day in advance and got a direct flight from New York to Mumbai for $850, which would have cost her at least $1,500 or more on a normal day.
But students like Satyaki who risked travelling this week from the EU had no alternative but to pay a steep price.
Says Satyaki: "Thank God we booked 72 hours in advance and got a fair deal. I paid 460 euros (about Rs 38,000 to 40,000). Later I heard from people how some of them who booked after the 17th had to pay through their noses."
"Students were willing to pay 700 euros for a one-way ticket just so they could get home," he adds. "They were so desperate and rightly so. And most of us come from middle-class households and cannot afford these expenses."
Back home in India, parents and students were not prepared either.
For Mumbai-based homemaker Sharmila Menon, whose son studies in Delhi, the past two weeks have been trying.
<p"My husband works in Sharjah. He told me clearly that he won't be able to travel to India because most of his teammates had already left for India in the first week of March. My son was stuck in Delhi because he said he had to submit a group project along with his friends before leaving," says Menon.
"I always regretted sending him to Delhi because of the pollution and crime rates there. Even though I wanted to, I couldn't travel to Delhi because my father-in-law is bedridden and our home nurse went to her hometown in Kerala in March," she adds.
"Every day I would read the news and worry for both of them. When my son reached home on March 16, I took him to our family doctor and got him thoroughly checked to ensure he is safe. Still I have strictly told him to stay in his room for the next 14 days."
Another parent from Mumbai, whose daughter studies in the EU, feels it was safer that she did not travel home to India. But there were other worries.
"One of my concerns was what if the university, like some of them in the United States, closes student accommodation. My daughter was staying in a student residence apartment and not a dorm, that risk was there. If they have to leave their accommodation where would they stay? And she could not come back either because she is not an Indian citizen," says the mother.
"It's a bit lonely for her. Most of the people in her student accommodation have left so she is quite isolated. And on one day she had a further scare when she almost got stranded because she had travelled out of town locally and a message arrived that there would be a lockdown and no public transport to return. It was a rumour," the mother adds.
The lack of essentials is another anxiety-provoking factor.
According to this parent, in many stores, the shelves are bare. "A lot of eateries are closed. My daughter sends me videos of the empty shelves and doesn't know what's going to disappear next," she says. "Sanitiser, toilet paper vanished long ago. My daughter goes every few days to the store to buy wipes and whatever groceries she can find and WhatsApps us pictures of her day's lucky haul."
Both Srishti and Satyaki agree. "Before leaving for India, I must have visited all the big stores like Trader Joe's and even small ones. Toilet paper, sanitizers and masks were gone. Imagine if you had to stay and deal with this every day. Thankfully, I still had some (antiseptic) Clorox wipes with me, so I wasn't so worried," says Srishti.
Satyaki, sharing his woes, says: "It is high time governments (everywhere) considered rationing essential supplies. Like, not more than two sanitisers per person."
For many parents whose children haven't returned home, the uncertainty is worrisome.
"We don't know how long this is going to last! So, we don't know whether and when they will be safe and when they are going to get home," said a parent who did not want to be named.
On March 14, Amity University in Noida issued a strict notice, followed by an e-mail to students and parents, asking students to vacate the premises and accommodation and return to their homes. The college would remain shut till March 31, 2020.
Rishika Mitra, 22, who is in her third year of law at Amity, wanted to get home but realised that the airfares to Kolkata had doubled within a week. "A day after Holi, Delhi to Kolkata tickets were available for Rs 2,500. On March 17, the ticket prices across airlines were Rs 6,000 and above.'
When Rishika travelled from Delhi, via the city's domestic airport, she panicked a little because she wasn't able to find a hand sanitiser or a mask. "I wasn't screened or anything, but I ensured I didn't touch anyone and wore my respirator all through the journey. I washed my hands with soap whenever I could. I did not eat anything till I got home."
Arnav Ghosh, 19, in his first year of biomedical engineering at the Manipal Institute of Technology, travelled from Udipi to Panvel on March 19.
"Initially I wasn't planning to travel. Both the college and my parents had advised me to stay put at the college hostel. But on March 18, the college declared that it would be shut till May 31. So naturally, all my friends freaked and decided to go home as it felt like our summer vacation came early," Arnav says.
"When I tried booking train tickets for 18th, the seats were full. So I asked my parents to check and book for me. When I boarded the train on 19th, it was surprisingly empty. There was no checking or screening. A family of three foreigners -- a couple and their six-year-old son -- boarded the train from Madgaon," Arnav adds.
"I told my mother and she got tense. I told them how the family was equally worried because they had sanitised the whole place, cleaned the seats etc. Even the cleaning staff was regularly mopping every one hour, which was quite commendable. I was carrying sanitisers and a mask, but my parents were worried till I got home."
After deciding to stay back, Swati D'Souza (name changed on request), 21, who is pursuing a course at a Bengaluru college changed her mind last evening.
"I decided I will be flying back as well, either Friday or on Saturday. Main reason is change in food habits, because it didn't seem convenient and feasible to suddenly arrange my own food three times a day. All these days, I relied primarily on the low-cost home style food prepared by these tiffin homes in the locality and it seems like a health risk to frequent thelas now."
Fortunately, most universities have resumed classes online and have allowed students to submit their papers and take exams online.
Srishti who is jet-lagged from her 16-hour flight back, says she is glad her professor let her skip one of her classes.
"It was scheduled between 2 am and 4 am IST. There was no way I could have made it. Also, I am in self quarantine for two weeks. I cannot step out or meet anyone. No one in the family, including my mother can enter my room. She leaves my food at the door or table from where I pick it up."
For all those who are considering to travel home over the next few days, the risk may be higher. So here are a few things shared by recent travellers that may help you.
Do not travel unless it is absolutely essential.
If you haven't booked your tickets already, be prepared for higher airfares. Some airlines are facing delays due to short staff and procedures. So avoid travelling late evening, should you be stuck at the airport and lose sleep.
If you have a long journey, remember to pack essential food and supplies.
Be kind and reasonable to the driver, staff you will meet at the airport or railway station.
Practice good hygiene. Always wear a mask and dispose them in a bin after you use them. Carry a sanitizer and some tissues to wipe all metal and plastic surfaces before you touch or use them.
In the absence of sanitizers, wash your hands with soap thoroughly and wipe clean.
Do not shake hands with strangers or hug friends or relatives when you get home. You may not have any symptoms, but you could be a carrier. So it is safe that you isolate yourself from friends and family to minimise risk of passing the infection.
If you are travelling with someone who is sick, avoid contact and seek help from authorities.
If you are requested to stay back, co-operate with the authorities. Be prepared to be hospitalised; you may be monitored for fever or other symptoms.
If you are quarantined or isolated, it may be okay to ask for basic things like a toilet, garbage disposal can. But be prepared to sacrifice convenience.
You deserve to be back home with your families in the time of crises. But be flexible in your heads. Be ready to face delays and be aware that all scenarios may not be favourable to you.
If you want to stay put, be brave, be safe. Stay in touch with your friends and families and keep them posted at all times.
Do not go on a panic spree and stock up supplies. Buy only what you think is necessary for the next seven to 10 days.