The start of Indian-American lobbying in the US can be directly traced back to Pakistan's anti-India lobbying.
Policy wonk Ashok Sharma documents the journey of Indian lobbying and its role in transforming the US-India relationship in his new book.
Illustration: Dominic Xavier/Rediff.com
Not long ago, the Pakistan lobbying was accustomed to steamrolling over the weak Indian lobby in Washington. But since 9/11 terrorists attacks, Capitol Hill has hardly a good word to say about Pakistan.
The steady deterioration of Pakistan's internal security situation and the American realisation that both the Taliban and Al Qaeda -- the two much-feared enemies of the Americans -- enjoyed the patronage of many, including the most powerful, in Pakistan for many years.
Not to be underestimated is the fear of Islamic terrorism drummed into American minds since September 11, 2001.
But in the case of India, some events in India, which would have angered US Congressmen in bygone days and would have led them to issue strong verbal denunciations, if not demand the imposition of sanctions, go virtually unnoticed.
This drastic transformation was neither automatic nor magical. It was the Indian lobbying strategy that played a major role in bringing about this change.
In 1990s, when the Pakistani propaganda about Kashmir was at peak, the Friends of India Forum was formed in England to counter Pakistani propaganda.
So too was the Indo-American Kashmir Forum by immigrant Kashmiri Pandits and backed by some Congressmen in the United States, to garner support for the community, lobby for India's stand on Kashmir and to check the Pakistani lobby.
The forum worked for bringing the plight of Pandits in Kashmir brought to the notice of the Congress that because of militancy more than 250,000 Pandits were driven out of Kashmir.
The forum in its meeting in 1994 moved a resolution and urged President Clinton to take action against Pakistan and declare it a terrorist State.
Vinay Sazawal, president of the Indo-American Kashmir Forum, asked the State Department to declare Pakistan a terrorist State for sponsoring terrorism in India.
While welcoming the US decision to designate the Pakistan-based militant group Harkat Ul-Ansar as a 'terrorist organisation,' the Sazawal-led delegation wanted the action on the Jammu and Kashmir Liberation Front and the Hizbul Mujahideen.
The members of the forum also met Karl Inderfurth, Assistant Secretary of State for South Asia, to lobby for Kashmiri Pandits and also requested from him US humanitarian aid for Kashmiri Pandits living in refugee camps.
During the nuclear tests, Indian Americans mobilised themselves in a much better way than Pakistanis, partly because Indians were economically more affluent and greater in number than Pakistanis and also because Washington had become increasingly interested in India's economic and strategic potential.
Furthermore, India's democracy appeared stable, while Pakistan was increasingly becoming a locus of instability and insecurity...
---
Did you know?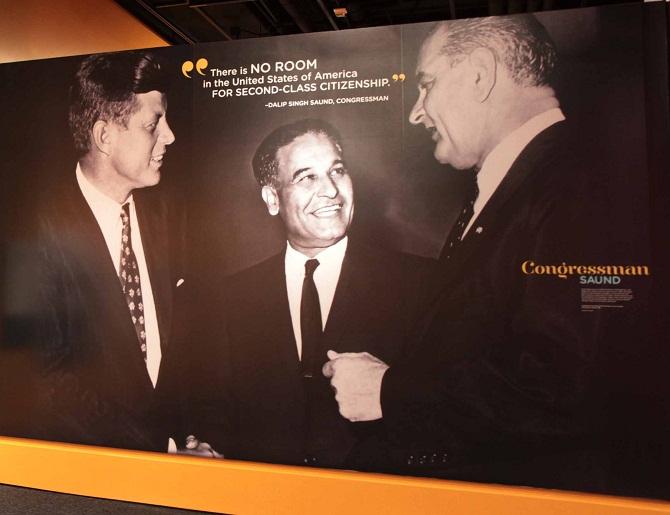 Photograph: Rediff.com
The origin of Indian-American lobbying can be traced back to the 1950s when Dalip Singh Saund, the first Indian-American Congressman, moved a resolution in the US Congress, warning that military aid to Pakistan might damage America's image as a champion of democracy.
---
Now, Indian supporters are not only able to defend Indian lobbying interests, but also counter the anti-Indian moves made by adversaries...
In a historic vote on June 9, 2005, the HIRC passed the State Department Authorization Bill in which a provision in the bill added by Congressman Brad Sherman (D-CA) acknowledged the dangers of the ongoing close military partnership between China and Pakistan, and also noted the fact that the technology peddled by Pakistani scientist Abdul Qader Khan to rogue countries had originated in China.
A second provision, added by Congressman Tom Lantos (D-CA) and Congresswoman Ileana Ros-Lehtinen (R-FL), conditioned military sales to Pakistan on that country's full compliance on terrorism and proliferation of weapons of mass destruction...
After the 1999 Kargil incident, India and Pakistan took their rivalry for the favour of the United States to Washington's Capitol Hill to the next level.
The Pakistani lobbying attempted to appoint a special envoy for Kashmir, but was foiled by Indian lobbying when Benjamin Gilman, chairman of the HIRC, and his Democratic counterpart, Sam Gejdenson, sent a letter to the US President urging him to spurn any call for the US to appoint a special envoy for Kashmir.
They demanded, 'Instead of appointing a special envoy we should be urging Pakistan to stop sending infiltrators across the LOC into India.'
As a consequence, the Indian efforts prevailed and there was no direct US intervention in the Kashmir conflict.
Similarly, the master stroke foreign policy acts of Obama's first week in office in 2009 was announcement of Richard Holbrooke as the formidable new US envoy to South Asia -- 'a special representative for Afghanistan and Pakistan.'
India was conspicuous by its absence. But the omission of India from Holbrooke's title was not a mistake.
In fact, when they came to know about Holbrooke was going to deal with India-Pakistan, the Indian lobbying got alerted and vigorously -- and successfully -- lobbied the Obama transition team to make sure that neither India nor Kashmir was included in Holbrooke's official brief.
While the Pakistani lobby and the Indian lobby are active players, there is a popular misperception that Pakistan does better at lobbying than India.
In fact, Pakistani lobbying activities seem to be less effective and its achievements rather dismal, compared to similar activities by the Indian lobbying in the post-Cold War period.
For instance, Pakistanis contended that two pro-Indian-American politicians were defeated, respectively, in 1992 and 1995, thanks to their mobilising efforts: Stephen Solarz, a staunch supporter of India, and Larry Pressler of the Pressler Amendment.
But in reality, Stephen Solarz lost the election at best due to an effective alliance between Pakistanis and Hispanics, but more probably because of redrawing of constituency boundaries.
There were also some financial irregularities when his wife had issued some checks, which bounced. His rival was a Hispanic candidate who massively attracted the votes of South American electors.
In the same vein, Larry Pressler lost his election primarily because he was perceived as being out of touch of his constituency.
His opponent Tim Johnson, who was financially supported by Pakistani Americans, was considered to be a grassroots politician, and this factor more than financial backing apparently is what played the decisive role in his victory.
Pakistan's claim of victory over the Brown Amendment passed in 1995, which allowed the United States to sell to Pakistan weapons that were until then embargoed under the provision of Pressler Amendment, is also contested.
Moreover, after the signing of a 10-year Defence Agreement in June 2005 and extended further for 10 years in 2015 and conclusion of nuclear deal this victory of the Pakistani lobby became irrelevant, as these two agreements ultimately have opened gateway for a much enhanced and comprehensive US-India defence collaboration, which includes co-production of all sorts of high-end defence products.
As far as Clinton's visit to Pakistan is concerned, for which Pakistani Americans had lobbied for, Pakistani Americans raised $50,000 for the Senate campaign of his wife Hillary Clinton.
Clinton's five-hour visit was more of a lecture to Pakistan, to stop terrorism, and to express concerns that Pakistan was becoming a rogue State. In this sense, the visit was more of a negative than a positive.
However, there have been limits to the power of Indian-American lobby.
It became apparent when they tried to put its riders in the US Aid Bill for Pakistan and the executive branch opposed it.
Another agenda that Indian-American lobbying has not been able to achieve is to declare Pakistan as a terrorist State. Pakistani lobbying have so far successfully lobbied for Pakistan not to be declared a terrorist State by the United States.
But this too can be attributed to the fact that United States needed Pakistan in its counter-terrorism agenda, and strategically, the United States did not want to antagonize Pakistan and push it further in China's lap.
Excerpted from Ashok Sharma's Indian Lobbying and its Influence in US Decision Making with permission from Sage Publications.
Ashok Sharma is a Fellow of the Australia-India Institute at University of Melbourne and Deputy Chair of New Zealand Institute of International Affairs.