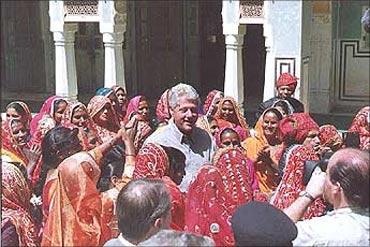 Bill Clinton was the first American President to travel to India in over 20 years.
Abhishek Mande glances at that memorable visit through the eyes of Rediff.com reports and excerpts from Clinton's memoir, My Life.
It may not be as landmark a visit as that of William Jefferson Clinton in March 2000, but Barack Hussain Obama's arrival in India on Saturday will most certainly be closely watched.
Obama is the third successive US President to visit India in the last ten years.
Over this time India has emerged as a nation on the cusp of superpowerdom whose presence cannot be ignored.
With the Cold War being as much as a thing of the past as the Hindu Rate of Growth, a visiting American president does bring some amount of cheer for both countries.
In 2000 though things were different. India was a nation that 'could be'. The Liberalisation Programme of the 1990s had helped unleash the country's potential. And though the country was beginning to find its feet, it made sense for the US to align itself with India sooner rather than later.
So, Bill Clinton came visiting. In doing so he became the first US President in over 20 years to come to India and try and forge a strong bond.
In his memoir, My Life, Clinton writes of the visit as being crucial since 'we had wasted too much time since the end of the Cold War, when India had aligned itself with the Soviet Union principally as a counterweight to China.'
Clinton also writes that one of the reasons he was visiting India was to 'lay the foundation for what I had hoped would be a positive long-term relationship.'
In retrospect, it can safely be said that this 'hope' sprung largely from a sudden discovery of India's potential and its ability to change the dynamics of the world economy.
Clinton's visit to India came precisely three years after Bill Gates's debut trip in March 1997.
Chariman Microsoft quickly spotted what a major player India would be in information technology and how an economy that had broken from the shackles of the Licence Raj could be used to one's advantage.
Unsurprisingly, Hyderabad -- the face of this New India -- featured prominently on Clinton's agenda.
Nara Chandrababu Naidu, then the chief minister of Andhra Pradesh, had invited Clinton to Hyderabad to project the city as the country's most prominent IT hub.
Naidu was in a race against his Karnataka counterpart S M Krishna, now India's external affairs minister, who was equally keen on showing off Bangalore as India's most prized IT possession.
After much speculation, Naidu won and Clinton visited Hyderabad on March 25.
Clinton remembers Chandrababu Naidu as 'an articulate and very modern political leader' in his memoir.
Of his Hyderabad visit, Clinton writes: 'We visited the HITECH Center where I was amazed to see the variety of companies that were growing like wildfire...'
***
One of the much-debated issues of Clinton's visit was his trip to Pakistan.
General Pervez Musharraf had been at the helm of affairs only a few months, since his October 12, 1999 coup, and showed no signs of restoring a democratically elected government.
One Indian diplomat felt 'the goodwill generated will be undone if he proceeds to Islamabad which has been aiding and abetting cross-border terrorism against India'.
In his memoir, Clinton justifies his Pakistan visit. He writes:
'My stop in Pakistan was the most controversial because of the recent military coup there, but I decided I had to go for several reasons: to encourage an early return to civilian rule and a lessoning of tensions over Kashmir; to urge General Musharraf not to execute the deposed prime minister Nawaz Sharif, who was on trial for his life; and to press Musharraf to cooperate with us on bin Laden and Al Qaeda.'
Clinton writes of the security concerns and confesses that he decided on visiting the country despite strong opposition from the Secret Service: 'I felt I had to go because of the adverse consequences to American interests of going only to India and because I didn't want to give in to a terrorist threat. So we took sensible precautions and proceeded. I believe it was the only request the Secret Service ever made that I refused.'
The trip barely lasted a few hours.
As Chintamani Mahapatra of the School of International Studies, Jawaharlal Nehru University then pointed out to rediff.com: "Clinton spent five days here. In India, he signed agreements on science, technology and commerce. He spoke of institutionalising the India-US dialogue up to the highest level and of continuing talks on the nuclear issue."
"By contrast, he spent only five hours in Pakistan where he simply gave them a lecture on dos and don'ts. This clearly tells us what the US is thinking."
Later, L K Advani, then India's home minister, would call Clinton's visit a 'success of our diplomatic initiatives'.
***
If Clinton had any doubts about breaking the ice with India, they were laid to rest when Indian MPs clamoured to shake his hand in the Central Hall of Parliament when he arrived to address members of the Lok Sabha and Rajya Sabha.
Clinton shared with his readers the time he spent in Parliament in a nine-line paragraph and remembered with some amount of surprise the 'grand reception' he received there.
He writes: 'They applauded by slapping the table, demonstrating that the Indians were as eager as I was for our long estrangement to end.'
This warmth did not extend to the test ban treaty, which India had refused to sign.
Days before he arrived, Clinton had asserted that India could not be accepted as a nuclear weapons State.
In response, Atal Bihari Vajpayee, then the prime minister, made it clear that there would be no rollback of India's nuclear or missile programmes.
An optimistic Clinton writes that Vajpayee 'did join me in pledging to forgo future tests, and we agreed upon a set of positive principles that would govern our bilateral relationship, which had been cool for so long.'
Clinton also talks about urging Vajpayee to 'reengage Pakistan before he left office' -- a promise that was fulfilled when India played host to Musharraf during the Agra Summit in July 2001.
The Agra Summit would eventually collapse, as both India and Pakistan remained inflexible on the Kashmir issue.
***
The almost three-page description of his trip to India in his memoir briefly mentions his trips with daughter Chelsea and mother-in-law Dorothy Rodham to the Gandhi Memorial 'where we were given copies of his autobiography and other writings and the Taj Mahal 'perhaps the world's most beautiful structure (that) was threatened by sever air pollution.'
He sums up his visit to the Taj: 'The Taj was breathtaking, and I hated to leave.'
Later, Clinton mentions his trip to Nayala, a village near Jaipur where he was greeted with thousands of flower petals and discussed the 'importance of micro-credit loans with the women of the local dairy cooperative.'
Interestingly, Clinton's visit to Mumbai finds just this one line mention in his memoir:
'My last stop was in Mumbai (Bombay), where I met with business leaders, then had an interesting conversation with young leaders at a local restaurant.'
The 'young leaders' who interacted with Clinton included theatre person Sanjana Kapoor, actress Suman Ranganathan, Dr Swati Piramal of Nicholas Piramal, Kalanidhi Maran of Sun TV and Nandan Nilekani, then of Infosys and now the mastermind behind the ambitious Unique Identification Authority of India project.
Image: Bill Clinton in Rajasthan, March 2000. Photograph: Sondeep Shankar/Saab Press