Rasik Dave reveals what awaits POTUS and FLOTUS on their visit to Gujarat on Monday.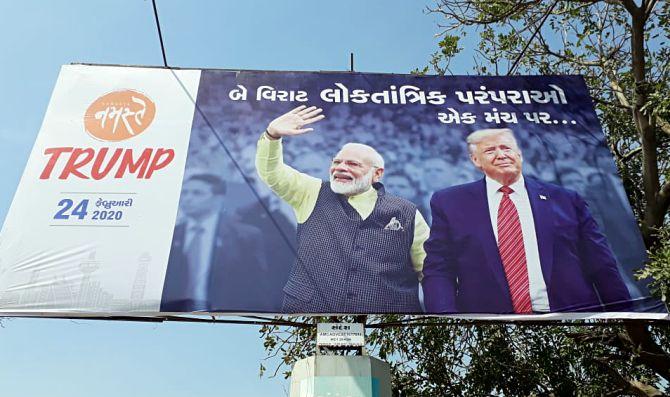 After hosting Chinese President Xi Jinping, Japanese Prime Minister Abe Shinzo, Israeli Prime Minister Binyamin Netanyahu in the last five years, Gujarat is all set to host United States President Donald J Trump and his wife Melania on February 24 at the newly constructed Motera Stadium.
Trump will land in Ahmedabad from Washington, DC, before flying to New Delhi for the more substantive part of his 2-day visit to India.
Trump will do something that neither Xi nor Abe nor Bibi had done before him: He will take part in a 22 km-long road show along with Prime Minister Narendra Damodardas Modi.
Some 300,000 people are expected to take part in the road show while another 120,000 people are expected to participate in the Namaste Trump event at Motera Stadium.
Trump at Sabarmati Ashram
As is the norm for visiting leaders, Trump will head directly to Mahatma Gandhi's Sabarmati Ashram where he will be welcomed with khadi sutar ati (cotton thread). Modi will brief Trump about the Gandhi ashram's legacy, and shortly after, the two leaders will greet Gujaratis from a stage built on the Sabarmati riverfront.
Modi is expected to gift Trump a copy of Gandhi's autobiography My Experiments With Truth, a replica of the famous three monkeys, a Gandhi photo frame with a Gandhian quote, and a charkha to take back home.
4,000 artistes to perform
Trump will be given a traditional Gujarati red carpet welcome at the Sardar Patel international airport. Greeting him will be shankhnad by 20 trained Brahmins and traditional folk dancers.
En route to the Sabarmati Ashram and the Motera Stadium, around 50 troupes from various states will showcase Indian culture for Trump. At the Motera Stadium, a fusion of Indian culture will be performed on stage.
Several professional agencies from across India with international exposure have been engaged for the outdoor publicity and the cultural show inside the stadium.
Patan na Patola for Melania
The state government and Modi are likely to present the US First Lady with the famous Patan na Patola sari, Kutch's famed Rogan painted cloth and embroidery work, a khadi kurta and Gujarati tribal art work.
Gujarat to spend more than Rs 100 crore!
In all, the Trumps will spend less than three-and-a-half hours in Gujarat before heading to Agra, but the Gujarat government is expected to spend over Rs 100 crore (Rs 1 billion) on road renovation, security cover, cultural shows, decorations, etc. This is apart from the sum the Government of India will spend on the Trump visit.
BJP cadres activated
Some 120,000 people are expected to gather at the Motera Stadium and around 300,000 people present during the road show on February 24. The Bharatiya Janata Party's Gujarat unit is working overtime to verify the credentials of participants and bring to them to the venue.
The state government has directed seven district collectors to ensure that the identity of every person is verified thoroughly. A total of 3,000 buses will be deployed to ferry people from the districts to the Ahmedabad stadium.
Security challenge
Security is always a bugbear when an American president travels. The state government and the Government of India have deployed around 25,000 security personnel along with newly-acquired high-tech surveillance equipment.
Considering the possible terror threat to the US president, and protests during the road show or at the Namaste Trump event, security agencies are leaving no stone unturned to ensure that the visit goes off peacefully.
Hiding behind a wall?
The Ahmedabad municipal corporation's decision to build a wall to block slums so Trump does not get to see poverty during his road show has attracted international criticism. Apart from this, a civic notice to slum-dwellers near the stadium to vacate has also fuelled a controversy.
However, the Ahmedabad municipal commissioner has disputed the reports, saying, "There are no plans to evict any slum-dwellers near the event venue or the route which the dignitaries will take. The eviction notices pertain to a slum not in the immediate vicinity of the event venue. There are no plans for any forceful evictions in the near future."