This was the first major election in the country amid the COVID-19 pandemic.
Obviously, the women of Bihar were not intimidated by the pandemic and came out in large numbers to vote.
Rashme Sehgal reports.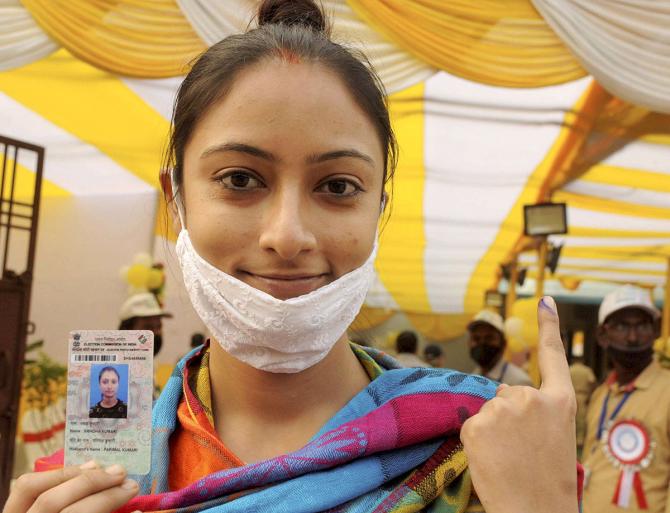 The importance of the women vote in Bihar can be gauged from the fact that a patriarchal party like the BJP has chosen to appoint Renu Devi as one of the two deputy chief ministers in Bihar.
Renu Devi belongs to the Extremely Backward Caste.
Of course, one of her key tasks will be to wean away from the Janata Dal-United members of the EBC, a vote bank assiduously cultivated by Bihar Chief Minister Nitish Kumar.
She is a widow, a single mother who has been a leader of the Vishwa Hindu Parishad's Durga Vahini and more recently the Rashtriya Swayamsevak Sangh's Mahila Morcha.
She will be watched by many Bihari women who have emerged as a sizeable and silent force in the politics of the state.
The female voter turnout for the recently concluded election was 59.69 per cent as compared to male voters whose turnout was 54.68 per cent according to data released by the Election Commission.
In just the East and West Champaran districts of Bihar, (to cite one example) some of the constituencies where women voters outnumbered men were Valmikinagar, Ramnagar, Kesaria, Govindganj and Madhubhan.
The growing confidence and clout of this women brigade can be gauged from the fact that in 11 assembly constituencies, the female voter turnout was more than 70 per cent and in 141 constituencies it exceeded 60 per cent.
In comparison, Bihar's Chief Electoral Officer H R Srinvasa pointed out that the male voter turnout crossed the 60 per cent figure in just 37 assemblies.
Traditionally, fewer women are registered as voters than men in Bihar, but large numbers of those women who were registered turned out to vote in this election.
It is no secret that women power swept Nitish Kumar to his record victory, making him the longest serving chief minister of Bihar.
While only 26 women were elected as legislators, women power played a crucial role in determining the outcome in key constituencies.
The 43 seats that the JD-U won, often with very narrow margins, was primarily because of the support Nitish Kumar enjoyed from women voters.
In fact, if the JD-U managed to stave off Lok Janshakti Party President Chirag Paswan's personal attack on the chief minister, it was largely because of the women vote bank.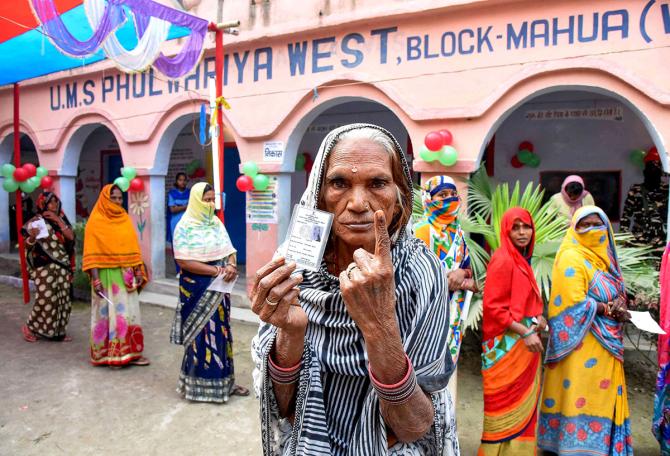 The vociferous Patna-based Shilpi Singh who runs the NGO Bhoomika Vihar, which helps rehabilitate victims of trafficking, says "The 50 percent reservation for women in contractual teachers's jobs and 50 percent representation in lower panchayati raj bodies are two popular steps Nitish Kumar took to help women."
"His prohibition policy also remains a popular measure. Of course, some critics point out that people continue to drink, with liquor being delivered at the doorstep, but it has become ten times more expensive and remains out of reach for a poor person," adds Singh.
"Of course, one of the demands of the women teachers who were given contractual jobs is that their jobs be confirmed and the CM has promised to do so," says Singh.
JD-U spokesperson Neeraj Kumar cites EC data to confirm that women among the Most Backward Castes formed a solid vote bloc for Nitish in this election.
"One of the main reasons for their support was the Nitish government's active promotion of the Bihar Rural Livelihood Promotion Society, an autonomous body under the rural development department. Locally known as Jeevika Didi, BRLPS today has more than a 1.2 crore women associated with it,: points out Neeraj Kumar.
Other activists believe the bogey raised by the prime minister in his election rallies that a vote for Tejaswi Yadav would see a return to the dreaded days of 'jungle raj' rang a chord with several women voters.
The reference was to the period of his father Lalu Yadav's chief ministerial reign which many believed was notorious for increase in crime.
Madhuban-based activist Suman Singh, who runs an NGO Sakhi that supports livelihood and women empowerment issues, recalls, "That was a very difficult time for us. Women were subject to a lot of ugly drunken behaviour by men. So much 'chher chhaar' in both our towns and cities that even women residents of Patna were terrified to step out of home after sunset."
"All that has changed in the last 15 years. Nitish has helped ensure safety and protection to us women and that is one of the main reasons why we have supported him," she adds.
She also believes that the several central government sponsored schemes such as Rs 500 per family and free rations helped several families survive the ordeal of the lockdown months when few jobs were available for a majority of families.
Bhagwanji Pathak, a social environmentalist in Supaul in north Bihar, does not agree with this assessment that women voters voted en bloc for Nitish Kumar.
"Their vote was evenly divided between the JD-U-BJP and the Mahaghatbandhan," says Pathak. "It is not correct to say that women voted en masse for Nitish Kumar though this is not to deny that he enjoys their support."
"I travelled extensively across 15 Vidhan Sabha constituencies including Supaul, Madhepura, Darbanga and Madhubani and I can safely say that 40 constituencies witnessed an extremely close contest where the margin of victory was less than 3,500," points out Pathak, adding, "The margin of victory was less than 1,000 in 11 seats.
In Hilsa, the RJD candidate lost to the JD-U candidate by just 12 votes, adds Pathak.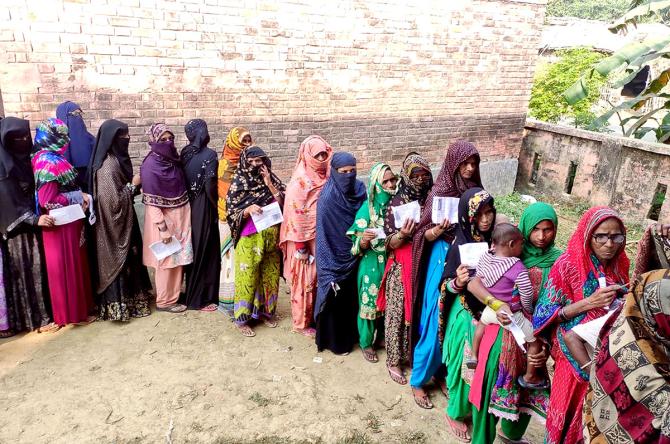 It is an interesting conundrum that while more women are voting and participating in elections in Bihar, this has not translated into greater representation in the assembly.
Many more women contested this time, but a smaller number won -- 371 women contested the 2020 election against 273 in 2015.
The number of women who won was 26, two seats less than in the 2015 election.
The JD-U gave tickets to 22 women candidates, but only six won.
The BJP gave 13 women tickets of the 110 seats the party contested and nine women won.
Explaining why women candidates did not fare well, former Rajya Sabha MP and JD-U ideologue K C Tyagi points out, "Bihar remains a male-dominated state where caste equations remain dominant. Even though my party gave a large number of seats to women, the problem is they find it difficult to match the muscle and money power of male candidates."
This is not to say that women candidates did not put up a tough fight.
Many did and some succeeded in winning by large margins.
They included Bhagirathi Devi of the BJP who defeated Rajesh Ram of the Congress by 15,796 votes from the Ramnagar constituency.
Kavita Devi of the BJP trounced Punam Kumari Paswan of the Congress by 28,943 votes from Korha.
Rekha Devi of the RJD got the better of Altaf Alam of the JD-U by 11,385 votes from Masaurhi while Sangita Kumari of the RJD defeated Niranjan Ram of the BJP by 12,054 votes from Mohania.
Elections in other states also confirm the decisive role women are playing today in electoral politics.
Take the case of state elections in Karnataka and Tripura where also growing numbers of women voters cast their vote.
In the Tripura assembly election, not only did women vote in larger numbers than their male counterparts in many constituencies, but they also made a difference in many crucial elections.
Tripura Congress Vice-President Tapas Dey admits to women voters's crucial role in helping the BJP win power in the state.
"Women, who have a 3% higher vote share than men in the 2018 election, voted against the CPI-M," says Dey.
One reason why the BJP succeeded in garnering the women vote in Tripura was because of the state's high crime rate.
Tripura is second only to UP in crimes against women, according to National Crime Records Bureau date.
The BJP cashed in on the women safety issue and used this to its electoral advantage.
The same strategy was repeated in Bihar where fear of the 'jungle raj' was raised yet again, even though records of that period as tabulated by the NCRB show that such allegations are false.
But the bogey succeeded in galvanising a sizeable proportion of women voters for the NDA.
This was the first major election held in the country amid the COVID-19 pandemic.
Obviously, the women of Bihar were not intimidated by the pandemic and came out in large numbers to contribute in a big way to the democratic process.
Rashme Sehgal has had a long career in journalism and has worked for The Times of India, The Indian Post among other newspapers.
Feature Presentation: Aslam Hunani/Rediff.com