Art is a reflection of society. And when conveyed by artists like Valay Shende, it becomes a hard-hitting social comment, discovers Satish Bodas/Rediff.com
Art can be beautiful.
Art can be decorative.
Art can make you think.
And that seems to be the objective of Valay Shende, the creator of thought-provoking sculptures like Transit.
His recent exhibition, Migrating Histories of Molecular Identities, had life-sized works that represent objects and situations around us.
Shende's unique perspective allows him to use everyday images to underline vital social issues.
He has chosen to construct his work with thousands of discs made of metal. These discs symbolically represent atoms, which are the base of existence.
Viewers see themselves in each of these highly reflective discs, thus becoming participants in his work.
Seen below is his exquisitely detailed and most well-known creation, The Transit, depicted through a truck carrying 22 men, women and children on their way from one work site to another.
They are stuck in a timeless transit.
Shende has converted the rear view mirrors into videos of buildings and construction sites from Mumbai and London.
This exhibition, which was Shende's largest one yet, took him four years to complete. It has been exhibited in Rome, Lyon and Mumbai.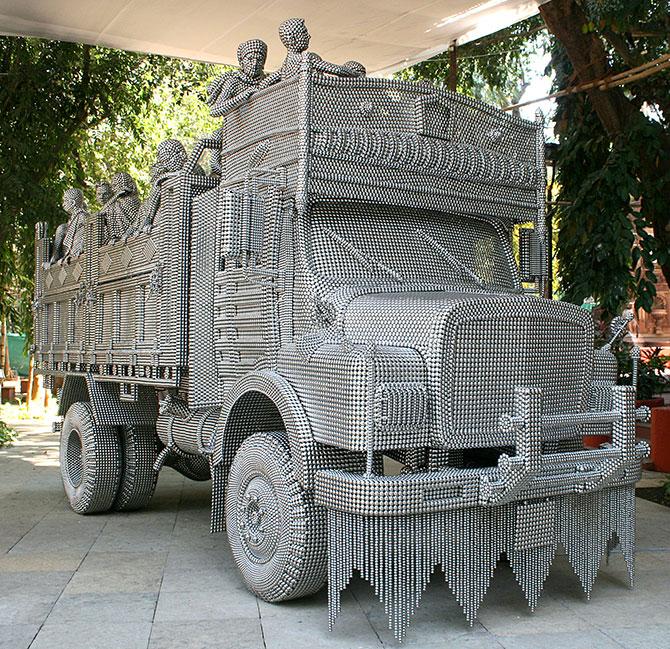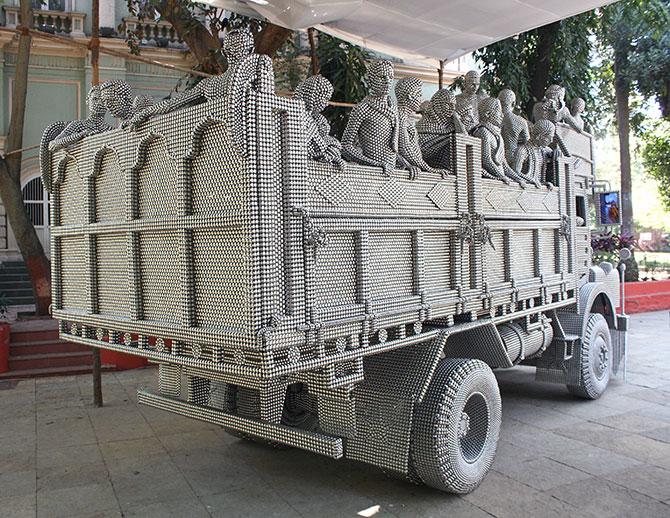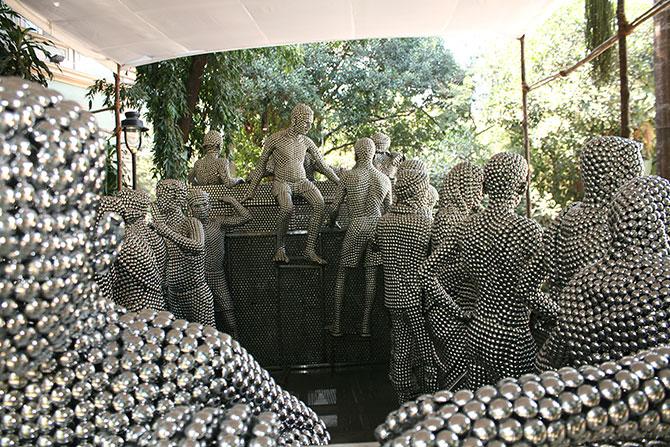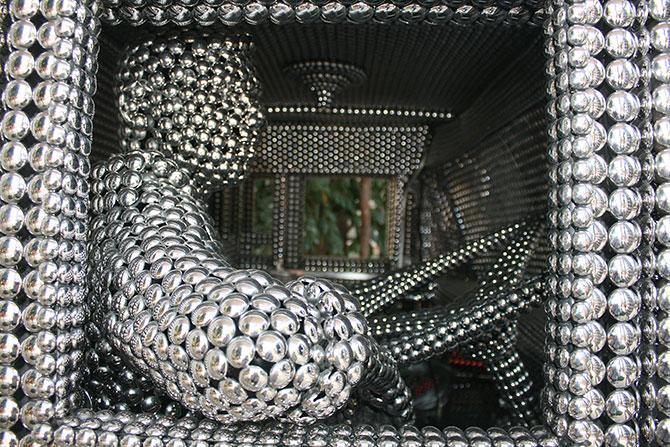 Below: A kerosene barrel mounted on a modified cycle. At one point, such tricycles were a common sight in Mumbai.
It was a source of this much-needed fuel for the poor, who would line up with cans to buy the precious liquid.
Seen on the side is the typically shaped jug that was used to measure the kerosene.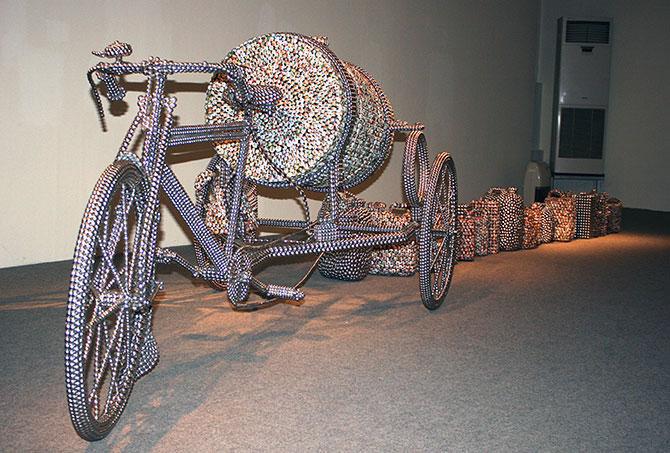 Below: For small farmers, the bull is the main source of sustenance and support. It helps him till the field and can be yoked onto a cart for transport.
This installation, which shows the head of a bull mounted on a wall, represents the hunted... the farmers who have been hunted down by an increasingly consumption-based society.
The base on which the bull's head is mounted is made up of photographs of small farmers in Maharashtra who toil unsuccessfully to eke out a living.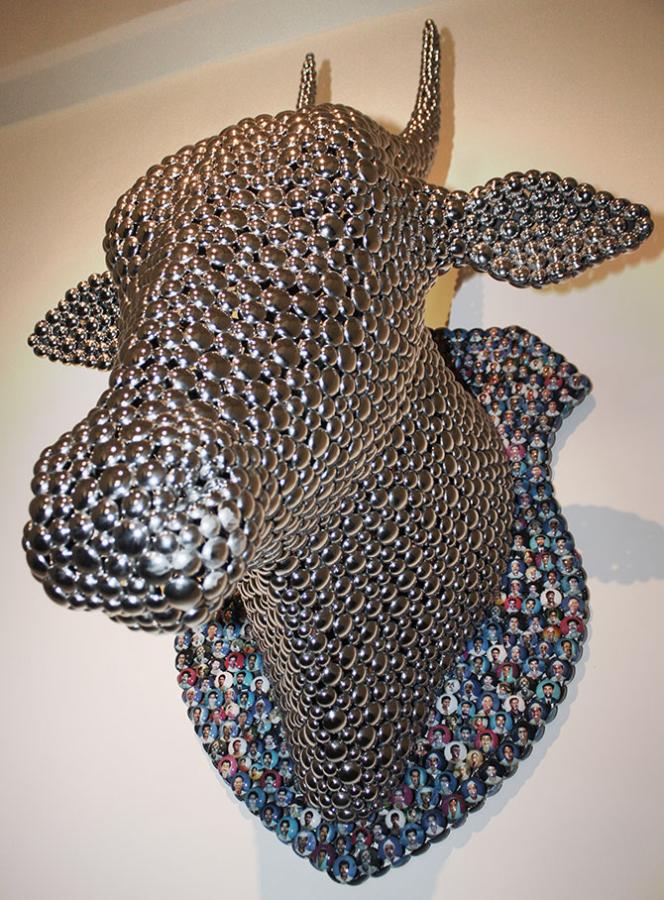 Below: At first, the setting looks pleasant.
A pair of what looks like gold salt and pepper shakers sit at the centre of an ornate silver dining table, surrounded by rich, brocade-upholstered chairs.
The salt shaker contains the ashes of Narsinghlu Rukmawar, a poor farmer from Vidarbha who committed suicide because he could not feed his family.
The pepper shaker contains soil from Rukmawar's field, which grew the grains that another family will now enjoy, perhaps at this silver dining table.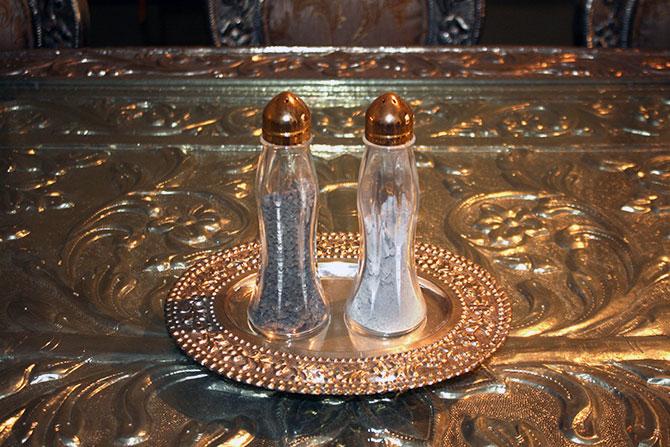 Below: Using the onion as a metaphor for tears, Shende creates a satire on disharmony, border issues, migration and the division of land and people.
The layers of the onion represent the current world scenario, with its incessant layers of wars and massacres.