The shooter, Adam Purinton, reportedly got into an argument with Srinivas Kuchibhotla and his colleague Alok Madasani over racism, and shouted 'get out of my country', 'terrorist' before shooting them.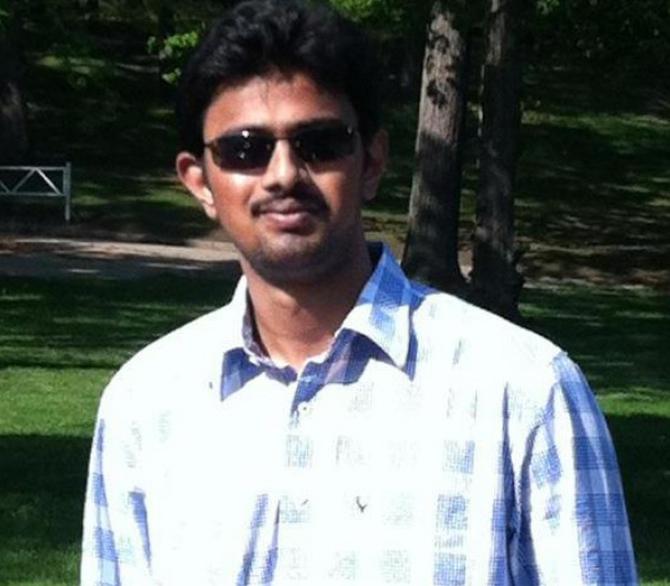 A 32-year-old Indian engineer was killed and another Indian man and an American were injured after a Navy veteran yelling 'get out of my country' and 'terrorist' opened fire on them at a bar in Kansas City in an apparent racially motivated hate crime.
Srinivas Kuchibhotla, working at GPS-maker Garmin headquarters in Olathe, died of bullet injuries in a hospital.
His Indian colleague Alok Madasani was critically injured when the 51-year-old man went on a shooting spree after hurling racial slurs following an altercation on Wednesday night.
A third person, an American man identified as Ian Grillot, 24, who tried to intervene also received injuries in the firing in Austins Bar and Grill in Olathe in Kansas City in the state of Missouri.
The shooter, Adam Purinton, reportedly got into an argument with the victims in the terms of racism, and shouted 'get out of my country', 'terrorist' before shooting them.
Purinton reportedly provoked them into an argument asking about their presence and work in his country, and how they are better than him.
According to police, Purinton left the bar after the argument and then returned with a gun and shot the three men while patrons were watching the University of Kansas-TCU basketball game on television in the bar.
The shooter was arrested yesterday, five hours after the incident and charged with murder and attempted murder.
Authorities declined at a news conference to say whether the shooting was a hate crime although local police said they were working with the Federal Bureau of Investigation to investigate the case.
"It was a tragic and senseless act of violence," Olathe Police Chief Steven Menke told reporters.
The FBI has joined local police authorities in the investigation.
"The FBI is investigating to determine if the shooting of Kuchibhotla, was a bias-motivated hate crime in violation of the victims' civil rights," Eric Jackson, special agent in-charge of the FBI's Kansas City office told reporters.
Asked if the presence of federal authorities indicated the shooting could be considered a hate crime, Jackson said it was too early to determine.
The shooting incident comes at a time when hate crimes and acts of bigotry have risen notably in America after President Donald Trump came to power.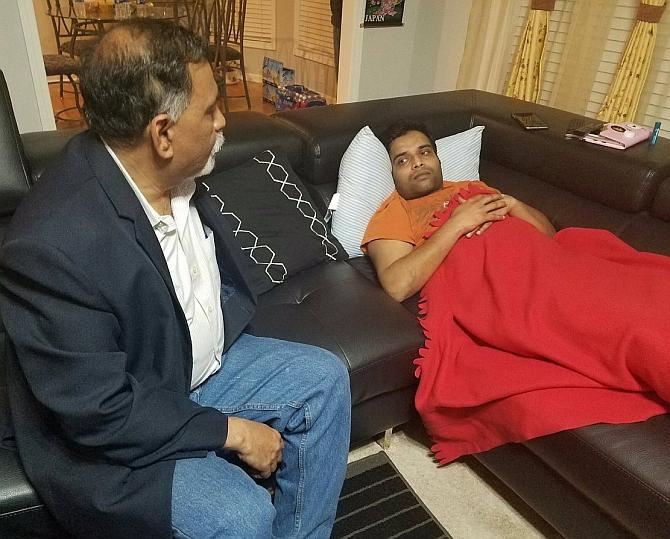 R D Joshi, Consulate General of India in Houston, meets Kansas victim Alok Madasani
In New Delhi, External Affairs Minister Sushma Swaraj expressed shock over the incident and said two Indian consulate officials from Houston have been rushed to Kansas to render all possible assistance.
'I am shocked at the shooting incident in Kansas in which Srinivas Kuchibhotla has been killed. My heartfelt condolences to bereaved family,' she tweeted.
'I have spoken to Indian Ambassador in US Mr Navtej Sarna. He informed me that two Indian Embassy officials have rushed to Kansas,' she said.
The External Affairs Ministry will make all arrangements to transport to Hyderabad the mortal remains of Kuchibhotla.
Swaraj said she has spoken to the father and brother of Kuchibhotla in Hyderabad and conveyed her condolences to the family.
'We will provide all help and assistance to the bereaved family. I have spoken to the father and K K Shastri, brother of Srinivas Kuchibhotla, in Hyderabad and conveyed my condolences to the family.
'I have assured all help and assistance to the family. We will make all arrangements to transport the mortal remains of Srinivas Kuchibhotla to Hyderbad,' Swaraj said in a series of tweets.
Later, Swaraj tweeted, 'I have received a report from Mr Anupam Ray, CGI Houston.'
'Our mission staff have met with Sunayna Kuchibhotla. Indian Government is with her in this hour of grief. We assure her of all our support,' she said.
'Indian Ambassador in US Mr Navtej Sarna has spoken to me and is keeping me informed,' Swaraj added.
External Affairs Ministry Spokesperson Vikas Swarup said Kuchibhotla and Madasani hailed from Hyderabad and Warangal.
"Houston Deputy Consul R D Joshi and Vice Consul Harpal Singh will meet the injured and facilitate in bringing the mortal remains of the deceased and will be in touch with local police officials to ascertain more details of the incident and monitor follow up action," Swarup said.
They will also meet the community members in Kansas, he said.
According to Garmin, Kuchibhotla and Madasani worked in the company's aviation systems.
"Unfortunately, two associates on our Aviation Systems Engineering team, Srinivas Kuchibhotla and Alok Madasani, were shot. We are devastated to inform you that Srinivas passed away and Alok is currently recovering in the hospital," Garmin said.
Kuchibhotla posted on LinkedIn in 2014 that he managed helicopter programmes. He had a master's degree in electrical and electronics engineering from the University of Texas at El Paso. He earned his bachelor's degree from the Jawaharlal Nehru Technological University in Hyderabad.
A 2014 post on LinkedIn said Madasani was an aviation programme coordinator manager at Garmin.
The shooter, a navy veteran with inactive pilot licence and air traffic controller certificate, told a bartender in Clinton, Missouri, where he was hiding after the shooting that he killed two Middle Eastern persons, local media reported.
He has been charged with premeditated first-degree murder and his bond has been set at $2 million (Rs 13 crore).
According to Kansas City Star, the shooter worked as an air traffic controller in Olathe. He also worked at the Federal Aviation Administration, but left it in 2000.
Friends of Kuchibhotla have set up a GoFundMe page to help raise funds for sending his remains to India.
'Srini was the kindest person you would meet, full of love, care and compassion for everyone. He never uttered a word of hatred, a simple gossip, or a careless comment. He was brilliant, well mannered and simply an outstanding human being,' the fund raising page said.
'His wife Sunayana and his family are now faced with incredible grief and a multitude of expenses,' it said.
The incident sent shock waves among Indian-American and the Indian community across the United States.
"Our thoughts and prayers are with the family and friends of Kuchibhotla," said Jay Kansara, director of Government Relations at Hindu American Foundation.
The third victim, Grillot in an interview from the hospital said that he hid behind a table when Purinton opened fire.
He counted the gunshots and when he thought the gunman was out of bullets, he jumped up to stop him but Purinton still had one round left, and he used it to shoot Grillot.
The bullet went through his hand and into his chest.
Grillot said that he learned Madasani's wife is five months pregnant and that he considers the engineer his new best friend.
The sports bar where the shooting took place has been closed with a sign on the door that said it would remain closed indefinitely.