An RTI plea reveals that Rashtrapati Bhavan employs 545 people and incurs a monthly wage bill of Rs 1,34,68,927.
Syed Firdaus Ashraf reports.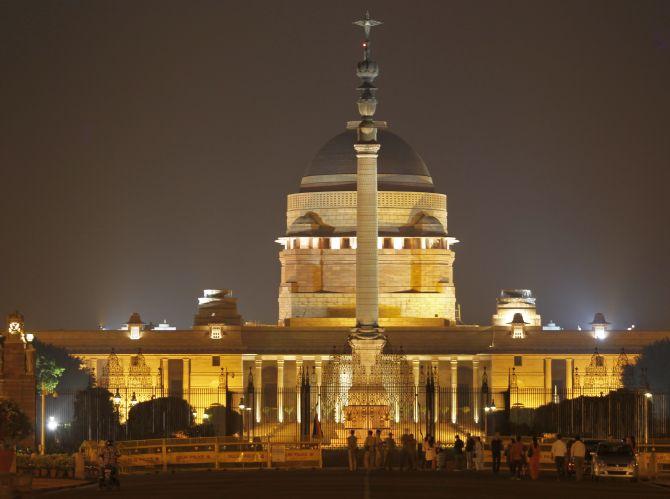 IMAGE: Rashtrapati Bhavan in all its glory. Photograph: Vijay Mathur/Reuters
Ever wondered how many people it takes to ensure that Rashtrapati Bhavan, India's Presidential palace, runs smoothly?
According to an RTI plea, it takes 545 people.
This number includes 28 cooks, 37 drivers, 184 gardeners and 57 cleaners.
The Rashtrapati Bhavan staff ensure that everything in the 340-room main building is run like a well-oiled machine and kept spick and span.
The RTI plea filed by Nutan Thakur also revealed that the salaries paid to these 545 people amounted to Rs 1,34,68,927 in October 2017, two months after Ram Nath Kovind took office as the 14th President of the Republic.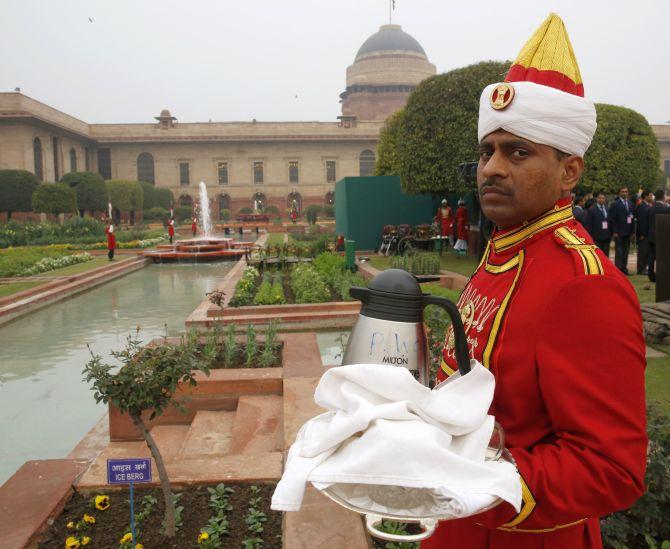 IMAGE: The RTI plea reveals that there are 39 room attendants employed at Rashtrapati Bhavan. Photograph: Jim Bourg/Reuters
Asked why she had filed the RTI plea, Thakur, an activist from Lucknow, says, "I felt that people don't have money to eat in this country and many of our citizens are living below the poverty line."
"I wanted to see how much money is being spent on the highest office in the country."
The 545-member staff also includes a tennis coach and two squash coaches.
When was the last time a President played either sport?
Here's the full list of the staff categories employed at Rashtrapati Bhavan:
| | |
| --- | --- |
| Additional Comptroller, President's Household/Special CPH | 1 |
| Supervisor (Household) | 1 |
| Chief Cook Grade-I | 1 |
| Chief Cook Grade-II | 1 |
| Head Cook | 3 |
| Senior Cook | 4 |
| Cook | 3 |
| Head Cook's Mate | 1 |
| Cook's Mate | 9 |
| Chief Baker | 1 |
| Head Halwai | 1 |
| Baker/Halwai | 2 |
| Assistant Halwai | 1 |
| Baker's Mate | 1 |
| Head Butler | 4 |
| Senior Butler | 15 |
| Butler | 13 |
| Silverman-cum-Masalchi | 10 |
| Chief Room Attendant | 1 |
| Head Room Attendant | 4 |
| *Senior Room Attendant | 15 |
| Room Attendant Grade-I | 8 |
| Room Attendant Grade-II | 11 |
| Chief Household Attendant | 1 |
| Personal Attendant | 2 |
| Transport Jamadar | 1 |
| Head Household Attendant | 3 |
| Senior Household cum Lift Attendant | 2 |
| *Senior Household Attendant | 19 |
| House Attendant Grade-I | 12 |
| *House Attendant Grade-II | 6 |
| Chief Store Keeper | 1 |
| Store Keeper | 4 |
| Painter cum Store Keeper | 1 |
| *Store Attendant | 4 |
| Chief Laundryman | 1 |
| Senior Laundryman | 2 |
| Laundryman | 6 |
| Washerman | 10 |
| Coach (Tennis) | 1 |
| Coach Grade-II Squash/Swimming) | 2 |
| Head Marker (Tennis) | 1 |
| Tennis Marker Grade-I/Squash Marker Grade-I | 3 |
| Squash Marker | 2 |
| Tennis Marker Grade-II | 3 |
| Sports Attendant | 2 |
| Public Relations Officer | 1 |
| Carpenter | 1 |
| Tailor | 1 |
| Laboratory Assistant | 1 |
| Senior Ambulance Attendant | 1 |
| Ambulance Attendant | 1 |
| Special Grade Driver | 1 |
| Grade-I Driver | 10 |
| Grade-II Driver | 8 |
| Ordinary Grade Driver | 18 |
| Chief Mechanic | 1 |
| Assistant Mechanic | 1 |
| Despatch Rider | 9 |
| Cleaner | 3 |
| Chief Telephone Attendant | 1 |
| Head Telephone Attendant | 1 |
| Chief Coachman | 1 |
| Head Coachman | 1 |
| Postillion | 4 |
| Syce/Sikligar | 5 |
| Safaiwala Jamadar | 7 |
| Senior Safaiwala | 38 |
| MTS Safalwala | 12 |
| Bhisty | 1 |
| Education Officer | 2 |
| Technical Assistant | 1 |
| Artist Grade-I | 2 |
| Artist Grade-II | 2 |
| Museum Assistant | 1 |
| Museum Attendant | 12 |
| Senior Helper/Attendant | 1 |
| Junior Helper/Attendant Grade-II | 1 |
| Laboratory Attendant | 1 |
| Chowdhary | 8 |
| Senior Mali | 54 |
| Mali Grade-III | 130 |
| Tractor Operator | 2 |
| Total | 545 |