'General Manekshaw looked from left to right and said, "Gentlemen, I have come to have a look at you. I am taking a good look at your faces. When I come back after the war is over, some faces may not be here."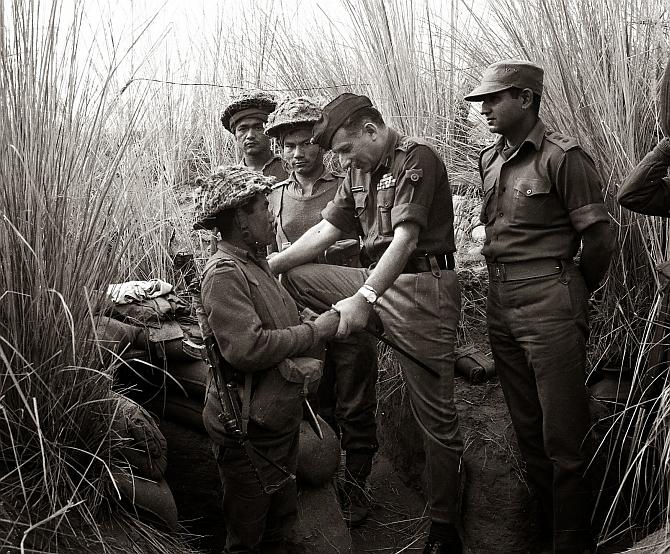 IMAGE: Then Indian Army chief General Sam Manekshaw with troops during the 1971 War. Photograph: Kind courtesy Major General B N B M Prasad and DPR Photo Division Archives.
Two soldiers who fought in the 1971 War along the Punjab border with Pakistan remember those days 45 years ago as if it was yesterday.
Colonel Jagdish Sindhwani and Colonel Inder Khanna relive the December war with Archana Masih as part of Rediff.com's Oral History series on India's most decisive military victory.
Earlier in the series:
'General Manekshaw had guts': Colonel Jagdish Sindhwani
The Chief of the Army Staff General Sam Manekshaw looked from left to right and said, "Gentlemen, I have come to have a look at you. I am taking a good look at your faces. When I come back after the war is over, some faces may not be here."
He gave us all an individual look. I remember that sentence so well. He came to talk to us before and after the 1971 War.
He was very flamboyant, charismatic, and a wonderful man. He had guts. He could speak to politicians like no other chief in uniform has spoken thereafter, perhaps General (Krishnaswamy) Sundarji did to some extent -- but General Manekshaw was a tough guy.
He stood up to politicians like no other chief.
He refused to go to war (with Pakistan) in April when the politicians so desired because he wanted to return victorious.
The war started after Pakistani aircraft bombed Raja Sansi airport and our guns opened up.
We were deployed near Dera Baba Nanak along the (Punjab) border and along the Ravi river. The other side of the bank was Pakistan.
Mine was the 163 Field Regiment. We had the good old 25 pounder guns. These were very sturdy guns that had served in World War II. We were still in the process of upgrading them, but those guns gave proper fire.
The regiment had 18 guns; each battery had 6.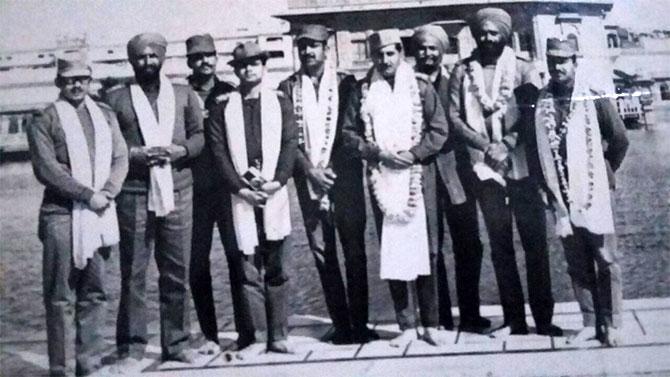 IMAGE: Officers of the 163 Field Regiment receive holy scarves at the Golden Temple after the War. Photograph: Kind courtesy, Mrs Monica Sindhwani.
Our position was on a bund where we were in our bunkers with our guns. From the Pulkanjari side, the Pakistanis used to bring down very accurate fire upon us whenever there was troop movement on our side.
There was a bloody battle that took place on December 16-17 (the Battle of Pulkanjari). I remember some cattle sheds were blown up and you could see animal limbs flying about. It was a horrible sight.
One night I had a narrow escape. I was wearing a parka. Firing was happening from both sides. We took shelter on the ground when my coat got caught in a stump.
It was dark; I thought somebody was pulling me back. When I got up I found the tail of my coat was missing -- a mortar shell had cut through that part of the coat!
I preserved that coat for a long time.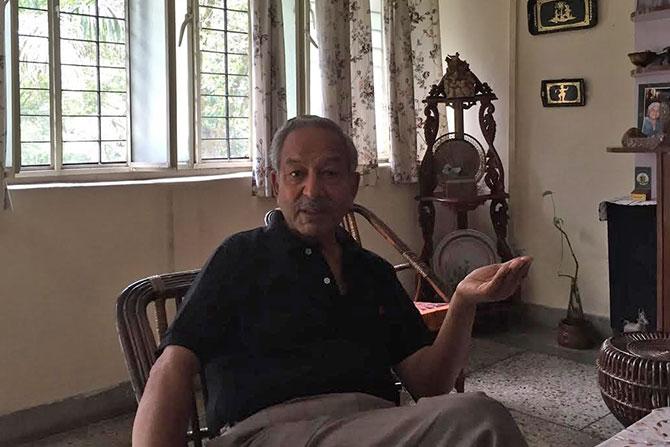 IMAGE: A major in the 1971 War, Colonel Sindhwani came to India after Partition and served the Indian Army for nearly 30 years. Photograph: Archana Masih/Rediff.com
When the War was over, my battery was pulled for ceremonial duties in Delhi. It was 25 years of Independence and my guns were to fire the gun salute at the Red Fort. There was also a special midnight session of Parliament.
It was also the first time I went inside Parliament. I had to give the order to fire coinciding with the first beat of the National Anthem.
After the War when the Simla Agreement was to be signed, Zulfikar Ali Bhutto and his daughter Benazir were to come to Chandigarh from where they were to be airlifted by chopper to Simla.
Since I was commanding a ceremonial battery, I was told that a head of State is coming and we would have to give a gun salute. I was given a booklet to go through that had directions about how the salute was given to a head of State and was asked to be ready to move my guns to Chandigarh.
I read it and thought Bhutto was not on a State visit. He was coming from a country that had suffered defeat and was here to negotiate peace. So I referred the matter to Army HQ.
It was then referred to Mrs Gandhi and it was finally decided that no gun salute would be given to him.
***
'Our job was to protect Amritsar': Colonel Inder Khanna
In October-November of 1971, a general exodus of civilians took place from Amritsar.
I was posted in Amritsar as battery commander in the 74 Medium Regiment as part of the 15 Infantry Division.
The role of the entire division was the protection of Amritsar. Across was Lahore.
Around 150 km of border area was the responsibility of the 15 Division.
Our gun position was on a forward location in a village 15 km out of Amritsar. The range of a medium gun is 27.4 km. The shell weighs 34.4 kgs. It is lethal.
On December 3, at around 4 in the evening, we were having a gun inspection. Suddenly before sunset, the Pakistani Sabres came zooming over our heads. They were returning to Pakistan after bombarding the Raja Sansi airport which was 4 km as the crow flies from where we were.
The Pakistan border from where we were as the crow flies was at times 10, 12 or 15 kms.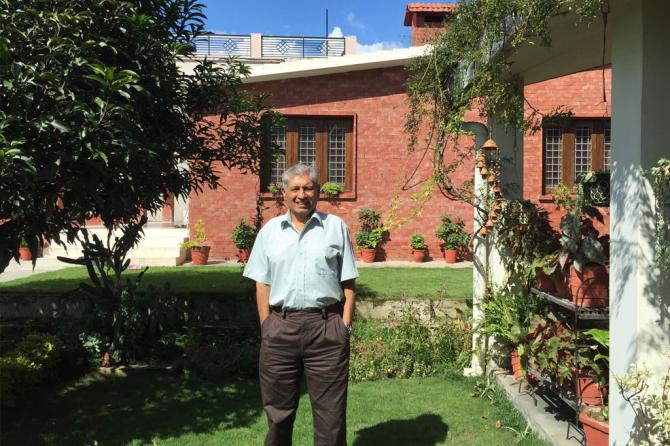 IMAGE: Colonel Inder Khanna, a second generation army officer, was deployed near Amritsar during the War. Photograph: Archana Masih/Rediff.com
We got the message that War had started and Pakistan had started preemptive action on our air bases in the north.
We mantled our guns, put them into the gun pits in firing positions and were ready to fire. Bombardment started at 8 in the night.
Bombardment happened every night. I was with an infantry brigade deployed in Kohali, which is Air Chief Marshal (now Marshal of the Indian Air Force) Arjan Singh's village. We were responsible for giving fire support to the infantry battalion.
We had Russian guns -- 130 medium guns, excellent guns which are carrying on even today.
Each battery has 120 people. Each medium gun is manned by 7 men.
We hardly slept during those 14 nights of war. Most of the attacks took place either late in the evening or early morning.
The Pakistanis wanted to penetrate, but they couldn't.
A famous battle took place in Pulkanjari on the night of December 16-17.
Pulkanjari is a sort of bulge inside the Pakistani area. The Pakistanis captured it, but we captured it back before the war ended. (A memorial to the valour of the Sikh Regiment stands in Pulkanjari.)