'Gauri was a woman of great integrity and few people know how modestly she lived, generously sharing the little she had.'
'Her only asset was the home her mother built.'
'But she had even bigger riches -- her capacious heart,' remembers former husband and close friend, Chidanand Rajghatta.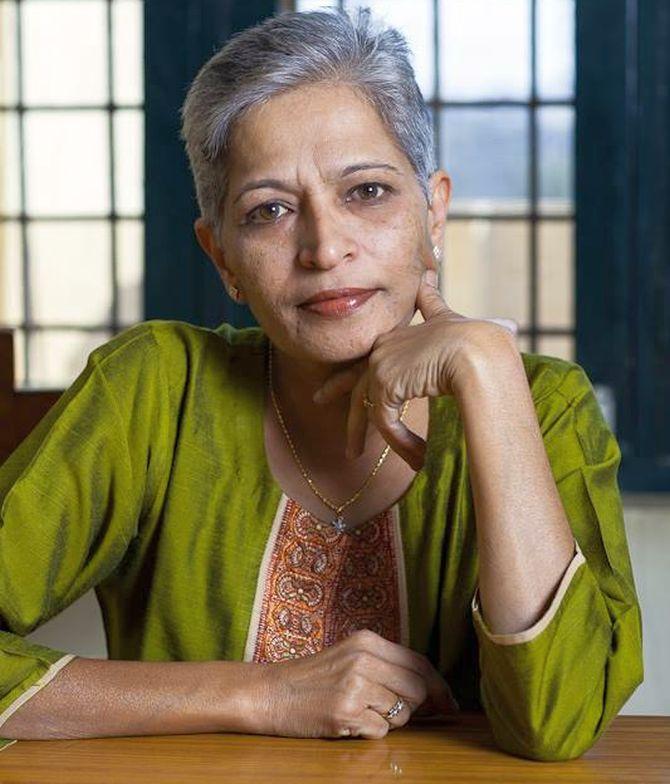 The reporting instincts honed in Sunday magazine became even sharper on what was now her (Gauri Lankesh's) home turf. She always had a keen eye for detail.
If one ear was to the ground, she had the other ear to a phone, with important contacts on speed dial, not just in elite political and police circles, but in the boondocks where an India story may have been unfolding that was not very well reported in the corporate English media.
In fact, much before the mainstream media caught on to it, she got a whiff of Niira Radia's proximity to the corridors of power, publishing in the Patrike a photograph of the lobbyist accompanying then prime minister Atal Bihari Vajpayee when he was calling on the Pejavara Matha swami.
Long before it became widely known, she told me that Radia's ticket to the corridors of power was a BJP Cabinet minister who had been a young party hack in the 1980s when we were both young reporters in Bangalore.
Vajpayee, she said, had to give the minister a talking to and changed his portfolio after his wife complained to the PM about the dalliance between her husband and Radia.
Naturally, the minister's fan club hated Gauri, as did many of the BJP flock, because of her unrelenting attacks on men she disrespectfully called 'chaddis' in her writing.
Gauri was among the drivers of the Karnataka Anti-Superstition Bill -- formally called the Karnataka Prevention and Eradication of Inhuman Evil Practices and Black Magic Bill, 2017 -- that sought to ban practices such as urulu save/made snana, bhanamathi (a kind of black magic) and baibiga (piercing rods from one side of the jaw to another side of the jaw, including the tongue).
The bill was cleared by the Siddaramaiah cabinet three weeks after Gauri's death, almost as if in homage to her, with the chief minister himself dolefully noting her absence.
Gauri took on directly and daringly all such issues that disproportionately put women, Dalits and minorities under pressure and in the crosshairs of upper-caste orthodoxy.
There were no half measures and ambiguities for her, no 'get both sides' or 'balancing of views' that is the basis for fair and balanced journalism in the traditional matrix.
To those critics (yes, me too) who argued that her paper, and her stance, lacked nuance in reporting an incredibly complex country and society, she'd snap, 'Save that homily for journalism schools. What complexity is there in opposing urulu seve or bettale puje,' she'd ask.
To those who accused her of being sympathetic to left-of-centre parties such as the Congress and the JD-S, some of whose leaders she was friends with, and only targeting the Sangh Parivar, she'd point to her crusade against the likes of K J George and D K Shivakumar, moneyed Congress leaders she chewed up in her paper for acts of omission and commission.
Even on an issue like Tipu Jayanti, contrary to the assumption that she would support it because she was a secular, left-leaning, pro-Muslim minority activist, she criticised Chief Minister Siddaramaiah for playing a 'soft communal card', saying a secular State shouldn't be indulging in 'vote-bank politics by organising such celebrations'.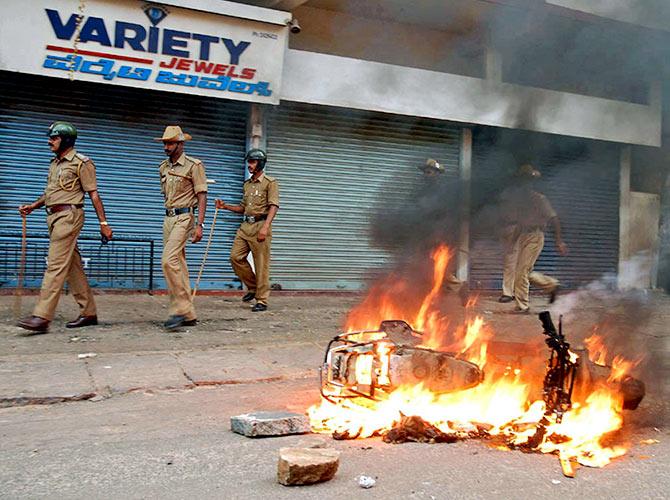 She worried that Karnataka was becoming communalised and radicalised, with Hindu radicalism and Muslim extremism feeding off each other.
"It's a political game to appeal to communities. I fear that such vote bank gimmicks will only lead to more violence by pitting communities against one another. From Kodagu, the violence might spread to other places too."
'Putting people's lives at risk for larger political gain is not done. As much as I respect Basavanna or Tipu, I think jayantis of all kinds are unnecessary. People who want to celebrate them can do so anyway,' she told one interviewer.
But the way I saw it then, the right-wing excesses in India were aberrations. The toll in terrorism and communal clashes was minor compared to the people who died in road accidents and preventable diseases, I would argue with her.
Governments everywhere, including in the US, played up extremism and terrorism because it helped divert money to the powerful national security establishments at the expense of more important sectors such as health, education and infrastructure.
This too shall pass, I told her, reminding her of Uttar Pradesh at the turn of the 1990s when the saffron hue seemed to be sweeping the state and set to entrench itself.
Every time the right-wing pushes the agenda too far to the right, a corrective mechanism kicks in. Those pushing the extremes get voted out.
'Yada yada hi dharmasya glanir bhavati bharata, old thing,' I'd say cheerily, essaying one of the few passages from the Gita we were familiar with in what we joked were our karmic days.
Such sermons irritated her now.
She had also moved to a position where she believed the Gita was an upper-caste, Brahminical tract; there was no 'sambhavami yuge yuge', no rescue mission.
You can sit on your ass waiting for deliverance, she'd say; she would be out there fighting for it. She called it horaata.
We disagreed frequently during this period, and her last resort was to accuse me of abandoning the good fight and essaying homilies from 10,000 miles away.
Our arguments concluded with the truce that, while I didn't particularly approve of her journalism (not that she cared) and she didn't approve of mine, we could live and let live as we always had.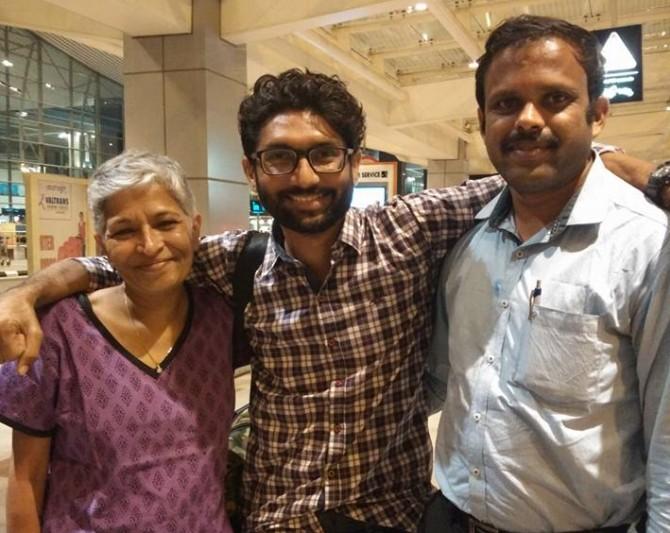 As she settled into -- or rather struggled into -- her new milieu, I switched off from her world, convinced that the foray would end sooner or later, and she would return chastened to English journalism or take up making movies, which her sister Kavitha was doing successfully by now.
On my twice-yearly visits to India, I would drop by the Patrike office to see her. She'd be seated at a desk placed adjacent to her father P Lankesh's larger one, which remained in place.
She never sat at her father's desk, partly out of respect and partly because she did not think she had grown into it yet.
She was smoking more than ever, and I subjected her to lectures that she probably found tedious but took in good grace.
On my part, I acceded to her request to keep her supplied with the laptops that I was done with, since I changed them every couple of years.
Things were tough on the business front, but she was incorruptible.
Both before and after her death, there was loose talk, tattle about how wealthy she was and how she was a 'crorepati', lived in a swish home, etc., with sneaky allusions to tabloid blackmail
This was arrant nonsense, of course.
Gauri was a woman of great integrity and few people know how modestly she lived, generously sharing the little she had.
Her only asset, as best I know, was the RR Nagar home her mother built, and which, yes, would certainly be worth a crore or more -- any old hovel in an Indian metropolis is now worth a lot of money.
But she had even bigger riches -- her capacious heart.
She did not ask me for a paisa when we divorced, even though she had every right to. She was always too proud to go down that route.
Occasionally, the self-denial and deprivation bothered her.
Although the family had agreed that her brother Indrajit would be the proprietor, printer and publisher of Lankesh Patrike, and Gauri would be the editor, it rankled that she was virtually a salaried employee, drawing a measly Rs 20,000 a month.
She fretfully told me more than once that she would have been earning far more in English journalism on her own, and she hated going to Ajittu, as we called him, to clear every business expense.
She was only hanging in there because she had truly come to believe in her father's mission of opposing the dark forces of obscurantism and communalism, and preserving the State's secular and syncretic character through the Patrike.
Excerpted from Illiberal India: Gauri Lankesh and the Age of Unreason by Chidanand Rajghatta, with the kind permission of the publishers, Westland Books.