Ambassador T P Sreenivasan salutes India Abroad, the leading Indian-American newspaper for half a century, which ceased publication on March 30.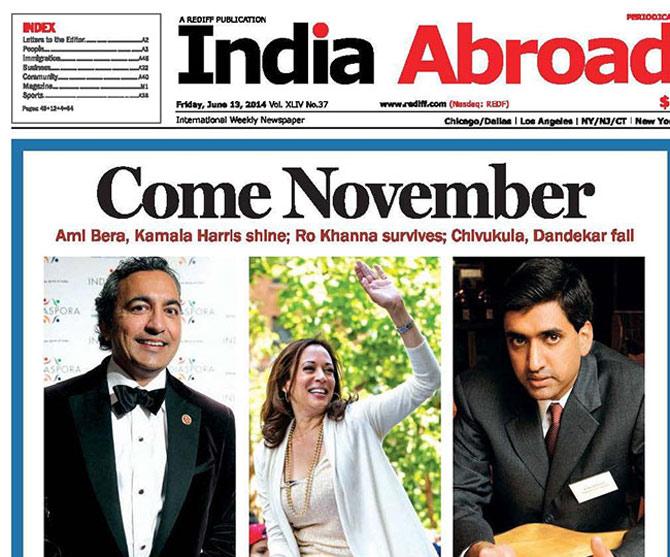 In this digital era, when a newspaper closes its print edition and goes digital, it is not a funeral, but a rebirth. It is just moving with the times. It becomes instantly accessible at a cheaper price, news and features appear faster and column writers do not have to wait for several days to see their creations in print.
But my eyes became moist when I heard that India Abroad, the iconic Indian ethnic newspaper announced that it will not be at the door of my son's apartment in Manhattan when I go there next.
I thought I should pay a tribute to its founder, the legendary Gopal Raju and the many journalists and others, who kept it going for 50 years against heavy odds.
During my ten years as an Indian diplomat in New York and Washington DC and my innumerable visits to the US before and after, glancing through India Abroad was a personal and official requirement, as it was our window to Indian-American life.
There were many other publications which came and went, but India Abroad survived for fifty years by sheer grit initially and later by acquiring the quality of production and editing of a decent newspaper.
It was obvious that Indian grocery shops and Indian cinema theatres sustained it, but their advertisements did not overwhelm the readers. Some Indian journalists with experience of the mainstream media started migrating to the newspaper and brought with them analytical and editorial abilities and even those who used to dismiss it as a rag earlier, began to read it with interest.
India Abroad kept serving Indian diplomats in the US on tenterhooks by reporting their activities, good and bad, which reached Delhi regularly. It has made and marred many reputations and some careers.
So the first thing we always looked for was whether we figured in the newspaper in any way. No news was good news as there would be nothing to investigate and report. But at least one of us will be featured somewhere and there would be informed and uninformed criticism.
India Abroad had great respect for diplomats, but they missed no opportunity to point out inaccuracies. Nobody was consistently bad or good in their assertions. I remember the same senior diplomats using India Abroad for public relations purposes and blaming it as anti-India Abroad' when they themselves were criticised.
So the newspaper was the PR and Lokpal for the Indian missions in the US. The founder, Gopal Raju, a friend and a visionary, gave a free hand to his journalists, but remained principled and ethical. He was unmoved by either praise or criticism.
Before the telecommunications revolution and the advent of the Internet, India Abroad was the main source of news for Indian Americans, who swallowed hook, line and sinker all that appeared in it.
This imposed a huge burden on us as telephone calls will come to the missions why the Indian government was unreasonable, unimaginative or plain stupid. Americans have a habit of calling the White House at the drop of a hat and the equivalent for Indian Americans is to call the Ambassador.
Being answerable about everything that appeared in India Abroad was no easy task, but we had to do it patiently and gently. The calls to the missions diminished when the communications opened up on WhatsApp and twitter, bringing them closer to the politicians including ministers and the prime minister.
The other side of the coin was the availability of a newspaper in the US, which was ready to interview ministers and to carry reports of their exploits with pictures.
When they first come, they want to be in The New York Times, the Washington Post and CNN, but were content with a full page in India Abroad. Very often, we had to request India Abroad to interview every VIP even when he had nothing to say.
In 2001, Gopal Raju sold the publication to Rediff.com and it flourished under its publisher Ajit Balakrishnan and its stalwart journalists. The columns that I wrote for Rediff.com began appearing in India Abroad, bringing me closer to many Indian Americans more than before.
'The newspaper also published over the years, excellent commentaries and opinion pieces by renowned economists, academics, social anthropologists and change makers. It also very often introduced and gave the first platform to Indian-American achievers in fields ranging from politics to medicine to science and technology, academics and social policy,' said a sister publication, IndiaBazaar.com.
'These change makers then went on to scale newer heights after first being recognized by the publication. India Abroad's balanced approach and continued dedication during sensitive, divisive times has been exceptional,' IndiaBazaar.com added.
India Abroad also nurtured and nourished the South Asian Journalists Association co-founded by my son Sreenath Sreenivasan.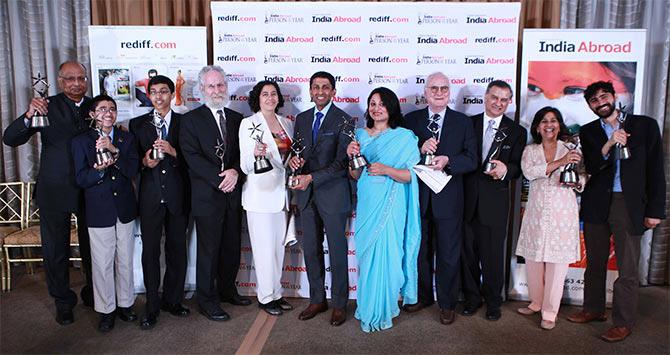 The India Abroad Person of the Year awards became the gala event for the Indian-American community and we travelled to New York each year to enjoy the show and to meet Indian celebrities.
Sree was the permanent master of ceremonies of these shows. A most memorable moment was when the judge Sri Srinivasan came on stage masquerading as Sree and announced himself as the master of ceremonies on one occasion.
The guests were polite to him, but they kept shouting for the real Sree till the judge brought Sree to the stage and left.
That was a magical moment we all cherish, particularly as the judge rose in the US judiciary, just short of the Supreme Court. We often basked in his glory as his parents have the same name as ours.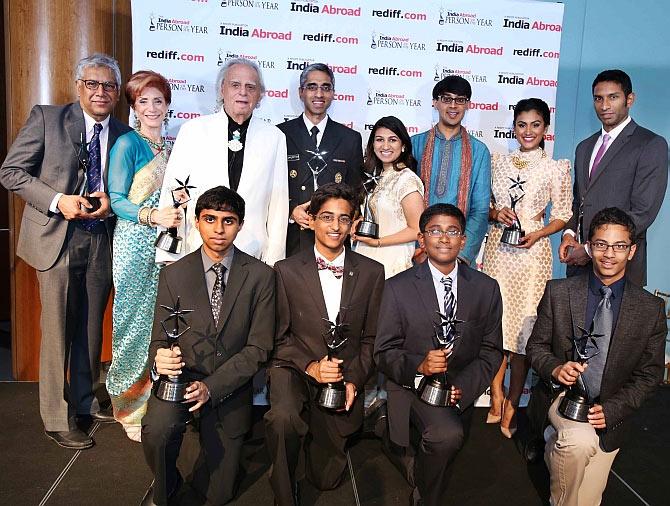 Sadly, in late 2016, Rediff.com sold its venture to 8kMiles Media Inc.
On March 27, 2020, the current chairman and publisher, Suresh Ventakachari through his publisher's note, announced its decision to cease the print edition.
Ventakachari wrote: 'For the thousands of readers for whom India Abroad has been an integral part of their Indian American journey, the close of the publication may be heart rending, but hardly surprising, given the reversal of fortunes of print publications in the United States and across the world.'
It was a sad moment indeed.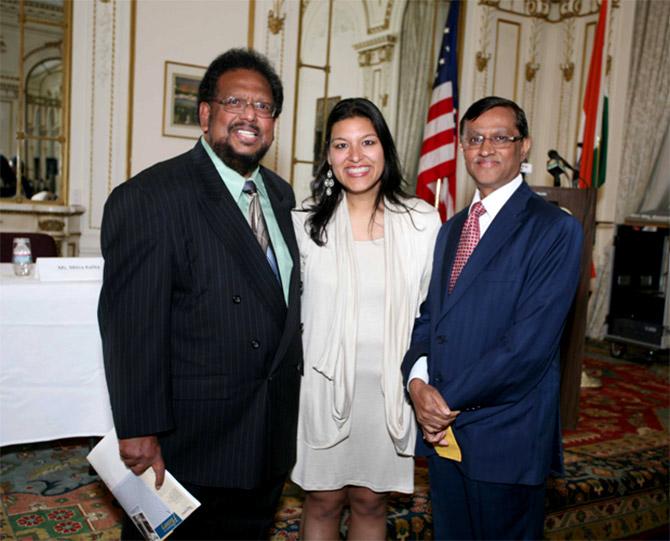 A tribute to India Abroad cannot end without acknowledging the stellar contribution made to it by Aziz Haniffa, a burly Sri Lankan, who became the face and soul of India Abroad.
I was very cautious with him initially because of his reputation as the Sherlock Holmes of Indian journalism in New York, but he became a trusted friend in later years.
He is a thorough professional, with malice to none and committed to honest journalism. He irritated many diplomats by his dogged pursuit of a story and the detailed manner in which he reported.
The joke in Washington was that India Abroad paid for his stories by the yard! Space was no problem for him and he would write half a dozen separate stories based on one conversation.
If anyone contradicted him on facts, he would either play a recording or produce witnesses. It was no mean achievement for me that I survived for ten years in the Indian diplomatic corps without a single critical piece by him. He was behind the three farewells India Abroad hosted for me, twice in New York and once in Washington.
Fare thee well, India Abroad! Hope to see you again with digital wings, which will carry you to greater heights.
---
T P Sreenivasan, (IFS 1967), is a former Ambassador of India and Governor for India of the IAEA.
Ambassador Sreenivasan is a frequent contributor to Rediff.com nd his earlier columns can be read here.