The India Abroad Person of the Year Awards, held at the National Museum of the American Indian in New York City on Friday June 12, honoured 14 achievers in seven categories.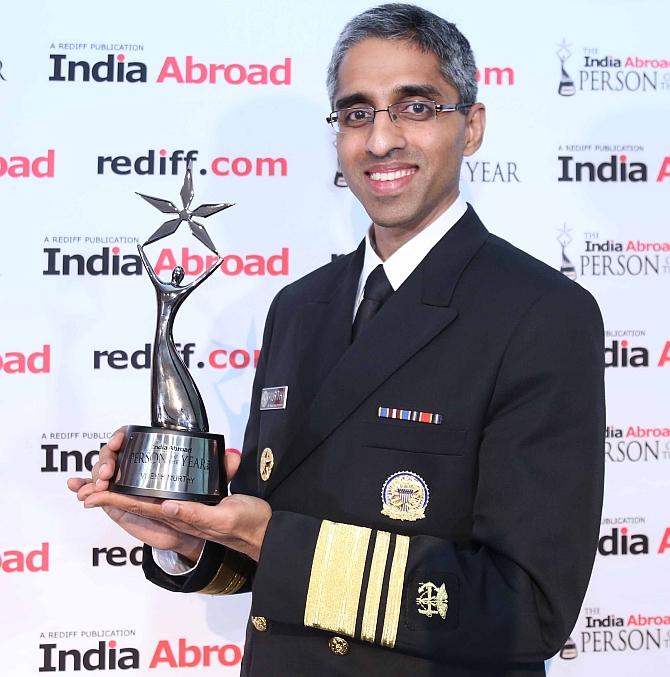 Image: US Surgeon General Vivek H Murthy, India Abroad Person of the Year 2014. Photograph: Paresh Gandhi/Rediff.com
Dr Vivek H Murthy, the first Indian American and the youngest ever (at age 37) to be appointed United States Surgeon General, is the India Abroad Person of the Year 2014.
The India Abroad Person of the Year Awards, held at the National Museum of the American Indian in New York City on Friday June 12, honoured 14 achievers in seven categories -- with the youngest awardees aged 13 and the oldest awardee in his 70s.
'It can be tempting to think of seva as service to others. But it inevitably benefits the person performing the seva as well,' Dr Murthy, who holds the rank of Vice Admiral and is America's top health officer, said before the event. 'I believe there is a great deal to be gained by pursuing a path of service in one's career.'
Judge Sri Srinivasan, the first Indian American to be appointed a federal judge in the DC Court of Appeals, the India Abroad Person of the Year 2013, presented the Award to Dr Murthy.
Also present with Judge Sri was an earlier India Abroad Person of the Year, Preet Bharara, the US Attorney for the Southern District of New York.
Dr Manjul Bhargava, who won the Fields Medal, the equivalent of the Nobel Prize and the highest honour for a mathematician under the age of 40, and the distinguished poet Vijay Seshadri, who won the Pulitzer Prize for Poetry last year, were awarded the India Abroad Publisher's Award for Special Achievement 2014.
Dr Bhargava is one of the world's most influential mathematicians, a genius whose mind is widely considered as beautiful as his late mathematician colleague at Princeton University, Professor John Nash.
'India's needs are often quite different than those of the rest of the world, as India has its own unique problems that only exist in India and are not foremost in the minds of developed countries,' Dr Bhargava told India Abroad.
'That's why it is important for India to have its own network of scientists and their repertoire of research, both pure and applied, so that they can all work together to make the fundamental creative breakthroughs and connections that will be needed to solve India's problems in the decades to come,' Dr Bhargava, who heads Prime Minister Narendra Modi's GIAN (Global Initiative of Academic Network) initiative, said.
The poet and the mathematician received their awards from India Abroad Publisher and Rediff.com Founder, Chairman and CEO Ajit Balakrishnan.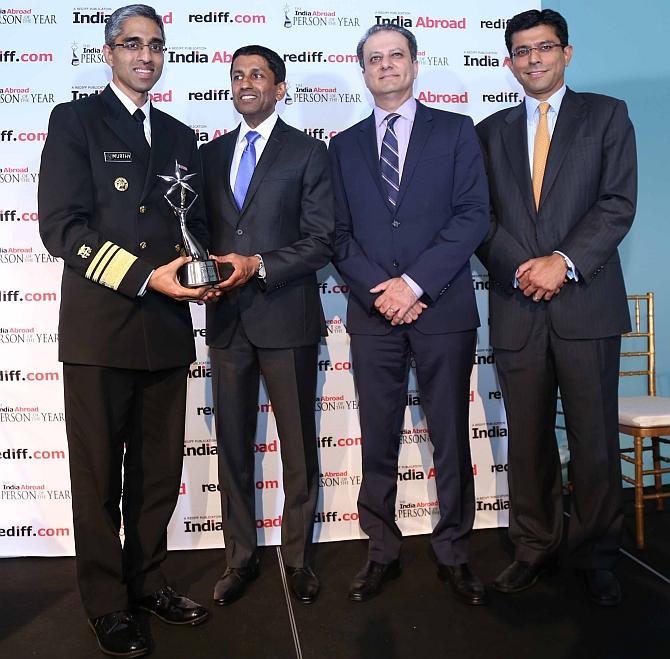 In glorious company, from left to right: US Surgeon General Vivek H Murthy with IAPOY 2013 awardee Judge Sri Srinivasan, IAPOY 2011 awardee Preet Bharara and Rajnish Bharadwaj, EVP, Wells Fargo, the presenting sponsor for the event. Photograph: Paresh Gandhi/Rediff.com
Dr Pranav Shetty and Dr Jay Varma, who were at the forefront of fighting Ebola in Africa and the US, were awarded the first India Abroad Doctors of the Year Award 2014.
'Epidemics need to be respected -- it's the first time Ebola got on a plane and that really opened the world's eyes to really, the global nature of diseases,' Dr Shetty told India Abroad in an interview, then speaking from Nepal, where he had rushed to help following the devastating earthquake.
'In 1976, Ebola was some kind of a Central African issue at that time. But now, it's a world issue and the world's problem. So, we need to be prepared as kind of a global community to deal with it,' Dr Shetty added.
'My laboratory is actually the world around us... For me, the greatest satisfaction in life comes from service to others, not to serving my bank account,' Dr Varma, who has been at the forefront of fighting infectious diseases around the world, said, speaking from Sierra Leone in Africa where is currently based.
India's Ambassador to the US Arun K Singh and AAPI President Dr Ravi Jahagirdar presented the Award to Dr Shetty and Dr Melissa Varma, a doctor who has devoted her life to improving child health care in the developing world, who accepted the Award for her husband.
Vivek Ranadivé, the well-known software businessman who became the first Indian American to own an NBA team when he bought the Sacramento Kings, was honoured with the India Abroad Businessman of the Year Award, another new category introduced at this year's event.
'India wants to be a world power, and India's knocking at that door. Sports has to be a part of it. You can't be a world power and get no medals in the Olympics -- maybe get one in hockey or one in shooting, but not really be on the sports map,' Ranadivé -- whose coaching of his daughter's school basketball team was famously chronicled in Malcolm Gladwell's bestseller, David and Goliath -- told India Abroad.
'I see basketball as a sport that can take off in India and provide yet another reason for India and the US to be together,' the Mumbai-born and raised Ranadivé added. 'I see it as a sport that over the next 10 years will grow to be the second-most popular sport in India. Obviously, it will never surpass cricket as the national pastime, but if it's the second-most popular, that's a big deal.'
Former Rohm and Hass chairman Raj Gupta and Al Jazeera anchor Ali Velshi presented the Award to Ranadivé.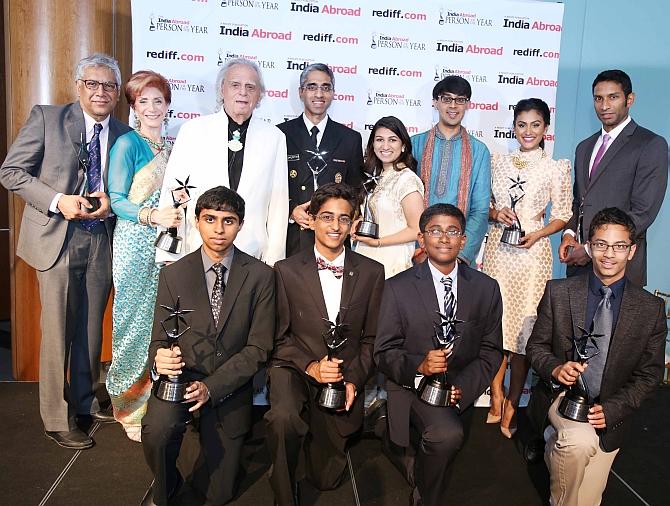 India Abroad Person of the Year 2014 winners, left to right, Pulitzer-winning poet Vijay Seshadri, founders of the Rubin Museum of Art Shelley and Donald Rubin, India Abroad Person of the Year 2014 US Surgeon General Dr Vivek H Murthy, founder of Empower Orphans Neha Gupta, Fields Medal winner Dr Manjul Bhargava, Miss America 2014 Nina Davuluri, global emergency health coordinator for the International Medical Corps Dr Pranav Shetty.
Front left to right Scripps Spelling Bee winners 2014 Ansun Sujoe and Sriram Hathwar, National Geographic Bee 2014 winner Akhil Rekulapelli, inventor of the Lego Braille printer Shubham Banerjee. Photograph: Paresh Gandhi/Rediff.com
The India Abroad Face of the Future Award 2014 was presented to Nina Davuluri who in 2013 created history by becoming the first Indian American to win the Miss America title, and Neha Gupta, who won the International Children's Peace Price.
'I would say the biggest game-changer I had was filling a niche between Indians abroad here and Indians in India through things like the Modi event,' Davuluri -- one of the emcees at the prime minister's Madison Square Garden event last September -- told India Abroad. 'That's when I really shifted focus... I definitely see myself in the political arena.'
'As a kid it's not easy to go through all that paperwork and understand it all,' Neha, 19, who has set up the non-profit organisation, Empower Orphans, told India Abroad. 'But I knew that this was not something that I just wanted to do as a small thing; I wanted to make it bigger; I wanted to get other people involved. It wasn't just about helping other kids. It was about mobilising other youth and getting them to help youth around the world.'
Rising stars of the community Shubham Banerjee, Ansun Sujoe, Sriram Hathwar and Akhil Rekulapelli were honoured with the India Abroad Special Award for Achievement 2014.
Shubham, who is only 13, has set up a company to manufacture Braille printers for the blind, with investments from Intel and Microsoft.
Ansun and Sriram were the first-ever joint winners in the 52-year history of the Scripps National Spelling Bee 2014 while Akhil won the National Geographic Bee 2014.
As Indian Americans expand their footprint in America it is also important to recognise those who -- though not Indian by origin -- contributed to deepening the understanding of India outside the subcontinent.
In recognition of this, the India Abroad Friend of India Award 2014 went to Shelley Rubin and Donald Rubin who have set up the Rubin Museum of Art which houses the greatest collection of Himalayan Art in the Western World.
'When we started the Rubin Museum,' Shelley Rubin told India Abroad, 'there was virtually no interest in Asia. It seems extraordinary because it's not that long ago. But we felt somehow that Asia was rising. If you opened your eyes a little bit you could see that Asia, especially India and China, were rising powers of the world and their art was not seen at all, even though it was incredibly beautiful, well crafted and meaningful.'
Among the audience at this year's event were legendary actress Madhur Jaffrey; novelist Bharti Mukherjee; Ambassador Dyaneshwar Mulay, India's Consul General in New York; Ambassador Vijay Nambiar, the United Nations Secretary-General's special advisor on Myanmar; Acting US Assistant General Vanita Gupta; Basement Bhangra pioneer DJ Rekha; Oscar winner Megan Mylan, Los Angeles Times Managing Editor S Mitra Kalita, among others.
This was the 12th year of the India Abroad Person of the Year awards, a pioneering effort to recognise Indian-American achievement that has in the past honored achievers like Nobel Laureate Venkatraman Ramakrishnan; PepsiCo chief Indra Nooyi; astronaut Sunita Williams; music conductor Zubin Mehta and Grammy-nominated musician Vijay Iyer; USAID Administrator Raj Shah; lawmakers like South Carolina Governor Nikki Haley and Louisiana Governor Bobby Jindal; Olympic gymnast Mohini Bhardwaj; novelistsAnita Desai, Salman Rushdie, Jhumpa Lahiri, writer Dr Siddhartha Mukherjee; and filmmaker Mira Nair.