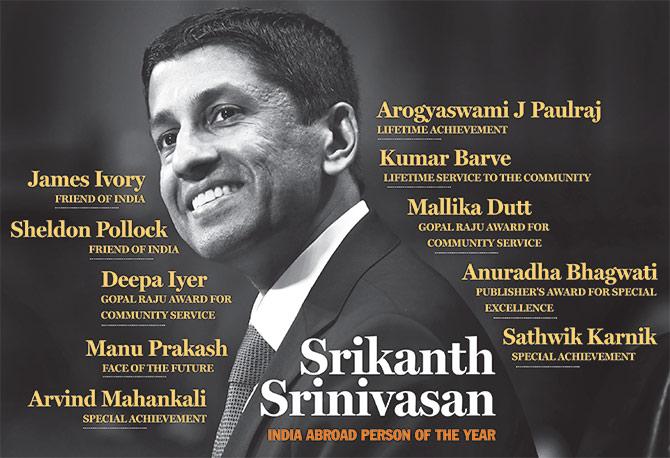 United States President Barack Obama calls him one of his 'favourite people.'

Justice Sandra Day O'Connor, the legendary first female Supreme Court Justice in the US, says America is 'lucky as a nation to have him now serving as a federal judge.'

And India Abroad considers him the best of America and India.

For India Abroad the choice of Judge Srikanth 'Sri' Srinivasan as the India Abroad Person of the Year 2013 -- much like his confirmation as a federal judge in the US Court of Appeals in the District of Columbia, America's second highest court -- was unanimous.
Ten others Indian-Americans were also honoured at a glittering event in New York on June 20.

To mark the momentous event, India Abroad -- the newspaper published from New York and owned by Rediff.com -- released a special edition honouring the 11 award winners.
THE WINNERS:



Judge Sri Srinivasan: The judge who personifies the best of America

Anu Bhagwati: 'Armed forces and country need more people like her'

Arogyaswami J Paulraj: 'He created something tremendously impactful'

Manu Prakash: 'Such an awesome journey'

Arvind Mahankali: 'Little Mr Perseverance'
Sathwik Karnik: 'Very knowledgeable and very nice'

Deepa Iyer: 'She speaks truth to power'

Sheldon Pollock: 'Keeper of a classical past'

James Ivory: 'I still dream about India'

Mallika Dutt: 'A woman's path to transforming human rights'

Kumar Barve: 'I still dream about India'