29 years ago this fortnight, Pakistan's dictator -- the general who made jihad an integral part of Pakistani State policy -- died in a mysterious air crash.
Did the KGB, the then USSR's dreaded espionage agency, assassinate Zia-ul Haq?
Was India's RA&W responsible for blowing Zia's military aircraft out of the skies?
Was it Zia's many enemies in Pakistan's military?
Was it a case of exploding mangoes as Mohammad Hanif speculated in his fascinating novel about Zia's death?
Or was the assassin someone else?
Kallol Bhattacherjee delves into the persistent puzzle of Muhammad Zia-ul Haq's death.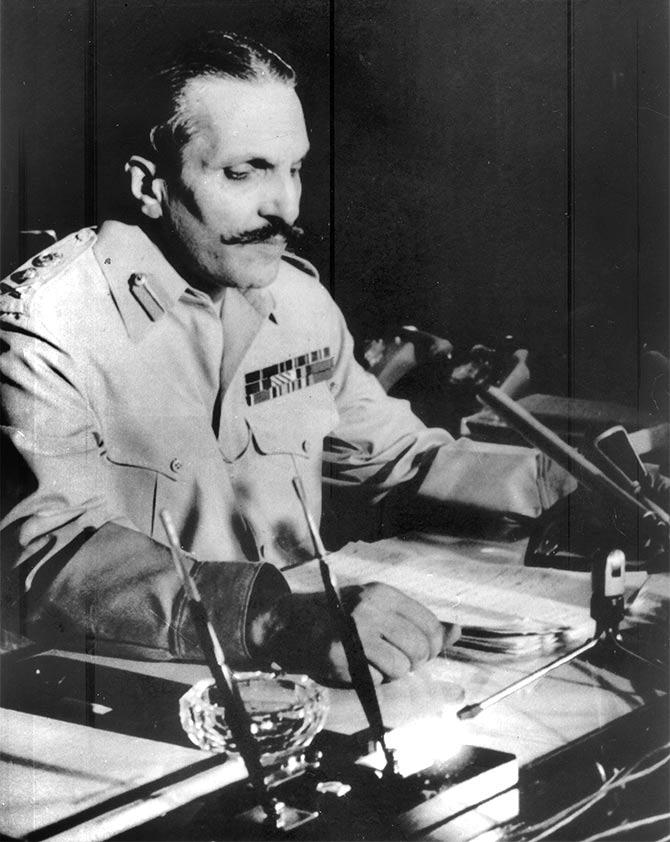 IMAGE: General Zia-ul Haq deposed then Pakistan prime minister Zulfikar Ali Bhutto in a military coup in July 1977
On August 17, 1988, US ambassador John Gunther Dean was alone in his office in Delhi when the phone rang.
The phone call was from Joint Secretary Ronen Sen who handled all sensitive communications and intelligence in the office of Prime Minister Rajiv Gandhi.
Ronen and Dean worked closely, often coordinating on issues of interest on a daily basis.
On that day in August 1988, Dean did not expect anything untoward to happen between India and the US, and a call or meeting with Ronen was not on the cards.
But, across the border, nearly 680 kilometres from Delhi, inside Pakistan, dramatic developments were taking place that were to change South Asia and Dean's life forever.
Ronen Sen was calm as he told the American ambassador to New Delhi that he had just been informed that Pak One, the presidential aircraft of Pakistan, had crashed.
Dean trusted his source, but felt the news was incredible, because he knew well that an air crash killing the Pakistani president in suspicious circumstances could immediately trigger another India-Pakistan war.
Within minutes, Sen was back with confirmation: Zia's aircraft had crashed.
And Zia was not alone in that aircraft. He was accompanied by almost the entire top brass of the intelligence and armed forces of Pakistan.
Dean says that, during those calls, Sen also told him that Indian satellites had filmed the final moments of the air crash.
Sen had the resources to eavesdrop on Pakistan's sensitive communications in 'real time'.
He was the coordinator of India's secret agencies, who had to go through his office whenever the prime minister wanted a briefing.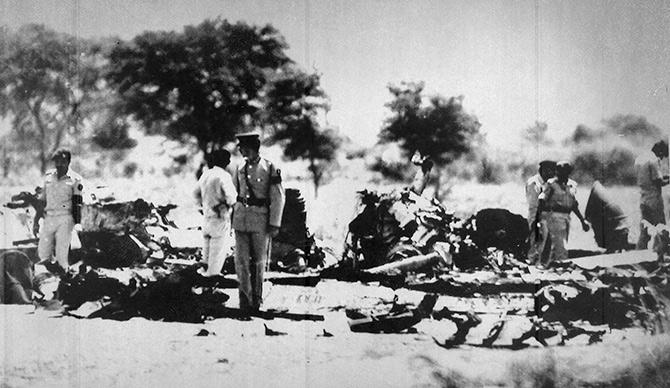 IMAGE: When Pak One, the presidential aircraft, crashed, Zia was not alone on that aircraft.
He was accompanied by almost the entire top brass of the intelligence and armed forces of Pakistan.
In the first four years of Rajiv Gandhi's premiership, India's Research and Analysis Wing and Military Intelligence underwent extensive changes and Pakistani leaders did not know that listeners across the border could get 'live' inputs on the developments inside Pakistan.
As electronic surveillance intercepted communications at the Pakistan military establishment's headquarters in Rawalpindi, Sen received updates every minute.
The cataclysmic nature of the crash and near total destruction of the bodies were cited by Zia's chief political opponent Benazir Bhutto as an example of the 'wrath of God'.
But the 'wrath of God' theory was fast overtaken by conspiracy theories.
Initial reports and various eyewitness accounts added to the confusion.
The aircraft had taken off smoothly and had climbed to a height of 4,000 feet. Most eyewitnesses said that the aircraft appeared to be in a spin and hit the ground leaving behind an enormous cloud of smoke.
But some also said that the aircraft circled in the air while an explosion took place mid-air.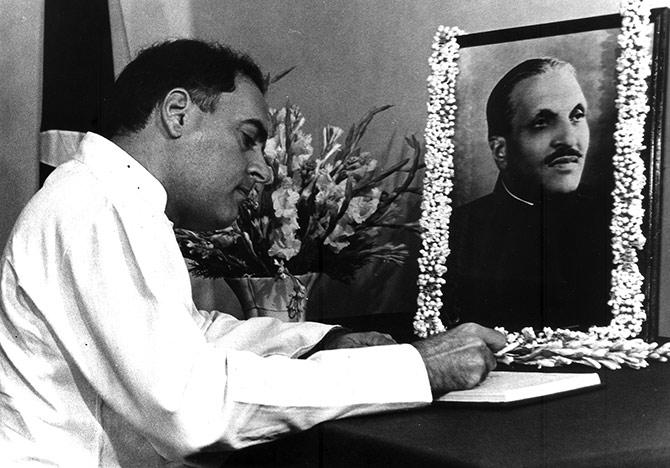 IMAGE: Then prime minister Rajiv Gandhi signs the condolence book at the Pakistani embassy in New Delhi after Zia's demise.
No one believed that an aircraft carrying Pakistan's president, the US ambassador to Pakistan and top military officers of Pakistan could crash due to mechanical failure.
It was a sabotage, hinted the newspapers. But no one could say how such a perfect crime could be executed and who had the wherewithal to execute it.
Dean had no doubt that it was a classic modern-day assassination.
He sensed immediately that the circumstances and the regional disorder of South Asia suggested that someone had decapitated the Pakistani State probably to teach Pakistan a lesson, perhaps to pave the way for a new regional order.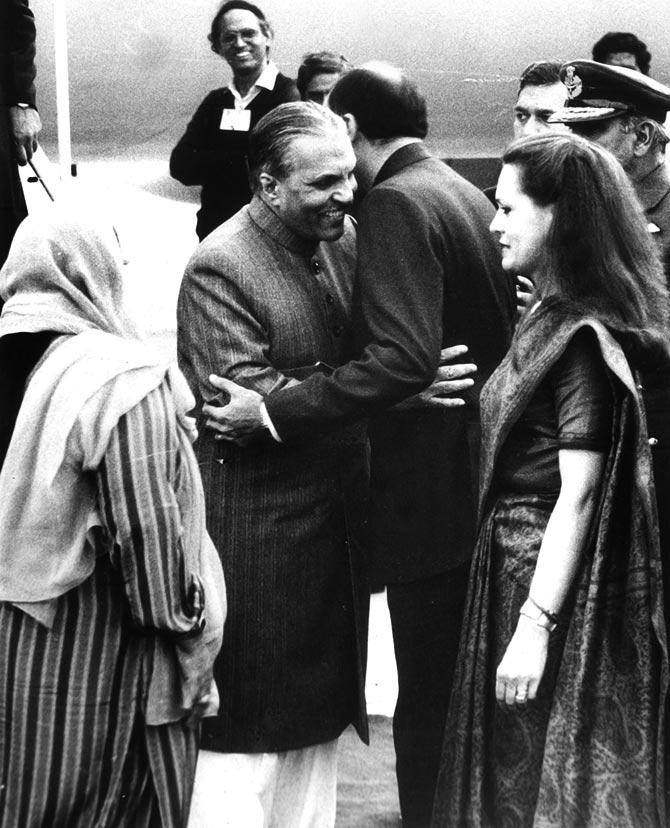 IMAGE: Zia and Rajiv Gandhi during Zia's India visit.
India had to weigh the fluid situation quickly, in real time.
Rajiv Gandhi's worry was that Pakistan might be facing a violent coup against President Zia and, in that case, the worst was possible given that Islamabad had attained nuclear status under Zia.
'Ronen, ask Ambassador Dean what he finds out from Washington, DC and Islamabad,' Rajiv instructed Sen.
Tension was palpable in the PMO because a war could begin in case an adventurous general was to exploit the demise of the Pakistani president who had tried hard but failed to get rid of the label of dictatorship.
So, while Indian military intelligence was discreetly listening to the chatter across the border with their newly acquired space-age gadgets, the authorities waited for Pakistan to break the news first.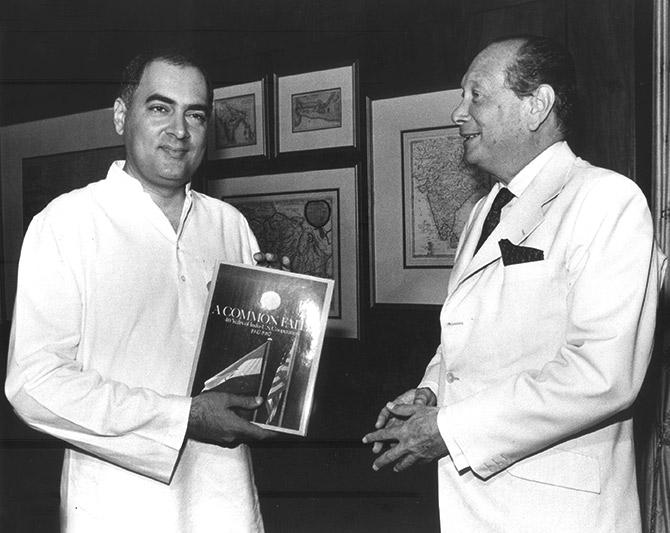 IMAGE: Rajiv Gandhi receives the first copy of a book commemorating 40 years of Indo-US cooperation from then US ambassador John Gunther Dean.
John Gunther Dean survived August 17, 1988, fearing a nuclear war between the two countries, as Pakistan was precariously poised between an iconic military dictator's sudden dramatic evaporation and the political rebirth of Pakistan that he had promised.
But the ambassador was broken in spirit by the happenings in Pakistan.
That afternoon, Dean realised that the last assignment of his long illustrious career had turned him into a failure.
The three-and-a-half-year-long stint in Delhi, despite his access to the office of the prime minister of India, had been wasted.
Dean felt angry; he felt he had been used by unseen hands who worked from the cosy bureaucratic comforts of their offices in the State Department and the White House.
He wanted a serious round of consultations and sought appointments with Vice-President George H W Bush and Secretary of State George Shultz.
Martine, his wife, advised caution and wanted him to delay his travel. But Dean had already served in Delhi for more than the usual three years. He did not care for anything else.
From Delhi, he boarded a passenger jet on September 10, but sensed that something was wrong as a CIA agent accompanied him on board and kept watching his moves.
Once on the ground at Dulles airport, Dean was received by Mort Abramowitz, the chief of intelligence and research unit at the State Department.
Dean was told that all the appointments that he had requested for had been cancelled.
'Why don't you come over to my house and we'll just have dinner?' Abramowitz suggested.
IMAGE: Then US secretary of state George Shultz greets Zia in Rawalpindi.
The reason for this alarmingly cold welcome was already known to Dean and Abramowitz because, for weeks, diplomatic cables from the US embassy in Delhi had been disagreeing with the State Department's narrative of events in South Asia: Dean did not believe the official version of the air crash that killed Zia.
In between meeting friends in Delhi, he collected a large amount of news reports about the crash from both India and Pakistan and reached the conclusion that Zia's air crash was an act of sabotage and not just a simple air crash.
By then the American official explanation had veered towards the version that Zia died in an accident.
The reasons were secondary.
The diplomatic machinery focused on the tragedy of the demise of the US ambassador to Pakistan, Arnold Raphel.
Secretary of State George Shultz visited Islamabad to retrieve his remains personally to highlight the importance of the loss to the American diplomatic community.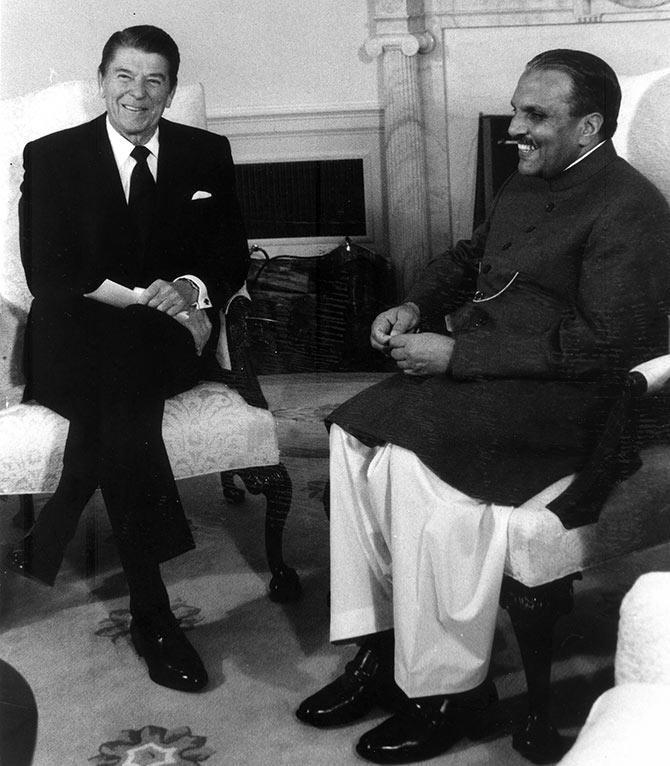 IMAGE: Zia meets President Ronald Reagan at the White House.
But Dean was restless after the incident.
The ambassador's notes sent from Delhi to Washington, DC had triggered a crisis.
Zia's air crash was one of a series of mysterious developments that had begun earlier that year, and Dean saw a pattern in this meltdown.
He wanted a man-to-man talk with the movers and shakers of American diplomacy in Washington, DC because he felt personally slighted by the condition of South Asia as his assignment in Delhi was to prevent this sort of meltdown for which all sides had worked together for three years.
But before he could confront his bosses with his outburst, Dean was contained.
IMAGE: Zia and his wife Begum Shafiq with Rajiv and Sonia Gandhi during their India visit.
George Vest, director general of the foreign service, restrained Dean and told him that the psychiatrists at the State Department had determined even without meeting him that he had undergone a personality transformation due to the pressure of his job in Delhi.
The United States of America had not yet sacked its ambassador to India and instead was building up a case for dismissal with in-house research and findings. Dean was told by Vest that the State Department had declared him unstable.
In usual circumstances, a person in such a case would be sent to a mental institution but, in this case, Dean was asked to go on leave and rest in his wife's chalet in Verbier near Geneva.
John Gunther Dean suspected the Israeli intelligence agency Mossad to have assassinated the Pakistani president using sophisticated techniques.
But, in reality, the discussion that he planned based on that question was not for the Israelis.
The question 'Who killed Zia' was aimed at the heart of the American presidency.
Because Dean planned to confront the American leaders with personal meetings and press conferences and inform the American people that the real problem was not just the fall of Pak One from the skies above Bahawalpur.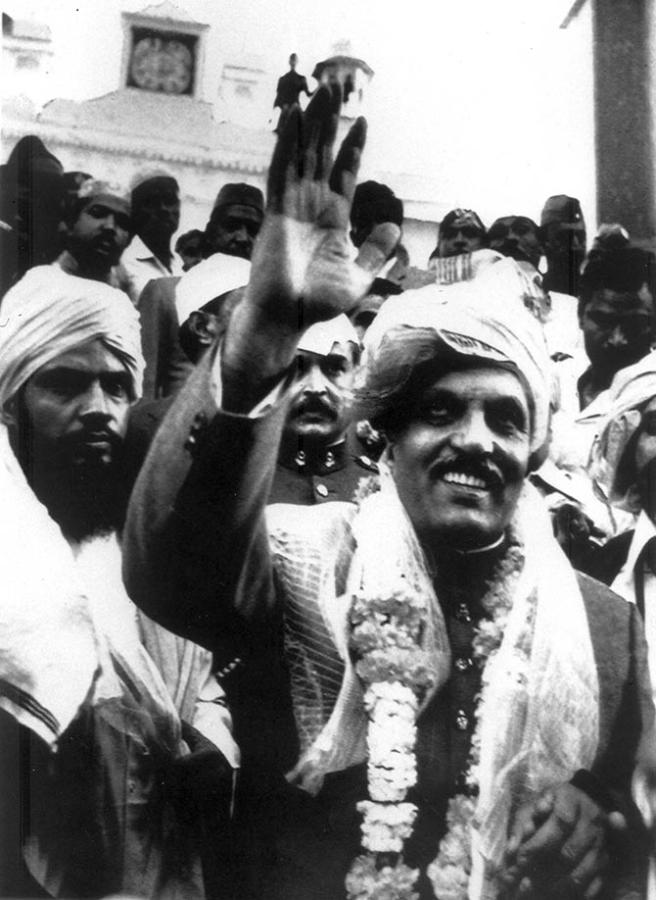 IMAGE: The wily Zia who worked with American leaders to uproot the Soviet Union from Afghanistan.
The real issue was the hurt ego of a high-profile American ambassador who felt that his superiors used him to create a smokescreen of a peaceful coalition for Afghanistan, which was not a genuine attempt.
He felt that the Americans created an appearance of peaceful diplomacy for a stable Afghanistan and in the process sacrificed his career and those he honestly had cultivated in the process.
By giving up the complex but historic regional -- and global -- consultation the Reagan-Bush administration gave up on the biggest diplomatic coup for stability in South Asia.
Dean obviously had invested in this initiative and was rightly upset at being deprived of his role.
He felt during his fateful trip to the State Department that the American president and vice-president should be held accountable for the failure of peace negotiation that they themselves had launched.
The question of who really was behind Zia's air crash was relevant, but not all-important.
Everyone, including his arch rival Benazir Bhutto, suspected that Zia died of sabotage but instead of the forensics, the focus shifted to succession, as there was a justified fear that the dictator's mysterious death could ignite a storm of fire, engulfing Pakistan and India and other stakeholders.
Excerpted from The Great Game in Afghanistan; Rajiv Gandhi, General Zia And The Unending War, by Kallol Bhattacherjee, with the kind permission of the publishers, HarperCollins India.