'It is never easy to run a campaign as a woman, particularly a minority woman, especially when you are bucking the establishment.'
My entire campaign is an act of resistance.'
P Rajendran reports from New Jersey.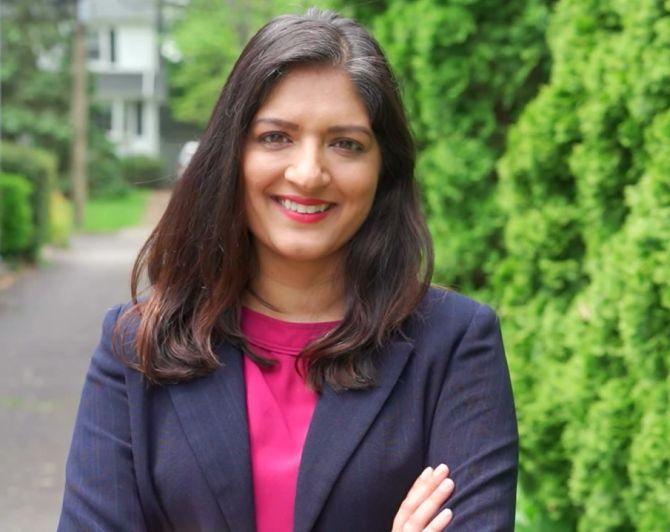 Arati Kreibich is an unlikely challenger for Josh Gottheimer, the Democratic representative from New Jersey's 5th Congressional district, even though he has voted with President Donald J Trump more than any other Democrat.
In fact, there was a time that Kreibich stumped for Gottheimer enthusiastically. That was in 2016. She voted for him again in 2018, albeit a little more reluctantly, before deciding to finally take him on herself.
Kreibich (nee Sadalge), grew up in Wadala, norh central Mumbai, and studied at the Raja Shivaji Vidyalaya till she got to the sixth grade.
She was 11 when she moved to the US with her parents Subhash and Vijaya, and brothers Sanket and Sandesh.
Her father Subhash became a bookkeeper in the garment and construction industries while her mother Vijaya went on to work at the Bank of Baroda branch in Manhattan.
Kreibich went to the Stuyvesant High School, the best specialised high school in New York City, did her undergraduate degree in psychology at Boston University, and her PhD in neuroscience at the University of Pennsylvania, where she met her husband Thomas.
They have two children, Neil and Jay.
Then, in 2017, Kreibich decided to become a council member in her town, Glen Rock.
"She is a brilliant girl," says Subhash Sadalge of his daughter.
Kreibich, he says, worked hard and did well enough in middle school and New York City's Specialised High School Admission Test to get into the top-ranked Stuyvesant High School.
And, according to him, she had a very practical reason to pick Boston University for her undergraduate degree.
"We had recently immigrated, and she was aware of our financial difficulties," Subhash explained.
Kreibich's mother Vijaya Sadalge says the family always discussed issues openly.
"Whatever she wanted to in her career, her education, she always asked us," she says. "We are a close-knit family."
Kreibich still lives just about 10 miles from her parents.
Vijaya describes her daughter as being very single-minded.
"She wanted to be a scientist from the beginning," says Vijaya. "The 'beginning' was when Kreibich in the first or second grade.
"I asked her, 'Do you know the spelling of scientist?" Vijaya says, laughing. Well, her daughter went on to do her PhD.
Kreibich's shift to politics, her mother says, came later.
"She used to go for marches," Vijaya says, adding that contact with political issues finally encouraged her to step in herself.
She paraphrases Kreibich as telling her, "Whatever I learned, I have to give back to the nation."
***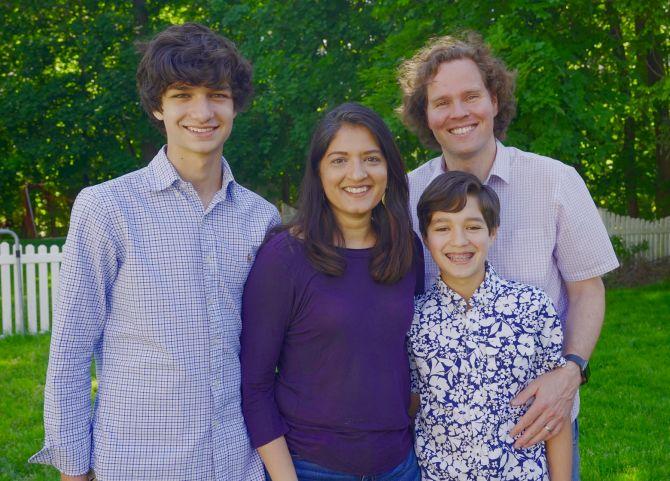 In the council, one of Kreibich's main planks was climate change, as part of which she spearheaded clean-energy initiatives and got a plastic bag ban (though it was suspended for 60 days when the coronavirus pandemic broke, with Kreibich saying then, "Public health is number one.").
She is also credited for her role in shifting Glen Rock to 100 percent clean, renewable energy through a community choice aggregation program, working on a programme to bring two electric vehicle charging stations to her town, and a resolution to stop a proposed gas-fired power plant in Meadowlands.
The National Environmental Advocacy Group liked the work and endorsed her for the race against Gottheimer.
Besides her focus on the environment, Kreibich says she is also committed to community outreach, having pushed for a Sikh Awareness Day proclamation within months of being elected.
"One of the founding members of the gurdwara said at the meeting that they had been in town for so long and having that proclamation meant so much because they truly felt they were becoming part of this community now. That's why it is important to have more Indian folk -- South Asian folk -- in these kind of positions of power -- so that we can elevate... our community."
She talks about her metamorphosis from Gottheimer adherent to adversary.
"In 2018, he showed his true colors," says Kreibich. "He voted with Trump 77 percent of the time. He backed Trump's anti-immigrant agenda. He still hasn't come out strongly against hate speech, especially when it's coming out of the White House. All of these things led up into last year. I was discontent. A lot of his supporters feel betrayed. He's betrayed the Democratic party, he's betrayed the real moral values we stand for."
She lists some of the issues she had with the incumbent.
"Last year, we had reports in the press how he was really the person who led the charge to make sure there were no guard rails (to monitor the usage of) the millions of dollars for ICE (Immigration and Customs Enforcement) and CDP (Customs and Border Protection). This was weeks after we learned about kids in cages."
"We learned about the humanitarian crisis at the border. He makes sure that we give them (border officials) money with really no accountability. That is a moral stand that is inhumane in terms of decision-making. He made me -- as a supporter, a former supporter -- morally complicit in that. That's really the galvanising event for me."
Her attention was drawn to the fact that Gottheimer had a lot more money for whatever reason, and was ahead in the polls in a community that was almost 90 percent white according to the last census.
"It's not for 'whatever reason,'" Kreibich says quickly. "He has so much money -- literally millions of dollars because of corporate PAC donations. One of the most important things I'm running on is to make sure we get... corporate money out of politics because that is what is stymieing policies that actually help the people."
"My opponent has got the most amount of money from private equity ($326,355)... than any other member of Congress, whether Democrat or Republican. When you embrace your nickname as the 'human fundraising machine,' it means you're out of touch with what people want," she says.
"This is exactly the problem with American politics today. This is why no matter what party you are in, things are not going to get done - because our politics is bought by corporations."
Citizens United -- which allowed corporations and other outside groups can spend unlimited money on elections -- is one of the worst things to happen to American politics, she says.
"Corporations are not people. Period," she asserts. "We need to have a move to amend this so that we can actually get rid of corporate influence."
Krebich does concede that the fight is tough.
"It is never easy to run a campaign," she points out.
"It is never easy to run a campaign as a woman, particularly a minority woman, especially when you are bucking the establishment. My entire campaign is an act of resistance here: The act of making sure we are doing the best that we can for our people," she says.
"From the beginning I was told it is never going to take off, that I should wait my turn, this is never going to happen."
"It's been almost a year and we've built incredible momentum, and we don't get that if we're not a viable campaign."
As evidence, Kreibich points out to the big name endorsements she got for her progressive campaign: Senator Bernie Sanders, Representative Ayanna Pressley, the Working Families Party, Vote for Choice, Moms in Office, Desis for Congress and South Asians for America...
Still, Kreibich is taking on a political Goliath.
An internal poll funded by Gottheimer and showing that he had a 41 percent lead over her is evidence of that.
Kreibich points out to her own team's poll that "when voters learn about me and my campaign, and learn about him, I am neck-and-neck (within 2 percent) with him." But it is hard to get a message across in person, as was her wont, during a pandemic.
The researcher-turned-politician says she is still going to keep pushing her progressive agenda.
"We're going to keep fighting for the kind of things that are important and imperative that we do, especially in the middle of these crises," she says.
"We have a public health crisis and a looming, burgeoning economic crisis. This is not the time to sit back and say let somebody else handle it".
"We need to make sure we have change that actually helps people. That includes taking care of them with stronger safety nets like Medicare for All, like the Green New Deal -- using that to get green new jobs, using that to jumpstart our economy, and using that to ensure we are more sustainable in the future."
Feature Production: Aslam Hunani/Rediff.com