'Safety is my first priority.'
'I need to ensure that any drug or vaccine that our citizens get is first safe.'
Drug Controller General of India Dr V G Somani is a man of action, discovers Sohini Das.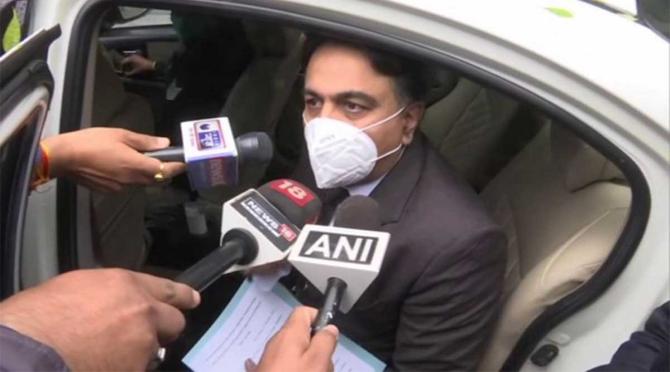 After the January 2 press conference, Dr Venugopal Girdharilal Somani, the drug controller general of India (DCGI) since July 2019, became known to the wider public as a man of very few words.
After reading a statement announcing the government's choice of two COVID-19 vaccine candidates, he declined to take questions but enigmatically pronounced both drugs "110 per cent safe".
But his peers and associates say that he is more a man of action.
H G Koshia, commissioner, Food and Drug Control Administration of Gujarat, offers this example of Somani's lightning responses.
On a summer afternoon in Ahmedabad, the Food and Drugs Commissioner of Gujarat was tense because a patient needed to be saved by using convalescent blood plasma from a COVID-19 patient (as doctors had advised), and there were no set government protocols defining the process.
"I called Dr Somani at 5.30 in the afternoon and said I would need guidance on this.
By 9.45 that night, a ten-page document came from the DGCI's office detailing the protocol. The next morning we were able to guide the doctors and the patient on what protocols to follow to find a donor, found a match, and a life was saved," Koshia recalls.
A medical devices maker agrees, saying the DCGI takes quick decisions unless the issue has to be routed for procedural reasons through the law ministry or, say, the health ministry.
"Left to himself, he can take decisions within a day on a matter he is convinced about," says one associate.
Koshia has had a 20-year-long association with Dr Somani, and remembers him as a young drug inspector from the Mumbai office who would travel frequently to Gujarat for inspections.
Ahmedabad then did not have an office under the Central Drugs Standard Control Organisation (CDSCO), the national regulatory authority under the health ministry.
Dr Somani grew within the CDSCO and moved to the Kotla Road headquarters in New Delhi as the joint drugs controller of India seven or eight years ago.
A PhD from the University of Nagpur, Dr Somani has worked in several zonal offices -- Mumbai, Ahmedabad and Kolkata -- before moving to his central assignment.
His appointment as DGCI ended a wait of around two years.
His predecessor, Eswara Reddy, was given ad-hoc charge around February 2018 and continued on extensions until a full-time appointment was made by the Union Public Service Commission.
Reddy, Koshia and Dr Somani were the three prime contenders for the post.
He may have remained out of the public eye had it not been for the pandemic.
His peers say Dr Somani has been collaborating regularly with his global peers on understanding and approving drugs (such as remdesivir and favipiravir) and vaccines in emergency situations.
"Safety is my first priority. I need to ensure that any drug or vaccine that our citizens get is first safe. Yes, efficacy too is very important, but it cannot be at the cost of safety," he recently said.
Industry insiders who have worked with him closely say Dr Somani is focused on building indigenous capabilities.
"He is not only industry friendly, but he also wants the indigenous industry to grow, be it drugs, bulk drugs or medical devices," says a medical devices maker.
Drug makers say the DCGI is not only approachable, but he also checks with them for regular updates.
"He would pro-actively message on WhatsApp and stay abreast of developments. He has a very sound knowledge of his subject and thus it is easy to present our cases before him," says one industry player.
"Dr Somani has represented India at many international forums and is widely respected by the regulators of other countries," says a senior executive at a multinational firm.
Said to be well-read and with a fondness for Western cuisine, Dr Somani, who is in his mid-fifties, may be media shy but he apparently likes to spend time at regulatory conferences, hanging out for days even after he has delivered his own speech.
That, at least, speaks to his enthusiasm for his job.
Feature Presentation: Ashish Narsale/ Rediff.com