Laws governing compensation in case of adverse side effects for Covaxin and Covishield may differ in accordance with the kind of approvals given, say legal experts.
Geetika Srivastava reports.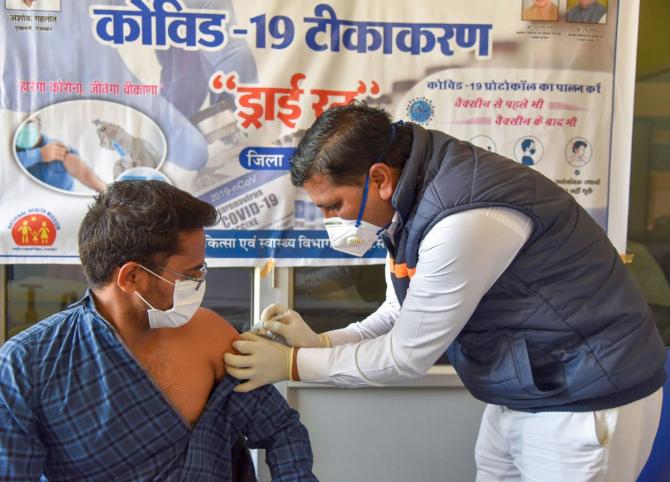 India has entered uncharted territory in terms of vaccine approvals. Never before have vaccines been made at such speed and approved by regulators in such haste. Serum Institute of India's Adar Poonawalla had earlier stated that he wants the government to indemnify vaccine makers from liability.
But the Centre has said nothing on the matter. However, irrespective of the stance that the government takes on indemnification, vaccine recipients still have some existing recourse in case of an adverse effect following immunisation, according to legal experts.
Lawyers say that since both vaccines -- SII's Covishield and Bharat Biotech's Covaxin -- have received different kinds of approvals, the compensation mechanisms may also be different.
AstraZeneca and Oxford University's Covishield, being manufactured by SII, received approval a few days ago, and so did Bharat Biotech's indigenously made Covaxin, which received an approval for "emergency use in a clinical trial mode". The government has clarified that Covaxin's use is an extension of phase III trials.
Since the government has approved usage of Covaxin in clinical trial mode, legal experts say recipients of the shot (deemed to be a drug for the purposes of the New Drugs & Clinical Trial Rules, 2019) will qualify as trial volunteers, and will be eligible to receive compensation in case of a vaccine injury under statutory law.
"If the administration of a drug is part of a trial, then the volunteer would be eligible for compensation in accordance with the New Drugs Rules. In its simplest expression, this compensation includes meeting medical costs (medical management), as well as compensation for loss of livelihood (financial compensation)," says Kartik Ganapathy, partner, IndusLaw.
If AEFI occurs, it is up to an ethics committee to give its opinion on appropriate compensation. However, the amount may be meagre, say lawyers.
On the other hand, the compensation regime for possible vaccine injuries caused by Covishield may be completely different, according to legal experts.
"The permission to SII in Form CT-23 (permission for manufacture for sale and distribution) says nothing about clinical trials, which suggests that it will be used in the government's immunisation programme and is no longer in clinical trial," says Murali Neelakantan, principal lawyer, Amicus, and former global counsel for Cipla and Glenmark. "This means that those who get the SII vaccine will not be trial volunteers and not have the protection of the New Drugs Rules, 2019, including care and compensation."
Traditionally, once a drug like Covishield is approved and rolled out to the public, there are very few options for recipients to be able to challenge vaccine makers in case they experience adverse side effects. In such cases, recipients usually approach the court on the grounds that the drug was spurious, mislabelled, adulterated, or had manufacturing defects. The Drugs and Cosmetics Act addresses such issues.
However, if anything is wrong with the underlying formulation of the drug, experts say one can approach the court under the Law of Torts (civil wrong, which can be used by proving personal injury in this case). Or under the Consumer Protection Act, but that would entail a long-drawn, expensive litigation against powerful big pharma. It would also need a higher proof of causation and effect.
However, given the circumstances, some lawyers wonder whether the government has considered the lowering of such a bar.
"One wonders whether the 'emergency' language means that a case for compensation (whether under Consumer Protection or Tort) will have a lighter burden to prove damage, because the drug was indeed not 'fully approved' or 'properly approved'," says Ganapathy. The words "emergency use" have been used by the government while granting approval, but are not mentioned in statutes.
The insertion of the words, thus, may ascribe a unique position taken by the government.
"Everyone is running away from liability. The government may be worried that if something goes wrong with the vaccine, citizens may file a class action lawsuit against it since they gave it an approval, which is another option here. Hence the use of the word 'emergency'," says a lawyer, wishing to remain anonymous.
A lot rides on the contract the government enters into with the makers of Covishield.