'On that day, I decided no matter what harm comes my way, I am going out to help the poor.'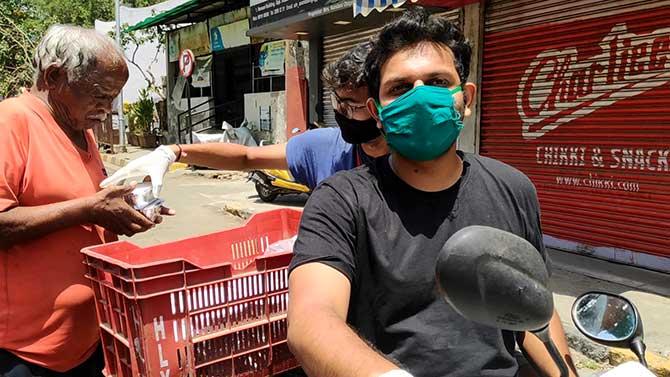 Sagar Shah, a criminal lawyer, is one of several thousands of unknown, unseen, Indians helping the poor and needy in this COVID-19 lockdown across India.
Sagar and his friend Dipesh Limbachiya spoke with Prasanna D Zore/Rediff.com on Swami Vivekanand road, Malad West, north west Mumbai.
An advocate who practices criminal law in Mumbai's session courts, Sagar was always sceptical about his father Atul's efforts to help the needy in Malad.
When his father decided to provide food packets to street dwellers and the poor during the COVID-19 lockdown, Sagar opposed the gesture of helping the poor that could expose his father to total strangers and probable coronavirus-infected people.
"I was against what my father was doing. Every day we were seeing in the news how coronavirus was spreading fast in the city," he says.
Just like how we get our food every day despite the lockdown, Sagar was under the impression that the poor and needy too must have been managing their meals. "Two-three days won't make any difference," he would tell himself.
"But I was completely wrong," he says admitting how wrong he was about the situation outside the comforts of his house.
Not only did his father ignore Sagar's pleas to not go out, he also convinced his son to join him in his effort.
And on the very first day of his volunteering effort, Sagar's outlook towards the good work his father did and how bad the situation was out in the streets changed for good.
See: How a Muslim woman inspired Sagar to help the needy
"When we went out I saw how bad the situation was," he says.
"I saw a Muslim aunty in the street looking out for food. We gave her a food packet. She was so hungry (and overwhelmed by our gesture) that she read the kalma (a prayer to Allah to bless a person for a good deed) for us without knowing our religion," he says.
This gesture of appreciation from a stranger changed Sagar's perspective completely towards fighting the COVID-19 pandemic.
"On that day, I decided no matter what harm comes my way, I am going out to help the poor," Sagar says about his life-changing experience.
Sagar says his father, his friend Dipesh Limbachiya (a BSc, Computer Science graduate seen in the video with Sagar) and he were not the only ones doing their bit for the poor.
A team of ten people, including his father, coordinates with BrihanMumbai Municipal Corporation officers to send food packets wherever it is needed in Malad.
Every day this team coordinates with Mahendra Gabane, a BMC staffer who gives them directions about the areas where food packets need to be distributed.
Ever since the Janata Curfew ON March 22, Atul Shah and his team have been active. "Since that day we have been distributing about 250 to 300 packets in cars or on two-wheelers," Sagar says.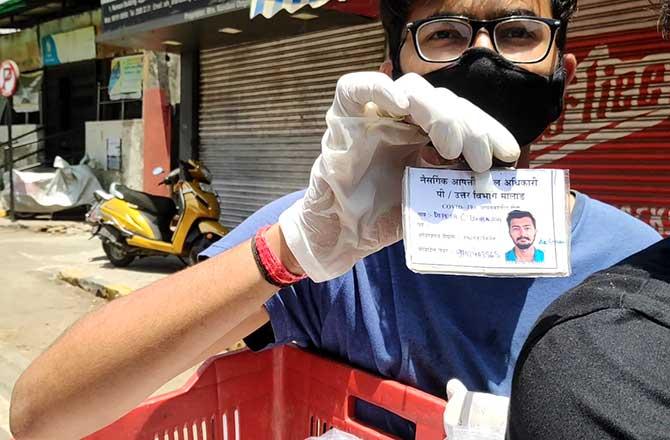 And just so that police personnel are also on the same page and they are not obstructed while on their mission, the BMC has provided these people with identity cards.
How do they get money to distribute these food packets every day? "Our neighbours, people from the neighbouring buildings all pitch in with money," says Sagar.