India's curve, yet to flatten vis-a-vis countries with similar or more conservative plans to ease restrictions, still points to 'exponential growth', despite India having tested much fewer people, points out Abhishek Waghmare.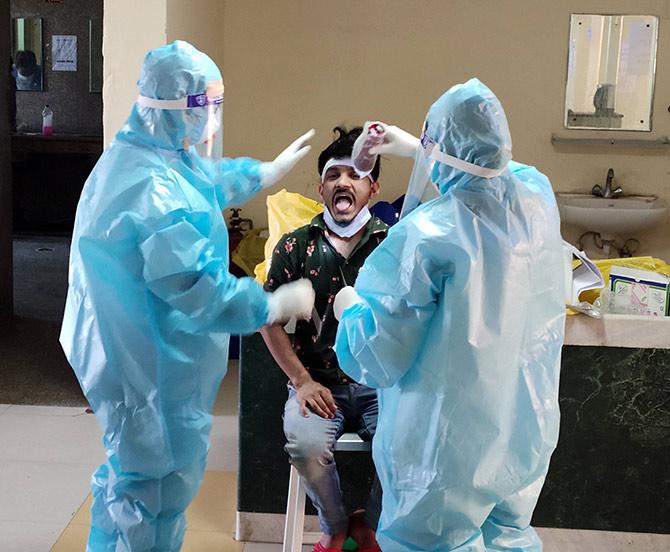 The government extended the nationwide lockdown -- enforced to prevent the spread of coronavirus on March 24, and subsequently extended till May 3 -- by another two weeks, until May 17, with curbs targeted at cities and 'hotspots'.
It gave a go-ahead to re-opening of businesses in areas designated as Green zones and Orange zones, mostly rural areas.
Technically, this makes lifting of restrictions even in the Red zones possible after May 17.
However, a comparison with some countries that have experienced a far worse coronavirus (COVID-19) spread than India, gives two insights.
First, India's curve is yet to flatten vis-a-vis countries that have similar or more conservative plans to ease restrictions.
There have been marked flattening of the curve in Turkey, Singapore, the US, and France.
Asian peers are experiencing a similar fate, with the curve refusing to get horizontal.
India is showing only a slight indication of flattening.
And second, the curve has remained at 45 degrees to the X axis -- meaning exponential growth -- despite the fact that India among the group has tested much fewer people.
France's number of tests has been nearly 15 times India's number per capita.
Simple ways to read the graphs:
For each country, new cases are plotted against existing stock of cases till a particular date, and the line traces time.
New cases are usually quite small compared to the latter, which keeps growing.
However, both the variables are plotted on a logarithmic scale, which makes their growth comparable.
To cut the jargon, this method gives a straight line at 45 degrees to the X axis for a perfect exponential growth.
Please note that the number of days for doubling could be different for different countries, and this graph does not show that rate.
It simply shows whether exponential growth is still going on, or has subsided.
India, along with other Asian countries, is still behind other developed countries in this respect.
Yet, France is lifting restrictions after May 11, which is not far from India's current date of easing curbs, May 17.
Singapore, on the other hand, is revoking its 'circuit breaker' (curbs) on June 5, despite having flattened the curve and controlled deaths.
At the same time, if testing is ramped up in India in coming weeks, there is a strong likelihood that cases will multiply fast.
This will put more pressure on the curve to remain linear at 45 degrees to the X axis -- that is, exponential.
At 700 tests per million -- less than 0.1 per cent -- India is nowhere near the advanced economies that have tested more than 1 per cent of their population.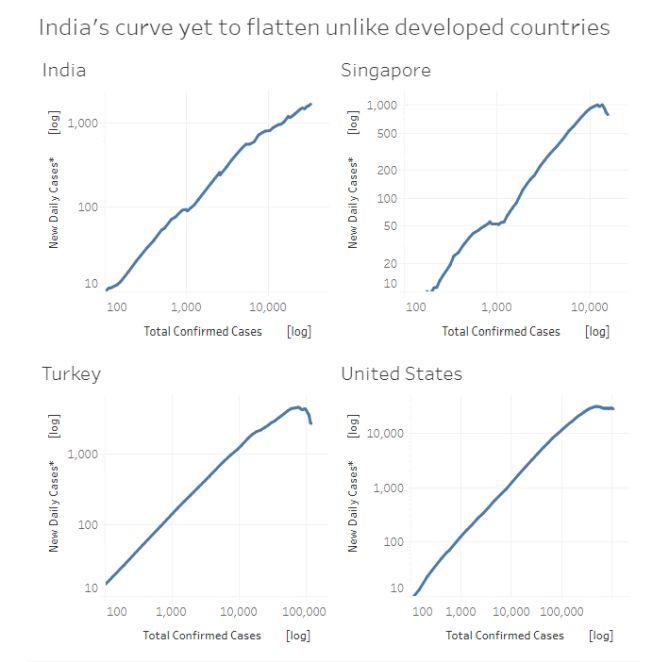 Notice that the curve is either getting horizontal or bending downwards for the US, Singapore or Turkey, but not for India yet.
These three countries have done 15 times more tests per million people than India.
Low cases per million people in India could be masking the real spread of COVID-19 in the country, and that would take longer for us to flatten this curve.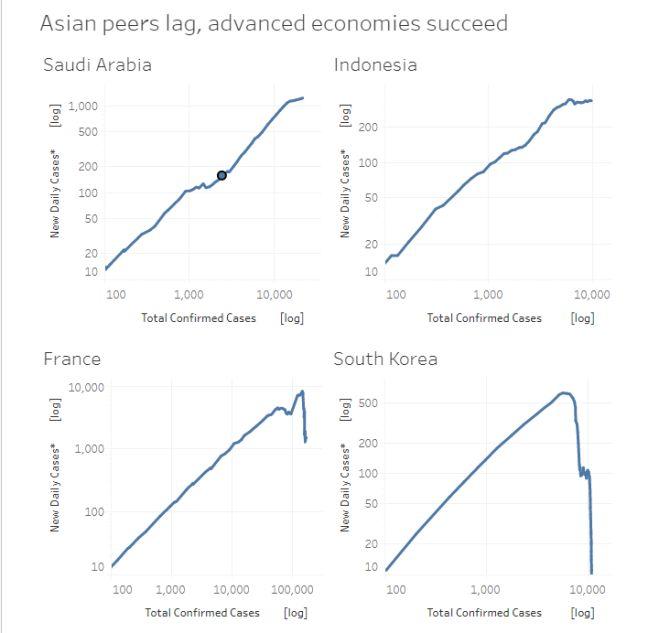 The known fact that South Korea has been able to stop new cases is visible from the curve hitting the X axis.
Similarly, following a high death incidence in France, its curve has started looking down, which is way better than having a horizontal turn to the curve which the US shows.
Saudi Arabia and Indonesia have not been able to flatten the curve yet, and their trajectory is similar to India's.
However, the oil kingdom leads in the number of tests conducted per million people, while Indonesia lags even India in that respect.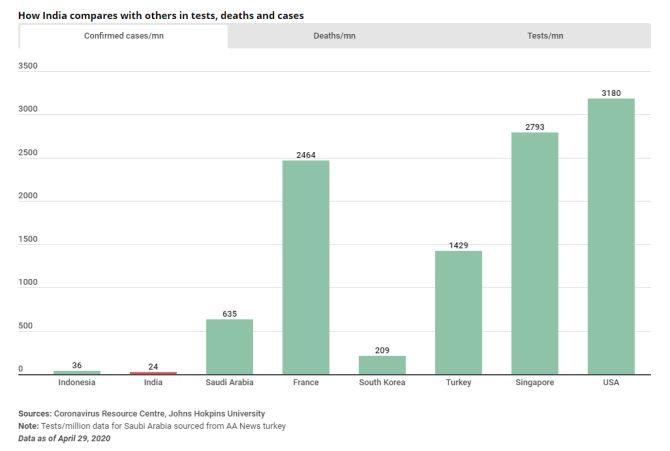 Sources: Coronavirus Resource Centre, Johns Hokpins University
Note: Tests/million data for Saubi Arabia sourced from AA News turkey
Data as of April 29, 2020
What's the outlook on lockdown relaxation in these countries?
| | | |
| --- | --- | --- |
| COUNTRY | LOCKDOWN RELAXATION OUTLOOK | STATEMENT BY GOVERNMENT |
| Indonesia | In process of formulating reopening of the economy, talks about continuing restrictions till July. | 'We know how to bring the economy back to life, but what we don't know is how to bring our deceased patients back to life': Task force leader Wiku Adisasmito (Arab News) |
| India | Lockdown extended till May 17, partial relaxation in rural areas or those with no cases for three weeks, most cities under Red Zone with total stoppage of business | 'State governments are mandated to strictly enforce the lockdown guidelines and they shall not dilute these guidelines': Official press release= |
| Saudi Arabia | Restrictions for movement during daytime lifted on April 26, but cases continue to rise fast, and members of the royal family fall ill. | 'The royal order to the concerned authorities seeks to urge citizens, expatriates and employers to assume responsibility and adhere to the precautionary and preventive measures': Saudi Press Agency (Newsweek) |
| France | Zoning (Red, Green) similar to that in India, restrictions to be eased from May 11, but north eastern regions including Paris to be Red zones beyond that date. | 'The virus's spread continues to slow down in the country with the number of COVID-19 patients in intensive care decreasing for the third straight week': National Health Agency director Jerome Salomon (France24) |
| South Korea | One of the few countries which arrested the spread of the virus without lockdowns, but used extensive rapid testing | 'If we had delayed developing test kits by a month, without prior and proactive consultation and cooperation with the private sector, our current system based around quick, mass testing couldn't have been established': Health minister Park Neung-hoo (TIME magazine) |
| Turkey | Weekend curfew in place until May 3, but business restrictions to continue till the end of Ramadan month. | The vice president would evaluate recommendations from the country's COVID-19 advisory council to decide 'which steps will be taken in which fields and on which date': President Erdogan (Associated Press) |
| Singapore | 'Circuit breaker' or the restrictions exist till June 5, government is formulating rules for the post-circuit breaker period | 'I think it is important for us to remind ourselves, even though we are seeing the number of community cases coming down, we are not out of the woods yet': Singapore health minister (South China Morning Post) |
| USA | Restrictions are lifting, three-phased approach with stringent criteria in place: 23 states still have shelter-in-place, 18 have re-poened partially, seven are about to lift restrictions gradually | 'The governor of Michigan should give a little, and put out the fire. These are very good people, but they are angry': President Trump on protestors who want restrictions lifted. |
ProductioN: Aslam Hunani/Rediff.com