'We don't want to lead this hellish life. Enough is enough.'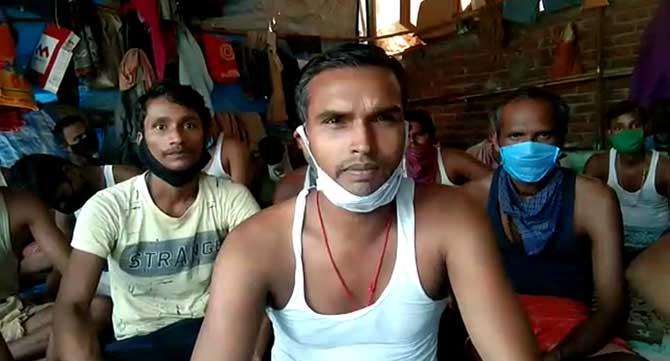 Over 800 migrants working in Mumbai's bustling real estate sector are threatening to walk back to their hometowns in Bihar if the lockdown is not lifted on May 3.
These workers are so desperate to go back home that they are even willing to defy lockdown restrictions in case the Maharashtra government, Bihar government and the central government do not work out an arrangement to transport them back to their homes.
But this could well be the story of each and every migrant worker stuck in India's metropolitan cities far away from their homes and hearths.
---
Pintu Kumar Pandit from Bihar's Khagaria district has taken the lead to organise these workers, mostly daily wage earners, who make a living as painters, masons, electricians, plumbers, and tile fitters and reside in overcrowded, congested, rooms at Shivaji Nagar, Kherwadi, Bandra East, north west Mumbai.
Most of them work as naka (nook) workers -- people who stand at busy city junctions from where contractors pick them up to work in distant Mumbai suburbs -- and earn anywhere between Rs 300 and Rs 800 a day depending upon their skills and demand.
Complaining that most of the labourers here have not received any help from Maharashtra, where they work, or Bihar, from where they hail, or the central government, on whom they are banking upon for their journey back home, they say they have been living like beggars.
However, they express their gratitude towards Mumbaikars who have helped them with cooked food, rations and other essentials needed to survive the lockdown.
Having survived the last 36 days of the lockdown living off doles given by good samaritans in the neighbourhood, they now ask that after May 3 transport arrangements be made for their return to hometowns across Bihar.
"We have the rations, but we don't have cooking cylinders or fuel to cook our meals," says Pintu.
"We have exhausted most of our savings and we won't tolerate such living conditions after May 3. If the lockdown continues then we will be helpless and start our journey on foot to Bihar," he adds.
"Let the (Mumbai) police, Maharastra administration, Bihar government or central government do whatever they want after that (May 3). We will also see how much force the police can use against us hapless workers," says Pintu.
Pintu has drawn up a detailed list of all the 800 workers that includes their Aadhar card numbers, their names, addresses, mobile numbers and signatures as proof that all of these workers have one common request: Make transportation facilities so that we can go back to our homes.
You can see the list and the details here, here, here, here, here, and here.
"We request the Nitish Kumar government to make arrangements for trains and buses so that we can go back home." says another labourer (not seen in the video sent by Pintu).
"Nobody can stop us (from walking back home in Bihar) after May 3," says a defiant Pintu.
He also challenged Bihar Chief Minister Nitish Kumar who has maintained that his state will not allow entry of their own people back in Bihar.
"If we have elected him to power, we can also dethrone him too," says Pintu.
These 800 workers belong to Bihar's Bhagalpur, Khagaria, Begusarai, Munger, Saharsa, Madhepura, Purnea, Katihar, Araria, Darbhanga, Jehanabad, and Gaya.
"Don't think we are just 800 here. Each one of us belong to different villages," he says.
Highlighting the dismal living conditions -- congested rooms with galvanised roofs, and eight to 10 people crammed in a small eight be ten feet room -- these migrants fear that if they continue living in these conditions it will be inevitable that they will get infected by coronavirus.
"Almost 26 people live and sleep on a small terrace in the scorching summer," says a voice in the video further underlining the difficult living conditions of these migrants.
"Our living condition here is worse than one faces while in jail," says Pintu.
"You people think that your job is done by sitting in air-conditioned rooms and discussing things over video-conferencing. Treat this as a threat if you want to, but we will be doing what we have to after May 3," he warns.
"We don't want to lead this hellish life. Enough is enough."
In yet another video shot by Pintu several workers can be heard saying that hunger will kill them before COVID-19 and beseech the three governments to make coordinated efforts for their journey back home.
They have been living in the hope that the lockdown might be lifted on May 3 and they will get a chance to go to their hometowns and meet their children and families.
In this video, a migrant reads out the plea of all the migrants written on a piece of paper and warns that they will be forced to violate lockdown orders and start their journey on foot.
"Instead of dying of hunger here, it is better we die in our villages, amid our people. At least our families will come to know how we died. There is nobody to look after us here," says an unseen labourer.
Most of them have drawn down their savings to the extent that they now think twice before visiting Sulabh Shauchalayas (public toilets) for their daily ablutions.
"They charge Rs 3 per visit. If we go there three times a day we have to spend almost Rs 10 for that," says one labourer.
"It's better we die before our family," says another worker.
"Let's see what Modiji and Nitish Kumar do to help us now," says Pintu.