'Kindly have us airlifted at the earliest. We are in a very bad situation here.'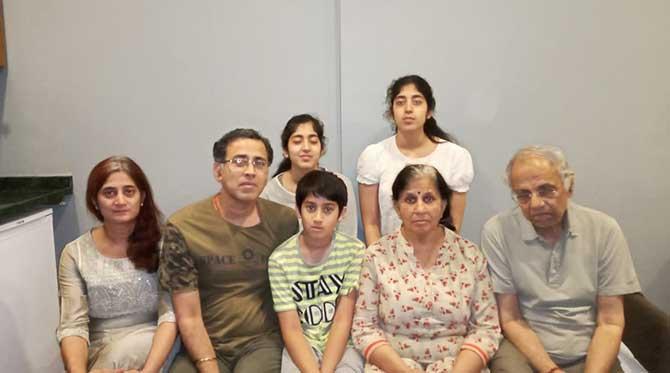 Even as COVID-19 cases rise in Turkey, 220 Indians stranded there are waiting to be airlifted with little help from the Indian government.
Rediff.com spoke with Amit Jain, a chartered accountant from Vile Parle, north west Mumbai, who has been stranded in Turkey since March 18 with his elderly parents, wife, twin daughters and 12-year-old son.
---
Dear Modiji:
We are a family of seven from Mumbai, Vile Parle, stranded in Istanbul since March 18, 2020.
My family includes my 70-year-old mother and 80-year-old father, my wife, 12-year-old son and twin daughters. We really need you to help us out.
We left India on March 14, 2020 when there was just one COVID-19 case in Turkey.
On March 16, we received a notification that Indians in Turkey would not be allowed to enter India after March 18, 2020, 12 PM GMT.
We were in a part of Turkey from where it was impossible to reach Istanbul and catch a flight to India at such short notice.
Later, the cases in Turkey escalated and we have literally lived a life full of terror, particularly when we go out to buy groceries.
My father has severe health problems ranging from Alzheimer's, depression, blood pressure; he has four heart stents, partial eye vision.
40 to 50 times a day he asks when we will get back home.
My daughters have their CA final attempt examination in November and their studies have gone for a toss.
We have had to purchase medicines at exorbitant rates several times due to the forced stay.
Once or twice a week we get our groceries. Every day we spend $100 for our expenses.
I have twice renewed my travel insurance. I have already spent Rs 65,000 on it. The latest policy expires on May 15 after which I will have to renew it.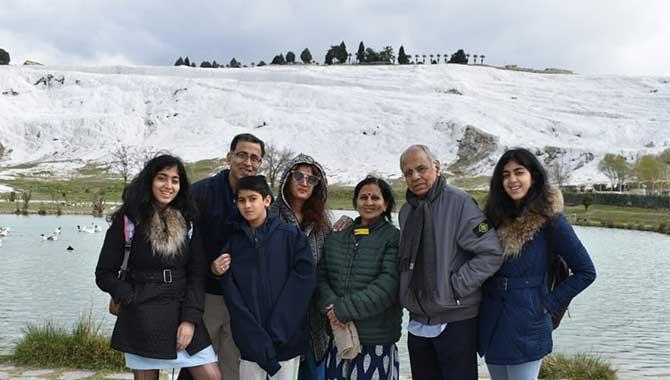 We have waited for about 50 days now and are penniless.
The rent of the apartment is pending since April 23. We are desperate to fly back to any part of India and even get quarantined.
On April 28, two Turkish Airlines flights left for Mumbai and Delhi to get back stranded Turkish citizens from India.
Along with other Indians stranded in Turkey we used various social media platforms and contacts to try and get in touch with the government (of India) and get back home, but all in vain.
We tried frantically to draw the attention of the consul general and Indian embassy staff here to fly us to India on the same flight as it was flying without any passengers from Turkey to India.
They asked us to approach your government, Respected Prime Minister, and we are still running from pillar to post.
One of the stranded Indians here lost her father on May 1.
Another's wife in India is due to deliver with a complicated pregnancy.
A stranded Indian's mother in India has fractured her ribs.
A retired senior (Indian) navy officer has been stranded on a ship since March.
An elderly Gujarat couple whose video went viral more than a month ago is seriously unwell.
A few students are distraught due to financial and other problems.
People have lost their jobs back in India.
Seven Indian transit passengers were not allowed to board a flight and were held at Istanbul airport for about 13 days without any food, clothing, blankets. They were sent into quarantine after which they were left on the street, with no money, no jackets in chilly weather. Mind you, these people are well-to-do businessmen.
Spending dollars for accommodation, on medicines, food, travel insurance, conveyance for two months is no joke.
The expenses don't end.
To get airlifted one must pay more than three times the normal fare and again pay for quarantine.
And this is supposed to be a RESCUE MISSION.
On my recommendation, the Indian embassy formed a WhatsApp group. I am in touch with at least 15 people in this group and we have the same problems.
The Indian embassy is of no help because they keep saying 'ho raha hai, ho raha hai (we are trying to get you airlifted)', but nothing is happening on the ground.
Turkey is still not on the (Vande Bharat Mission) list so far. We are hoping that Turkey finds itself on the third Vande Bharat Mission starting on May 23.
We have written e-mails, tweeted about the distress Indians in Turkey are going through, but it has bore no fruit yet.
A lot of relevant people reply with a standard reply: 'We appreciate your situation; please be patient, we are working on it.' Unka woh standard reply hota hai na government wala (They stonewall our pleas with standard government responses).
The most shocking thing is when the authorities say the Indian embassy will help you here in every way, it is we who pass information to the embassy people here.
They keep asking us for updates instead of giving us updates.
Unfortunately for us, India doesn't have an ambassador in Turkey. The position is vacant.
We are in touch with the consul general and other staff at the Indian embassy, but nobody is helping us.
Initially, when we ran into financial problems we told them that the external affairs minister (Dr Subrahmanyam Jaishankar) is saying that the embassy will help you with whatever you want.
Other countries (embassies) are helping (their citizens).
We have not received, as of today, a single rupee in aid.
We have made several requests via e-mail and spoken to them a few times, but they (the staff at the Indian embassy in Istanbul) have always disappointed us.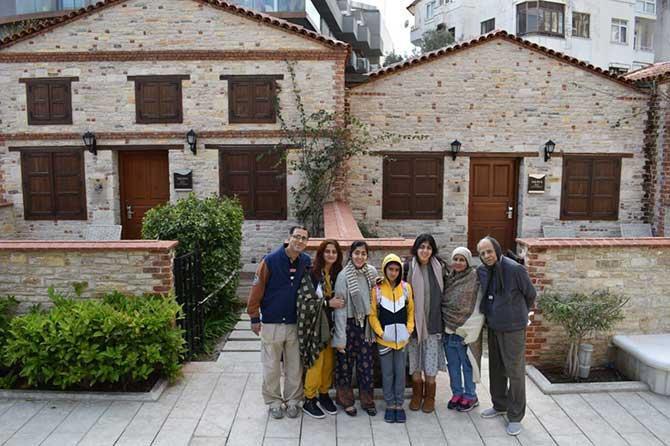 Turkey is a (COVID-19) hotspot and yet it is not under a strict lockdown like India. People are roaming about freely.
The country has already one-and-a-half lakh (150,000 COVID-19 positive) cases.
Turkey is among the top eight infected countries in the world. We used to think that being such a highly infected country, Turkey should be on the immediate pickup list of the (Indian) government.
How can you keep 220 to 230 Indians to fend for themselves in a country where cases are so high?
Some Indians have decided against going back now because your government is charging exorbitant ticket prices and then the quarantine cost.
Considering these factors some Indians who can afford to stay back will stay in Turkey.
With no clue about when and how we will get back home most of us are having severe anxiety problems.
It is an earnest request to your government, please airlift us soon.
My parents and many other senior citizens are having a very tough time surviving each day.
Respected Prime Minister, kindly treat this as an SoS from Turkey and have us airlifted at the earliest. We are in a very bad situation here.
Hope someone takes note of the pitiable plight of tax paying Indians.
Amit Jain
---
Amit Jain can be reached at +919322229410 on WhatsApp call
As told to Prasanna D Zore/Rediff.com