The BBC is all set to produce daily newscasts in Telugu, Gujarati, Punjabi and Marathi (in addition to the existing Hindi, Tamil and Urdu), Jim Egan, CEO, BBC Global News, tells Vanita Kohli-Khandekar.
Illustration: Dominic Xavier/Rediff.com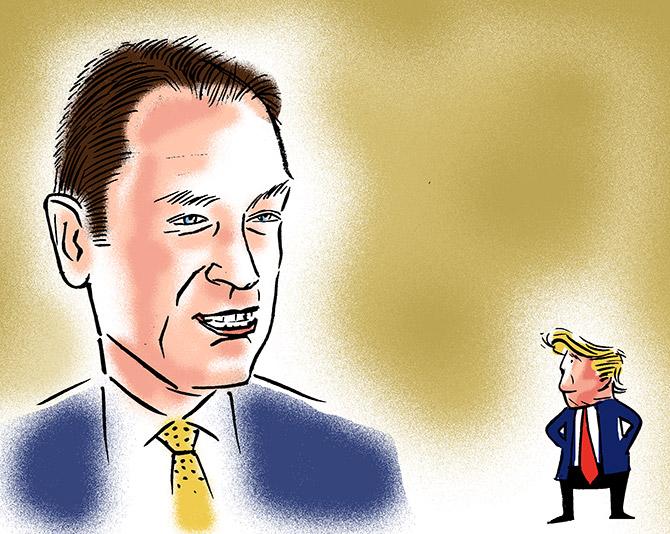 Jim Egan, 48, waited patiently while an immigration officer at New York's JFK airport checked his passport.
The CEO of BBC Global News, who was on a routine business trip to the US in January, knew from experience that US immigration officers are tough sorts.
This one looked at Egan's passport for a bit, paused and then said, "You are the guys who don't make your stuff up."
As I break into a laugh, so does Egan.
"This is the kind of thing that makes everything worthwhile," he says.
Over the four-odd years that I have known Egan, we have talked about how to make good journalism pay, fake news, digital and many other things. However, we have rarely exchanged work anecdotes.
But this hot Wednesday in Delhi seems good for it.
We have just settled down for lunch at Jiggs Kalra's Masala Library.
The decor is Punjabi, with gold, brown and mirrors. And the menu attempts to fuse typical north Indian fare with other flavours.
We start with a lamb pesto and sweet potato kebab.
Being British, Egan is comfortable with Indian food and digs in with gusto, asking the server and me questions about whatever is served.
About 10 years ago, in his first week at the BBC, a London cabbie took him to task when he figured that Egan worked for the BBC.
Egan's first instinct was to say, 'but that is not my job.' However, he realised that "when you start working for the BBC, you represent it. And everybody thinks they can run it better than you!"
Now, 10 years later, Egan is very much the dyed-in-the-wool BBC man. Only, his role is different.
The global news operation of the BBC is a commercial venture. It is separate from the domestic version funded by the licence fees paid by TV-owning homes in the UK.
Unlike the dominant market share and influence that the BBC enjoys at home, it is a relatively smaller player in most of the 200 countries it is in. And revenues are a constant pressure.
But Egan is happy being the BBC's man around the world. Joining the corporation was when "everything just came together" for him professionally.
An Eighties child, Egan had seen the fall of the Berlin Wall, the end of apartheid and a new era of hope begin when he did his BA in philosophy, politics and economics at Oxford.
"I always wanted to be involved in international events in some way," he says. That is how he left the UK for the US to do his masters in international relations from John Hopkins University.
A seven-year stint with consulting firm PWC gave him a fair bit of international exposure and a couple of years at BSkyB brought him in touch with broadcasting.
However, it was at Ofcom, the UK communications regulator, that he got a neutral view of media and telecom.
During the four years at Ofcom (2003 to 2007) Egan also worked with Tessa Jowell, secretary of state for culture, media and sport, in the Tony Blair government.
Egan was a"specialist" advisor, a term he emphasises. "Special advisors" are usually political appointees, he says.
The experience, "didn't make me want to be a politician," says Egan.
In most company boards or senior management teams, there is a sense of collective responsibility. But that is not how the British cabinet seemed; "It was more a meeting of clans, people with their own objectives and budgets. Maybe because the 10 years (of Blair's government) were ending. There was no clear sense of we are all in this together," says Egan (The Blair government was in power from 1997 to 2007).
Egan's tawa boti and my Telangana pepper lamb, rotis and raita arrive. And we dig in.
Egan eats the desi fare with the ease of a man used to Indian food. And that reminds me of the media and its ability to adapt. Everything from digital, to fake news and the complete breakdown of credibility impacts this profession and its ability to survive.
"I am not in the camp that regards Facebook and Google as enemies. Social media has helped us in getting audiences we wouldn't have got," says Egan.
He points to The New York Times, CNN and the Financial Times, all of which are making money online.
"There are successful commercial models. Our (BBC Global News) digital ad revenue product makes more money than the TV. It is important for us; we are not in the same position as print. We (BBC) started investing 20 years back," he says.
The worry?
"The ad markets are so fragmented and so much growth in advertising is going to online," he says.
On fake news, too, while the BBC runs initiatives such as Reality Check, Egan's take mirrors that of several academicians and researchers.
"The fake news debate, which started 12 months ago, has gone from a specific term to being thrown around for anything you don't like. It brings to the fore the role of trust in journalism."
"There is dramatic polarisation happening in the US and many other countries. Where are the fora for people to come together for a sincere exchange of views? Journalism creates places for people to reason and progress."
"The way we challenge ourselves at the BBC is inviting rather than forcing our audience to a different view. It is very easy to patronise Trump voters. But why were so many people thinking he is the right candidate?"
"Life is more complicated. And people committed to serious journalism have to stick to it," he says.
We have eschewed dessert to keep things light after all that lamb.
But the Masala Library guys bring us some levitating chocolates, which fascinate Egan no end. He takes a video of them for his four kids.
What are the big gaps in the BBC Global News portfolio?
"We would like to be more available in China. It is frustrating because it is a policy, not a commercial issue. We have been successful with getting Chinese advertisers wanting to export. The economics (of BBC Global News) was always hard and is getting harder, though the audience is getting bigger," he says.
The network reaches 433 million homes globally, in addition to all the other platforms (mobile, airlines, hotels et al) through which it reaches people.
Egan says he beats the stress with open water marathon swimming and "playing the guitar in a bad rock band."
Speaking of which, what about the competition from India's loud, judgmental and partisan TV news channels?
This is where Egan surprises me.
In revenue terms India is the fourth largest market for the BBC Global News after the US, Canada and Australia and the third largest in reach after the US and Nigeria.
"We have been very fortunate, never paid carriage fees and we get meaningful distribution revenues in addition to advertising," he says.
Delhi is by far the BBC's number one international bureau with over 120 people. This will more than double to 300 by autumn as the language expansion begins.
The BBC is all set to produce daily newscasts in Telugu, Gujarati, Punjabi and Marathi (in addition to the existing Hindi, Tamil and Urdu), which will be distributed through local TV partners.
It will also be expanding its online presence in these languages.
"A lot of people in India tell us 'My grandfather used to watch the BBC.' But we don't want to be remembered by what we were, but what we are," says Egan.
Well, the BBC is a 94-year-old news brand that stands for credible news globally. That is not a bad place to be in these days.