Government was watching Gandhiji's mood to know if he had cooled down.
They found out from his letters and utterances that he was the same old firebrand and even more determined than before.
The third of a multi-part series: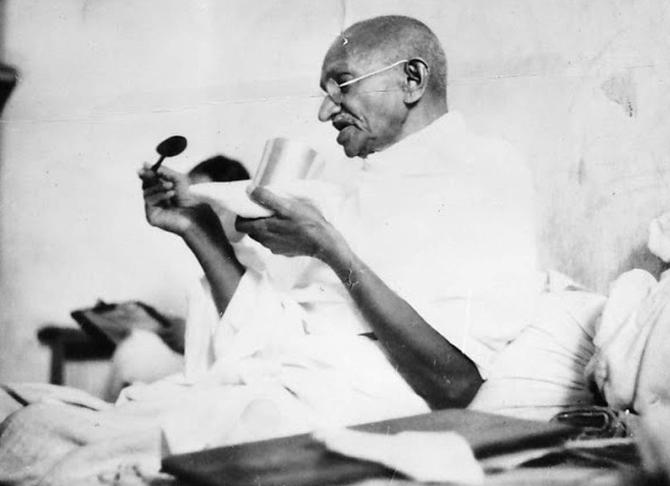 Gandhiji looked at me carefully from top to bottom and then asked me to sit down which I did on a bench.
He then asked me my name, the name of my parents, about all the people in our family in the village, their occupation, their income, their requirements, my younger brothers' school expenses and whether I used to send money home and if so what amount, what were my own requirements every month etc etc.
A lot of time was spent about enquiring about me, my commitments and every detail about my family in the village.
I wonder if any employer would spend his time and energy in enquiring about such details.
All these I subsequently realised was to make an estimate of my monthly requirement so as to fix my salary amount accordingly.
By then he studied me well and then came to the point. First he asked whether I was willing to work with him to which I said 'yes'.
Then he said that so long as I worked with him the question of accommodation and payment for food did not arise.
The only thing remained was how much money I required for sending my parents and for pocket money every month.
This amount would be my salary. When it came to this I spoke about what Dhirubhai had instructed me before my departure from Bombay.
But Gandhiji insisted that so long as I worked with him, he must pay me.
I again reminded him of Dhirubhai's instructions and that Dhirubhai could afford to pay me as promised.
Ultimately Gandhiji said that if and when Dhirubhai stopped paying me, I must accept money from him.
I agreed to this and started work. He then dictated replies to some letters received by him and said a reply to a small letter may be written on a post card and not to be typed which I did.
This, I believe, was the last step of a test to study a person from his handwriting.
My stay in Poona was arranged with Kodanda Rao, secretary of The Servants of India Society on its premises, about six miles away from the prison.
Every morning a car belonging to Professor Joshi, a professor at the engineering college, would come to the Servants of India Society to take me to the jail. The car would come to the jail gate at 6 pm to take me back to the society.
For my mid-day lunch a thali containing chapattis, dal, vegetables and fruits used to come from the adjacent court yard, sent by Sardar Vallabhbhai Patel.
In the afternoon at about 4 pm it was time for Gandhiji's evening meal and he used to give me some goat's milk, papaya, grapes etc for my afternoon nastha.
This arrangement went on for about a fortnight when suddenly one early morning Gandhiji proclaimed his decision to fast for 21 days from 8th May 1933.
When I came to know about this I felt upset as everybody else.
Cables, letters and telegrams began coming in heaps imploring him not to undertake the fast and save his life for the benefit of humanity.
At this time, the government started allowing Gandhiji's most intimate friends inside jail so that they may try and persuade him against starting the fast. All this was fruitless.
Ultimately on 8th May 1933, in the early morning, as scheduled, by taking a glass of orange juice he started the fast.
Apprehending the consequences if he died while fasting inside the jail, the authorities released him soon after he started the fast.
Outside, thousands of people awaited him.
After he was released, he was taken to Lady Vithaldas Damodardas Thackersey's bungalow Purnakuti on top of the hill near Bund gardens.
He stayed at Purnakuti through the fast and for about three weeks rest thereafter.
Kasturba Gandhi was also simultaneously released from the women's jail and she too was taken to Purnakuti.
On reaching Purnakuti Gandhiji asked me to take a car and go to the Servants of India Society and fetch my belongings and stay with him at Purnakuti.
I was by his bedside throughout the fast along with Kasturbaji and a few near ones.
It was a very hectic time and we were anxiously waiting for the breaking of the fast.
People used to continuously enquire about his health by trunk calls and local phone calls.
Big personalities used to come to Purnakuti to enquire about his health and if possible to meet him.
Thank God, the 21 days passed away without incident.
At the end of the period he addressed a small gathering and then taking a glass of orange juice ended the fast.
Then a period of rest followed.
It was during this period on an auspicious day the marriage of Devdas, his youngest son with Lakshmi, C Rajagopalachari's daughter was conducted in the presence of Gandhiji, Kasturbaji and a small gathering of relatives, who had come for the purpose.
After the rest before starting for Ahmedabad, Gandhiji addressed a meeting of Congressmen who were out of jail.
While in Bombay we stayed at Birla house and the next day we proceeded to Ahmedabad in July.
At Ahmedabad we stayed at the residence of the mill owner Ranchotlal.
There we stayed for about a week visiting the Sabarmati Ashram.
Government was watching Gandhiji's mood and temperament to know if he had cooled down.
They found out from his letters and utterances that he was the same old firebrand and even more determined than before.
So they decided to arrest him.
We had some inkling about it. In the night before going to bed he told me that perhaps the police might take him away that night.
If it so happened I must continue my stay till I receive word from him from jail. Our host was also informed of this arrangement.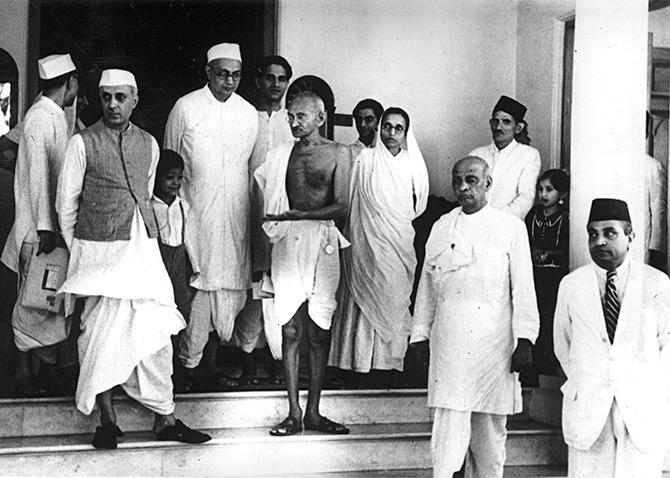 As anticipated, that very night, the police came and took him away to Sabarmati jail.
When we went the next day to contact him, the jail authorities were non-cooperative.
At the end of the second day of my stay in Ahmedabad after Gandhiji's arrest news came about a special rail wagon being moved from Sabarmati railway station to Ahmedabad junction and subsequently attached to the Bombay Mail.
This wagon contained Gandhiji and so the next day I left for Bombay.
On reaching Poona central jail, I understood later, Gandhiji wrote to the government to permit one stenographer (in this instance myself) to work with him in the jail as before.
But it seemed the government did not comply with it. So this time he started a fast unto death.
On the 7th day of his fast he became so weak with the result they moved him to the Sasoon Hospital.
I received word from Poona asking me to proceed there. I went to Purnakuti and stayed there.
Shortly after my arrival in Poona, Gandhiji was released by the government and was driven straight to Purnakuti from the hospital.
Gandhiji stayed for about a fortnight there and then we proceeded to Wardha.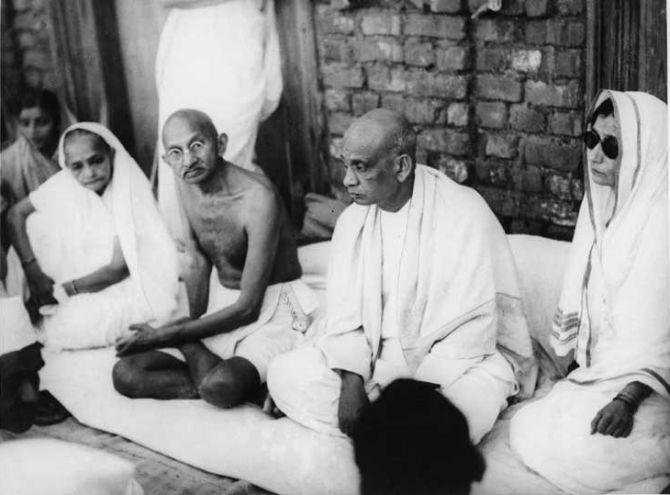 At Wardha Gandhiji and party were accommodated in an old building of the Mahila Ashram.
In the middle of the one storeyed terrace there was a room where Gandhiji stayed.
The others occupied in the ground floor. In the hall, myself and Vinoba Bhave occupied a corner each.
Vinoba Bhave used to be always in contemplation and we hardly spoke to each other.
On the veranda there were two rooms -- one my office room and the other somewhat like a kitchen where Kasturbaji used to prepare coffee.
At Wardha life was simple At tea time a bell would ring and we had to go to the kitchen to get a glass of milk twice daily.
Similarly at lunch, when the bell rang at 11 am we used to go to the kitchen for lunch and at 7 pm in the evening for dinner.
At the ashram if one wanted a cup of tea or coffee we had to walk miles to get it.
One day Kasturbaji told me that since I was a south Indian I should know how to prepare good coffee.
She was the only person in the ashram who was allowed to drink coffee regularly.
From the next morning, twice daily, I made coffee for Kasturbaji and, of course, for me too.
After preparing coffee at 6 am and in the afternoon about 3.30 pm in the kitchen Kasturbaji and me used to sit together and drink our coffee.
Gandhiji knew about it as often whenever he enquired about me I used to be with Ba taking coffee.
It is, therefore, significant to note that when the list of Gandhiji and his party's minimum requirement for circulation among the various Congress committee meetings all over India and before the famous Harijan tour was started by Gandhiji in October/November 1933 was submitted to him for his approval, Gandhiji simply added one more item to the list -- coffee.
Translated from the Malayalam by Pottayil Aravindakshan Nair.