At Sabarmati Ashram that very hot summer evening, some had come to see and feel the place where Bapu lived. Some had come to be alone on the lawns after a disappointing Class 12 result.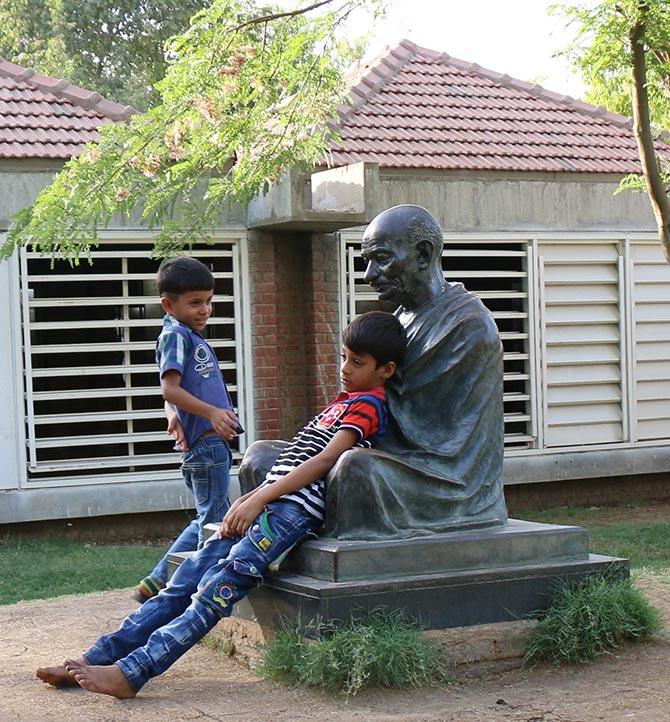 As their 2,148 km journey drew to an end, Rediff.com's Archana Masih and photographer Rajesh Karkera realised that along the way they had seen a country that not only is breathtakingly beautiful, but has a great heart.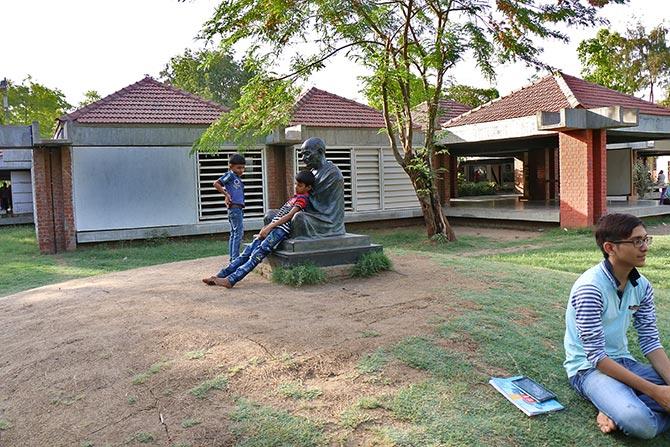 IMAGE: In Gandhi's lap. Children on a summer evening at the Sabarmati Ashram in Ahmedabad. Photographs: Rajesh Karkera/Rediff.com
One of the best things about the Sabarmati Ashram meets you even before you can enter its small gate. It is a red letter box, yes, the same red tin cylindrical post box that we stopped noticing on our roads a long time ago.
This one at the corner of the parking lot thankfully looks red enough and not a rusty brown. A board next to it says that letters posted here will have the post mark of the charkha, the Mahatma's spinning wheel. A picture of the postal stamp with a charkha is placed alongside the notice.
Each time I have come to the Sabarmati Ashram, I have kicked myself for not having a postcard or stamp to post a letter in that post box.
The library and shop at Sabarmati does not sell stamps, even though it stocks postcards. I wonder why, because that red post box outside serves no purpose, when there are no stamps to buy.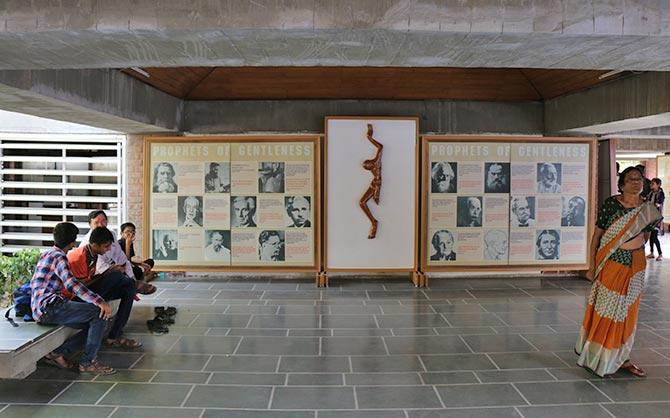 IMAGE: Mahatma Gandhi spent 12 years in the ashram by the banks of the Sabarmati river. He began the Dandi March to break the stringent salt laws of the British from here.
While we are with handwritten letters; inside the ashram are pictures of letters sent to Mahatma Gandhi.
One of them just has this address: 'Gandhiji jaha ho waha' -- Gandhiji wherever he is -- and I try to imagine the different things Gandhi must have meant to different people at that time when India fought for its freedom. The power he had over India's masses and the hope people had of him.
It also makes me think about what brings people to this ashram on the banks of the Sabarmati where he spent 12 years of his life. From where he took off on the Dandi March, at the advancing age of 61, trekking 24 days and 380 km to the coast of Gujarat, to defy the British monopoly on manufacturing salt.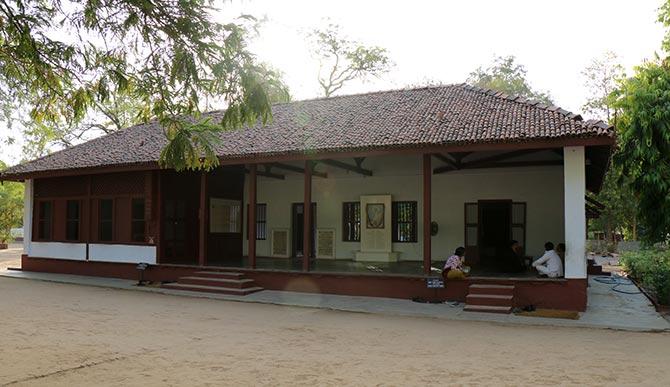 IMAGE: The cottage which was home to Mahatma Gandhi. A lady spins a charkha on the verandah.
Gandhi never returned to Sabarmati. He had vowed that he would only come back after India won its freedom but that promise remained unfulfilled. Five months after India was free, he was assassinated in another ashram in Delhi.
In a political culture that exalts our leaders as deities, we often forget that great men like Gandhi were humans too. They fought against colonial tyranny with wisdom, courage, their own shortcomings but had a deep understanding of India, drawn by journeying miles upon miles, meeting and mingling with India's people.
That was where Gandhi's appeal lay -- in his ability to have conversations with admirers and detractors; that is why there has been no mass leader like him -- and that is what continues to draw ordinary Indians to Rajghat or Sabarmati.
IMAGE: A board around the walls of the ashram. Gandhiji wove thread on his charkha every day.
'To other countries I may go as a tourist, but to India, I come as a pilgrim,' said Dr Martin Luther King, who drew much of his inspiration from Gandhi. Which great leader will say this about another Indian leader in time to come, I wonder.
At the Sabarmati Ashram that very hot summer evening, I met pilgrims of a different kind. Some who had come to see and feel the place where Bapu lived, setting his own rules that had to be adhered by all.
"He fasted as a penance if others broke the rules of the ashram. Imagine how guilty that person must have felt. He gave up a 4,000 to 5,p00 Pound legal practice to do what he believed in," says Lata, with a Masters in Gandhian Thought, spinning the charkha on the verandah of the cottage where Gandhi lived.
The ashram also houses Gandhiji's own charkha.
"There are 35,111 letters by Gandhiji, we read one everyday," she tells a visitor in a suit, sitting cross-legged in front of her, discussing Gandhi's philosophy. His chauffeur wearing a white uniform stands beside him.
Two girls request if they can get a selfie while spinning the charkha and she graciously obliges, telling them how to weave thread.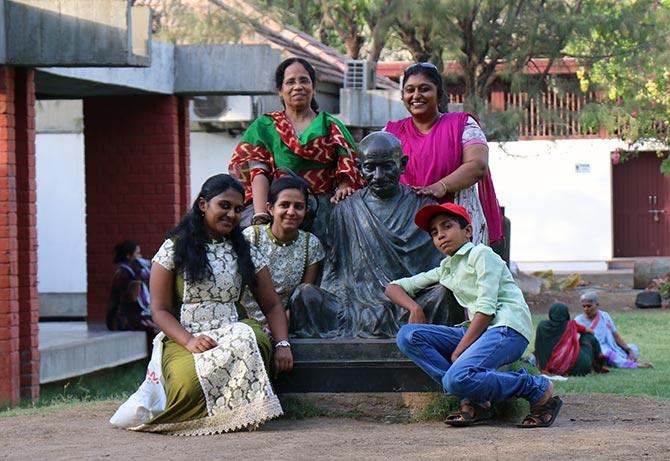 IMAGE: Tourists on the lawns of the ashram. Many come to spend a quiet evening here.
Families and school children are walking about and surveying the ashram which has cottages, open grounds and a museum designed by eminent architect, the late Charles Correa.
Others have come just to be at peace in a place surrounded by lush green trees and a bed of cool grass. Some have come for an evening walk.
Mayur, a young lad sat by Bapu's statue, gazing at the river front. He had been sitting at the same spot for hours, all by himself. Upset with his Class 12 percentage, the boy had come for some quiet time.
"I have got 68%, but the cut off is 70% for the college I want," he says, voicing the common angst of students as they compete for college seats. This was only his second time at the ashram, the last time he was here, he was a child -- when the results came he couldn't think of any other place to go.
We give him a pep talk, telling him that life is not a sum of percentages and he gives us a brave smile, but continues to sit, finding solace at Gandhi's feet.
Harshit Sakhidas, a student of animation, who is standing beside Gandhi's statue, is here every evening. He comes to the city every morning by train from neighbouring Surendranagar to attend class. In the evening, a friend drops him at the ashram on his motor bike, where he spends an hour or so before it is time to catch the evening train back from Sabarmati station, a short walk away.
Two women have come after attending music classes."It's so peaceful here," they say.
Poorvi, a fine arts student with a knapsack on her back, says she is meeting a friend. "Ahmedabad doesn't have many places to hang out, though some hookah bars have opened. I like to come here because it's quiet," she says, telling me that the city is very safe for girls.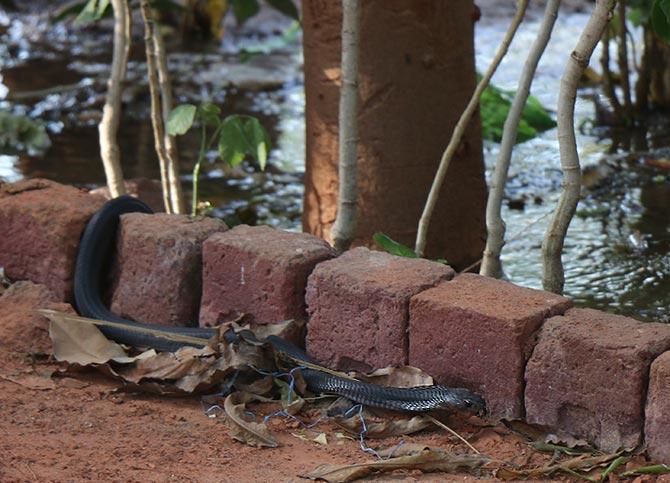 IMAGE: A cobra that was found that evening. It hid between the bricks and the tree as a security guard tried to kill it in vain.
Behind Hriday Kunj, Gandhi's cottage, there is commotion. Led by a security guard, two, three people are trying to coax a baby cobra from its hiding place, striking a blow with a bamboo pole, each time its body comes into view.
Rajesh, my colleague, tries to stop them and calls the snake helpline. No one answers after repeated calls. The snake goes into hiding again and the status quo remains till we leave.
On the way out, we meet a young couple hastily making their way in with suitcase strollers and bags as if they had just come off a flight.
"Coming straight from the airport?" I ask and they say, no, they were on the way to the airport instead.
"We didn't want to leave without seeing Sabarmati Ashram," says the young man, hurrying his wife to Gandhi's cottage before it closed for the day.
Post script: The next day, which is the final day of our journey through seven states, we traveled the 500 odd km to Mumbai. Just as the number of toll booths increased, so did the number of cars on the highway.
We zipped from Ahmedabad to Baroda in an hour. Then onto Anand, the seat of Amul, and ahead to Surat, Vapi, Valsad -- finally to Mumbai, India's most cosmopolitan and coolest city (yes, we Mumbaikars are a little biased, but it is also true :))
Our first traffic jam in a week was at the mouth of Mumbai.
We had travelled six days without any sour incident. The highways have improved road travel greatly, the loos also were generally clean.
A staff member at an HP petrol pump in Rajasthan said like foreigners, Indians now ask for a dustbin to throw a wrapper at the petrol pump.
Obviously we have miles to go and peaks to conquer as far as civic sense goes. There were enough examples of people lowering car windows and throwing garbage on the road. The battle has to be against spitting, littering, peeing in public and keeping public toilets clean. The Swachch Bharat campaign has to start inside every Indian head.
Keeping us company on the journey were the Bee Gees, Michael Jackson, Kishore Kumar, Geeta Dutt and a scintillating collection of old Hindi film songs.
As we crossed mountains, deserts, rivers and fields, we met many fine Indians and encountered a country that not only is breathtakingly beautiful, but has a great heart. To know it, go, take the road!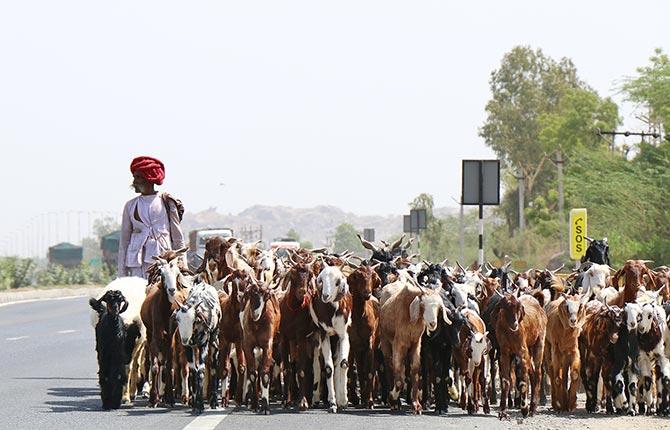 IMAGE: A shepherd on the highway in Rajasthan. He graciously struck several poses for photographs.