Some unlikely celebrities are behind multiple campaigns to fight the fake news menace.
Sai Manish reports.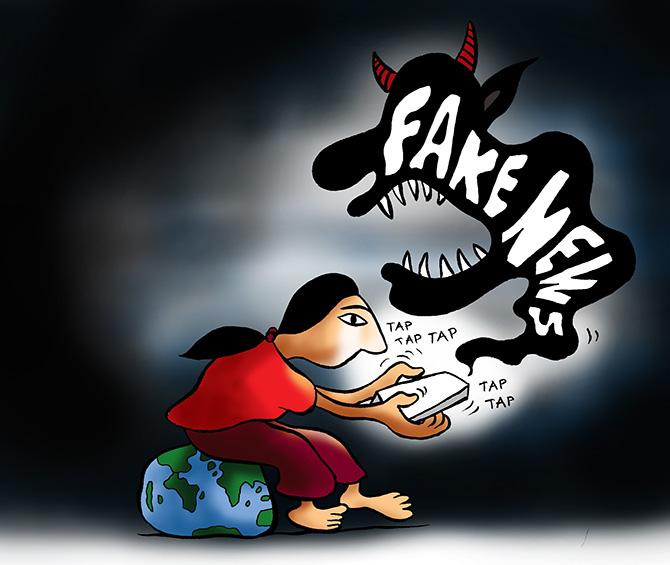 Illustration: Uttam Ghosh/Rediff.com
While the Narendra D Modi government burnt its fingers over an unsuccessful attempt to 'rein in' the mainline media over alleged fake news dissemination, India's nascent fake news-busting business is finding high-profile takers.
Three of them -- OpIndia, Alt News and Boom Live -- stand out for the intensity of their coverage and the hawk (if sometimes jaundiced) eye they keep on fact-checking news and calling out the so-called fake news.
Writer-activist Arundhati Roy's trust donated to Alt News, while Manipal Global Education Chairman T V Mohandas Pai and Infosys founder N R Narayana Murthy have put their weight behind the right-of-centre OpIndia.
Lie busters or political agents?
"Most of the fake news is originating from people aligned with the BJP (Bharatiya Janata Party). People aligned with the Congress have not propagated fake news with the same frequency yet," says Govindraj Ethiraj, promoter of Boom Live, which started operations in 2016.
"We try to bust fake news irrespective of the political spectrum and we do not have any political affiliations," Ethiraj adds.
OpIndia's Chief Editor Nupur Sharma has a different take: "Those peddling fake information come from all kinds of political or ideological affiliations. I have very honestly told you that it is the leftist narrative that we are up against."
"We do not claim to be ideologically neutral," says Sharma, "unlike many in the mainstream media who are leftist but pretend to be centrist or neutral. We will continue to be right-leaning."
Alt News founder Pratik Sinha has a more nuanced view. "I have an ideological leaning. I am oriented towards the left. But I don't have a political leaning. I don't support a political party. Not even the left."
"The problem of fake news and inaccurate information is more acute in TV. They are always in a hurry to put out news without checking the veracity of the facts," says Sinha.
"In the case of the stay on the order of disqualification of Aam Aadmi Party MLAs, many channels put out the opposite of what the court had ruled. The problem is not ideological. The problem is with the business model of news," Sinha points out.
Alt News: Control Alt Left
Alt News receives individual donations ranging from Rs 9 to Rs 1,000.
True to Sinha's left leanings, Alt News has been set up as a non-profit firm.
According to him, an organisation called the Zindabad Trust donated an unspecified sum to his Web site, which operates out of Sinha's home in Ahmedabad with just three employees including Sinha.
Arundhati Roy reportedly set up Zindabad Trust with her 1997 Booker Prize money.
In a written reply, Roy confirmed she had donated to Alt News "because it is doing a wonderful job of trying to set the record straight and counter the propaganda masqueraded as news."
While it is not clear when this donation was made, Alt News carried a story on January 22, defending Roy over statements floating around in social media that the Web site found she had never made.
Alt News counter-checked Roy's interviews with the BBC and verified other sources to conclude that Roy had never said 'Islamic terrorism isn't the real problem. Mothers and teachers are real terrorists.'
While much of the year-old Alt News's coverage is factual, its focus is evidently on media organisations like Arnab Goswami's Republic TV and the Times group's Times Now.
Goswami, the chief of Republic TV, is known to be a sharp critic of Roy.
"These channels and many other channels are pro-establishment. There is a need to have someone taking an anti-establishment stance. It would be wrong to say we focus on a few channels. Big media houses have various channels -- some are pro-establishment while others not quite," says Sinha, when asked about his overwhelming coverage of select media houses.
Sinha, a software engineer based in Vietnam, returned to India and set up the Web portal Truth of Gujarat around the time the second chargesheet in the Ishrat Jahan encounter case was filed.
Sinha says his father Mukul Sinha, who was the lawyer for the Gujarat riot victims, had so much information that it deserved to be put out for public consumption.
OpIndia: 1 step forward, 2 steps right
While Alt News is taking baby steps in one direction, its antipode OpIndia has better financial muscle and editorial firepower.
OpIndia is owned by Kovai Media which also operates the right-leaning Swarajya magazine.
The highest-profile investor in Kovai Media is former Infosys director Mohandas Pai.
As of March 31, 2017, Pai held 39,786 shares, representing a little above 3 per cent stake in the company.
According to Sharma, OpIndia was taken over by Kovai Media in October 2016.
A smaller stake, amounting to 23,872 shares (almost 2 per cent), is held by Catamaran Ventures, whose promoter is Infosys co-founder N R Narayana Murthy.
Kovai Media's financial performance has slowly picked up over the years.
Its revenue from operations was almost Rs 7.7 million in 2016-2017, a threefold growth rate over the previous year.
It received Rs 3.5 million in advertisement revenue and almost Rs 2.3 million in subscriptions.
It also upped the ante in paying freelance writers. In 2016-2017, it paid almost Rs 12 million to freelance writers -- double the amount it paid the previous year.
Understandably, OpIndia would constitute a small portion of Kovai Media's scheme of things.
Most of the fake news-busting articles on the Web site do not have bylines.
Unlike Alt News, OpIndia seems to have paid greater attention to political fact-checking.
In particular, it seems to have a strong dislike for Congress President Rahul Gandhi and New Delhi-based NDTV and some of its anchors.
Of late, OpIndia has also taken upon itself to defend a few Cabinet ministers who have been accused of impropriety by some Web-based news sites.
"The most obvious form is where incidents or facts/figures are invented and fiction is peddled as real event," says Sharma.
"The biggest source of such forms of fake news is, unfortunately, the social media, especially WhatsApp," Sharma adds.
"However, such news is the easiest to debunk. The other kind, which cannot categorically be called fake news but is qualitatively no better is when you fuddle information on purpose and confuse people -- such manipulation is widespread and even accepted in the mainstream media, and that is what is more difficult to debunk. That is our focus," Sharma says.
OpIndia was founded in 2014 by Rahul Raj and Kumar Kamal before being acquired.
Boom Live: Ecosystem of fact-checking
Sharma's definition of fake news finds resonance with Ethiraj -- he agrees on the role of non-institutional sources like social media and messaging platforms like WhatsApp in the proliferation of fake information.
Social media's inherent viral nature, according to Ethiraj, "adds velocity and veracity to fake news."
Ethiraj isn't new to the business of lie-busting. He is the brain behind IndiaSpend and FactChecker, both of which use primary or secondary data, unlike OpIndia and others, to separate the wheat from the chaff and call a bluff.
Ethiraj, a business journalist, says that those taking political sides in the business of fake news-busting won't be able to carry on doing so for long.
Boom Live is part of Ethiraj's Ping Digital Broadcast Network, based in Mumbai and with a branch in Dubai.
In 2016-2017, it clocked an impressive turnover of Rs 439 million -- a 153 per cent rise over 2015-16. It dubbed Rs 278 million worth of payments to those who contributed to its platforms as 'talent share fees'.
Its top guns, including Ethiraj and two other directors, took home pay checks of over Rs 10 million a year each.
Its shareholding patterns look straight out of a Silicon Valley soap opera -- an angel investor in Los Angeles with a small share, Ethiraj with 68 per cent, and a generous sprinkling of company stock with various junior employees.
By the look of it, Boom Live has a wider canvas than OpIndia and Alt News.
Ethiraj's editorial approach is more issue-based than that of Alt News and OpIndia. He doesn't expect his fake news-busting venture to be a money spinner.
"It's all about a crusade against misinformed propaganda," he says.
Roy is more sceptical about the impact of such initiatives.
"Factually false news, deliberately faked news, deliberately spread lies and rumours and outlandish assertions that are based on prejudices that arise from caste-based and religious bigotry all overlap to form the ecosystem of misinformation that we live in," says Arundhuti Roy.
"How can it be checked in any formal, systematic way when the most powerful sections of the establishment have the highest stakes in it?"