'The situation has improved because oxygen tankers are now coming.'
'Before this it was chaotic.'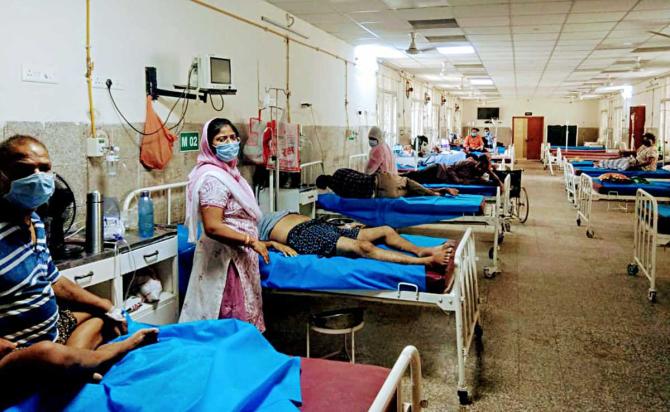 When COVID-19 cases commenced their unbelievable exponential rise in Varanasi, Uttar Pradesh, in mid to late April, any doctor one contacted was unwilling to discuss the state of the pandemic in this city.
One said the circumstances were improving and there was nothing really to say.
Another said the COVID-19 position for Varanasi "is the same as any other place" and there would be no doctor to speak to because "they are busy saving lives."
A third doctor explained that "Being in the system, nobody will like to be quoted saying something which is not safe."
A fourth doctor stated: "No one wants to speak to an official or a media person. All are afraid of the administration. Hospitals are not supposed to show exact numbers of positive cases. Even in private labs there is ban for tests. Tertiary level treatment is lacking, as very few hospitals are equipped with resources. We are only hearing the honking of ambulances."
A fifth doctor asked: "What situation?" and flatly refused to speak.
But ancient, enigmatic Varanasi, on the banks of the holy Ganga, a city that has seen so much through the centuries, was witnessing appalling sights its residents never thought they could have witnessed before in their lifetime.
Varanasi is the largest urban hub with a 36.7 lakh* population in eastern Uttar Pradesh.
It is also the closest and only large medical centre for the neighbouring districts of Mau, Jaunpur, Azamgarh, Chaundali, Mirzapur, Ballia and also vast swathes of population between Varanasi and Patna in Bihar, Varanasi and Ranchi in Jharkhand, and Varanasi and Bhopal in Madhya Pradesh.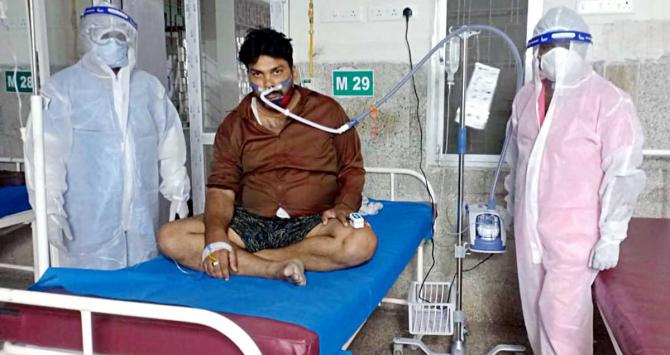 As the numbers for the COVID-19 sick suddenly dizzyingly shot up, Varanasi's hospitals were flooded with ailing people from the city and surrounding areas.
Says Dr S˚, who was attached to the Banaras Hindu University's Sir Sunderlal Hospital, the largest medical and teaching facility in the city: "Varanasi getting a high number of cases is not a (surprising) thing. Varanasi caters to almost 25 to 30 districts around -- that contains some districts of Madhya Pradesh like Rewa, Satna. In Jharkhand, Palamu, Daltonganj, Garhwa. And in Bihar up to Buxar, even Arrah, Champaran, Chhapra."
Dr V˚, who is in practice in Varanasi, concurs: "People are coming from large parts of Bihar and larger parts of MP. Because this is the only city where people can come. And in Varanasi hardly just 23 centres had been authorised for COVID-19 treatment. The number of beds is very less, number of facilities are very poor."
The sudden surge of patients put pressure on the city's health system, creating a run on beds, resources, medical help and oxygen, that resulted in a rise in deaths.
Dr S says he learnt: "The two famous burning places here, the Harishchandra Ghat and Manikarnika Ghat -- they are full and they have opened new burning places -- two new burning places have been created in the last five or six days. That shows the rush and pressure on the burning places. I don't have any exact figures."
Precise data on deaths are not available and official figures are inaccurate/nowhere near accurate. For instance, the UP government announced on April 25 that in Varanasi 15 people** had died in the previous 24 hours.
Estimates of death run high, according to Dr S and various local news reports.
Harishchandra and Manikarnika ghats has had pyres burning around the clock and saw huge queues of bodies over many days, according to many sources, news reports and photographs. Given that these two ghats have a burning capacity of at least about 50-100 bodies per day, death counts must be well over 200-300 per day, just at these two ghats.***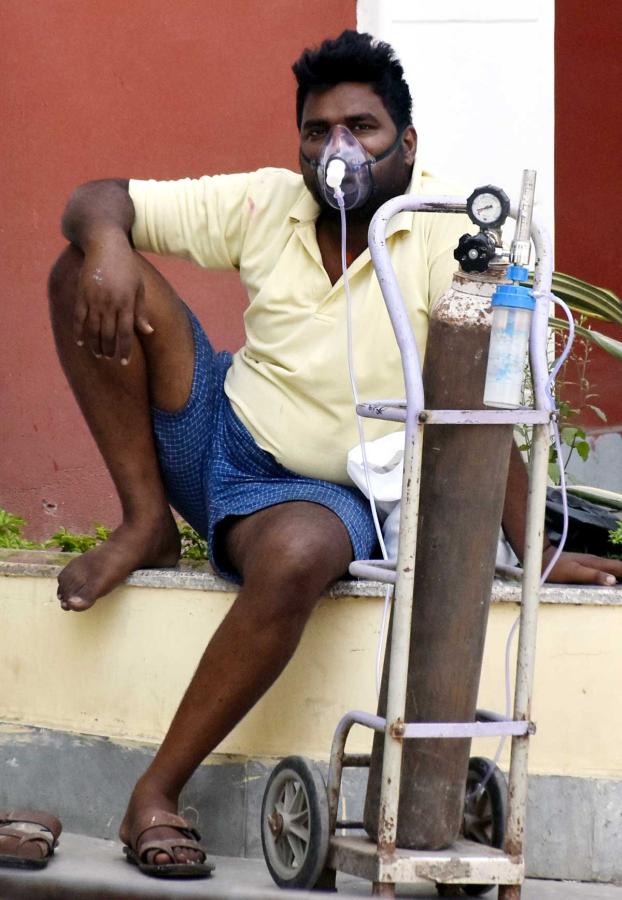 In the last week, doctors, mostly speaking anonymously, report that the situation is marginally better.
"It's very pathetic. We are not getting sufficient beds for patients. Cases are very rampant but last two days a little bit decreased," says Dr Y˚, a junior doctor working at BHU's Sir Sunderlal hospital.
The city is still about apparently 40 per cent shut with many shops and establishments voluntarily shutting down.
"People are afraid, that in this situation, where there are no beds, no oxygen, catching COVID-19 will be a disaster. People are afraid to move out, so movement has come down 40-50 per cent. It is subdued," describes Dr S.
"But last two or three days," he adds, "the situation has improved because oxygen tankers are now coming -- Varanasi being the constituency of the PM, we are getting some privilege. Before this it was chaotic. I was running around trying to get one of my patients admitted (who later died he said)..."
"Cases are increasing tremendously and whatever is being reported is only a half statement. Maybe 30-40 per cent," he adds. A lot of patients are going with symptoms and they are ignoring it and saying this is just a cough and cold. It is involving whole families."
"I think hardly 30-40 per cent of population who is getting affected is getting tested. That is my assumption, but that is what I am hearing from my patients."
Says Dr Sanjay Rai, additional chief medical officer for Varanasi district: "Abhi toh Varanasi mein cases hai per day average 1,500 ke aas paas toh ahi rahein hai. Peeche toh 2,000 the (Right now in Varanasi cases are on an average around 1,500 per day. Earlier they were 2,000)."
On the death count, Dr Rai offers vaguely: "Hai. Jo critical hai -- thodi institutional toh ho hi raha hai, free mein jo patients hai, oxygen saturation kaphee kara jaa raha hai. Per day average 8-9-10 death ki reporting hai.
About the congestion at the cremation ghats, Dr Rai said he was not aware: "Uska bilkul idea nahin hai. Thoda deaths ka average toh hai hi (I have no idea about that at all. There is an average number of deaths)."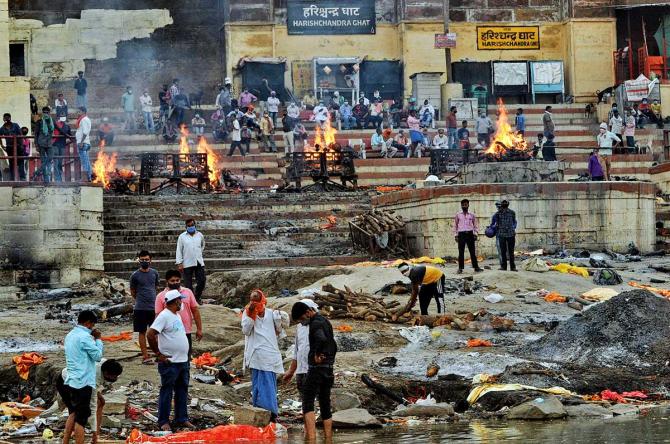 COVID-19 cases began their grim ascent in Varanasi, like it did for the rest of UP and India, in late March, with the arrival of the new variant.
But cases rose much higher, more quickly in this city, compared to many others, due to slow and poor testing.
"RT-PCR**** test reporting is trailing behind. Sometimes it takes five to six days for getting the report," says Dr S -- that resulted in people going unidentified and going untreated and spreading it further, especially since mask etiquette is poor.
Says Dr Y: "People themselves are also responsible for it. Aadmi itna aware nahin hai. Mask publicly use nahin kar rahein hai. Abhi toh ho gaya. Kam se kam five days pahele itna zyada strictly follow nahin kar rahein the guidelines ko (the common man is not very aware here. They were not using masks publicly. Now it's in force. But even five days go they were not strictly following the guideline).
There are more reasons.
Dr S explains that Varanasi has also always attracted huge numbers of outsiders. "A lot of labour or working class goes to Bombay. They can bring infection back from Bombay or Pune or Gujarat or other cities (when many returned recently). And being a holy capital, a number of pilgrims come from all across India."
Dr V adds further causes: "I read that 30 lakh people took a dip in the Ganges on one day during the Kumbh (taking place across the state border in Haridwar that would have had attendees from UP). And panchayat elections are going on in UP ... So, what do you expect?"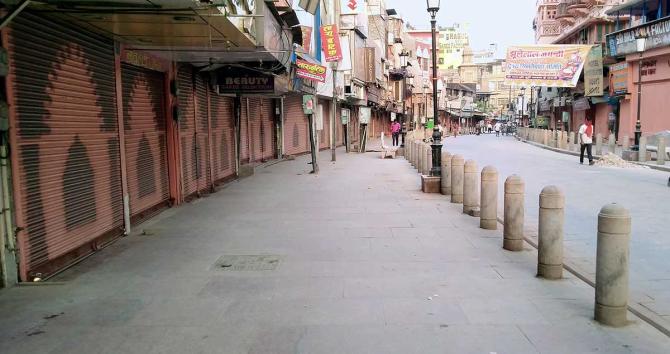 Though Varanasi caters to many other districts in UP, and even districts from three other states, and its population is nearly equal to the state capital Lucknow, its medical bed capacity is nothing even close to Lucknow's.
Says Dr S: "Varanasi has a lesser capacity than Lucknow, almost 60 per cent or half of Lucknow (in bed capacity)."
Dr V makes a brisk on-the-back-of-the envelope calculation of the number of COVID-19 beds available in the city, between four government and 19 private hospitals, and says only "700 or 800 beds maximum" are accessible to pandemic victims, of which, he says, 60 per cent are ICU beds and half of those ICU beds will have ventilators.
"So, for a city, whose population is itself about 30-35 lakhs (3 million to 3.5 million), and it caters to almost 2-2.5 crore (20 million to 25 million) population of nearby districts, you have got this many beds? That's the story. Because the hospitals are not geared accordingly, we do not have those numbers of ICUs and those numbers of beds, those number of paramedical staff and oxygen is not there."
Dr Y too says the manpower doesn't match the number of patients: "Sab ka kamee hai. Doctor ka, sister ka, ward boy ka (There is a shortage of everything. Doctors, nurses wardboys)."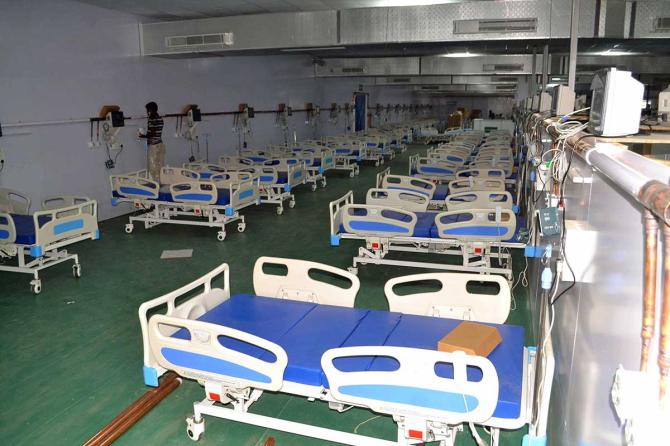 Dr Rai offers figures too.
According to him: "Saare jo nursing home milake, 2,000 plus par kaam kar rahein hai... 45 nursing homes empanelled ho gaye hai (for COVID-19). Sab milake humare yahan karib-karib 2,500 beds ho chuke hai, kal ki tareek tak, 2,500 beds chal raha hai, running hai (If you include all the nursing homes, we are running on a strength of 2,000. Some 45 more nursing homes have COVID facilities so as of tomorrow we are running on 2,500 beds)"
He denies that there is any shortage of manpower.
This extremely poor ratio of beds and healthcare workers to people is the cause for higher fatalities. As was the poor oxygen supply, which has since improved.
Says Dr Y, "Every day at least a few beds are being added," but that's never enough, because beds are still the need of the hour and at his hospital the most upsetting, heartbreaking task is, he says, to keep turning extremely sick people away.
He says, pained: "Bahut dikat ho raha hai, bahut dikat ho raha hai, unko samjhana mein (It's very hard, it's very hard to make them understand). They are not ready to understand ki bed nahin hai (that there is no bed). Obviously woh log darein hua hai (They are scared)."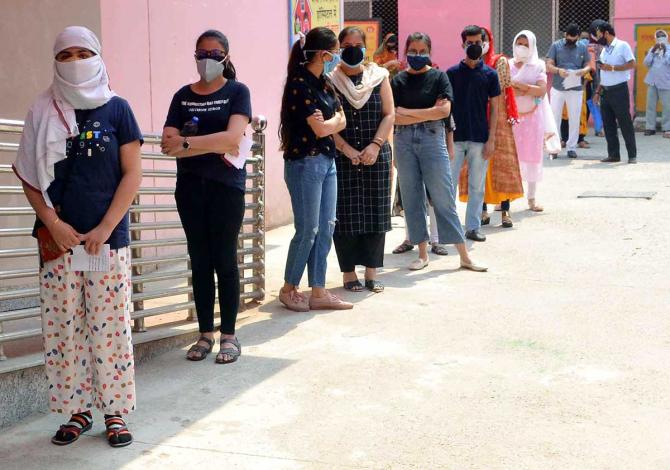 Mounting deaths could also be due to the fact that the variant is going after younger people.
Says Dr Y: "(COVID-19 is affecting) all ages, but this time the young patients are dying in very high numbers compared to last year. Yes, yes below 30-35-40. Even below 30 are also dying, below 40 also dying. Below 50 a huge number are dying. The variant is attacking and killing young people irrespective of comorbidities."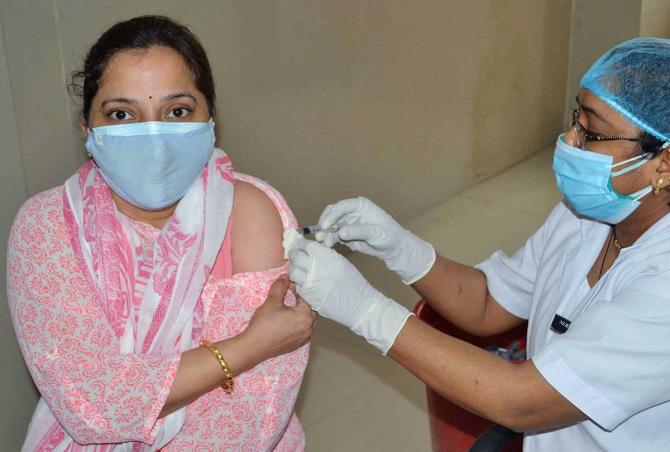 Some succour will arrive when the giant open-air hospital amphitheatre, being constructed on the BHU campus, starts up.
Dr Rai -- whose administration is working on handing out as many COVID-19 kits containing erythromycin, paracetamol, Vitamin C, Vitamin D, and ivermectin to the public to help early sufferers and is also focused on following the "prime minister's concept" of track trace and treat, informs that beds are being augmented daily in the city.
"Sabsa bara kaam jo ho raha hai, DRDO ka, BHU mein jo playground hai usko pura ek aspital mein convert kiya ja raha hai. Udhar 750-bed ka COVID-19 hospital DRDO bana raha hai. 50 per cent ke upar kaam complete ho chuka, jisme 250 ventilator wale bed karenge or 500 beds oxygen support wallah honge. Next week (this week) tak yeh bhi start ho jayega (The biggest work happening is the hospital the DRDO or Defence Research and Development Organisation is building in the playing grounds at BHU. That will be a 750-bedded facility and 50 per cent of the work is done. There will be 250 ventilator beds and 500 beds with oxygen support. The hospital should start up by next week)."
He adds confidently, "This facility will overcome the crisis."
Dr S is not sure: "The response has come, but it is not matching the curve of COVID-19. It is delayed by at least 15 to 20 days (compared to) the COVID-19 surge. That's why the panic and problems all around."
Dr V says Varanasi hospitals already have the capacity to augment beds, but, "There are no facilities. Who will treat? They need to have doctors. We need to have those many doctors, we need to have those many paramedical staff. No immediate intervention is possible except prevention and precaution."
Varanasi and its surrounds had always been short of beds, he states, and "people have no place to go" even when there is a major accident on the highway.
Says Dr V: "Everybody talks when there is a crisis. During normal days nothing happens. During normal days doctors are being beaten left and right. Everybody will beat doctors, everybody will abuse doctors, curse doctors. Even now from the administration there is so much interference in treatment.
"We will talk about temples; we will talk about mosques. But I have never seen any discussion about hospitals. India never discusses hospitals in any debate on the news channels. This city has 30-35 lakh population, how many hospitals does it have? We are not geared for those kinds of discussion. We ultimately pay for that.
"Basically, corona will go in one, two, three or four, five months or whatever. After that what?"
---
˚Name changed
*varanasi.nic.in (external link)
** Uttar Pradesh records 35,614 new Covid cases in a single day, 208 deaths in 24 hrs (external link)
***VMC creates new cremation groundat Samne Ghat to tackle Covid rush (external link)
****Reverse transcription polymerase chain reaction test
---