'Since I was held at gunpoint, I had no option but to give them the car keys.'
'They took the car and drove away.'
Raj Shekharan, a techie from Chennai, had been living in Khartoum, Sudan, for the last eight years with his wife and daughter.
He was working at a Sudanese IT company, and never thought that civil war would break out on April 15 or that his life would turn upside down.
The fighting is between two factions of the Sudanese armed forces loyal to General Abdel Fattah al-Burhan, the country's de facto ruler, and the paramilitaries of the Rapid Support Forces, a collection of militia loyal to warlord General Mohamed Hamdan Dagalo.
Shekharan spoke to Syed Firdaus Ashraf/Rediff.com about his final days in Sudan and his return courtesy Operation Kaveri.
On April 15, there was huge firing in the area where I was staying in Khartoum. I realised that some military coup was happening in Sudan.
The only good thing was that both warring factions were not targeting civilians.
The warring factions told civilians to stay home and not venture out into the streets.
Khartoum was under the Rapid Support Forces's control at that time.
After the warning to stay indoor, I locked our apartment doors and stayed inside.
I thought that this civil war would not last more than two days, but how wrong I was I realised only after three days.
There is no end to this civil war. We were stuck in our apartment. Water was running out. There was no electricity.
The worst part was that we could not open our windows as we feared someone would fire bullets inside our house. I wondered when I would reach my home in Chennai in this situation.
We were seeing RSF soldiers walking on the road with AK-47s and all kinds of arms. It was a very scary scenario.
The only saving grace was an electric generator which we ran for only one hour so that we could charge our mobile phones and be connected to the outer world.
The place I was staying in Khartoum was one km away from the airport and it was where the RSF leaders stayed.
It was a prime area in Khartoum where many diplomats of different countries lived, including those from our Indian embassy.
At home, my family was rationing water and food because we knew it would not last us long.
The way the fighting was going on we thought this will go on for a month.
I was not sure when help would come.
Life came to a standstill. At that time the Indian embassy in Sudan created a WhatsApp group in which every Indian in the country was told to get connected.
They were giving us regular updates on what was happening. They were updating us about which area was safe and which area was in danger, but there was no sign of evacuation then.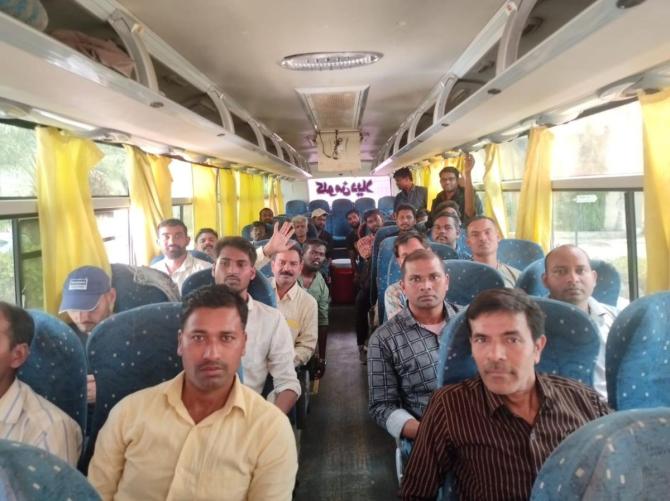 RSF soldiers entered our building on April 18. It was a four-storey building. We were the only occupants; all the others had left as soon as the civil war broke out.
RSF soldiers broke down the first gate of the building entrance; they could not break the second safety gate.
They fired 10 bullets at that gate.
My family and I felt that we should not let them break the door and come in, and it would be better if we go down and negotiate with them what they want.
My 14-year-old daughter luckily knew some Sudanese. She has been studying in Sudan for seven years. After my daughter spoke to these soldiers, they understood that we are Indians, told us not to worry and they would not harm us.
There were some 200 RSF soldiers who were looking for food and water. We did not have cooked food. I gave them uncooked rice bags, but they did not accept that.
They then asked for money. I had some Sudanese currency which I gave, after which I went inside my apartment. There was only a locked iron grill gate that separated us from the RSF soldiers.
As soon as I went inside the apartment, they started banging on the iron gate again. I got worried.
They told me that the Sudanese currency was too little and they wanted some dollars. I went back to my apartment and gave them some dollars that I had with me.
They then asked me if I had a car and I said, yes. They told me to give them the car keys. Since I was held at gunpoint I had no option but to give them the car keys. They took the car and drove away.
They did not break the second locked gate or enter our house. I have no idea what would have happened had they done that.
The next four hours were very daunting for us. We were just hoping that another batch of RSF soldiers should not enter our building.
Luckily, one of my friends was able to contact a Sudanese doctor who was working for the RSF in Khartoum.
My friend told me this doctor would send some people to pick us up and take us to their place.
When they came I had no idea what to take and what to leave behind my house. I decided to take just one pair of clothes, some jewellery and my laptop, We left everything else behind.
The Sudanese doctor was very kind; he sent his sister to pick us up. The RSF was not targeting people, but one or two incidents did happen just like what happened to us.
I did not see dead bodies lying on the road except one in our area, but the sound of firing was non-stop at times and that was very scary.
We stayed at the doctor's house for two days. They provided us with electricity, food and water.
The Sudanese doctor then spoke to the RSF and after two days the RSF escorted us out of Khartoum to Jabra, which is seven kilometres away from Khartoum.
At Jabra we were 35 Indians staying in one house, and we were running out of water and power. It was a difficult stay, but luckily we were soon able to connect with the Indian embassy on the WhatsApp group.
The embassy then arranged for a bus on which we traveled to Port Sudan.
The RSF did stop our bus at times to check whether there were arms on board and to ensure that no Sudanese military personnel were on our bus. After the checks, they let our bus move on.
Our bus then joined a United Nations convoy in which there were 107 vehicles. This convoy had people from all nationalities.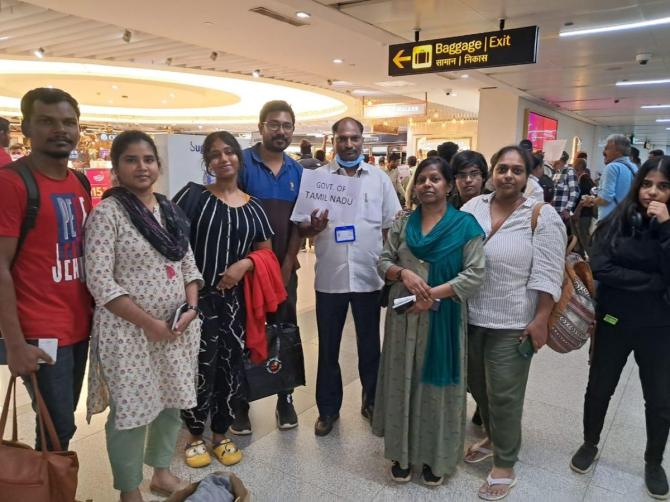 After leaving Khartoum we did not see fighting on the streets. Sudan is a huge country and it is almost deserted. We felt safe travelling in the UN convoy.
The journey was 1,000 km and it usually takes 14 hours to reach Port Sudan, but our bus took 26 hours to reach because we were part of the UN convoy.
The Indian embassy then arranged for us to stay in a school at Port Sudan. There were local people helping the embassy and they registered each of us.
They then gave us an option -- to either go home by an Indian Navy warship or by an Indian Air Force plane. The first batch went by the ship. I was in the second batch so they took us from Port Sudan to Jeddah by flight.
From Jeddah we took another flight to New Delhi.
This was my family's first trip to the national capital.
There were nine people from Tamil Nadu on our flight from Sudan.
Tamil Nadu state government officers got in touch with us in New Delhi. They took care of us and brought us to the Tamil Nadu guest house in Delhi.
After a day they arranged for our flight tickets to Chennai.
And when we reached Chennai airport the next day, I said we are finally home.