'If we were willing to go to Yemen, one can only imagine our condition. Only those who are desperate will go there.'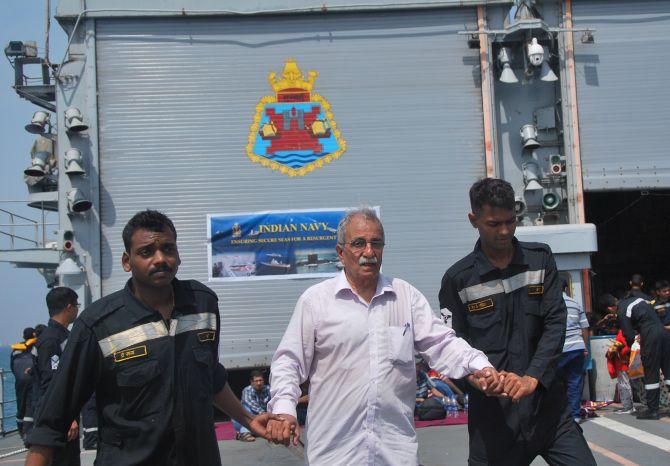 Image: Indian Navy personnel escort an elderly gentleman, among the Indians rescued from Yemen. Photograph: Kind courtesy: The Indian Navy
Renju CK, an anaesthesia technician at the Al-Naqib Hospital in Aden, Yemen, was part of the first batch of 362 Indians rescued from the war-torn country.
On his return to Edathua in Alleppey, Kerala, he recounts the eventful journey and the dire conditions in Yemen to Shobha Warrier/Rediff.com
I have been working at the Al-Naqib Hospital for the past two years. I had almost finished repaying the education loan I had taken.
My plan to build a house for my parents will remain unfulfilled as I had to return. I wanted to stay in Yemen for another 3, 4 years so that I could give my parents a better life.
We hung on in Yemen hoping that the situation would improve, but now we know better. With Saudi Arabia offering to intervene, the war is only going to intensify.
For the last few weeks, the operation theatre was flooded with patients with bullet wounds. There had been so many patients that we were working continuously. Doctors were operating on patients without a break.
As there was a steady stream of patients, the authorities tried to convince us not to leave. They said the situation was not worrying at all. But all we could hear were gunshots and bombs exploding.
We had to beg the authorities to return our passports. It was a miracle we were able to escape.
Image: A newly born baby being brought on board the INS Mumbai from Al Hodeidah for passage to Djibouti. Photograph: @spokespersonMoD/Twitter
As soon as we knew about the ship arriving, 10 of us -- including Indumol -- from the hospital got hold of a vehicle and rushed to the port. The main road was blocked by heavy gun fire, but the driver got us to the port on time.
After we boarded the ship, other Indians at the hospital called and said they too wanted to leave. They had stayed back to get their salaries. I left because my life was more important than the money.
They couldn't reach the port as they had to return due to firing. That was when we realised how fortunate we were to reach the port.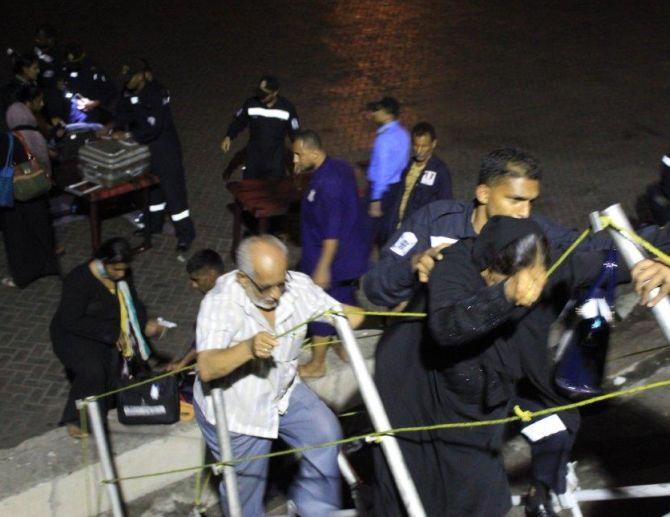 Image: An elderly gentleman makes his way to board the ship at Djibouti. Photograph: @spokespersonMoD/Twitter
We reached Djibouti the next morning from where we flew to Mumbai. It was nice to see (Minister of State External Affairs) General V K Singh at Djibouti overseeing the rescue operations.
What next is the big question. Will the government help rehabilitate us? I don't think the situation in Yemen will improve in the near future. All of us are qualified and willing to work anywhere for a good salary.
I had a student loan and also gave Rs 1 lakh (Rs 100,000) to an agent to go to Yemen. While we were paid Rs 25,000 there, we only get Rs 8,000 in India. Otherwise, do you think we would go and stay in such a forsaken place?
If we were willing to go to Yemen, one can only imagine our condition. Only those who are desperate will go there.
The situation in Yemen was dire. It was not a bed of roses. If there was electricity, there would be no water. We survived on candlelight and had to bring water up in buckets.
My working in Yemen helped my father marry off my elder sister and contribute to my younger brother's education.
I was paying off all the debts and doing my duty as the eldest son. There was no way I could save any money. I thought I would get married after I built a house. Now I don't know when it will happen.
EARLIER IN THE SERIES: