'We could not sleep for many days. We kept hearing gunshots and blasts throughout the night.'
'To live in a war-torn city is terrifying.'
'Our journey from the hospital to the port was the scariest.'
'We were taken care of so well by government officials. They did not leave a single person behind.'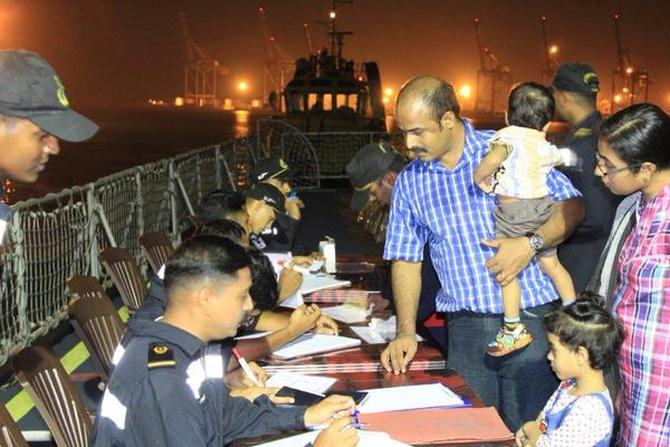 Image: Indian Navy personnel on board the INS Sumitra undertake pre-boarding procedures. Photograph: Kind courtesy: The Indian Navy
Indumol K G, a 24-year-old nurse from Kerala, joined the Al-Naqib Hospital in Aden in Yemen only a month-and-a-half ago. She had not even received her first salary when the Indian government initiated rescue operations from war-torn Yemen.

Evacuated in the first batch, a relieved Indumol narrates her story to Shobha Warrier/Rediff.com over the telephone from her home in Kottayam.
All my dreams are shattered. I have a student loan of Rs 3 lakh (rs 300,000), which I took to study nursing in Karnataka. I have not been able to repay a single rupee so far.

Though I worked for two-and-a-half years as a trainee nurse in Kolkata, all my salary was spent on treating my father when he fell ill. He passed away.

I only have my mother and an elder brother who works as an electrician.
It was to repay the loan that I gave another lakh rupees (Rs 100,000) to an agent to go to Yemen. See what happened to me -- I have more loans in my name and no job.
I had joined the Al-Naqib hospital just one-and-a-half months ago, and I was not paid any salary.
When I reached Aden, the others told me the situation was not very good and that I had arrived at the wrong time. The fighting had not reached Aden then.

Three weeks ago, we started hearing gunshots and blasts all around.
Our hospital was flooded with people injured in the war; some with limbs broken; most of them severely injured.

We could not recognise some of them as part of their faces had been blown off.

It was scary inside the hospital. I was posted in the OP (out-patient) section and there was not a single moment without a patient being brought in. We didn't have time to breathe; we were running around.
The sights were gory. I was seeing all this for the first time in my life. Only half the number of patients who were brought to the hospital even reached the OP; most of them died even before that.

We could not sleep for many days, as we kept hearing gunshots and blasts throughout the night.

Though the war intensified in Sanaa, they were only inching towards Aden.
All the shops remained shut during the day and opened for a few hours in the evening. Most of us could not buy any food.

The hospital authorities assured us that there would be security and that we did not have to worry. But we saw only army people with guns outside our hospital. That was when all of us felt it was better we returned to India.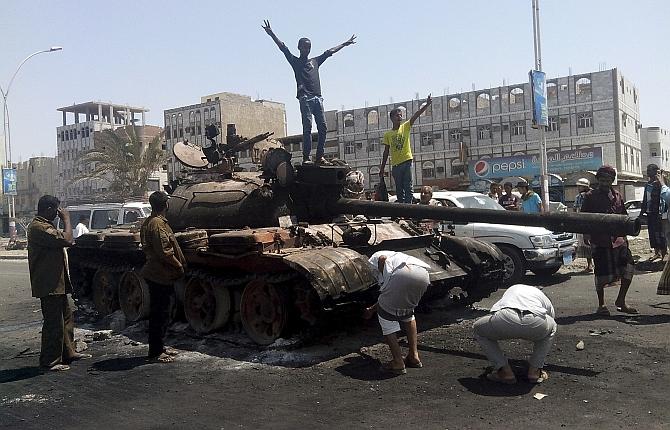 Image: Boys on a burnt tank on a street in Aden, March 29, 2015. Photograph: Reuters
To live in a war-torn city is terrifying. At that time, I couldn't think of the loan I had to repay; only our lives mattered. We wanted to escape.
There were 38 Malayalis in our hospital; only 10 of us decided to come back. The others were waiting for their salaries and experience certificates. Before we got into the vehicle at the hospital on March 31, we called the Indian embassy and they told us the ship would arrive only on April 1. So we went back to the hospital.

Within minutes, nurses from another hospital, who had already reached the port, called us and asked us to start immediately as they had started boarding the ship. We got into the vehicle immediately.

Our journey from the hospital to the port was one of the scariest; we were literally shivering and were not sure whether we would reach home and see our families.

There was firing everywhere, but the driver took some diversions and somehow we managed to reach the port on time. We were praying all the time.

Though our hospital was close to the port, it took us around 45 minutes to reach.
What happened thereafter was so heart-warming.
For the first time in my life, I felt very respectful to our government. From the moment we reached the port, we were taken care of so well by Indian government officials.
They gave us food and a place to rest and sleep. There were around 350 people on the ship and that included those with families, even wheelchair-bound men and women. Everybody was well taken care of.
They did not leave a single person behind.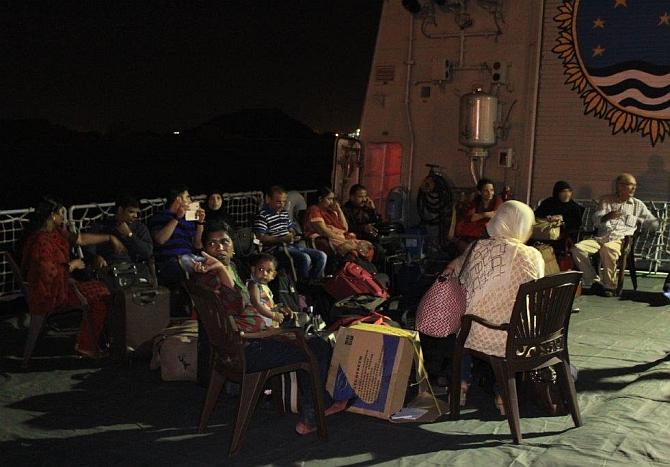 Image: Evacuated Indians on the helicopter deck of the INS Sumitra. Photograph: Kind courtesy: The Indian Navy
By 8 pm, the ship left Aden port. After a 12-hour journey, we reached Djibouti the next day at 8 am. We disembarked and were taken to a hall where the minister (Minister of State for External Affairs General V K Singh (retd)) was personally overseeing everything.

We were taken care of very well; they had made arrangements for washing and cleaning ourselves.
Then, they segregated us according to our destination. Those who had to come to South India were sent by the Kochi flight; the rest went to Mumbai.

Ladies and families were given first preference. Many men had to go to Mumbai because the Kochi flight was full. Before we boarded the flight, they gave us water and food packets.
At Aden, we did not have proper food for many days, but from the moment we were in the hands of our government, we were not hungry.

The government officials did a wonderful job.

There were many without passports, but our government brought every single person home.
I have no words to thank our government. They offered timely help while people from many other countries were stranded there without help.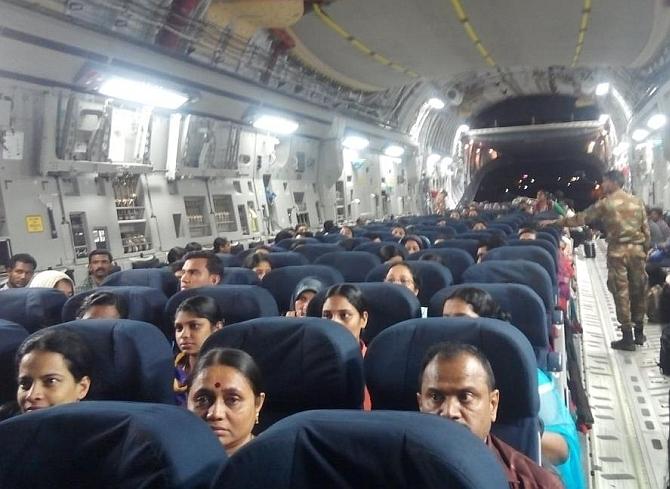 Image: Evacuated Indians return home from Yemen via Djibouti on board an IAF C-17 aircraft. Photograph: Kind courtsy: The Indian Air Force
When we reached Kochi airport, there were people from the government to welcome us. We were then sent home.
It is during crises like this that many people ask, 'Why do you go to places like this and work?'
If you look at the salary we get here (in India), it is very, very low. On the other hand, even in a small place like Yemen, you can send all your salary back home as we get 'food money' and also free accommodation.
I will not go back again as I am really scared to be in a war torn country.
When I started from Yemen, I wanted only one thing: To sleep peacefully without hearing blasts and gunshots. Ever since I came home, I have only been sleeping.