Mayura Janwalkar travels to Kedambe, a tiny village in Maharashtra's Satara district, now better known as 26/11 hero Tukaram Omble's home.
An excerpt from 26/11 Stories Of Strength by The Indian Express.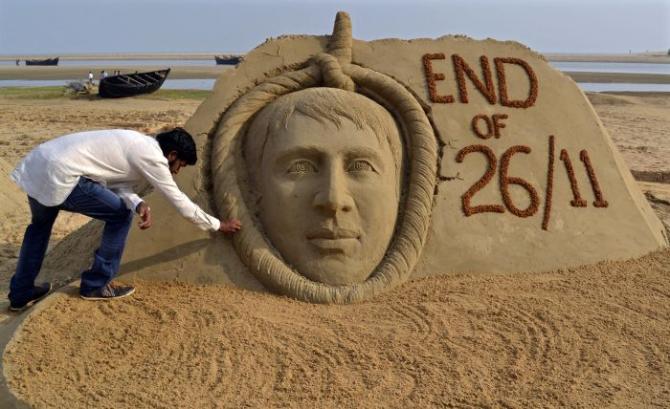 That this martyr's village hasn't forgotten him is immediately apparent upon driving into Kedambe, a village of about 250 homes separated by paddy fields framed by lush hill slopes, 284 km from Mumbai.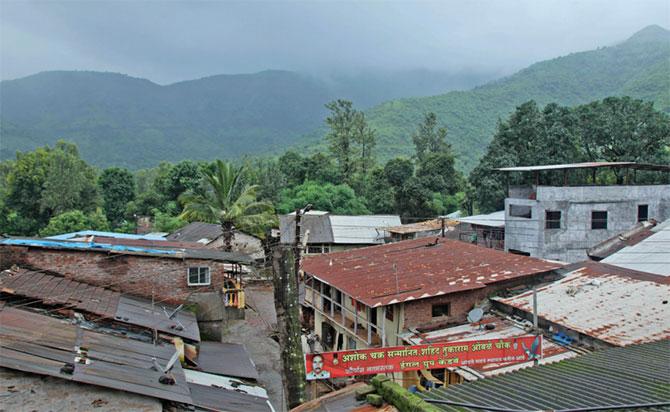 A banner bearing the photograph of Assistant Police Inspector Tukaram Omble who was killed while capturing terrorist Ajmal Kasab is at the entrance to the village where he grew up, and where his heart always was.
'Shaheed Tukaram Omble', it says, a daily reminder of his martyrdom.
In the classroom, the question, 'Who was Tukaram Omble?' is met with an array of answers, all correct. 'He was a policeman,' there is a chorus.
Standing among a group of powada singers is ten-year-old Swanand Omble, son of Omble's cousin Ramchandra. He says in a voice barely louder than a whisper, 'Majhya kakanni Kasabla pakadla (my uncle captured Kasab).'
That night in 2008 when Swanand was only a few months old, Tukaram Omble, then fifty-three years old, was on a police bandobast near Girgaum Chowpatty, Mumbai's most iconic beachfront.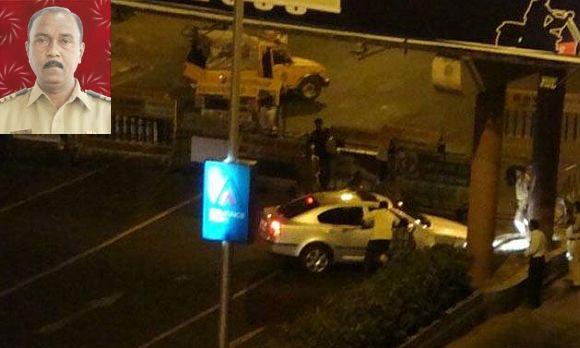 Wireless messages had said two armed terrorists had carjacked a Skoda sedan and were speeding in their direction.
When the car stopped at the bandobast on the mostly deserted road past midnight, Kasab stepped out of the passenger side, his AK-47 pointed at the waiting policemen.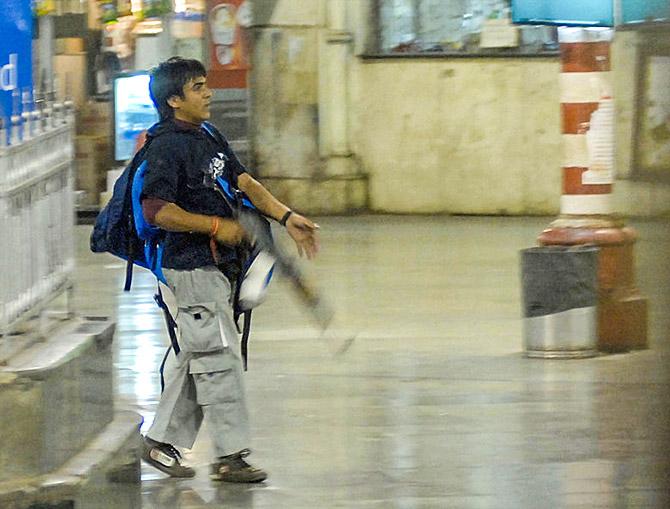 Omble threw himself at Kasab, taking a spray of bullets even as he tackled the terrorist to the ground, his sacrifice leading to Kasab being captured alive, and setting the foundation for a long investigation and judicial process that could clearly pin down the conspirators across the border.
But the fact that memories of his bravery live on in the minds of students, many of them born after he was killed, is in itself a special tribute to Omble, who was extremely fond of children.
At the time that he joined the Mumbai police in 1979, Omble had let go of a job opportunity in the Brihanmumbai Electric Supply and Transport undertaking.
Drawn to the uniform since he was a boy grazing his cattle, he had always looked up to his maternal aunt's husband, a driver with the Indian Army.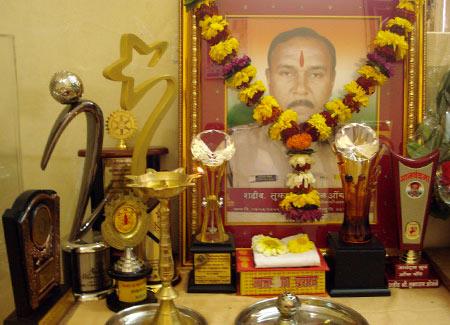 Eventually, for the young man who once sold jackfruits and mangoes in Kedambe, the road through the Sahyadri hills out of Satara district to Mumbai was the one that would lead him to his uniform.
It was a proud day for his joint family in the scenic village when he came back as a Mumbai police constable or, as they still fondly call him, 'hawaldar'.
He was the first from his village to don the khaki uniform, but in the ten years since his martyrdom, many more have signed up for jobs as policemen.
Prakash Omble, Kedambe's deputy sarpanch and Omble's first cousin, says, 'He was the first policeman in our village. Since 26/11, there have been thirteen others. Six are posted in Mumbai, four in Pune and some others in the BSF and the Indian Navy. A memorial to him in our village continues to inspire the youth.'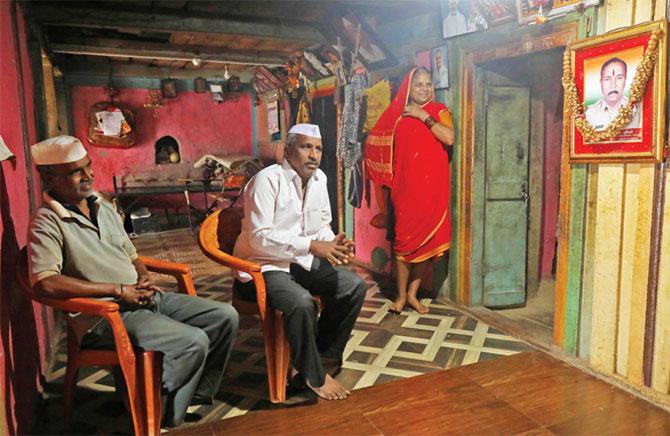 Septuagenarian Sulabai Shelar is Omble's niece, but she has memories of them growing up together. 'He would bring so many chocolates every time he came visiting from the city,' she says animatedly. 'And he would give them to all the kids in the village.'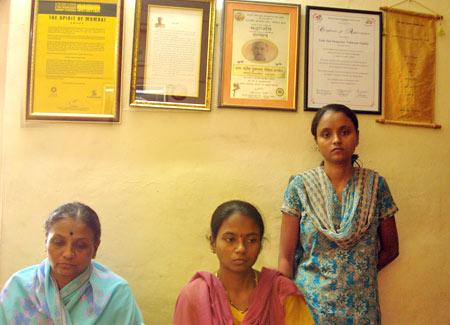 Back in Mumbai, Omble's daughter Vaishali also reminisces about her father's love for children. In a way, he was the Pied Piper of the police residential quarters on Sir Pochkhanawala Road in Worli.
'Whenever he came home after work in the evenings at least two or three kids from the building would follow him home. He was very popular among them,' she says.
Minutes later, a neighbour drops off her two-year-old daughter at the Omble residence, the toddler making herself at home almost immediately, finding a cozy corner on the sofa for a quick nap.
Their home, Vaishali says, is still accustomed to the presence of children. 'Whenever he had a chance, he would buy food for street kids. He loved children and everything he did for them came straight from the heart,' she says.
In Kedambe, the primary school children look up to Omble. Chandrakant Jadhav, a teacher in the Zilla Parishad school in Kedambe, says, 'When we tell these children about patriotism, in Omble we have an example from home.'
The village primary school ground has almost all villagers in attendance on days of national importance such as Independence Day and Republic Day. On many such occasions, Tukaram Omble was present with his wife and four daughters, his family remembers.
In the decade since his passing, the village has one more important day to observe, its own hero to remember.
'There are three days that are very important to us-- 15 August, 26 January and 26 November,' the deputy sarpanch says.
* * *
Driving up the slopes in the Sahyadri mountains, on the foothills of touristy Mahabaleshwar, it comes as no surprise that Omble was hoping to eventually move back to his native village after retiring from the Mumbai police.
For the four Omble sisters in Mumbai, therefore, it was obvious that anything they chose to do in the memory of their father would have to be in Kedambe.
On 17 January 2010, Omble's wife Tarabai and daughters Pavitra, Vandana, Vaishali and Bharti decided to spruce up the temple, make its main hall wider and give it stronger walls.
The plaque on the temple wall reads that the groundbreaking ceremony for the temple was carried out by Ananda Kondiba Mhaskar, Omble's schoolteacher, and that the construction of the temple was completed by Tara Tukaram Omble for the fulfilment of her martyred husband's wish and in memory of his parents Gopal Dhondiba Omble and Shevanta Gopal Omble.
Vaishali says the four sisters have also started a charitable trust in his memory that they run using their personal savings. They have donated two of the nine computers in the computer lab of the village primary school. The school teaches children Microsoft Office operations.
Students as young as in Class I learn to switch the machines on and off, says school principal Shankar Jambhale. Prakash says his niece has also often donated school bags and books for the children.
Deputy sarpanch Prakash is a civil engineer. He says very soon the village will have its first sports complex, named Shaheed Tukaram Omble Kreeda Sankul. The village vouches for his skills as a kabaddi player his family remembers his love for cricket and carom.
The home that Omble wanted to retire in has a red roof. It remains locked, except when his wife and daughters come to visit from Mumbai.
As a retirement plan, Kedambe is ideal, away from urban chaos. But what drew Omble to Kedambe every once in a while is not hard to fathom -- in the lap of nature where the river water is icy cold, the people are incredibly warm.
'Whenever we would go back to the village, he would pack a bag this big,' says Omble's wife Tarabai, a woman of few words, stretching out her arms.
'In that bag, his clothes would occupy a tiny space. The rest would be filled with gifts and sweets for everyone in the village,' she says.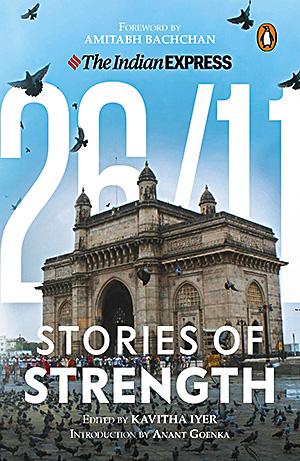 Excerpted from 26/11 Stories Of Strength by The Indian Express, with the kind permission of the publishers, Penguin Random House India.