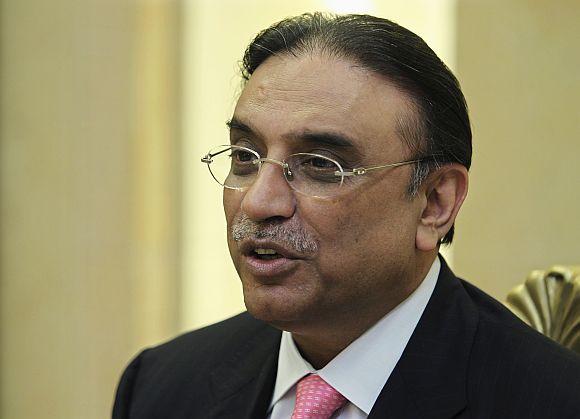 Pakistan President Asif Ali Zardari will have to face several old corruption cases when he loses his immunity from prosecution at the end of his five-year term next month, a government official said on Monday.
The end of immunity after Zardari leaves office on September 8 will trigger the reopening of six corruption cases in the second week of next month, said the government official, who did not want to be named.
"Now these cases will be reopened and heard at accountability court No 1 in Islamabad," the official, privy to developments about these cases, told PTI. The accountability courts hear cases registered by the National Accountability Bureau, the country's anti-corruption agency. The cases against Zardari including the ARY Gold, Cotecna, SGS, Polo Ground, Ursus Tractor and Assets cases. The charges date back to his slain wife Benazir Bhutto's two stints as prime minister.
They were being heard in three anti-corruption courts in Rawalpindi but were put off indefinitely when Zardari was elected President in 2008.
However, the official admitted that the conviction of Zardari will be difficult as the main accused -- Benazir Bhutto and her mother Begum Nusrat Bhutto -- are dead and their names have been removed from the list of accused.
The official said another 15 people accused along with Zardari have already been acquitted during the past five years. Zardari will have to face trial in order to prove his innocence and get a clean chit from the courts, he said.