Recently, Hindu religious seers had threatened to boycott the ceremonial Kumbh snan if the Ganga was not clean. Virendra Singh Rawat reports.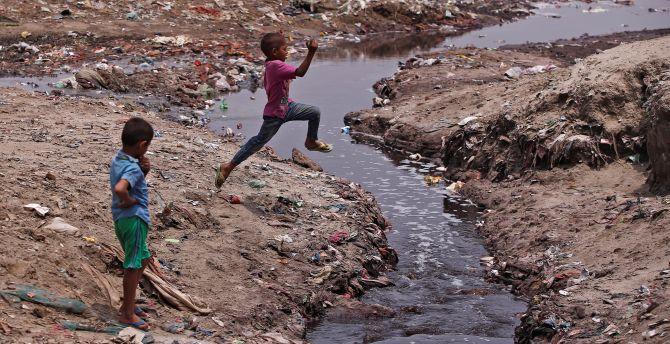 The Uttar Pradesh leather industry is facing a new stumbling block, one threatening to shake its foundation.
Last year, it had a severe shortage of raw hide, after closure of abattoirs declared illegal. It had since begun to step forward.
Now, however, the state government has ordered tanneries in Kanpur, a major leather processing hub and with a Rs 120-billion annual economy, to observe a shutdown between December 15 and March 15, 2019.
This is to arrest the flow of effluents into the Ganga during the Kumbh Mela at Allahabad. The closure also means leather exporters would be deprived of the advantage they have from a falling rupee.
Earlier, a good number of tanneries had been closed after a National Green Tribunal order, to check pollution. The remaining ones have been asked to shift from the leather belt of Jajmau, a Kanpur suburb, to Ramaipur in the district.
A treatment plant has been proposed at the latter site, at an investment of Rs 5.5 billion.
The closure order is a shock for the leather units in Kanpur. Export from here is about Rs 60 billion annually. Recently, Hindu religious seers had threatened to boycott the ceremonial Kumbh snan (bathing) if the Ganga was not clean.
Chief Minister Yogi Adityanath directed no effluent be discharged in the Ganga from Garhmukteshwar to Varanasi during the Kumbh, expected to see almost 150 million pilgrims next year.
At the Jajmau industrial belt, 264 tanneries are operational; 136 units have been shut or dismantled. The 264 tanneries discharge about 6.7 million litres a day of effluent, for which the government operates a 36 MLD chemically enhanced primary treatment plant, at an annual expenditure of Rs 170 million.
The chief minister has asked the leather industry to bear half the expense.
Council for Leather Exports regional chairman Javed Iqbal says the closure order would kill the local leather industry. And, the tanneries would lose their foreign customers, who have the ready option to source processed leather from Pakistan, Bangladesh or Vietnam.
Asking that the state review its decision, R K Jalan, former regional head of the CLE, said: "If this order is implemented, the tanneries would effectively remain closed for four straight months, since they would have to be shut 15 days in advance to ensure no unprocessed leather, while they would attain full operations only two weeks after they reopen."
If shut for such a long duration, he said, it would be difficult for most of the units to revive. The Kanpur leather industry (including adjoining Unnao district) employs over 1,00,000 people, while supporting the livelihood of almost a million, says the industry.
UP Leather Industries Association member Taj Alam said the decision would result in mass layoffs and disruption in economic activity of almost Rs 40 billion. And, impact the whole leather value chain -- including chemicals, transportation, etc.
"This would also dent our image as a dependable trading partner." He said the Kanpur industry already had invitations from other states, such as West Bengal, to set up units. At earlier Kumbhs, the tanneries were asked to suspend 'wet operations' four or five days prior to each 'shahi snan' (the big bathing days).
Last year, acting on the NGT directive to close illegal slaughterhouses in UP and regularise their functioning, thousands of unregulated and unregistered units in the state have closed.
Slaughterhouses in the organised sector are only about 45 and not in a position to cater to the humongous demand of raw hide to the state's leather units.
UP comprises three major leather industry hubs -- Kanpur/Unnao, Agra and Noida.