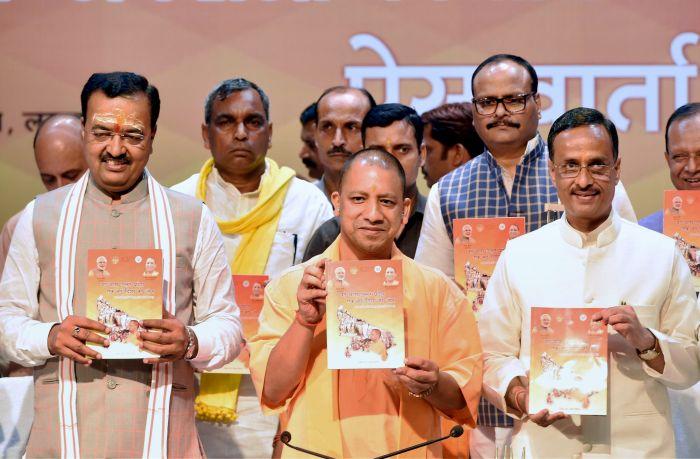 The Taj Mahal was made by the blood and sweat of "Bharat Mata's sons" and its protection was the responsibility of the Uttar Pradesh government, Chief Minister Yogi Adityanath said on Tuesday.
Announcing that he would be visiting Agra next week to review tourism schemes, the chief minister said the Taj Mahal was a historical monument regardless of the emperor who had built it.
Adityanath's comments come a day after his colleague, Bharatiya Janata Party MLA Sangeet Som, questioned the Taj Mahal's place in India's heritage and said history would be rewritten to erase Mughal emperors from it.
"It is immaterial as to who and how the Taj Mahal was built... It was made by the sweat and blood of Bharat Mata's sons," the chief minister said in Gorakhpur.
"It is famous the world over for its architecture... it is a historical monument and its protection and further development for tourism is the responsibility of the government," he added.
Announcing that he would visit Agra on October 26 and there was a Rs 370 crore work plan for the city, Adityanath said it was the duty of the Uttar Pradesh government to ensure that proper security and facilities were extended to tourists.
"Our government is working for tourism development for the Kalinjer Fort (in Banda) and working for the Rani Laxmibai's Fort in Jhansi as well as the Chunar Fort (in Mirzapur) and has prepared schemes for their development," he said.
Governor Ram Naik weighed in with his views on the 17th century monument to love built by Shahjahan in memory of his wife Mumtaz Mahal.
"The Taj is one of the wonders of the world and the pride of our country. So don't drag it into controversies and play politics over it," he said on the sidelines of the convocation of the Chatrapati Sahuji Maharaj University in Kanpur.
In Lucknow, Principal Secretary-Information Awanish Awasthi told mediapersons that the chief minister would also visit the Agra Fort and review other schemes as well for the city.
Som's comments on the Taj Mahal had come after the Adityanath government reportedly omitted the 17th century monument from an official booklet on tourist destinations.
"Many people are pained to see that the Taj Mahal was removed from the list of places (tourist destinations). What type of history?" he had asked during a public meeting in Meerut on Monday.
His comments prompted an angry response from All India Majlis-e-Ittehadul Muslimeen leader and Lok Sabha MP Asaduddin Owaisi who asked if the government would tell tourists not to visit the monument.
The BJP stepped into the row with party spokesperson G V L Narasimha Rao describing Muslim rule in India as "barbaric and a period of incomparable intolerance" while asserting that its members could hold any opinion they want on specific monuments.
Following reports about the Taj Mahal being left out of the booklet, the state government had issued a press release stating, "Tourism projects worth Rs 370 crore are proposed, under which schemes worth Rs 156 crore for development of parks and various facilities are meant for the Taj Mahal and its surrounding areas in Agra."
*****
Why only Taj, demolish Red Fort, Rashtrapati Bhavan too: Azam Khan
Samajwadi Party leader Azam Khan has called for the destruction of Rashtrapati Bhawan, Qutab Minar and Red Fort, calling the historical buildings a sign of slavery.
Taking potshots at Sangeet Som, Khan said, "Why only Taj Mahal? Why not Rashtrapati Bhavan, Qutab Minar, Lal Qila? All these are signs of slavery. Rashtriya Swayamsevak Sangh people call it a sign of traitor and if it is so, then the Taj Mahal should be demolished."
Known for making controversial statements, Khan said that he is always in favour of demolishing monuments signifying slavery.
WATCH THE VIDEO BELOW
With ANI inputs