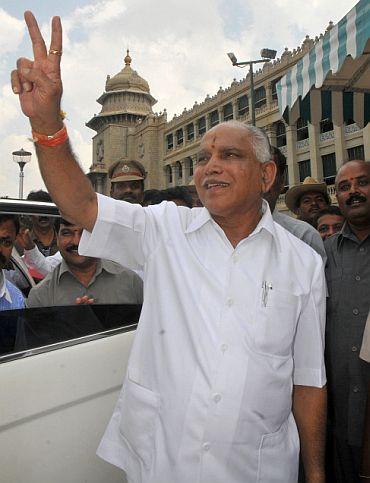 The Karnataka High Court on Tuesday issued notices while adjourning hearing on the bail plea filed by former Chief Minister B S Yeddyurappa.
Justice B V Pinto adjourned the hearing on the application filed on Monday by Yeddyurappa, who, facing imminent arrest, had surrendered before the Lokayukta Court on Saturday last after it rejected his bail application.
The Judge rejected the plea by C H Hanumantharaya, the counsel for the petitioner Sirajin Basha, for 20 days time to file his objections to the bail plea.
Yeddyurappa's counsel Ravi B Naik objected to this and submitted that since it was only an interim bail application, it should be heard as early as possible.
The Lokayukta court had on October 15 remanded Yeddyurappa in judicial custody till October 22.
Yeddyurappa, against whom five private complaints have so far been filed by Basha alleging irregularities in denotification of government land, has been  undergoing treatment in the state-run Jayadeva Institute of Cardiology for high blood pressure and chest pain since October 15.
Jayadeva Hospital Director Dr C N Manjunath told mediapersons that Yeddyurappa is likely to be discharged from the hospital by Tuesday evening.