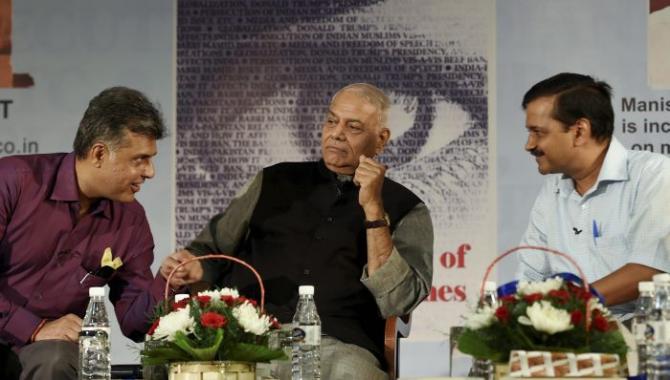 IMAGE: BJP veteran Yashwant Sinha, centre, Delhi Chief Minister Arvind Kejriwal, right, and Manish Tewari, Congress leader and the former Union minister, at the release of the Tewari's book Tidings of Troubled Times at a function in New Delhi on Thursday. Photograph: Kamal Siingh/PTI Photo

Senior Bharatiya Janata Party leader Yashwant Sinha on Thursday shared dais with Delhi Chief Minister Arvind Kejriwal and Congress' Manish Tewari at an event here and said if his party takes any action against him for this, that would be the 'best day' of his life.
Sinha, who has been criticising the government particularly on handling of the economy, agreed with Kejriwal that an 'atmosphere of fear' prevails in the country and urged people to stand up against it.
Attending a function organised for release of Tewari's book Tidings of Troubled Times, he also responded to the 'Shalya' and 'job applicant at 80' barbs apparently directed at him by Prime Minister Narendra Modi and Union Finance Minister Arun Jaitley, respectively.
While countering these, he, however, did not name either Modi or Jaitley.
"Am past caring. That will be the best of my life ... because, for the simple reason that I don't think I am doing anything which calls for action," Sinha said when asked whether he was worried that the BJP could take action against him for sharing the dais with the two opposition leaders.
He said he had grown up in an atmosphere where a politician having relations with leaders from other parties was not akin to 'feeling compromised'.
At another point, he said the BJP 'is my party as much as it is of any of its members'.
Sharing Kejriwal's view that an 'atmosphere of fear' prevails in the country, Sinha observed, 'fear and democracy cannot go together'.
The BJP leader also responded to the 'Shalya' remarks reportedly made by the prime minister on Wednesday.
'Shalya', uncle of two of the five Pandava brothers -- Nakul and Sahadev -- in The Mahabharata, was a powerful mace fighter and a formidable charioteer who was tricked by Duryodhan to fight war on the side of the Kauravas.
Referring to that remark, Sinha said after being tricked by Duryodhan, Shalya had become a charioteer of Karna.
He went on to say, "The Kauravas were 100 brothers. If I ask you to name the third brother, you will not be able to (tell) or even I will not be able to unless I refer to the Mahabharata. So, a situation arose, where 100 brothers who constituted the Kaurava clan, out of them only two became infamous, Duryodhan and Dushasan. Do I need to say anything more?"
Without naming the BJP's top leadership, Sinha suggested that personality cults are 'passing phases which don't last longer, but values on which the party is formed do'.
In a veiled attack on Jaitley for his 'job applicant at the age of 80' remark, Sinha said he comes from part of the country which had produced renowned freedom fighter, Babu Kunwar Singh, during the first war of independence of 1857.
"Singh became a major freedom fighter in the first war of independence in 1857. When he joined that war, he was 80 years old. There may be a bar for joining government service, but there is no age bar for fighting for freedom," said Sinha, who will be turning 80 next month.
On his son and Union minister Jayant's counter of his opinions on economy, Sinha alleged an effort was made to make the differences in viewpoints as 'father-son or family' dispute.
"However, that (trick) did not work," he added.
In an apparent reference to BJP's 'Congress-mukt (free) India' slogan, Sinha said that nobody talked about 'mukt-this, mukt-that' as all are part of the democracy.
Having majority numbers on one's side should not stop reaching out to the other, he added.
Kejriwal earlier claimed that 'an atmosphere of fear' prevails among the people and alleged that the Centre was creating roadblocks in the functioning of Delhi government led by the Aam Aadmi Party.
Kejriwal said 'the churning has begun' among public against the ruling BJP and that the next general elections, scheduled to be held in 2019, will be 'Modi versus people'.
Alleging that unemployment has gone up in the BJP regime, Kejriwal also claimed this will lead to rise in crime.
When asked why he has been keeping a low-profile for some time, Kejriwal said he would speak up whenever required.
"I think churning is taking place among people across the country (against the ruling BJP)...a man can give up his bread for once in a day, but he cannot give up his freedom, which is at stake today. So, it is going to be a BJP versus people contest in 2019 general elections," he said.
Tewari said his book is a statement on the politics in India and at the world level. He also said that opposition parties have not collapsed in the country in the fight against the BJP.
'Yashwant Sinha has found an ally in Congress'
The BJP, meanwhile, said Sinha has become an 'unabashed apologist for the corrupt and anti-poor' erstwhile United Progressive Alliance government and found a new ally in the Congress.
Coming out openly against the former finance minister, BJP spokesperson Anil Baluni said Sinha's assertion that he was like Bhishma was also an admission that he was on the side of the Kauravas.
"It has become clear today from where he is drawing all his wisdom. His presence at an event of a Congress leader shows that who are influencing his economics. This is very unfortunate," he said.
In a retort to Prime Minister Narendra Modi's remarks that some people liked to spread pessimism like Shalya, another Mahabharata character, Sinha had said he was like Bhishma and that he would not allow the economy to be 'disrobed'.
Another BJP spokesperson G V L Narasimha Rao said Sinha claims to be a 'know-all' economist but is conveniently glossing over his own 'disastrous performance' as finance minister when he had pledged India's gold overseas.
"He has become an unabashed apologist for the corrupt, inflationary, anti-poor and disastrous economic governance of the Congress-led UPA government at the Centre. He has found a new ally in the Congress to seek his next job. It remains to be seen what a 'jobless' Rahul Gandhi can offer to an ever job-seeking Sinha," Rao said.
Taking a dig, he said Sinha is acting as the Shishupal of Mahabharata with the count of his personal abuses 'reaching the tolerance point'.