Nearly two weeks since a British-era bridge on Mumbai-Goa Highway collapsed near Mahad in Raigad district, divers on Thursday spotted the wreckage of the two buses which were washed away on August 2.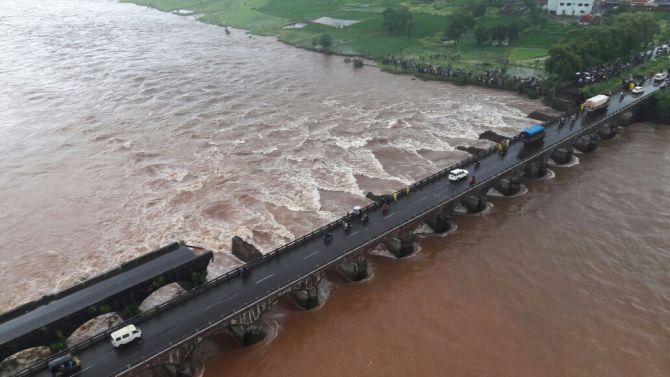 IMAGE: A part of a bridge on Savitri river at Mahad in Raigad district of Maharashtra that collapsed on August 2. Photograph: Chief PRO, Defence
"After working 12-14 hours a day for the last 8 days, the teams have located wreckage of the two bus buses submerged in water at Mahad," a Defence spokesperson said.
"The wreckage seems to be parts of the buses and was found approximately 170 and 200 meters from the collapsed bridge. Spot diving was carried out despite presence of crocodiles, high current and tough conditions in the river.
"The NDRF teams are being informed and crane for recovery of the wreckage is being requested," the spokesperson said in a statement.
The Indian Navy team comprising personnel specialising in diving have been searching for the wreckage and survivors since the morning of August 4.
The effort was in response to a request received from the state government for undertaking search along the river for survivors and bodies, he said.
So far, 26 bodies have been recovered after two State Transport buses and some other vehicles fell in the river following the bridge collapse on Mumbai-Goa Highway near Mahad in Raigad district, about 170 kms from Mumbai, on August 2.
The British-era bridge was to be dismantled in December this year as part of Mumbai-Goa Highway expansion project, Maharashtra government said on Wednesday.
State PWD Minister Chandrakant Patil had said there are about 2,300 bridges in the state, of which 100-odd are from the British era and from the time of 17th century warrior-king Chhatrapati Shivaji Maharaj.
"All these bridges will be inspected twice every year. A three-member committee of experts from Indian Institute of Technology has commenced its study about the collapsed bridge and the report is expected by the next cabinet meeting due on August 23," he said on Wednesday.
The process of launching judicial inquiry into the crash is also underway, Patil said adding that "a workshop will be conducted for the PWD engineers for methodology to be used for inspection of the bridges."