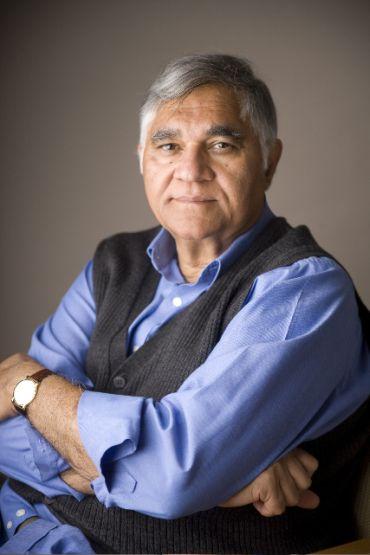 Nothing stops you, except you, except your own imagination and your ability to do hard work, says Dr Inder M Verma. The Salk Institute molecular biologist, who was appointed editor in chief of the prestigious Proceedings of the National Academy of Sciences, spoke exclusively to Aziz Haniffa.
The National Academy of Sciences has announced the appointment of Salk Institute molecular biologist Dr Inder M Verma as editor-in-chief of the Proceedings of the National Academy of Sciences, the official journal of the academy. The journal is considered the world's foremost science publication.
The Patiala-born Verma, who will formally assume the editorship on November 1, will become the first Indian-American to take over the reins of the prestigious publication, which is perhaps one of the world's most-cited multidisciplinary scientific serials.
Verma, the American cancer society professor of molecular biology in the laboratory of genetics at the Salk Institute for Biological Studies in La Jolla, California, was elected to the academy in 1997 and has served on the editorial board of PNAS since 2001.
"Dr Inder Verma is known worldwide for his scientific creativity and for his conscientiousness and fair-mindedness. He is the ideal person to lead PNAS, an already-premier science journal that continues to improve," said Ralph Cicerone, president of NAS.
In an interview from Strasbourg, France, where he is attending various scientific meetings en route to India, Verma told rediff.com that he was "certainly humbled and honoured" at taking over the helm of PNAS because "it is the most prestigious organ of science in the world."
"The National Academy of Sciences and its journal are there to promote the best of science and I feel a great degree of not just humility and honour, but also this immense sense of responsibility to ensure that the journal continues to publish the very top edge of the sciences and the highest quality and the fairest work," he said.
Verma, who will succeed current Editor-in-Chief Randy Schekman, emphasised that PNAS should not be viewed as a closed journal, limited to the privileged few who can bypass a rigorous review process to get their work published. "Direct submission has gone a long way to diminish this perception, but perceptions last longer than reality," he said.
Verma added that he hoped to accomplish this goal through "continuous rigour in reviewing direct submission and contributed submissions, promotion of work published by non-NAS members, and educating younger scientists that publication in PNAS is open to all with a fair review process to publish the best science."
"My priority will be to continue to make sure that the standard remains excellent and also to introduce a little more journalism. There is a little more journalism in science now because science needs to be explained to people because science is getting sophisticated," he said. "It is getting difficult and so the more the public understands science, the more likely it is to support it and recognise its importance," said Verma.
Verma also said that he hoped to introduce a little more exposition in layman's terms and wanted to ensure that young people can have access to this journal and publish their best work.
Although he will be a hands-on editor-in-chief, Verma said he intends to operate from his lab in La Jolla, "but I have a fairly large staff in Washington who will support me. Of course, I will make occasional visits but by and large I will remain in my lab and it will still remain my priority."
Verma's research focuses on cancer genetics, inflammation, and gene therapy. It was research by his laboratory that helped reveal that the aberrant expression of normal cellular genes can lead to cancer. His team also demonstrated that the enzyme reverse transcriptase produces complementary DNA from messenger RNA, and they were among the first to use a retroviral vector to correct a genetic deficiency. His group also developed lentiviral vectors, now extensively used in a variety of biological settings.
Verma is an alumnus of Punjab University, "where I did pre-medicine for my bachelor's degree," and Lucknow University from where he received his master's degree in biochemistry. While into his doctoral work in biochemistry in the Indian Institute of Bangalore, he got an opportunity to continue his PhD at the Weizmann Institute of Science in Rehovot, Israel.
After receiving a PhD in biochemistry from the Weizmann Institute, "I came to Boston and MIT (Massachusetts Institute of Technology) in January 1971 on a bone-chilling cold and frigid morning," Verma recalled. "I stayed there till 1974 and then as soon as I got my green card, I went to the Salk Institute in La Jolla, where I have been for the last 38 years."
"I was a 26-year-old when I went there and now I'll be 64 in November," he added. At MIT, Verma performed postdoctoral research in the laboratory of Nobel laureate David Baltimore.
In terms of what he as an Indian-American brings to the table, especially considering the fact that Indian-Americans in the past two to three decades have made significant contributions to science and research and development in the US, Verma said it was essentially the work ethic of total dedication and hard work.
"Nothing stops you, except you, except your own imagination and your ability to do hard work," he said. "That's the perspective I grew up with and that's the perspective I bring that there's nothing impossible to do if you are willing to do it. Taking charge and willing to work for it," Verma added.
Verma said that America gives you that opportunity. "They respect quality. They don't look at who you are. They actually look at your achievements and your contributions are recognised on your achievements — they are very good in this respect."
When asked about the reason for his trip to India before he takes over as editor-in-chief of PNAS, Verma said, "I do a lot for the government of India in promoting science – helping them to establish good, scientific basic science and work with the department of biotechnology, which has a scientific advisory board that I have been coordinating for for the last 20-25 years."