Joaquin "El Chapo" Guzman, world's most-wanted drug lord who fled through a tunnel from a maximum security prison in a made-for-Hollywood escape that deeply embarrassed the Mexican government and strained the country's ties with the United States six months ago, has been recaptured.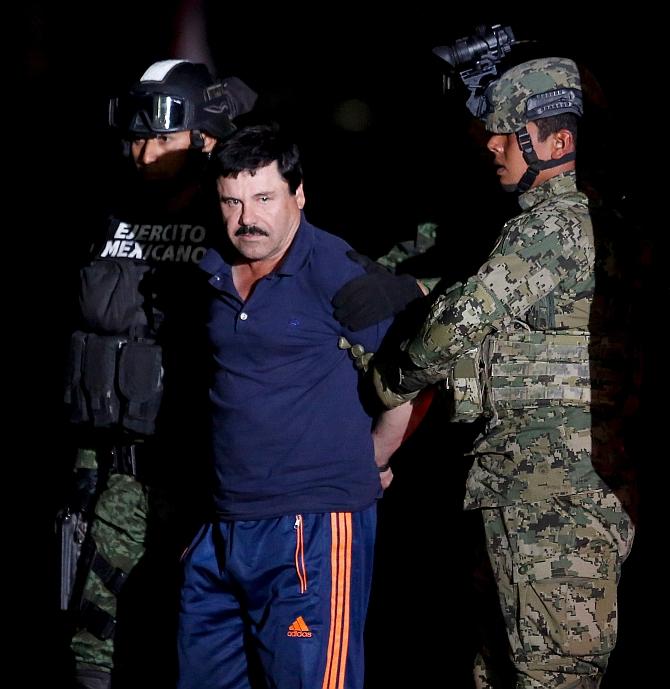 Mexican President Enrique Pena Nieto announced on Twitter: "Mission accomplished: we have him."
Also Read: How 'Shorty' executed his stunning jailbreak
The head of the powerful Sinaloa Cartel was captured at a roadside motel after an operation that killed five at a safe house in the city of Los Mochis, in the drug baron's native northwestern state of Sinaloa.
The Mexican Navy says they found two armoured vehicles, eight rifles, a handgun, and a rocket launcher at El Chapo's Sinaloa home.
Guzman now faces the prospect of being tried in the United States. But the process could take months, although US Republican party presidential hopeful Marco Rubio called for Barack Obama administration to immediately pursue extradition, Reuters reported.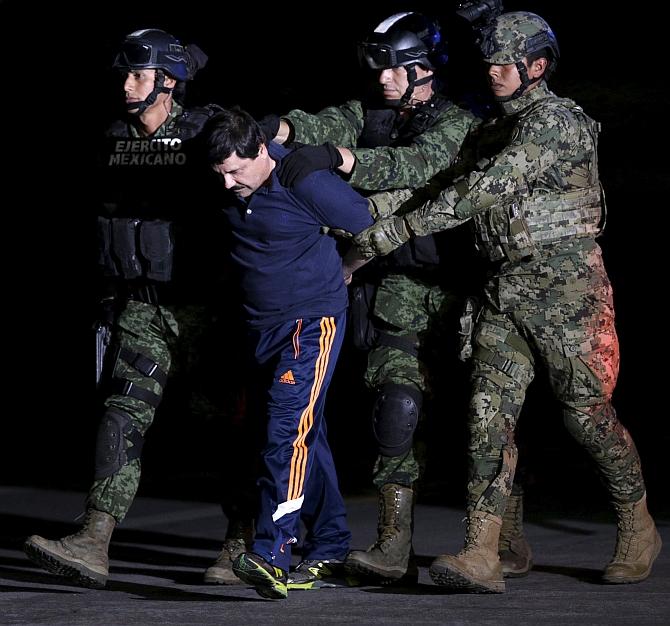 Once featured in the Forbes list of billionaires, Guzman has led a cartel that smuggled billions of dollars worth of cocaine, heroin, marijuana and methamphetamines into the United States and fought vicious turf wars with other Mexican gangs.
He started his own cartel in 1980, expanding it into other states and even poaching some of his mentor's territory.
That creation -- the Sinaloa cartel -- soon became Mexico's most powerful and richest, a multibillion empire. US indictments claim the organization used assassins and hit squads to show its muscle.
The rivalry with other drug cartels has spurred an ongoing drug war that's left thousands of Mexicans dead.
After his first capture in Guatemala in June 1993, Guzman was sentenced to 20 years in prison.
He reportedly made his 2001 escape from the maximum security prison in a laundry cart, though some have discounted that version.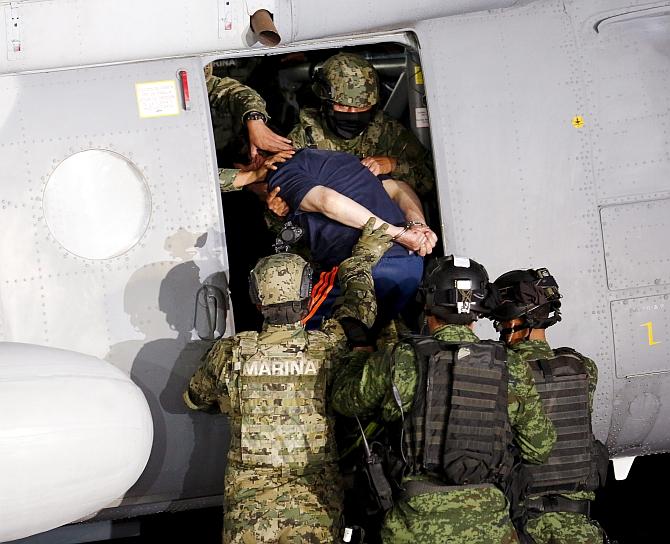 His second escape last July was even more audacious. He slipped down a hole in his shower stall in plain view of guards into a mile-long tunnel dug from a property outside the prison.
The tunnel had ventilation, lights and a motorbike on rails, illustrating the extent to which corruption was involved in covering up the elaborate operation. Noise of the final breakthrough from the tunnel was obvious inside the prison, according a video of Guzman in his cell just before he escaped.
Mexico launched a huge manhunt and a couple of months later tracked him to the mountains of his home state, arresting a pilot who allegedly flew Guzman to the region hours after his escape. Guzman was said to have narrowly escaped an earlier capture and injured a leg and his face while fleeing marines in the rugged terrain.
Images: Joaquin "El Chapo" Guzman is escorted by soldiers during a presentation in Mexico City before being taken away in a helicopter. Photographs: Tomas Bravo/Reuters