Ten miners were killed and an unspecified number feared trapped when a massive mound of earth came crashing down on them at Lalmatia open cast coal mine of Eastern Coalfields Ltd on Thursday, the worst
such disaster in over a decade.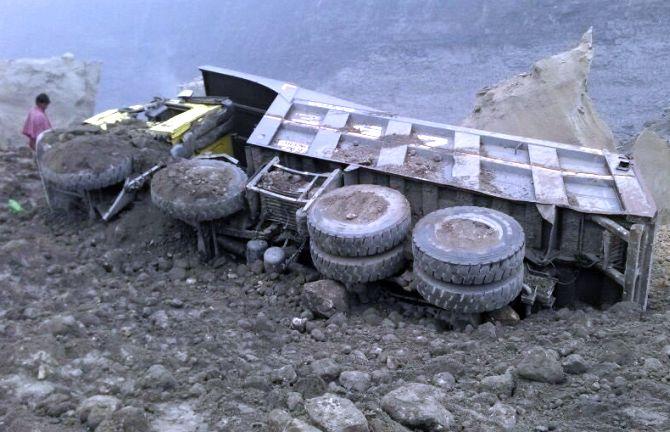 Heavy machinery was deployed as rescuers, including those from the National Disaster Response Force, toiled through the day extricating bodies and looking for survivors.
"Unfortunately the casualties have increased from seven in the morning to 10," the coal ministry said in a statement.
"Rescue teams of the National Disaster Response Force, Eastern Coalfields Ltd/Bharat Coking Coal Ltd, state government and experts have been continuously carrying out rescue work at the accident site of ECL's Rajmahal Open Cast Expansion Project in district Godda, Jharkhand," the statement said.
Central Mine Planning and Design Institute, the consultancy arm of Coal India Ltd., has deployed magneto meters along with imaging system for locating magnetic and conductive material up to a depth of 80 meters, the statement said.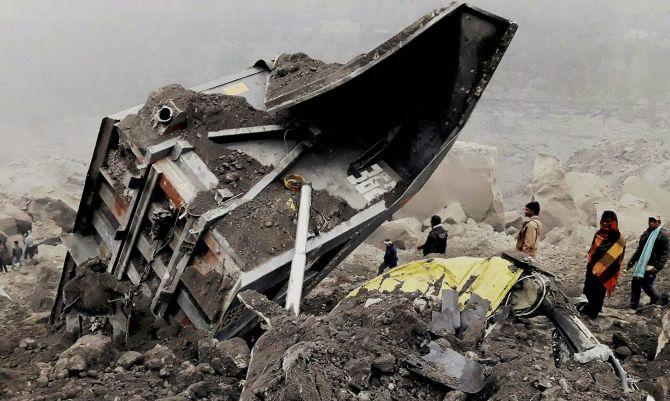 R R Mishra, officiating CMD of ECL, a Coal India subsidiary, said that the incident occurred at around 7.30 pm on Thursday night when excavators were working there following which rescue operations was launched immediately.
Senior officials of Director General of Mines Safety have arrived at the site and launched an inquiry.
All 10 excavators and dump trucks which were swamped under the debris have been recovered.
Prime Minister Narendra Modi, Coal Minister Piyush Goyal, Jharkhand Chief Minister Raghubar Das and other leaders have expressed grief over the loss of lives.
"Saddened by the loss of lives at a mine in Jharkhand. My prayers are with those trapped inside. Spoke to CM Raghubar Das on the situation," Modi said on twitter.
Das said an assistance of Rs 2 lakh will be given to the families of the miners who died in the accident, while the ECL also announced an ex gratia compensation of Rs 5 lakh each to these families, in addition to the amount to be paid under the Workmen's Compensation Act.
Fourteen miners were killed at Central Saunda coal mine in Ramgarh district of Jharkhand in August 2005. The country's worst mining disaster had occurred at Chasnala in Dhanbad district in the then Bihar state in 1975 in which 375 lives were lost.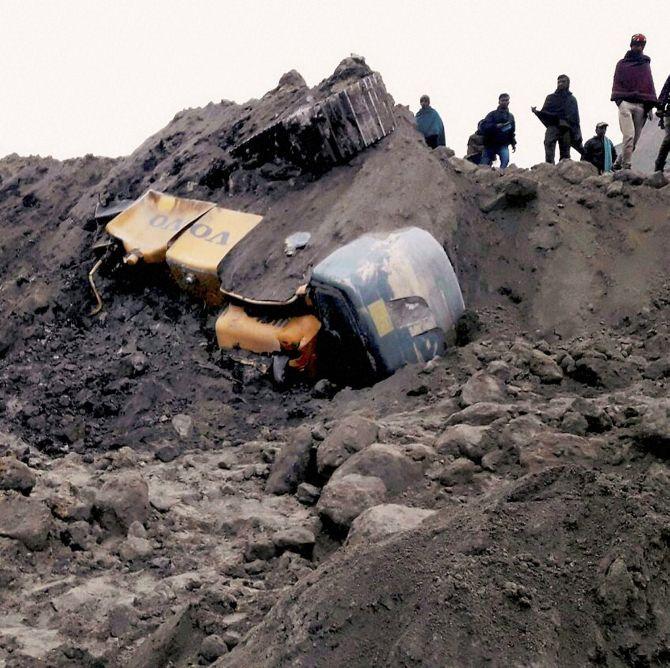 The PM said Jharkhand government and Coal Minister Piyush Goyal were "working to restore normalcy".
Das also announced Rs 25,000 for the injured, official sources said.
"CMD, ECL has reported that an incident of overburden dump slide/subsidence has occurred in the second shift of December 29 at about 7.30 PM in the Rajmahal Open Cast Expansion Project in district Godda, Jharkhand....," the statement said.
Godda is about 250 kms from state capital Ranchi.
The ECL is in contact with the families of the deceased and all the necessary help is being extended to them, it said.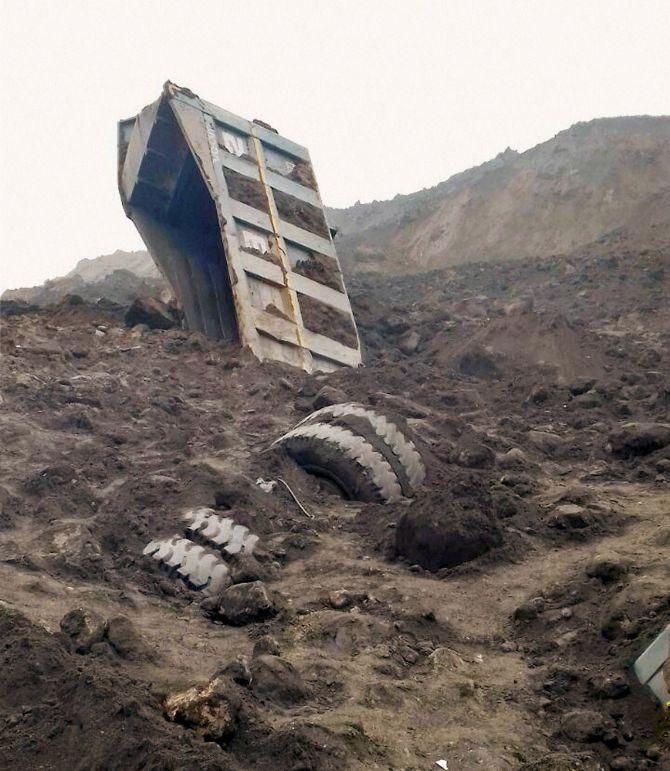 "Prima facie, it is observed that the incident is unprecedented since an area of 300 m length by 110 m wide solid floor of the Over Burden dump area has slid down by about 35 m involving around 9.5 million cubic meters of earth material. This could be due to failure of the bench edge along the hidden fault line/slip," the statement said.
A control room has been set up at the project office of Rajmahal Open Cast Expansion Project of ECL and R R Amitabh, GM (Mining), is in-charge of control room.
Goyal said that he was monitoring the rescue operation with the chief minister.
Finance Minister Arun Jaitley said in a tweet "Saddened by the loss of lives in Jharkhand's #Lalmatia coal mine collapse. My prayers for recovery of injured & solace to bereaved families."
Photographs: PTI Photos, ANI